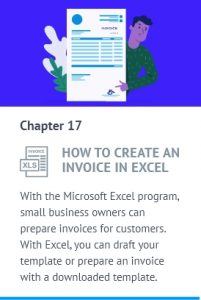 Chapter 17
How to Create an Excel Invoice Template?
Jul 7, 2020
How to Create an Invoice in Excel? Step-by-step Guide
Google Spreadsheets, Google Docs, Microsoft Excel, and Microsoft Word, everything is good. But when it comes to the Microsoft Excel program, small business owners can create an Excel invoice template for their customers without any hassle.
With Excel, you can draft your template or prepare an invoice with a downloaded template in excel.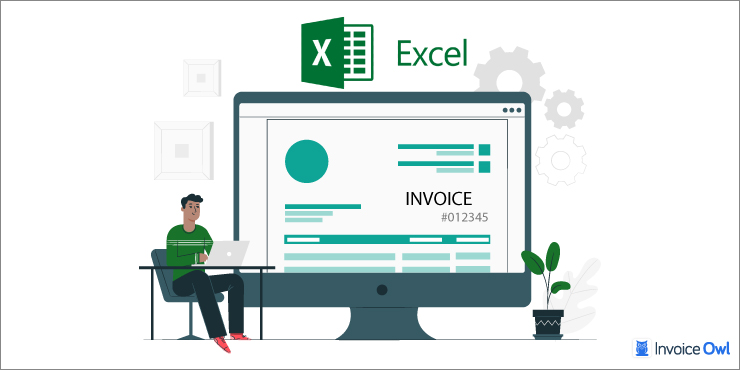 In this aspect of the invoicing guide, you will learn how to:
Create an Invoice with Excel Template (Windows)

Create an Invoice with Excel Template (Mac)

Create an Invoice with Excel from Scratch
Create an Invoice with Excel Template (Windows)
You, as a small business owner, can use personalized invoice templates from the Excel program to build an professional invoice online according to your business needs. With these steps, you'll learn how to create invoices with the Excel program.
To create a free Excel invoice template for the purchase orders, you will have to open the Excel program on your PC.
When you launch the Excel program on your computer, search for Excel invoice templates at the top of the window. To narrow your options, type "invoice" to get Excel invoice templates. Your PC has to be connected to the internet before you research.
Select Your Preferred Template
After browsing through several Excel invoice templates, you should have one that's useful for you. There's a range of templates for invoices in the Microsoft Excel program.
You'll find blank invoice templates for shipping, service, selling details, and other business types. 
From the different Excel invoice templates, choose one that's good for your business as your invoicing solution, and download the template. Once you downloaded the template you need to open it.
After you have made a choice, preview the free Excel invoice template and click on Create to open the blank invoice template or download invoices. The template will open in a new window.
When you're done with the selection of the simple invoice template, you can then open a fresh spreadsheet with the template and start personalizing it.
The simple invoice template must have the necessary invoice details to show the client what they are supposed to see to make a payment on time.
Thus, the billing statements must contain:
Your business name and logo

Your business contact details, which include name, address, email, and phone number

Your client's contact information

Invoice number according to the invoice form

Date invoices were created

A detailed description of the services or products supplied to the client with the hourly rate and hours worked if applicable

The subtotal of costs and services

Total amount to be paid by the client for the invoices, including discounts and tax charges if applicable (such as GST, VAT, and Sales Tax)

Your payment terms and policies, including the terms of payment you accept
When you fill the free invoice template or invoice form with the necessary and require billing details of the projects, save a draft of the free invoice template as a spreadsheet on your PC. 
It is preferable to save it as an Xls document, so it can be edited at other times if there's a need.
Also, save as a PDF document when you want to send the invoices to the customers so that they cannot be edited by another person.
Send invoices to your customers via electronic mail or print the invoices hard copies and send free invoices through the post. Do not forget to add friendly notes that will make the client impressed.
Create an Invoice with Excel Template (Mac)
To create and send invoices with a free Excel invoice template on a Mac computer, here are the steps to follow to get it right:
Open The Excel Program
On your computer, launch the Microsoft Excel program and search for free invoice templates by clicking File from the menu bar. After that,  click on New from Template. You'll be taken to a page with different related templates.
Search For Templates
To narrow down your search, you'll find a search bar on the upper part of the computer. Click on it and type the keyword "invoice", then press enter to search.
For example, if you are looking for a sales invoice or service invoices then make sure you choose the most related one for your businesses.
Select Your Preferred Invoice
In the section where you'll find the templates,  you'll be provided with different types of templates. Ensure that you find the best template suitable for the kind of task you're carrying out. Your final choice should be one that will reflect all your billing information and job details.
Download The Template
After searching all templates for the best one suitable for your business, preview it, and open it on a fresh spreadsheet
Personalize The Template
On all the fields in the templates, add the following information:
Your business logo

Your business contact information, including the business name, address, email, and phone number

Your client's contact details

The invoice date

An invoice number

A clear description of the works you have done with the hourly or flat rate if applicable or the number of goods supplied one after the other.

Subtotal of the services

Your payment terms and policies, with the payment methods you accept. Include a late fee if applicable and agreed upon by the client.

The total amount with tax rate and discount if applicable
Save The Invoice
After filling out the necessary details you need to save the professional invoice, go through the added information again to be sure that they are correct. After that, save the File in your Microsoft Excel program as an xlxs and PDF file. The PDF file can be sent to a client through electronic mail.
Send The Invoice
The invoice design associated with Microsoft Excel can be sent to your client through mail or email.
Create an Invoice with Excel from Scratch
With these steps, you can learn how to prepare invoices for a purchase order template from scratch:
Launch A New Excel Spreadsheet
The first step in this process is to open a fresh Excel program on your PC by clicking a blank workbook.
Small businesses should make sure that their invoice should be easily identified when a client sees it to pay the money. An appropriate header consists of:
Your business logo

Your business contact details

A unique invoice number

The invoice date
Include The Client's Information
The details of the client you're sending the invoice to have to be on the invoice. Small businesses should ensure that you have the company name, logo, and address of the contact person or the organization you're invoicing, email, and phone number.
State The Due Date For Payment
Every invoice template for Excel you send should carry a due date so your cash flow won't be affected. For clarity's sake, fully write out the date. For example, "Payment is due August 20, 2018". Sometimes, writing in short forms may be confusing and can delay payment.
Describe The Services Provided In Detail
For clarity's sake, carefully describe the services and the price list roughly offered to the client in a service invoice template. If possible, divide the task into rows and columns and include your hourly rate alongside the number of hours you've worked. You should have a subtotal for the services listed.
An advantage of preparing invoices with the Excel program is that the program's features itself can help you with mathematical tasks. With the SUM function of the Excel program, you can add up every due in the billing cycle.
For instance, if you're adding up column Dates from cell 6 to 8, all you need do is to enter this formula in cell C9: =SUM(C4: C8).
Payment methods, late fee policy, and other payment details a customer should know must be included at the bottom of the invoice that is the right way to create a free invoice template for Excel.
Microsoft and Google both provide templates through Excel, Word, Google Docs, and Google Spreadsheets that can justify your invoicing requirements in the easiest way possible.
It also offers you to save the templates according to your requirements so that you don't have to waste your time on unnecessary tasks.
No matter what kind of format, features, or system you choose for your invoice template, whatever you choose as your invoice template for Excel or Word should fulfill your business requirements.
Just make sure that whatever you create using Word or Excel looks professional and fulfills your branding image. With Word and Excel, you can have entirely professional invoices that help you maintain your brand image.