Attorney Invoice Templates
An attorney invoice template is the design frame structure specifically for creating attorney invoices. It helps a law firm with creating, maintaining, and issuing invoices. It can be used by lawyers, attorneys, legal advisors, or any law office to collect payments from clients for their law practice & legal services.
Now that we are on the same page, let's know more about the areas where a lawyer invoice can be used.
Get paid faster for your hard work with the free Attorney invoice template from InvoiceOwl.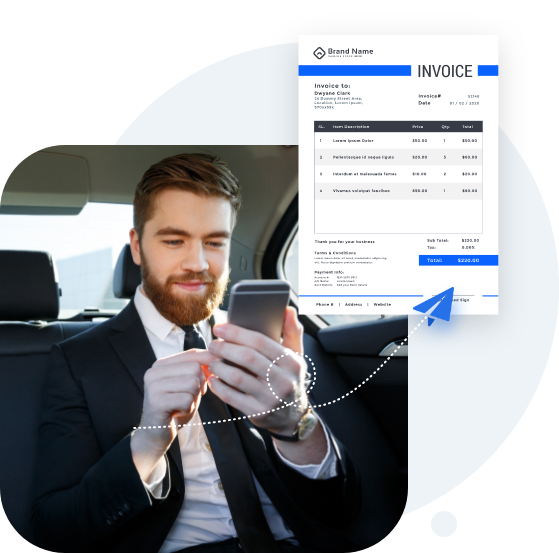 How to Create Attorney Invoices?
Being honest, creating an invoice from scratch needs expertise. You must know how to work either with MS Word, MS Excel, Google Docs, or Google Sheets. And it takes a good amount of time to master these skills. So, if you are a small business owner, you do not have the time to learn these skills, nor can you afford to hire an accountant to do the job.Then, what is the solution here? Well, it is pretty simple. All you have to do is to download the InvoiceOwl invoicing-cum-accounting software. It provides you with all the invoice templates you need and lets you create unique attorney invoices whenever and wherever you want.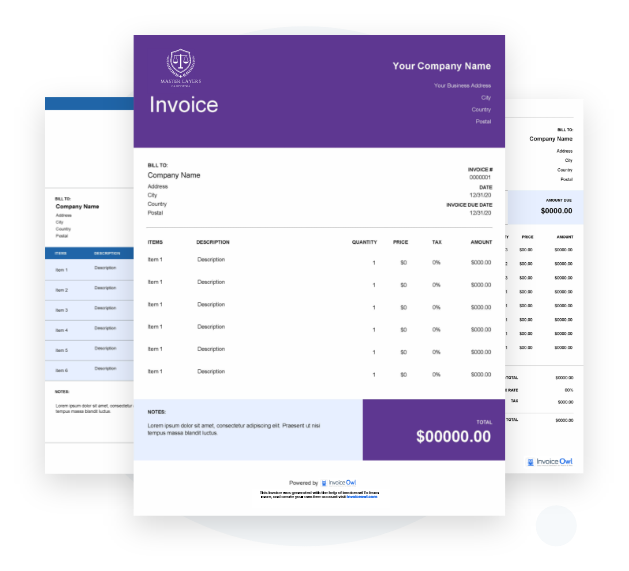 Here is the step-by-step process of Attorney invoice template –
Download the attorney invoice template in your preferred file format (for example, MS Word, Ms Excel, or PDF document)
Personalize it with your law office branding. (for example, business name, logo, address, and brand colors)
Add the client details, such as client name, client phone number. Also, mention the case number and invoice number
List out all the services provided with description, rate, and charges
Mention and highlight the total amount after calculating the applicable sales tax and discounts
Upgrade Your Invoice Template with InvoiceOwl
Why should you use Attorney Invoice Template?
Every job has a set of unique requirements, and invoice templates are one of them. You can not use a plumbing invoice template to request payments from your photography clients. Therefore, to charge your fees as an attorney, you should use an attorney invoice template.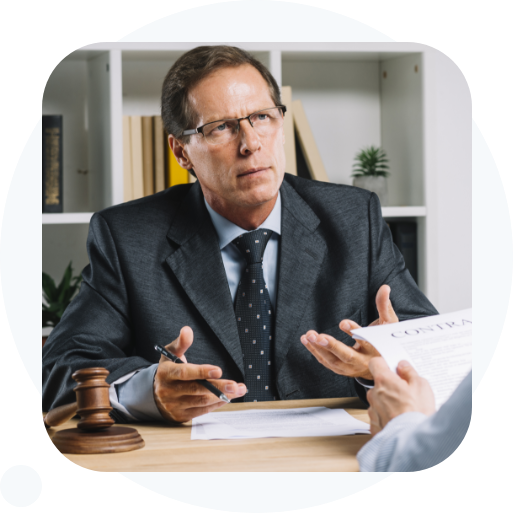 Moreover, an invoice template designed exclusively for attorneys and lawyers helps the professionals in many ways, such as:
It helps to simplify your entire invoicing process
It lets you create professional invoices promptly
It helps in highlighting the case
It helps to keep your invoices constant
It helps to serialize all the invoices
It helps you itemize all the legal services provided
Other than that, using the Attorney invoice brings many indirect benefits that contribute to growing your business. These benefits can set you apart from your competitors and rise above them.
It helps in setting brand image
It helps in spreading brand awareness
It assists the tax authorities audit any of your invoices
It helps in sorting and managing all the invoices
It helps your customers with easy payment options
Suitable Invoice Types for Attorney Businesses
A lawyer provides various types of services, and each of those services needs a distinct invoice template. This way, the lawyer can mention all the billing details quickly and most efficiently.
Therefore, let's talk about the different types of invoices for the legal services providing company.
1
Standard Invoice
Standard invoice is the most basic one. Other than the branding and client details, it simply itemizes the services provided and the total amount to be paid. It is the simplest kind of invoice to bill a client.
2
Recurring Invoice
Attorneys such as legal advisers for a company bill clients monthly. Thus, they use a recurring invoice.
3
Prepayment Invoice
Generally, all attorneys charge a booking amount or deposit amount before the beginning of the service period. And for such an arrangement, a lawyer has to use the prepayment invoice type.
4
Interim Invoice
When a client hires a lawyer for a long term, he/she generally charges the client a partial payment before the total amount is due. And the interim invoice type helps the attorney to collect that partial payment.
Elements of a Attorney Invoice
To impress your clients by creating a perfect attorney invoice, you must include a few crucial elements. These elements take your invoice template one step above the norm and make it extraordinary.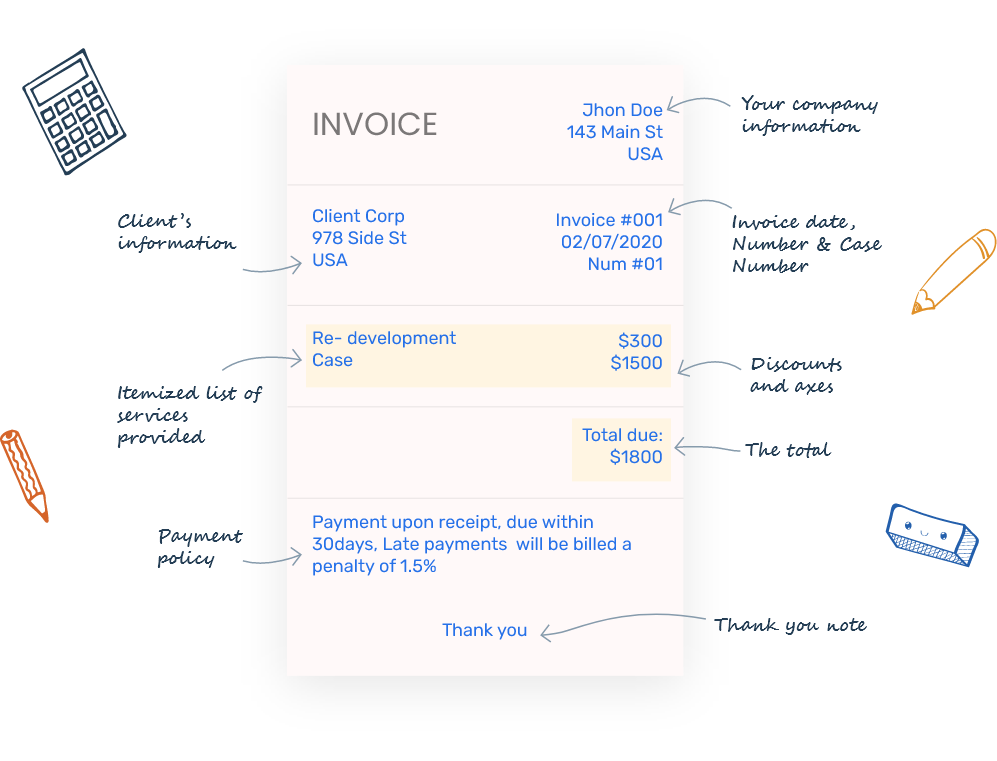 Handy Invoicing Tips for Attorneys
The invoice templates are important to an organization in many ways:
Explain Your Charges
Mentioning whether you charge a lump sum for a service or on the service period helps your client to understand the amount. This wins their trust and raises the chances of clients hiring your service again in the future.
Make It Easy For Your Clients To Pay
Always be open to multiple payment methods, such as credit card, debit card, online payment portals, and offline payment as well. This makes it easy and convenient for your clients to pay you.
Mention All The Payment Terms & Conditions
Don't forget to mention all the payment details, such as due date, how to pay, and late payment charges, and all the other relevant details without fail.
Free Invoice Template vs. InvoiceOwl Invoicing Software
Want to know what's best for you? Let's compare the free invoice template and the InvoiceOwl invoicing app and see the advantages the InvoiceOwl app offers you.
| Features | InvoiceOwlStarter$0/month | Free Invoice Template Free |
| --- | --- | --- |
| Send unlimited invoices and track them in real-time | | |
| Automate reminders for late payments | | |
| Issue receipts automatically when the customer pays | | |
| Record sales & sales taxes, and generate reports | | |
| Save clients with all the client information | | |
| | Create Your First Invoice Now | Download Template |
Frequently asked questions
How do I make a legal invoice ?

Making a legal invoice becomes simple by the InvoiceOwl app. All you have to do is fill in details in the fully customizable invoice template. And you are good to go.

How do you write an invoice for a contract job?

Writing invoicing is not an easy task. But, it will be easier if you choose the right template for your business. We have already mentioned a detailed guide for creating professional invoicing templates to maintain branding requirements.

How do I invoice a subcontractor?




Invoicing a subcontractor is similar to sending it to the clients. The only difference in this template is, in the client's template there will be services included, and in the subcontractor's template there are products/materials, and labor costs included.
Create Professional Invoices Online Easily and Keep On Top of Your Finances
InvoiceOwl is a feature-rich invoicing software that helps small businesses, freelancers and contractors to create invoices on-the-go and get paid quicker!