INVOICEOWL PAYMENTS
Accept Online Payments
Simplify the way you collect payments and get paid faster!
Contractors have many administrative tasks to complete as part of their busy schedule, and one essential task is collecting payments after invoices are sent out. InvoiceOwl provides tradespeople with a convenient and simple way to manage all of their invoicing needs in one app, including the facility to collect payments with ease.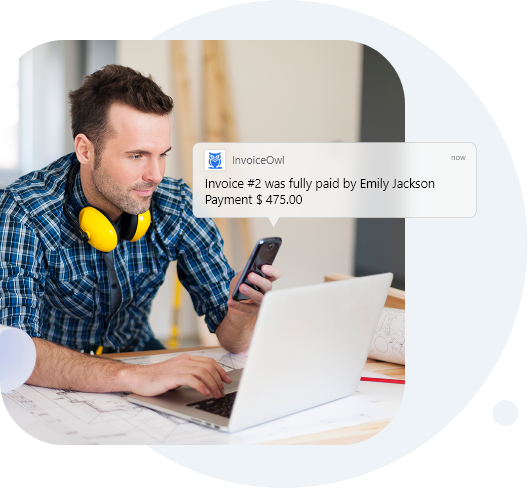 Request Payments Straight from InvoiceOwl
InvoiceOwl allows you to not only create estimates and invoices on the go, but it allows you to start accepting credit card payments with your invoices.
More Payment Options
InvoiceOwl allows you to accept a wide variety of payment options, including:
All major credit cards, including American Express, MasterCard, and Visa
Stripe
Apple Pay
Google Pay
With such a vast array of payment options available to your clients, you can collect payments easily.
Request Partial Payments
As an independent contractor, you understand that it's not always possible to collect full payment for larger projects. With InvoiceOwl payments, you can request partial payments, deposit percentages, or full payment. You set the guidelines, and your client will then be responsible for making payments per their contract.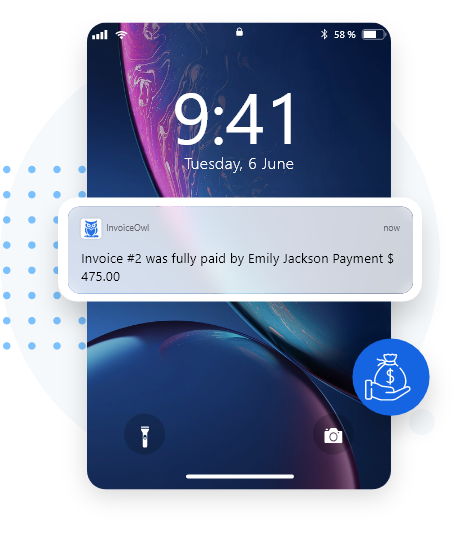 Get Notified When You're Paid
Thanks to this unique payment tracker, you'll receive a notification of the payment once it is done. This allows you to easily keep track of what is still owed and when a client has paid off their invoice entirely. You can also get a visual snapshot of all payments you've received within your InvoiceOwl reporting dashboard.
Frequently asked questions
How does it work?

Once you've created your unique, branded invoice and emailed it to your client, they will have the option to make the necessary payment right from the invoice. This will be in the form of a link embedded in the email which will take them to an overview of the invoice amount and the total payment due, with a payment processing form below where they can simply select the preferred payment option and enter their details.

Is it secure?

Both you and your clients can be rest assured that their payment and their details are handled with the utmost level of security. InvoiceOwl uses stripe to handle its payment processing which is PCI-certified and all card numbers are fully encrypted with AES-256.
What the HAPPY clients say about InvoiceOwl
Really like the way I can customize each estimate then invoice it.
My experience with InvoiceOwl has been great so far. I really love the app and the support I get each time I have a challenge. Thank you for making our lives easier with InvoiceOwl.
I use InvoiceOwl for my pest control business and it's made my life so much easier, as I can invoice the clients on-site straight after completing a job.
D
Danny Hutchinson, PreventiPest
Simplify your Payment Collection System
Need a fast and straightforward way to start accepting payments from your clients? Find out how InvoiceOwl can help your business today!