INVOICEOWL'S ONLINE INVOICE CREATOR
Create and Send Your Invoices Online
It couldn't be any easier!
InvoiceOwl is an excellent online invoice creator that will make running your business easier and more fun.
Are you looking for an online invoice creator tool to make unique, professional invoices for your brand? Then look no further – the InvoiceOwl invoicing software is the application you've been looking for!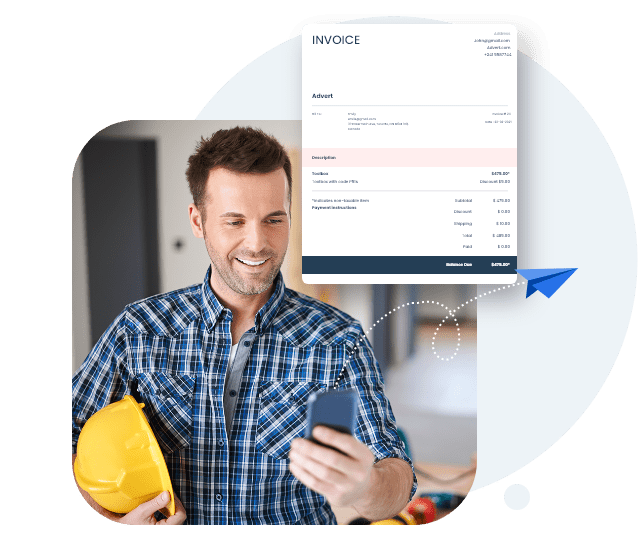 InvoiceOwl For Creating Unique, Branded Invoices
InvoiceOwl is so simple to use that anyone can create a professional invoice within minutes.
It's never been easier to create unique, one-of-a-kind invoices for your business. InvoiceOwl is an online invoicing application that can be used across multiple devices (desktop, laptop, tablet, mobile phone) to make custom invoice creation easy while on the go or in the office.
This invoice creator will help you work smarter and get paid quicker, and here's how:
Create Invoices on the Spot
When you're a sole trader or a self-employed professional, you have plenty of tasks that demand your attention. This point is driven home even further when you have to be on-site and need to do tasks such as creating an invoice for your client.
Thanks to the InvoiceOwl online/mobile invoice maker, you can create branded invoices or customize your invoice created prior in a matter of seconds. You can customize any of the available invoice templates with information such as:
Billing name
Provided services
Photo attachments
Payment instructions
Any necessary/further commentary for the client
Track Invoices and Get Paid Faster
Once you've sent the invoice to your client's email address, you can then keep track of which payments have been submitted in part or in whole to ensure that you're getting paid all dues owed. Once payment is received, mark it as a paid invoice. Simply select "Record a Payment" and then "Add Payment." Enter in all the relevant information, such as payment type and amount. Select "Send a Receipt" so your client is aware that you've received payment.
Client Details All in One Place
When creating invoices for repeat clients, you don't have to type out their information every time. This invoice creator saves all their essential details in one place, making it easy to check client info and activity.
Frequently asked questions
How do I create an Invoice?

It is extremely easy to make an invoice with InvoiceOwl. You simply have to choose a premade pdf invoice template, add your client's details (or select from the list of clients you've already invoiced), add your billing items, and hit send to invoice directly or download your invoice to print.

Can I Create an Invoice with my Smartphone?

Yes! You can create an unlimited invoice on the go with your smartphone. InvoiceOwl has web and mobile apps. It works smoothly with desktop computers, tablets, Android smartphones, and iPhones.

Is InvoiceOwl Safe?


InvoiceOwl is the best invoicing software for small businesses. All your data is stored safely to which only you have access via a secure login and password.

How Much Does It Cost to Send Invoices with InvoiceOwl?


It is absolutely free. You can sign up for a 14 day free trial. Or, you can create an invoice using our

online invoice generator

for free.
What the HAPPY clients say about InvoiceOwl
Really like the way I can customize each estimate then invoice it.
My experience with InvoiceOwl has been great so far. I really love the app and the support I get each time I have a challenge. Thank you for making our lives easier with InvoiceOwl.
I use InvoiceOwl for my pest control business and it's made my life so much easier, as I can invoice the clients on-site straight after completing a job.
D
Danny Hutchinson, PreventiPest
Creating and Sending Invoices Has Never Been Easier
Thanks to InvoiceOwl, you can now send professional invoices to your customers in a matter of seconds. Even better, getting started is just as easy! You can simply sign up to InvoiceOwl's invoicing software for FREE and get started right away!