Are you taking longer to create invoices than fastening a nail?
What if we help you create a handyman invoice template quickly and effortlessly?
When you run a handyman business, you have to take care of multiple tasks simultaneously. Tracking working hours, paying your vendors for supplies, paying labor for the hard work, looking for new gigs, attracting new customers, and building goodwill with the customers are just a few of the important areas on which you need to focus your energy.
Therefore, by making your invoicing processes efficient, you can spend more time on the other important areas and take your handyman business to new heights.
So, keep reading this blog, and let us help you "nail your invoicing process".
Before creating a handyman invoice for your business, let's understand the need for it by discussing the purpose of a handyman invoice.
What is the Purpose of Handyman Invoice Templates?
If you have ever owned a business, you would very well know that keeping up with even a small business takes a lot of time and energy.
To keep up with the list of services sold, billing customers, tracking paid and unpaid bills, and reminding the customers to pay you on time may take several hours to complete all these tasks separately.
And here comes the handyman invoice document in the picture.
It helps you automate all the above mundane and time-investive tasks.
It helps you save your crucial time for the other aspects of your business, such as sales.
It simplifies your life as an accountant and helps you track all the transactions.
Now, as a handyman, invoicing might not be your area of expertise. But, professional invoices not only help you get paid faster but also represent your brand. Thus, creating invoices manually is no joke.
So, the InvoiceOwl invoicing app helps you create professional invoices quickly. It does not need any prior training or accounting experience. It lets you create unique and unlimited invoices for your handyman business using the handyman invoice templates effortlessly.
Want to create a handyman invoice for your business?
Let's start digging into all the elements one by one.
What Should Be Included in a Handyman Invoice?
Invoice Date

The invoice date shows the date of the completion of the job. Without this, an invoice can not be processed.

Invoice Number

Invoice number is the unique invoice id assigned to every invoice to keep track of all the transactions and sorting and managing them efficiently.

Branding

Including the handyman business name, logo, and contact information, such as phone number, physical address, and email address confirms the seller's legitimacy.

Client Details

Mentioning the client information like their business name and contact information confirms the invoice is sent to the right client and keeps away any sort of miscommunications.

Line Items

Make sure to include all the handyman services provided and the chargeable tools/products/goods used to serve your customers.

The Grand Total

Without the final amount to be paid, an invoice is just incomplete. So, mention and highlight the grand total to be paid for the handyman services rendered.

Payment Terms

Informing clients about the total cost is not enough, you need to notify the terms and due date too. It encourages clients to process the invoice on time.

Payment Instructions

Let the customer know about the preferred payment method, currency, and account number to avoid payment failure and payment mistakes.
Now, let's assemble all the parts and build a masterpiece of handyman invoices.
8 Simple Steps to Create Handyman Invoice
Creating handyman invoices from scratch with Google Docs or Google Sheets is now a thing of the past. To create fine invoices for a handyman company, you should try invoicing software such as InvoiceOwl. It is quick and simple.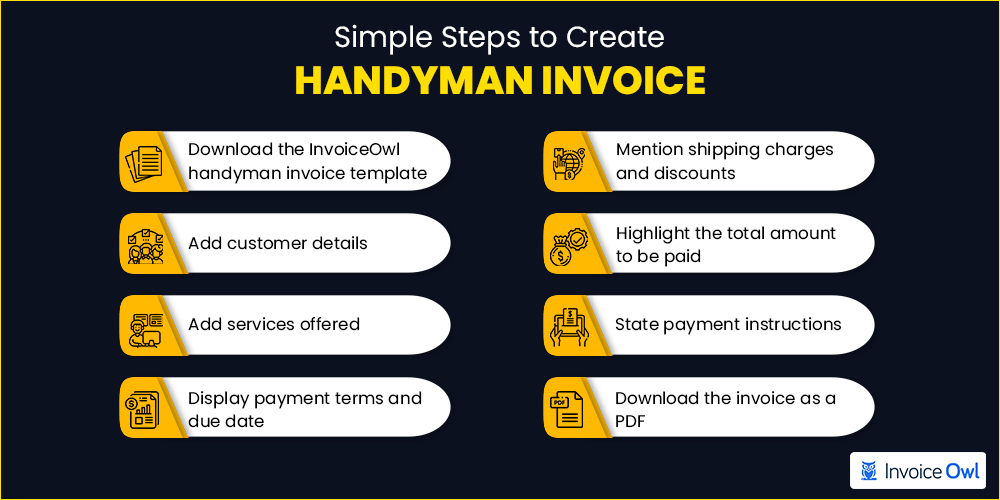 So, let's learn how to create a high-quality invoice template with InvoiceOwl in eight simple steps.
Download the InvoiceOwl handyman invoice template

Download the InvoiceOwl invoice template in just one click and you are ready to customize it as per your brand.

Add customer details

InvoiceOwl remembers your customers and you can add all the customer information, such as customer name, logo, and contact details.

Add services offered

Add all the services offered and products sold one by one. This step can be tiresome if done manually. Moreover, adding wrong items in the invoice is one of the most common invoicing mistakes. Thus, InvoiceOwl remembers all your services and products, which you can add just by selecting. This saves time and cuts down the chances of a human error that costs you a fortune.

Display payment terms and due date

Don't forget to mention the payment terms and due date of the invoice, it encourages the customer to pay before the deadline.

Mention shipping charges and discounts

Mention shipping charges, applicable taxes, and discounts justify the total price. And hence, it helps clients to understand it.

Highlight the total amount to be paid

The total amount is one of the most important parts of any bill. Thus, to make sure it is accurate, InvoiceOwl automatically counts and highlights it. You have to just verify it once and that's all.

State payment instructions

You have told the client how much to pay, now tell them how to pay. Adding payment instructions helps clients to pay you on time and effortlessly. Mention information such as preferred payment methods, account number, and payment currency, and similar details.

Download the invoice as a PDF

You are almost done here. Just give a glance at the preview of the invoice you created and download it as a PDF file.
Now, you can send clients an invoice customized for your business.
But is it enough?
You sure have generated a creative handyman invoice, but to ace the game and stand apart from other odd-jobber businesses, we bring you the best invoicing tips that will give your handyman invoice templates an extra edge.
Best Invoicing Tips for Handyman Services
Describe line items

One of the most common reasons for late payments is confusion regarding the product or services provided. So, don't forget to add a product/service description. This is why you should define every item in the invoice with providing rate, quantity, and cost.

Pitch your services

The business invoice creates great opportunities for marketing your business. So, pitch your services and boost your customer loyalty.
Wasn't that easy?
With the invoicing app InvoiceOwl, it should not take more than 5 minutes to generate a personalized invoice even if you are a beginner.
This brings us to the question:
Why Should You Use InvoiceOwl Handyman Invoice Template?
The InvoiceOwl handyman invoice template is specifically designed by experts for services such as:
repairing gadgets like washing machines & refrigerators
light fixtures
plumbing, wall paint
drywall repair
HVAC maintenance
furniture assembly
or floor repair
Therefore, it helps you create effective invoices for your handyman business. The InvoiceOwl invoice template is available in your preferred file formats, such as:
MS Word
MS Excel
PDF
Google Docs
And above all, InvoiceOwl serves you on Android, iOS, and online on the website too. You can come up with a new invoice anytime anywhere.
Want to experience it first hand?
Download a Handyman Invoice Template for Free
InvoiceOwl provides you with a handyman invoice template in your preferred file format, such as MS Word, MS Excel, Google Docs, Google Sheets, and PDF for free.
So, what are you waiting for?
Frequently Asked Questions
How do you write a handyman invoice?
Writing a handyman invoice is made simple with one of the most popular invoicing apps —InvoiceOwl. It lets you generate unlimited invoices with a simple template.
---
How do you invoice as a handyman?
Invoicing as a handyman depends upon the type of services you provide. Generally, handyman businesses charge clients based on the type of service and time taken for completion of the service. Additionally, you may charge for the products/parts used to complete the job.
---
How do I make an editable invoice?
A purchase invoice number is a reference id of the particular purchase invoice. Every purchase invoice has a unique invoice number. It helps in sorting, managing, and auditing a business transaction.
---
What is a purchase invoice reserve?
You can easily make an editable invoice template with the invoicing app —InvoiceOwl.
Conclusion
We hope you have learned a new thing about invoicing as a handyman service provider. We talked about the purpose and elements to be included in a perfect handyman invoice template. Moreover, we discussed the eight simple steps to create a handyman invoice template from scratch with tips to make it effective.
And after all the discussion we can say that when it comes to invoicing, the InvoiceOwl app is the best solution for all your problems. Whether it is crafting an invoice, receipt, credit memo, or purchase order. InvoiceOwl helps you with everything.
Therefore, download the app and start creating a handyman invoice template now!