Plumbing Invoice Templates
Do you find invoicing a time-consuming process to do? Due to this reason, if you are delaying the process, then you are making a mistake. Delayed invoicing can harm your business in the long run.
So, what could be the possible solution? What if we tell you that you can send an invoice in less than one minute? With the InvoiceOwl app's plumbing invoice template, you can create a plumbing invoice on the go using your smartphone. Yes, you read it right. You can make invoices without any hassle and get paid faster. Want to know how? Continue reading this blog.
Ready to use our plumbing invoice template to create your invoice?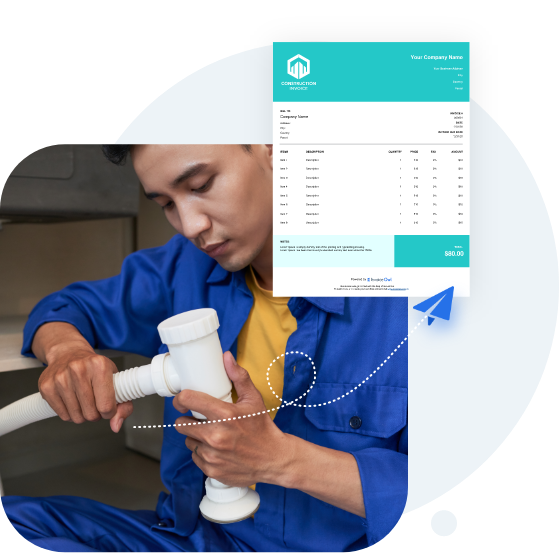 How to Create Plumbing Invoices?
Creating a plumbing invoice is not as easy as it sounds for small businessmen who can not afford to hire an accountant. And without accounting experience, you might make multiple mistakes that cost you both hard-earned money and precious time.
Therefore, to avoid mistakes, every small plumbing company should use the free plumbing invoice template. When it comes to downloading plumbing invoice templates, InvoiceOwl is a one-stop solution for downloading templates. To make plumbing invoices using InvoiceOwl templates, you can follow the mentioned steps and see how InvoiceOwl simplified invoicing for startups and small businesses.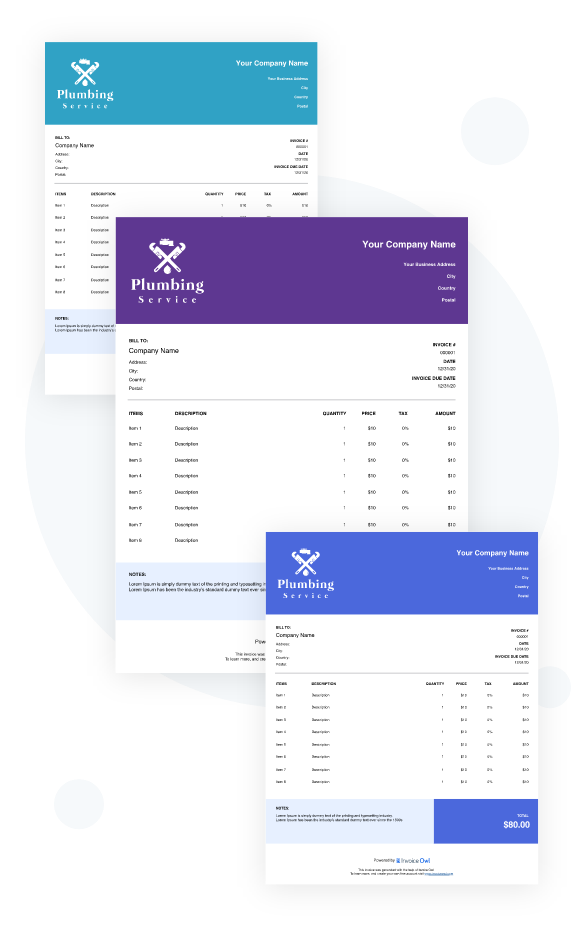 First of all, download the free plumbing invoice template.
Personalize it with your branding by adding your company name, logo, and contact information.
Customize the color scheme to match your brand colors and make it as unique as your brand.
Add details of your clients, such as client name, client contact details, and the billing address.
Mention the services provided and materials/products used in a list.
Mention the rates and prices of services and materials used respectively.
Highlight the total cost in a separate column after adding and subtracting sales tax and discounts respectively in a different field.
State the payment instructions, such as payment terms & conditions, method, and due date.
PS: For winning the trust as a brand and speeding up the payment process from the client's end, always;
Include a description of the provided services & material used;
Explain your charges (whether you charge on an hourly basis or charge a lump sum amount for your services).
Isn't it quite simple?
Creating an invoice is no longer rocket science. Anyone with or without accounting experience can make a plumbing invoice without any expert's help.
Download a Plumbing Invoice Template for Free
Why start from scratch when you can download a plumbing invoice template for free? Yes, you read it right!
The InvoiceOwl invoicing app allows you to download multiple templates to select from, and the best part is you can download it in whichever file format you want. You get them in MS Word, MS Excel, or PDF file format.
Moreover, the best part is that these billing templates are fully customizable. So, start creating professional plumbing invoices effortlessly within no time.
Upgrade Your Invoice Template with InvoiceOwl
What is the Use of a Plumbing Invoice?
A plumbing invoice helps your plumbing business not only in accounting but in other departments, such as marketing and sales too. Hard to believe that? Keep reading, and you'll know.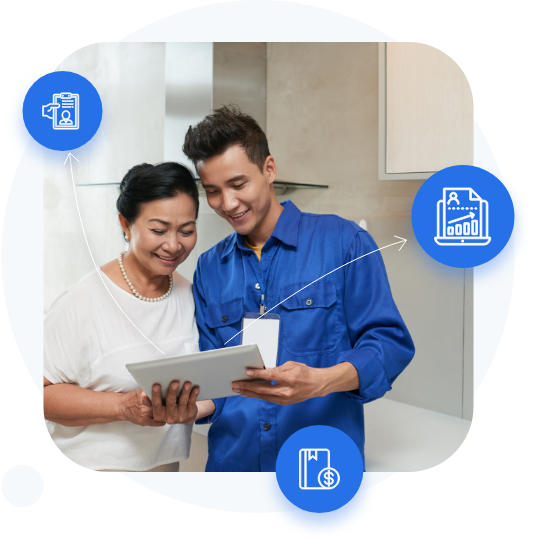 1

Billing Clients

One of the fundamental uses of a plumbing invoice is to bill your clients. This is the most professional way to collect payments for the provided plumbing services.

2

Managing Customer's Account

Good marketing practice is to keep and manage customer information. This information lets you personalize your plumbing services. But, managing the customer information, such as name, contact details, and type of service, is harder than said. Thus, an invoice makes it easy for you. All you have to do is manage your invoices.

3

Keeping A Record Of Sales

If you have kept your invoices in the record, you can easily record all the sales in any particular period. This makes the accountant's job easier.

4

Bookkeeping

If you are into recording and organizing every little thing about your plumbing startup but do not have enough time for that, invoices keep track of everything from business done to tax to be paid.
Now you might be thinking, how can one invoice template serve this many purposes? Well, just like the uses, there are multiple types of plumbing templates. So, let's check a few of the major types.
Different Types Of Plumbing Invoice Templates
1
Plumbing Industry Standard
A standard plumbing invoice template is the simplest way to bill your customer. It describes the jobs done and the final figure to be paid.
2
Time-Bound Invoice
A time-bound invoice template is used when a company charges the customer on the time spent to complete the job.
3
Estimate
The estimate template is used to give potential customers an approx figure that the service would cost and figure out the down payment.
5
Credit Invoice
The credit invoice template shows the positive balance in the customer's account due to refunds or a decrease in service rates.
6
Mixed Invoice
Mixed invoices are used to show all the transactions (debit and credit) made between the plumber and the customer during the project.
Elements of a Plumbing Invoice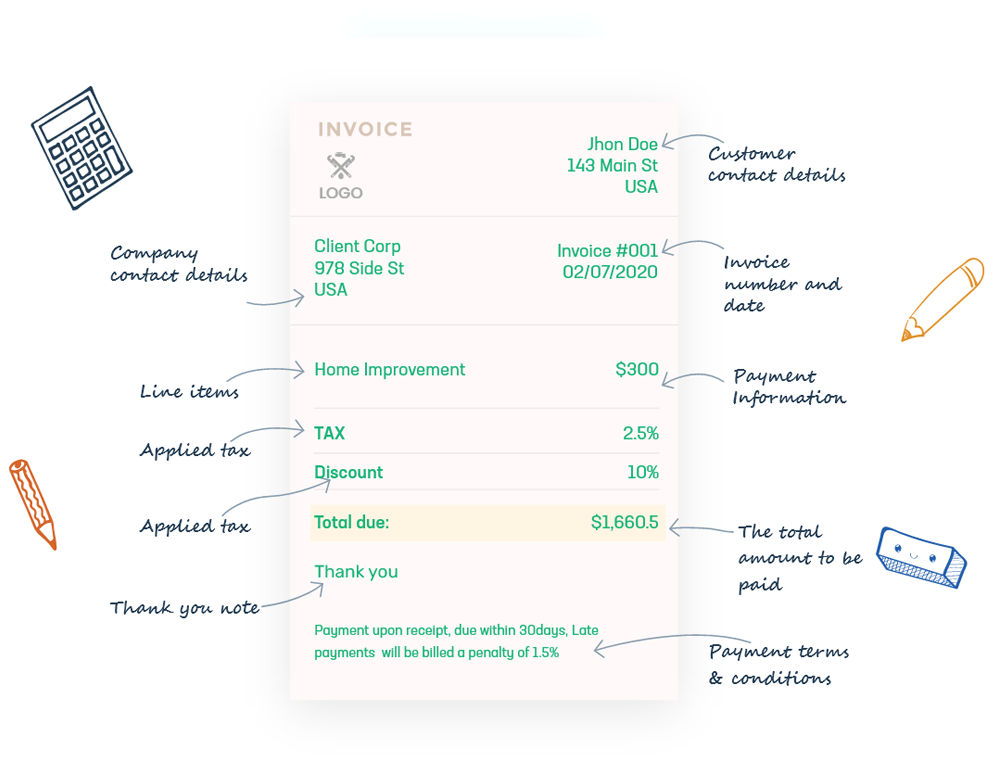 Invoicing Tips for a Plumbing Company
After talking to professionals working for years in the plumbing industry, InvoiceOwl has come up with quick tips for creating a plumbing invoice for you.
And here they are:
Send an Estimate First
Sending an estimate before the beginning of the job lets your clients know what to expect in the invoice and makes them pay you quickly.
Market your Services
A professional invoice is a great opportunity to secure future collaborations. Marketing all your services with a price list adds to brand awareness and customer loyalty.
Keep The Page Size A4
Keeping the page size of your invoice A4 helps your clients to file and organize it easily. Moreover, if you are sending it online, they can easily print it.
Free Invoice Template vs. InvoiceOwl Invoicing Software
Want to know what's best for you? Let's compare the free invoice template and the InvoiceOwl invoicing app and see the advantages the InvoiceOwl app offers you.
| Features | InvoiceOwlStarter$0/month | Free Invoice Template Free |
| --- | --- | --- |
| Send unlimited invoices and track them in real-time | | |
| Automate reminders for late payments | | |
| Issue receipts automatically when the customer pays | | |
| Record sales & sales taxes, and generate reports | | |
| Save clients with all the client information | | |
| | Create Your First Invoice Now | Download Template |
Frequently asked questions
How do plumbers charge?

Generally, plumbers charge on an hourly basis. Based on the expertise, plumbers charge different rates for a job. And generally they charge on an hourly basis. But in some cases, plumbers may also charge a lump sum amount for a job including the materials used. It depends on the plumber.

How do I write a plumbing invoice?

To write a perfect plumbing invoice, you must include the following details.

Your branding
Invoice numbers
Client information
Item description
Total cost breakdown
Payment terms

Is an invoice a receipt?



Create Professional Invoices Online Easily and Keep On Top of Your Finances
InvoiceOwl is a feature-rich invoicing software that helps small businesses, freelancers and contractors to create invoices on-the-go and get paid quicker!