Want to get rid of paper-made invoices hiccup? Then, this blog is a must-read for contractors like you. Here, we make sure you have your eyes set on the multiple activities in your business.
In the initial stages of your business, the first thing you need to do is to make an estimate. And this is where InvoiceOwl lends you a helping hand in your business. From estimating to invoicing, this effortless software enables you to customize the theme according to your choice.
Moreover, it helps you get rid of your financial woes as you can have a look at your reports while you are on the run. Therefore, instead of mugging up things in mind, simply click on the 'estimate'. Right then, moving on to know how an HVAC estimate template makes your job easier.
What Do You Mean By HVAC Estimate Template or HVAC Quote Template?
A soft-copy document that allows the contractors to design their quotations quickly. This procedure is usually done before finalizing a new deal. HVAC (Heating, ventilation, and air conditioning) estimate templates consist of products' lists, timings, and price, which can be later modified by the contractor. Also, it includes a jobber's description along with necessary guidance.
Adding to that, you can have the option to download and share this template for reviewing purposes. By doing so, contractors can expect instant approval from their clients. As a result, you will get paid even faster.
This estimate template would be accepted or rejected by your client. A short-term estimation process will save you valuable time and expand your business. In this process, you may develop a long-term collaboration with them.
Why is an HVAC Estimate Template Necessary?
Since the world is moving to the digital platform, business owners associated with HVAC, too, are adapting to the new norms. With the development of new business, it is the contractor's responsibility to keep the details handy. So, an estimate template quickly allows you to fill in all the requirements while you are on the move.
Following that, you can share the estimate with your clients just with the click of your finger. And if it gets approved, you can save the client's information to collaborate with them. In short, an HVAC estimate is a crucial step to begin your new work. This amazing feature eliminates your paperwork and saves more valuable time.
Below is what estimate template can offer:
Assist you to work in an organized manner
Save your time from hand-written estimates
Make you complete your task in a professional way
Give you 3x faster payments
Quick amendments
A proposal document from an HVAC contractor, not only assists in developing a new association but also helps you make templates in a professional way. Moving ahead, let us check what are the necessary deets you need to enter.
What Details Do You Need To Fill In The Estimate Template?
Being an HVAC contractor, you need to put the below-mentioned information in the estimate template. It may not take more than two minutes two fill up the proposal forms.
Shipping Details

Enter the basic details of your clients to reach them anytime soon. This later helps you prepare an invoice at the end of your service.

Billing Name: Put the full name of HVAC contractors or company names before filling in their contact information and email ID. This will assist you in preparing an invoice on the basis of the same.
Shipping address: Type your client's address to send the package or avail of the service of the item. Once you are done, recheck them for any spelling errors to avoid mistakes in the later stages. You should properly check the company name.

Product Features

Item name: Mention the name of your product along with its other required details. Also, you can add more than one item name and its codes. It plays a vital role in your services.
Description: Elaborate the details of your product or its services, so that it would be easy for them to understand. In this section, you can add quantity and rates.

Payment Notes

Get your instructions of the clients ready in the comment box. For example, if there is an AC unit, mention services tips, and guidance to use it in the correct ways. Also, you can amend the changes whenever you want to.
What Are The Effective Ways To Create Estimates?
As a contractor, you need to be aware of your potential client's expectations. So, below are the five ways that will help you create estimate templates.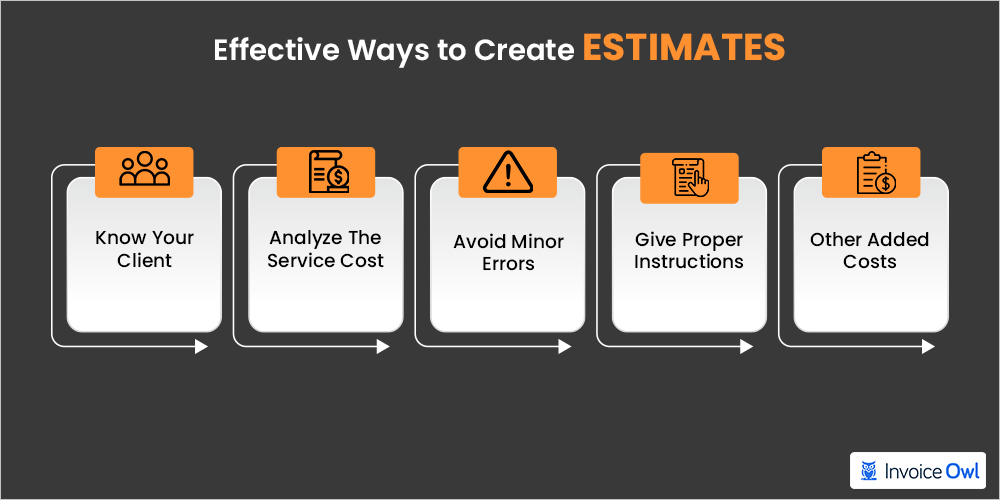 Know Your Client

HVAC contractors should know the likes and dislikes of their clients in order to explore their business. And according to their needs, you should make the changes inside the template. While creating estimates, you should mention the important details including price. Or else, you may have confusion in the end. Hence, it is necessary to be on the same page.

Analyze The Service Cost

One of the important things you should not forget at the time of estimating is cost calculating. Firstly, analyze your budget and then offer the best rates for them. If possible, you should try to meet your client's expected rates.

Avoid Minor Errors

Estimates are prepared on the basis of the client's information. So, contractors should refrain from making any minor mistakes in spelling or prices in order to make a consistent format. These minor errors may bring more trouble for you. However, you can always edit them later on.

Give Proper Instructions

Take the benefit of the comment box section to provide a detailed description of the product. Always give the necessary instructions to them, so that it would be helpful for them to use. Reading these comments, your client would be happy to collaborate with you.

Other Added Costs

During the estimation process, recheck the cost of services and the availability of the jobber. Inform the client regarding the added costs of your products. In such cases, make sure you inform your client prior to the service or delivery date.
Get Your HVAC Estimate Template For Free
When it comes to impressing your customer, it always starts with a blank copy where a proper HVAC quote template is created. No matter what, as far as you have support from InvoiceOwl, you can disperse your worries in a minute. Try to make an estimate totals using a free template and then download it.
Frequently Asked Questions
How can I use the estimating software?
You can simply download the Invoice Software Solution App or use the web application to register with us. Once you successfully log in, you will receive a confirmation email. Thereafter, you will be able to create estimates and invoices for your buyer.
---
How do I manage multiple buyers?
To enhance your business productivity and help you earn more profit, InvoiceOwl brings you three affordable plans, where you can choose what suits you the best. However, you can always opt for the free trial to check out interesting features in detail.
---
Can I check the preview of an HVAC estimate template?
Of course, when you get into your account, you can select the estimate feature to create a new template. After filling up basic details and contact information, you can check the preview of the estimate template by selecting the preview button.
---
How will I send an estimate?
In order to send the HVAC estimate to your client, you need to meet the expectation of him or her. So, add the complete information in the proposal form, then recheck it in the preview mode. If everything looks fine, share or download the invoice.
---
Shall I take follow-ups from my clients?
If you have already sent an HVAC estimate to the customer, you can reach them after a few hours to collaborate with them. In case, if they are delaying to reply, you can send a reminder via a phone call. This easy-to-use process will help you connect with more clients.
Conclusion
HVAC business owners may find it difficult to handle more than one thing at a time. And that is why the Invoice owl becomes a handy tool. This amazing web platform allows you to create an estimate template within a minute. Then you can have a close look at it before sending it. Moreover, you can also put on the notes or instructions in the comment sections. These easy steps will not only cut off your time but also help you establish strong bondings with your customers.
Now, whenever you receive a green signal from them, make it count by using InvoiceOwl. In the closing stages, you can choose the invoice option to issue the transaction invoices to your client. This feature enables you to amend the invoice anytime. Also, you get real-time notifications on your mobile app, so that you can always have track of clients' activities.
So, why wait? Register with InvoiceOwl now and begin your new contracts on high.