Creating professional and all-inclusive invoices can be a struggle for the construction business owner. Especially small businesses face such issues and have lots of other concerns they face. That is why most small business owners create construction invoice templates online which are fully customizable and allow them to include all the essential elements as per their choices. Such free invoice generators help them calculate the total amount due for their clients and open effective ways for business owners to collect the money without much hassle.
Why You Should Use a Construction Invoice?
As a part of the construction project, you must be wondering about how to bill your clients and how to keep track of your finances. The most important component of professional and organized invoicing is similar to running a successful business and ensuring that you get paid on time and immediately after you send an invoice, each and every time.
Business owners have many responsibilities for running their business successfully and keep their clients happy at the same time. They definitely don't want bad invoicing to keep them down. The construction business invoice template is the easiest solution for the billing process without any headache. There are plenty of reasons you should use free construction invoice template –
Manage your unlimited invoices from the same place
Take care of the subcontractors with appropriate invoice details
Handle the clients with ease
Keep financial transactions of post-construction
Supervise transaction history throughout the work
With the construction invoice template excel, construction invoice template word, or construction invoice template PDF creating and customizing invoices is very easier than ever. Such templates can be supportive of many aspects of the construction company. Here are a few reasons why construction owners should use a construction invoice:
Organized financial transactions
Store important payment information
Watch out for payment due dates
Collect relevant information for tax purposes
Remark outstanding debtors and their debts
Keep track of inventory (purchased items, rates, services performed, etc.)
The construction work invoices will typically include products and/or services, labor costs, quantity, sales taxes, payment details, the total amount, payment due date, payment instructions, and other relative information. By including all the relevant & basic information, construction companies make sure that their clients easily understand all charges that they have been charged for the service.
With such clear communication, it will help companies to avoid confusion at the time when the clients may miss to pay the payment, and troubles they may face at the time of tax. This undoubtedly will lift the extra weight from your shoulders and make construction businesses trouble-free.
Making professional construction templates will be a blast if you just focus on the best thing you are doing. Do not waste your precious time and effort worrying about how to create a construction invoice template, because we have got you covered all about it here, in this article. By using our guide you can professionally create professional invoices the right way.
Try our free online invoice generator today!
Whether your business is in construction, landscaping, consulting, photography, auto repair, or the medical field, invoicing takes way too long. That's why we're here. InvoiceOwl makes your invoicing faster and simpler so you can get paid promptly and without the hassle.
Get Started Now
How to Create Construction Invoices?
As a construction business owner your company designs and construct large projects every day, that means creating an invoice should not demand hard work from for you or any of your team members. Especially when there are so many tools available in the market, the answer sounds interesting, right? Keeping construction business in mind, we have created a guide that helps you modify the construction invoice free so you can send invoices in just a few clicks.
Here is the step-by-step process of construction invoice template –
Download the free invoice templates for Windows & Mac
Fill in your business details, i.e. company name, logo, and contact information
Insert client's details, i.e. the client's name or firm name and contact information
Create a unique invoice number for each template you create
Include invoice issue date and payment due date
Add Itemized list of products or services with descriptions and costs, and make sure every item is listed separately
Calculate the grand total including sales taxes
Insert precise payment terms and conditions
Double-check all the details
Send the final invoice directly to the client via email or post
With these construction businesses in your mind, you can do your best and skip the extra hassles of complex invoicing. The construction invoice Word, construction invoice PDF, or construction invoice Excel allows you to customize the invoices that best serve the needs of your client and your business.
You need to include comprehensive descriptions of the services/products that you have provided so that your clients know exactly what services they are paying. Also, at the same time, the clear instruction for a mode of payment and due date is equally helpful to the clients. If you follow these basic steps, it will help you get in a timely manner without any problem. Now you must be thinking about which type of invoice is suitable for businesses' infrastructure.
Suitable Invoice Types for Construction Businesses
As a construction business owner, you must choose a unique and appropriate kind of invoice to bill your clients. Choosing the right invoice design for you and your clients makes a great difference. So, choose the perfect invoice type for your business needs.
No "one design fits all needs" when it comes to a construction job because there are various types of work businesses do and differ from each other. So, make sure the invoice you choose is highly customizable and helps you get the job done quickly. Here is the list of multiple types of invoices from which you can choose:-
Standard invoice

A standard invoice is a basic invoice and a simple template to choose from. It includes just the basic details about how the customer owes for the hard work you have done.

Recurring invoice

A recurring invoice is used to accept ongoing payments from the customers. This kind of payment would be suitable to collect the money using a recurring service.

Prepayment invoice

A prepayment invoice is used to collect an advance deposit or down payment for the services or tasks before completion of the construction work and also for the final payment.

Time-based invoice

Such an invoice is used to bill customers for a service that is charged by tracking the hours. It is also considered an ideal invoice for hourly invoices.

Credit invoice

A credit invoice is used to state a credit balance in case of a refund that has been credited to the client's invoice account. In cases like refunds, it displays transaction information just like a receipt.

Debit invoice

A debit invoice is utilized to add a balance that a client owes after a raise or adjustment for the total cost. Basically, when the project requirements change and prices may change, all the changes should be included in the debit invoice.

Mixed invoice

Such invoices include the details about the credits made into the client's account and list the final balance for informational purposes.

Now that you are clear with your thoughts, it will be easier for you to choose the appropriate template. This might also help you build up your business with better and professional invoicing. By choosing the right bill type will help you create an invoice 2x faster. Once you choose the invoice, it's time to download it and modify it maintaining it with the right elements.
Find Out the Construction Invoice Template for Windows & Mac
If you are looking for an efficient way to create an invoice for the business you own, you must look for the sample construction invoice template for Windows & Mac. You can bill your customers the way you want to with the appropriate template construction invoice template similar to the free consultant invoice template. When you are looking for the construction invoice templates make sure it is printer-friendly and customizable according to your needs and help you get paid quickly. For that, all you need to do is find out the "construction companies" special —free invoice template for Windows & Mac in .Doc, Google Docs, .XLS, Google Sheets, or.PDF, customize it, and send it.
Choose Free Construction Invoice Templates
Running a company successfully is a very difficult task and requires a lot of hard work. That is where a sample construction invoice will help you spend more hours doing what matters the most for your business. It will make it easier for you to create a professional invoice very quickly and help you maintain your branding style. Simply download the template format (for example, Google Docs, Google Sheets, and PDF) that is suitable for your branding style and customize it carefully and send it to your customers, and get paid the right way.
Elements of a Construction Invoice
Once you have downloaded an invoice, you should consider following the basic elements which should be considered appropriately.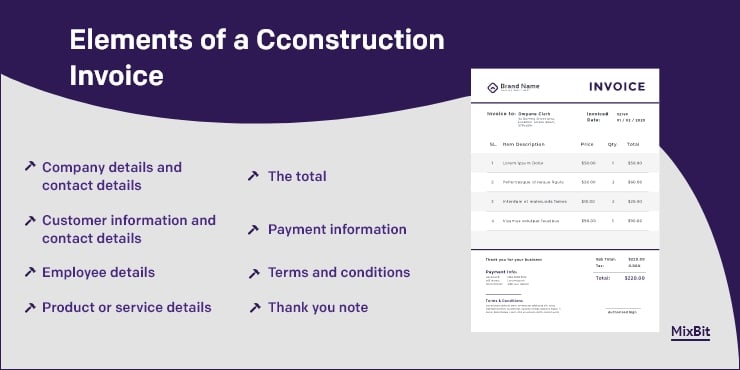 Company details and contact details
Customer information and contact details
Employee details
Product or service details
The total
Payment information
Payment terms and conditions
Thank you note
Benefits of Using Construction Templates
The invoice templates are important to an organization in many ways:
Save the time

By using downloadable invoice templates you will save time which you spend on creating from scratch and also allow you to focus on other business-related tasks.

Consistency

Having a pre-created template will save you many hours. Using such a downloadable template over and over again ensures consistency that will also benefit your client to understand the invoice template whenever you send an invoice so that they can make payments faster.

Client satisfaction

The consistency in invoice templates offers a professional way of communicating with the customer. Hence your customers will find it very professional and as they get connected with the basic information easily, it will be more convenient for you to maintain client satisfaction. Other than that, it leaves a lasting positive impression on their mind.
Frequently Asked Questions
1. How do I write construction invoices?
In this article, we have provided a few details about creating an invoice that will lead you in creating professional bills for your clients. The main thing that you can make sure of is choosing the right template and editing according to the projects you have done. This will also help you maintain your brand in front of the client.
---
2. How do you write an invoice for a contract job?
Writing invoicing is not an easy task. But, it will be easier if you choose the right template for your business. We have already mentioned a detailed guide for creating professional invoicing templates to maintain branding requirements.
---
3. How do I invoice a subcontractor?
Invoicing a subcontractor is similar to sending it to the clients. The only difference in this template is, in the client's template there will be services included, and in the subcontractor's template there are products/materials, and labor costs included.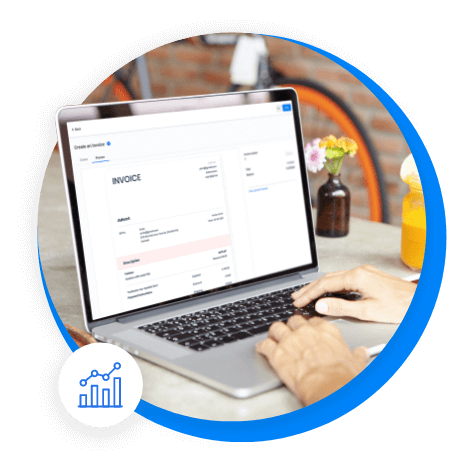 Create Professional Invoices Online Easily and Keep On Top of Your Finances
InvoiceOwl is a feature-rich invoicing app that helps small businesses, freelancers and contractors to create invoices on-the-go and get paid quicker!
Get Started for FREE
Conclusion
By following the above-given guidance you can create as many professional invoices as you want. Such invoices will be also considered as a legal document and as proof of the amount due or for the payment paid for all the products or services that you have provided during the contract. It is very important for both of you and the client. How?
For the contractor, the invoice is important for bookkeeping and also tracking the financial cash flow, and at the same time for the clients, this document will benefit them keep the records of all the products or services they are going to pay for. Basically, it acknowledges the work completed. We at InvoiceOwl help you create an invoice with the best experience. Read more about us here and learn about all the invoicing requirements.