As a construction supervisor, it becomes challenging for you to organize and extract essential payment information to get paid as and when required. Also, you need to perform some manual operations like:
creating work duration
taking project notes
identifying the breakdown of labor costs
To get rid of such manual processes, it becomes essential for you to adopt construction invoice templates to make your invoice look more professional. Want to know how?
In this blog, you can find almost all the important information about construction invoice: What it is, why you need it, and what best practices can help you get paid on time.
What is a Construction Invoice?
A construction invoice is a legal document that a construction company, vendor, or freelancer issues to a customer who opts for their services and products.
A construction invoice should be sent before or after the construction services have been provided for a construction project.
It is considered as proof or verification of an initial agreement between a customer and the construction business owners regarding the costs of services, labor costs, material, and hours worked, and how the customer needs to pay.
Invoice templates also include payment requirements, thereby construction service providers can create accounts receivable. It is a written record of the purchase agreement.
A standard construction invoice includes specific details such as:
invoice number (make sure you create a unique invoice number)
invoice due dates
business details, for example, company name, address, contact information, and phone number of contractor
name, contact details, street address, and phone number of the client
the invoice issue date
itemized list of products and services along with the description
the unit price and total cost of the goods and services provided
total amount due including sales taxes
terms and conditions
preferred payment method
Of course, every construction business functions in its own way and handles its invoicing practices differently. But they need to maintain professionalism through the invoices they provide depending on the construction work they have done.
Try our free online invoice generator today!
Whether your business is in construction, landscaping, consulting, photography, auto repair, or the medical field, invoicing takes way too long. That's why we're here. InvoiceOwl makes your invoicing faster and simpler so you can get paid promptly and without the hassle.
Best Practices for Construction Invoice Template
Every construction business has its own invoicing practices that they are following. Most of them know what works for them and what is not working for their successful business. Based on their experiences they need to change their strategies.
And we all know that there is always room for improvement. Here are some of the best practices that you can follow while creating a free invoice template.
Send invoices on time

There are very few contractors who will say that their customers consistently pay them on time. The longer you wait, the longer you must wait. When invoices are sent late, there are chances of late payments.

Plus, outstanding invoices can mess up your business cash flow. So, it is ideal to send your free invoice as quickly as possible (while the work is still going on in the case of a longer project). Also, make sure that the client receives the free invoice while the construction work completed is still fresh in the client's mind.

Keep invoices professional and detailed

When you are creating invoices, your purpose is to make your clients aware of why they are paying and what they are paying for. It is always good to include enough payment information and client information that supports your payment request. But not too much where the invoice is overloaded with over impossible to read and provides a bad impression.

One of the easiest ways to accomplish this is to have a standard format. No doubt the invoice requirements will vary from project to project but you need to make sure you standardize the basic format. You should also uniform the method of labeling products or services that helps the entire organization.

Payment terms (Short – but meaningful)

Generally, invoices provide 30 days of credit to the customers to pay, still, some companies offer 120 days. However, longer payment instructions lead to a higher debt ratio, which can be critical for the companies' finance.

In this case, you need to clearly mention your terms and conditions so that your customers know exactly when you are expecting payment. But do not try to include burdensome terms and conditions along with payment instructions.

Build trust and a collaborative relationship with your client so that you can help them on the path towards securing better terms.

Late pay penalties or Early pay discounts

The easiest and efficient way to speed up the payment process is to offer a discount if a client pays before the payment is due. On the other hand, some companies choose to mention late payment penalties in case the client misses the payment due date.

Both the ways are simple tweaks to gain your total amount as early as possible that can speed up your payment collection.  Discounts or penalties no matter what a customer chooses as a contractor you must inform them about your intention very clearly.

Invoice follow-up

There is no need to be shy when you are asking for payment. Do not be afraid to follow up when you have outstanding invoices. But you should send gentle reminders at the initial stage so that clients understand your concern.

You can also take follow-up with emails or phone calls; just be sure you end up getting paid quickly for what you have worked. Before sending payment demands, it is a good idea to talk to the customer about the pending invoice.

If you follow the above given best practices while creating a free construction invoice template, there are high chances that you will get paid on time and customers will easily understand your invoices.
Frequently Asked Questions
How long does a contractor have to invoice?
There is no deadline to send an invoice. But, the contractor must start creating invoices as soon as they start their project and note down the hours they have worked. Once the project is done they should immediately send invoices to the clients so that the client can pay you on time.
---
What are construction invoice templates in the construction industry?
Construction invoice templates are one of the easiest ways for a contractor to create invoices. It comes with pre-filled information related to the construction industry where a contractor just needs to add their hours and description of the services. The construction invoice template is created to ease the work of a contractor and help them get paid faster.
---
What are the standard payment terms on the construction invoice template?
The standard payment terms illustrated on the sample construction invoice template helps customers to know when exactly the contractor is expecting a payment and what will be the consequences if they don't pay the total cost on time or at the payment due date (i.e. late payment penalties). The contractor can modify the standard payment terms as per the client's agreement before the invoice has been created or before the project starts.
---
What should a construction invoice look like?
A construction invoice must include the following essential information:
Service details: Be as clear as possible when describing the product or service you're providing.
Service Date: Including a service date is optional, but if you decide to note it, this would be the date you performed the contractor service.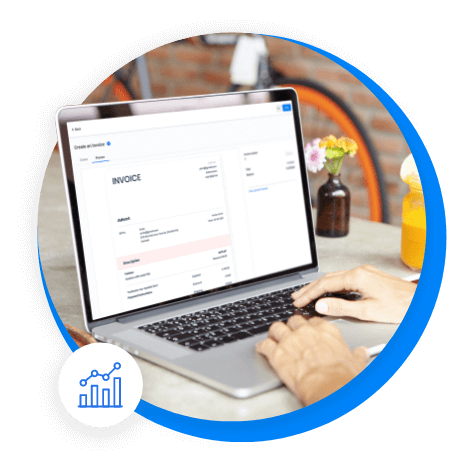 Create Professional Invoices Online Easily and Keep On Top of Your Finances
InvoiceOwl is a feature-rich invoicing app that helps small businesses, freelancers and contractors to create invoices on-the-go and get paid quicker!
Conclusion
A construction invoice helps the construction service providers to create invoices by adding essential information related to work completed and materials used.
By using construction invoice templates in your business, you can easily:
send invoices to the customers faster
get paid on time
create invoices professionally
improve your business efficiency
We've also come across the best practices that you can apply and make your work easier. It's better to adopt online invoicing software solutions like InvoiceOwl that offer customized invoice templates in Word, Excel, and even PDF format to create invoices as per your business needs.