Wondering how much profit in construction you can make year over year? Or practical ways to increase revenues of your construction company? We heard you. Here is a blog that walks you through all the information you need – from types of profits to the seven most feasible strategies to boost your profit percentage. Let's begin to dig deeper to understand how much profit is in construction.
It is a challenging task for construction business owners to predict profit margins. All thanks to the highly volatile nature of this industry. Things go great a few years in a row. And the following years, you may struggle to even keep afloat while your competitors seem to be flourishing.
That's when careful planning and strategic implementation can save the day for you. It can influence, as well as accelerate, how much money can come into your business, boosting your profit margin considerably. What are those strategies? We'll have a closer look at that and much more.
But before we do that, let's first understand the different types of profit prevailing in the construction industry.
Types of Profit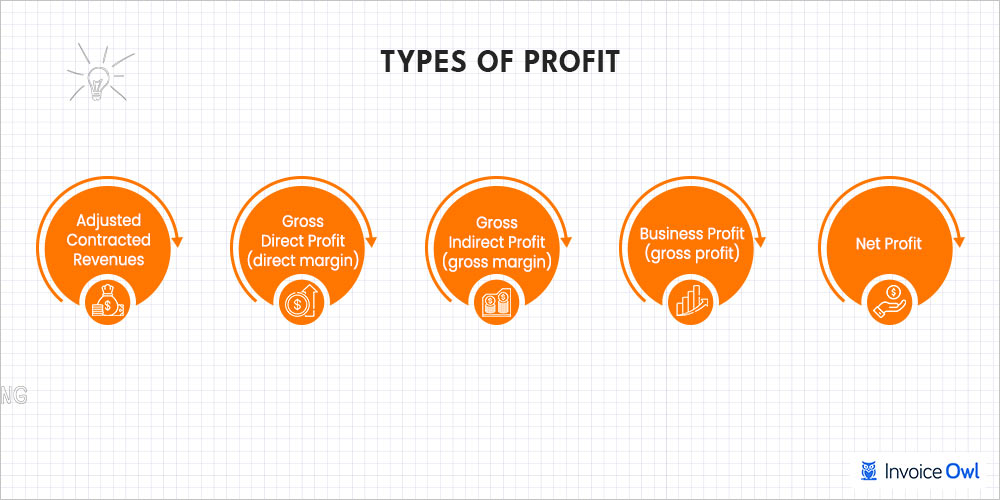 Adjusted Contracted Revenues

The term adjusted contracted revenue indicates a fixed amount being reserved for a contract. However, when the general contractor and the buyer negotiate to close things, this contracted price undergoes a reduction. Adjusted contracted revenues exist only in the construction industry.

In the case of home construction projects with development from scratch, such contracted revenues fall in the range of 9 – 11% of the contract price.

Gross Direct Profit or Direct Margin

When you subtract the actual direct costs of your construction project from the adjusted contract price, what you obtain is known as your gross direct profit. The developer community often refers to this profit as a direct margin. The direct cost, in this case, will be the expenses you make on land, labor, materials, subcontractors, construction equipment, permits among other direct costs.

Gross indirect profit or gross margin

When you minus the indirect construction costs from your direct profits, you will get the gross indirect profit for your business. The indirect construction costs are nothing but the administrative and general costs your construction company needs to incur to complete projects.

Since it is a shared expense between your multiple projects, you cannot tie it to a particular task. Ideal examples of indirect costs could be office expenses, office tools and equipment, supplies, accounting, business insurance, taxes, and transportation.

Business profit or gross profit

As a business owner, gross profit is the profit you get after deducting the overhead cost from your gross margin. The overhead expenses are costs incurred by your business on processes, such as office operations, corporation fees, and marketing.

For accurate calculations of your gross profits, ensure that your overhead costs or indirect expenses do not include the owner's compensation or tax deductions.

Net profit

Net profit is the final revenue you get after deducting overhead costs, job cost, and other expenses, including taxes, from the total cost. It is the net profit margin that construction companies try to project to achieve their business goals. Net profits are generally used for capital investments, for instance, the purchase of new equipment or office space.
What Is the Average Profit Margin In the Construction Industry?
Given the ever-changing nature of the construction industry, it is not surprising for the average profit margin to fluctuate every other year. Add to that the dynamic risk portfolios and market prices, such as labor costs and material costs. And predicting the profit becomes even more of a challenge.
In such a case, the average net profit is commonly fixed at 9 percent for home construction and remodels. While it doesn't include the owner's salaries, it is the most basic share for owners to continue their responsibilities.
What's interesting is, the gross margin for the previous year was noted to average between 17.08% to 21.45% during the third and fourth quarters. And it turned out to be even more for specialty work, remodeling, and new home building projects.
On the contrary, commercial construction projects tend to project a low-profit margin, averaging between 4 to 6%, given the elaborate risk portfolio and frequent change orders.
Pro tip: Educate yourself about the construction industry standards before setting the rates of your construction services. Moreover, understand and calculate your own overhead cost to create precise profit goals.
Why Is It Important to Correctly Calculate Your Profits And Overhead Costs?
The health of your construction company depends upon how precisely you calculate your profit and overhead percentage. A few mistakes in your forecasts can derail the track to revenues. But wondering why these calculations are so critical in the first place? There are three prime reasons; let's explore what they are:
Business growth

Having a realistic number of both your overheads and profits can help you determine which of your processes in your organization need more monetary allocation. It can be, let's say, marketing, technology, equipment, or hiring. Such strategic resource allocation helps boost productivity and growth, which, in turn, allow you to make enough profit.

Business management

How much should you compensate for jobs? What should be your quote to win the construction contract with a sufficient profit margin? What are the core requirements of your business for hassle-free operations? Answers to all these questions lie in accurately calculating overhead and profit. The consistency of it opens up the door to streamlined, smoother business management.

Business protection

Factual calculation of overhead cost and profit is essential if you intend to keep your business finances in a positive flow and books error-free. It also empowers you to analyze and gauge where you are overspending and which business operations are generating poor results or performance due to underquoting or lack of resources.

Now that we have discovered why the calculation of profit margin and overhead is vital, it is time to take a closer look at the 7 tips to increase the net profit goal of your business.
7 Strategies to Boost Profit Margin in Your Construction Business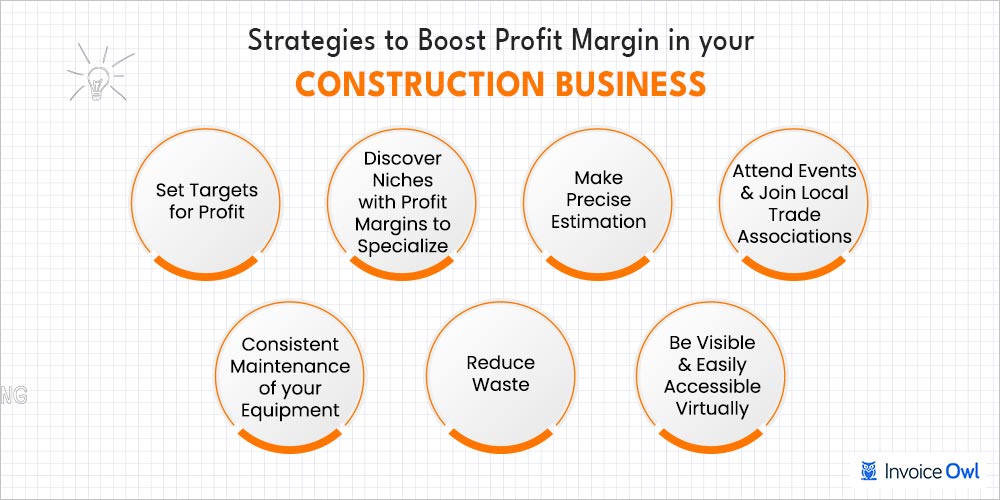 Set targets for profit

One of the common mistakes first-time general contractors and established construction companies make is the vague expectations of their annual profit percentage. The statements, such as "We'd make as much profit as we can" or "more than the previous fiscal year", fall into this category. Doing so shakes up the viability of your business, along with its profitability.

So, what can you do?

Simple. Define realistic targets for your expected profit margins. It can empower your organization to stay in shape and grow in years to come. Take a paper and pen and write your overhead and profit goals in the following form:

Job costs

It represents each job your company takes up, be it out-and-out development or remodeling, including everything from equipment and labor cost to workers' compensation to project management.

Overheads

It should have precise forecasts about your overhead costs, for instance, office supplies and accounting expenses. The general practice is to aim for at least 20% of the annual returns on the fixed cost.

Sales goals

It should be set according to your organization's net profit, gross profit, and profit margin.

To put it in simple words, always aim to make profits, say between 15-20% gross profit, that cover for compensating owners, personnel, and other management staff to keep things smoother financially.

Discover niches with profit margins to specialize

Specializing in niches always helps you climb ladders of success. And the construction industry is no exception. Therefore, it is wise to find out what you are good at, the skills at your disposal, and the resources to venture into a niche.

Some of the examples of specialized niches would be:

General contractors specializing in contemporary home constructions
Remodeling organization expert in kitchen remodeling
Organizations specializing in building restorations of old buildings
Developers focused on building commercial premises

To do it the right way, study the industry trends and future forecasts to figure out profitable specializations without going overboard with your budget or resources.

At the same time, understand that you don't have to take up work in only one specific area. You can divide the business operations into segments that not only fulfill the construction demand of customers but also help you make money.

Make precise estimation

Wrong estimates about your project costs, overhead, or profit margin have a full capacity of taking construction companies downhill. Faulty calculations end up shooting up the expenses in your accounts, in addition to puncturing your organization's goodwill. That loses projects and you're forced to shut shop. Therefore, spend ample time to analyze and estimate with near perfection.

Doing so helps cut costs, foster optimum use of the equipment, and maximize revenues. You can also use one of the various tools available in the market for accurate estimations.

Attend events & join local trade associations

The construction industry deals with people to survive and thrive. Hence, it makes sense to make conscious efforts to network with other contractors, companies, and individuals that may have the potential to become your end-customer. Joining the local trade associations or attending local events also offers a chance to broaden both your network and work opportunities.

Being actively involved with such associations and events keeps you updated about the latest developments, innovations, laws, and news. That, in turn, enables you to manage costs better, reduce liabilities and risks, and optimize your processes.

Consistent maintenance of your equipment

Broken machines or equipment can put a sudden, unpleasant halt to work at your job site, causing delays and added expenses. The same can be said about your transport vehicles. The best way to avoid such kinds of situations is regular maintenance of your fleet and equipment. After all, the maintenance expenses are lesser than the cost of replacing a part or buying new machinery.

Reduce waste

While you optimize the use of your tools, materials, and equipment, ensure that it doesn't end up causing unnecessary waste at your construction site or office. It helps control costs and contributes to adding to your profit margin. Examples include negotiating buy-backs with your suppliers, storing raw materials at areas with minimal possibility of theft and risks, and optimizing designs to maximize material use.

Be visible & easily accessible virtually

Technology has taken everything online. And it only makes sense to use it to your advantage. Customers nowadays prefer to search and get as much information online as possible before buying a product or service. Hence, investing in a good virtual presence for a construction company seems like a lucrative option.

Consider getting your own website and being present on social media. Respond to the queries you receive through these mediums promptly as it will only help broaden your customer base and strengthen your goodwill, creating additional revenue channels.
Final Thoughts
The construction industry is a dynamic sector with frequently evolving demands, scope, and ever-evolving market needs. That makes it difficult to calculate a precise profit margin, especially for a newbie contractor. To make things a bit easier, you can rely on the seven strategies we explored in this blog to boost your revenue in the most practical manner.