Do you find roofing work easier than issuing invoices?
Well, it is a tough job indeed.
According to automation specialists, 61% of delayed payments are due to invoicing mistakes in the US.
Therefore, InvoiceOwl is here with the best Roofing Invoice template for you to download.
But, before getting right to the template, let us talk about what does a roofing template actually means?
What is the Roofing Invoice Template?
A roofing invoice template is nothing but a billing layout specifically for handyman work, such as roof fabrication, roof repair, roof removal, property care, property maintenance, and other roof-related works.
Try our free online invoice generator today!
Whether your business is in construction, landscaping, consulting, photography, auto repair, or the medical field, invoicing takes way too long. That's why we're here. InvoiceOwl makes your invoicing faster and simpler so you can get paid promptly and without the hassle.
What is the Use of a Roofing Invoice Template?
Not every roofing company can afford to hire a dedicated accountant. Many small roofing companies and freelancing individuals have to manage all the departments on their own. Therefore, such a company can benefit a lot with multiple uses of a roofing contractor invoice template.
So, let's discuss some of the uses.
Getting Paid Quick

One of the best uses of roofing billing templates is that they help you get paid fast for the hard work. The company can create an invoice in detail in less than a minute and send it to the clients directly from the site.

Maintain & Organize Client Details

Once you have entered a client's details, such as name, contact information, and address, it saves every detail and lets you use it again in the future. Moreover, it helps to organize every tiny detail.

Keeping Track of Accounts

Managing accounts is tedious and mundane work if done manually. Thus, using a template helps in registering all the transactions and keeping track of accounts.
As roofing billing templates have various uses, they have multiple types as well. Each type serves a distinct purpose, and if used correctly, it leaves a lasting impression on your clients.
So let's talk about different types of roofing bill templates.
Different Types of Roofing Invoice Templates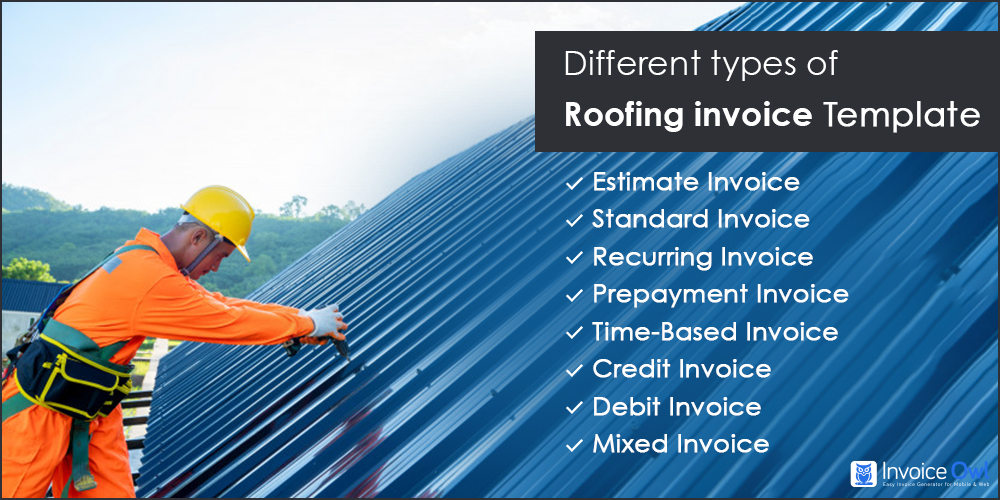 Estimate

An estimate is also known as a quotation. This type of invoice template is issued to let the client know the approximate cost of the roofing work.

Payment Invoice Template

A company uses the payment invoice template to collect a partial payment before the total amount is due.

Standard Invoice Template

A standard invoice template is the classical billing template mentioning the customer information, roofing service provided, work done, rates, final amount, and all the information in detail.

Recurring Invoice Template

A recurring invoice template is the type of bill issued for repetitive payments. (For example, the monthly insurance premium.)

Credit Invoice Template

A credit invoice template is issued to convey the positive balance in the client's account. This generally happens when rates are reduced or in the case of refund.

Debit Invoice Template

A debit invoice template is the type of invoice template used when the roofing services provider wants to notify the client about the due payments.
Now you know where you can use an invoice template for your roofing project and which type to use for what purpose too.
But, do you know how to create a roofing bill in the first place?
Nothing to worry about if you don't. Just keep reading, and you'll be an expert before you know.
How to Create a Roofing Invoice?
Creating a roofing invoice manually can get time-consuming. Therefore, we would discuss the easy way, which is by using the InvoiceOwl app.
The InvoiceOwl app eliminates many repetitive jobs from your end and automates almost everything about creating an invoice. Moreover, you can create invoices in any file format like PDF document, MS Word, and MS Excel.
So, here are the simple steps to create a roofing invoice:
Download a template designed for the roofing job from the InvoiceOwl template library
Personalize the template with your branding elements, such as business name, logo, address, phone number, and email id
Add the client detail like name, contact, and other important details
Add all the roofing services provided and materials used in the project stating the rates and labor charges
Add the applicable additional charges/sales tax/discounts information and sum up the total amount
Have a preview of the invoice and proofread and save it in your convenient file format
That's all! This way, you can create unlimited invoices without breaking a sweat. And the best part of giving the job to InvoiceOwl is that you can either send the invoice online or easily print it.
Alright! Now you know how to create an invoice for roofing work using InvoiceOwl as well. And to make your invoices stand out from the crowd, let's give you a few tips and tricks to bring out the best version of your invoices.
Quick Invoicing Tips for Roofing Professionals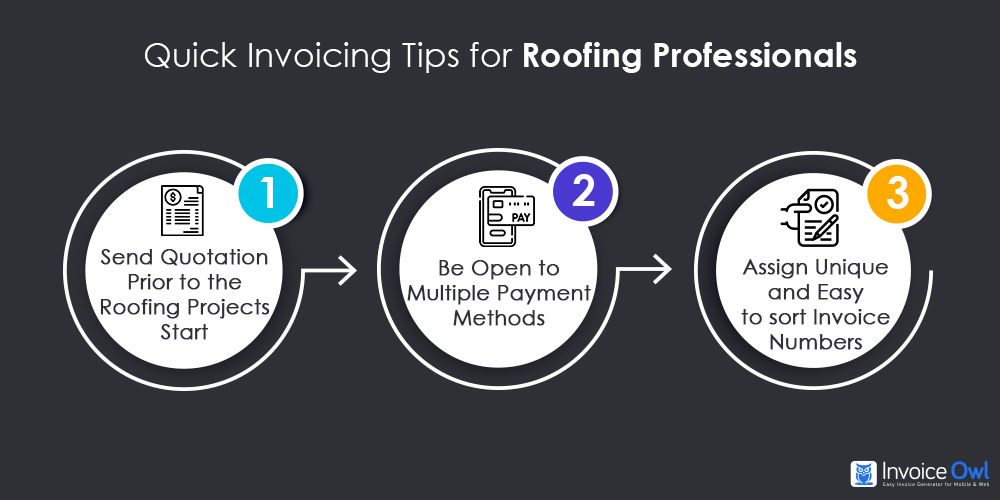 What makes an invoice from good to great are simple tips and tricks, so without wasting much time, let's check out the following exclusive invoicing tips and tricks to get paid faster for a roofing professional.
Send Quotation Prior to the Roofing Projects Start

There are many ways that a quotation helps a business to grow. One of them is by letting your customers specifically know the roof material to be used and labor charges included in the contract. It helps in establishing trust and reliability between the roofing business and the client.

Be Open to Multiple Payment Methods

Accepting payments via multiple payment platforms makes it convenient for your customers to pay you, which leads to timely payments and customer satisfaction.

Assign Unique and Easy to sort Invoice Numbers

Assigning a unique invoice number is essential. It helps to organize and maintain various records. One easy way is to number them based on the month and the year of issuing.
Download a Roofing Invoice Template for Free
Can you say that you can create invoices as good as your roofing projects? It demands a whole different set of skills to master creating invoices for your business, and that's why InvoiceOwl is here to help you.
All you have to do is, download a sample roofing invoice template for free and customize all the important details. You will never need more than a few minutes to create an invoice. Also, it lets you save in the file format you prefer.
Frequently Asked Questions
Which is the best free invoice template for roofers?
The free invoice templates from the InvoiceOwl app (one of the best invoicing apps) have satisfied many roofing businesses invoicing needs. Try it out for yourself.
---
Can I create my own invoice?
Yes, you can easily create your own invoice with the help of InvoiceOwl, and you can save it too in a small PDF size file format.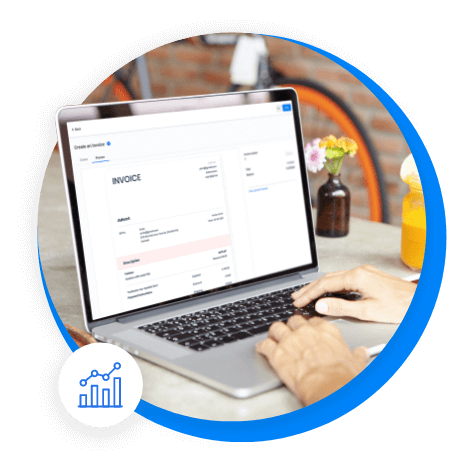 Create Professional Invoices Online Easily and Keep On Top of Your Finances
InvoiceOwl is a feature-rich invoicing app that helps small businesses, freelancers, and contractors to create invoices on the go and get paid quicker!
Conclusion
InvoiceOwl —the best invoicing software has simplified the complex process of creating an invoice. Now, anyone and everyone can come up with unique and personalized invoices for their roofing businesses and give a final touch to the customer experience.
In this blog, we discussed everything about invoicing templates for roofers. Still, if you have any doubts, feel free to contact us. Our dedicated customer service team will be glad to help.