It is said that many clients avoid paying on time because they don't get clarity for the purchases they have made or the services they have taken on. For that, you need to choose an easy method to personalize your invoices through an itemized invoice template for each and every customer, so they are aware of why they need to pay and for what by including detailed information. It is very important that you ensure that every single detail is itemized in an invoice you send to the client and ensure that they know what they are paying for. So, what is an itemized invoice template? And what are the benefits of using an itemized invoice template? Let's go through each of them step by step.
All You Need to Know About an Itemized Invoice
An itemized invoice list template is one type of invoice template that allows you to breakdown the individual items and/or Goods and services. Such invoices make it easy for your customers to track what you have done for them and allow you to add detailed explanations along with the cost for each category, and then the total added up at the end.
Such invoice templates also help you keep the records and track the itemized items and price for accounting purposes, and you can also monitor it for your inventory in case of product purchase. On the other side, clients can also observe how they have spent their money.
The clean and well-presented professional detailed invoices create an impact on customer's minds when they actually get what they are looking for and it is also said that happy customers always come back.
Businesses' details i.e. name, address, phone number, email
Clients' information i.e. name, address, phone number, email
Purchases made
Line items/service categories
Totals and Subtotals
Applicable taxes (Sales Tax/GST/VAT)and extra charges
Final payable amount
Due date
Payment terms and conditions
Note: You can explain your preferred payment method, for example, you are accepting credit cards or accepting only cash. Also, explain if you have charged them on an hourly basis or by the task. The important thing in these invoices is that you should list down all the individual items or services.
Try our free online invoice generator today!
Whether your business is in construction, landscaping, consulting, photography, auto repair, or the medical field, invoicing takes way too long. That's why we're here. InvoiceOwl makes your invoicing faster and simpler so you can get paid promptly and without the hassle.
Get Started Now
Pay Little Attention to the Layout of Your Invoice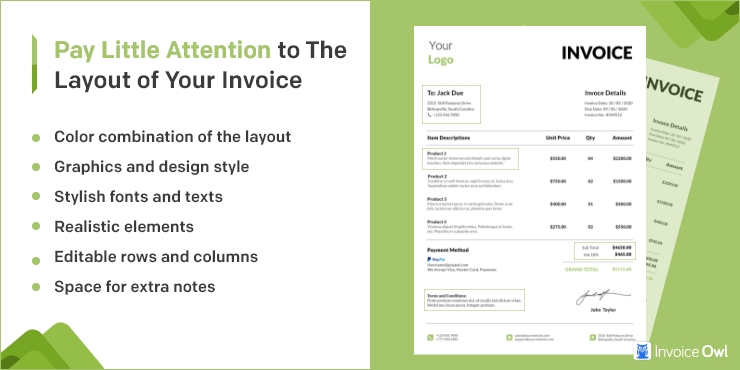 An invoice that is itemized should be carefully designed and organized so it is easy for your customers to understand and convenient for you to refer to in the future. The online itemized invoice template (e.g. format like Google Docs, Word doc, Excel, or PDF template) which are known as free fillable templates, using the invoice generator or invoicing software gives you the freedom to organize all the information in a quick and easy method. However, you always have to pay little attention to the layout you choose for your billing template. As it plays a major role in generating a powerful impression on your customers. There few things that you need to consider while choosing a layout that is:
Color combination of the layout
Graphics and design style
Stylish fonts and texts
Realistic elements
Editable rows and columns
Space for extra notes
Once you are sure about the elements and the layout you should look for the itemized invoice template. You need to start editing the itemized invoice template according to your business requirements.
Tips to Follow While Itemizing the Invoice for More Transparency
Itemizing products and services are not that complicated as you are thinking, but in fact, it is a very simple process and it depends on the following few common tips or steps. Let's see a few of them that will help you list out the products and services in a professional and effective way so that your customers pay you instantly.
Write direct and logical descriptions
Most of the customers face issues related to payment methods, and some of them get confused about the description they get. So it is very important that you directly include the important details with the logical description in a way that the clients understand the charges they are paying for.
In short, everything should be crystal clear and gives your clients step-by-step instructions for paying the bills. It will advise that you give simple instructions in simple English language that every customer can understand.
Luckily, this can be your straightforward fix whichever work you have carried out. Also, split bigger projects and tasks into two parts so that the clients can get clarity.
Break Down Large Projects/Tasks into Small Portions
Many times, a business owner may have done two or three projects for one client, or you might be working on large projects and he/she needs to include everything in the itemized invoice template.
In this case, it is advisable that you break down large projects and/or tasks into small sections including other sub-tasks. Basically, splitting the project/services into multiple entries gives clarity with two things:
The exact description for the work
The costs for the tasks/services
Add-ons services if performed
The other core advantage, of breaking down each task of the project, the client may extend the work based on the clarity they got through the detailed invoice. It is better that you start dividing the project right from the beginning, so it doesn't become so complicated at the time of sending an invoice, which will clear your road for getting payments.
Itemize the Project/Service Costs too
As we have discussed earlier, about itemizing the projects, it is equally important to itemize the cost of the particular work and services along with the product description. By breaking down the costs, the client will be able to calculate the total cost of the invoice template with a clear understanding and also able to compare the work you have done for them.
Usually, you should include some of the following:
A unit amount of services/product
Time based-charges, i.e. hourly charges
A rate per unit/service
Essentially, you need to provide as much information as possible for the client so that they can understand the exact bill you have provided.
Benefits of Using Itemized Invoices
Itemizing products and services help you increase the scope of your small business work. When it comes to itemizing products and services, it has the potential to save the relationship with the client. The clear-cut instructions indicated in invoice templates will help you gain the trust of the clients.
Well-written and itemized invoices can make a huge difference in getting paid for the hard work you have put into any services. Ultimately, the itemized invoice template will save you from breaking professional relationships. If you want to learn more about invoicing templates and invoicing tips keep visiting our blog section regularly.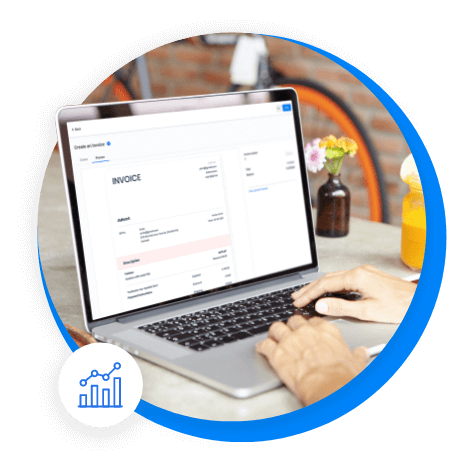 Create Professional Invoices Online Easily and Keep On Top of Your Finances
InvoiceOwl is a feature-rich invoicing app that helps small businesses, freelancers and contractors to create invoices on-the-go and get paid quicker!
Get Started for FREE
Frequently Asked Questions
1. What's an itemized receipt?
Well, the itemized receipt is the kind of invoice template that includes a detailed list of explanations and prices of the products/services that give step-by-step points to the clients. It also includes each and every detail about the item or service the client should know.
---
2. Who should use an itemized invoice template?
The people who are working on a contract basis or as freelance, itemized invoices are the ideal invoice types for these people. Not only them, but these invoices are also ideal for the people who are working on big business projects or selling lots of products to one client.
---
3. What does an itemized bill include?
In this article, we have provided specific details that each individual should include in your itemized bills. But specifically, you need to include all the details that are related to your services along with the rates, so that the clients get clarity about the invoice templates they are paying for.
---
4. When should I submit the itemized invoice?
Sending an invoice will completely depend on the agreement you have with your clients, but most commonly, the ideal time to submit invoices is as soon as the work is done and/or at the end of the month. Business owners also send invoices every fifteen days, if they are doing hour based work to get paid.
---
5. What will happen after I submit the itemized invoice?
After you send your invoice, you can assume that you will get paid before the date you have mentioned in the invoice. In case you do not receive the payment by the specified date, you need to check with the client to find out the reason why it is still unpaid.