As a B2B or B2C organization, you will bump into multiple invoices daily. Poor management of invoices can result in delayed payments or a cash crunch. Not only this, but it will have a severe impact on your market reputation.
Thus, it is essential to stand out professionally formatted invoice templates, organized accounting, and regular interactions with clients. If you lack any of these, then it might cause a problem for your business.
Creating an invoice is very simple as you can use an invoice template for Word and Google Docs. Yes, you read it correctly. Continue reading this blog and find some easy steps to create an invoice using Word and Google Docs.
6 Easy Steps to Make an Invoice from a Word Template
Microsoft Word is the most widely used platform to create essential documents for personal and business purposes. The good part of MS word is that you can even create an invoice using a Word template. In addition, you can simply download and install MS Word.
You will find a list of existing free word invoice templates that suit your basic needs. You have two basic options to make an invoice using a word template:
Pre-existing templates
Creating an invoice from a blank invoice template
If you are using a pre-existing template, just follow these steps:
Open Microsoft Word.
Click File ⇒ Select New Template.
Enter "invoice" in the search bar available in the top right-hand corner.
Select an invoice template that matches your requirements by double-clicking on it.
Customize the document as per your invoicing requirements.
Save it on your computer.
If you want to create an invoice using blank invoice templates, follow the steps mentioned below:
Step 1: Open a New Word Document
First of all, open Microsoft Word, click File, and then click on New From Template.
Now, you will see a list of available downloadable invoice templates.
Select your favorite template as per your industry, unique design style, and type of services rendered.
Try our free online invoice generator today!
Whether your business is in construction, landscaping, consulting, photography, auto repair, or the medical field, invoicing takes way too long. That's why we're here. InvoiceOwl makes your invoicing faster and simpler so you can get paid promptly and without the hassle.
Step 2: Select Your Perfect Invoice Template
From the list of available template options, you need to select the best one as per your needs. For that, you have to click on the search bar and enter "invoice" in it.
Step 3: Download the Invoice Template
Now, you have selected the templates for your work requirements. You will get your new Word document with your chosen template design. In addition, Word also offers some free printable invoices if you are planning to take a print of that particular invoice.
Step 4: Customize Your Invoice Template
It's time to input your essential information related to services/projects rendered from your end.
You just have to fill out all the fields correctly. Otherwise, there are chances of getting late payments. To help you out, make sure you enter the following information in your invoice:
Your business or personal logo (It's not mandatory to have).
Your company basic information like contact details, your name, address, phone number, and email address.
Client information.
A unique invoice number with the correct invoicing date for reference purposes.
A list of the services you provided the client, along with the working hours and charges.
A subtotal for each of your services.
Your payment terms, including the payment methods you accept and any late fee terms.
The payment due date.
The total amount owing for the invoice, including any applicable taxes.
Step 5: Save Your Invoice
You can now save your invoice to your computer. One of the best recommendations is that save it as an editable file, and you can save it as a PDF document.
To make it as PDF format, it is safe to send the invoice to the clients, and no one can edit that too. If you feel that you want to add more details to your invoice, you can use your editable file and then save it as a PDF.
Step 6: Finally Send Your Invoice To Your Clients
The final step is to send your invoices to your clients. You can send it by mail or email.
How to Create An Invoice Template Using Word?
Microsoft Word is a platform that allows you to create your personalized and business documents easily. You can even create invoices for your clients using Microsoft Word.
Word also offers pre-existing templates that make it easy to download them and create your invoices quickly. Once you finalize a free word invoice template you want to try, you can start playing with it.
Let's start with the basic template using Microsoft Word by following some simple steps.
Open Microsoft Word.
Click on File ⇒ New.
In the search bar, just write "invoice".
Select your best invoice templates that match your requirements.
Choose invoice template.
Use the "Download Button" and download it.
Double-click to open the template.
Customize the invoicing template according to your branding needs.
Enter your brand logo, contact details, invoice number, and other essential information in your invoice.
You can also change the shapes, lines (dotted or solid lines), and colors of the text wherever needed using the tools available.
Add your company's terms and conditions.
Review all the information carefully and save.
Pros and Cons of Using Word For Creating Invoices
Pros
Includes standard professional invoice template i.e., service invoice, statement of work, sales invoice, etc.
Flexible and fully customizable to get started.
Send an invoice through email as attachments or print it and post it.
Cons
Cannot use formulas in MS Word invoice templates.
Sending invoice process isn't automated.
Clients must make the payment manually and take extra steps after receiving the invoice.
How to Create An Invoice Template Using Google Docs?
Google Docs allows you to create and share invoices with your clients easily. You just need to download your favorite modern template that suits your basic needs and start creating your invoices.
Below are the steps mentioned to make it easy to create your invoice using Google Docs.
First, you must have your Google account to use Google Docs.
Open Google Docs and download your favorite invoice template.
Name your document.
Enter your essential information like invoice number, invoice date, client name, invoice amount, and payment terms in your invoice.
To make it easy, you have an option to make multiple copies of the same invoice templates. Just click on "Make a Copy" and give a name to your document.
Add payment methods in the invoice template.
Cross-check all the information before you send it to the clients.
Share the invoice with your client by entering your client's email address.
Pros and Cons of Using Google Docs For Creating Invoices
Pros
Easier for multiple users to work in the same document.
Make real-time collaboration, edits, and adjustments to the invoice template.
Allows sharing the invoices with specific people by creating a link to the invoice.
Cons
Customization seems a little limited in Google Docs.
The editing tools are not powerful.
It can't work without the internet especially when you need a document at a remote location.
Microsoft Word vs Google Docs: What are the Differences?
Let's find out the major differences of each platform that may help you decide the best suitable option for you.
Availability
You need to install MS Word software on your computer.
It's not free. You need to pay a one-time, monthly, or yearly subscription.
Free of charge and access your invoices anytime, anywhere.
Criteria
Microsoft Word
Google Docs
Functionality

Supports more features of invoice templates.
Well-organized table formatting and more options for styling your invoice.
You can add page numbers, headers, and footers.

Allows you to create an invoice online.
Your essential information is stored in the cloud.
You can easily access it from anywhere and anytime.

Collaboration

Microsoft 365 keeps all your data safe and secure.
Share and save your invoices in OneDrive.

Share files and securely store them in the cloud.
Easy to locate and navigate the files you have shared.

Offline Access

Yes, you can make changes in your invoices even in offline mode.

Provides limited features when you work offline.

Synchronize and Cloud

You need to be a subscriber of Office 365 to edit and sync your Word invoice.

Your invoice templates will be saved automatically and sync to the cloud.
How Invoicing Software Helps You To Create an Invoice?
Invoicing software is the platform that allows you to create professional invoices within a few minutes. Just include your essential information related to your work, and you are good to go with your new invoice.
InvoiceOwl is one such invoicing software that offers free templates in Word, Excel, and even PDF format. With the help of this invoicing software, you just need to enter your invoice-related information and even add your colors, business logo, signature, and get paid faster.
The good part of InvoiceOwl is that it possesses its invoice generator, selects your best template, and customizes it according to your basic needs.
The pricing of InvoiceOwl is very affordable and allows you to create unlimited invoices with just $20/month (if billed annually).
Frequently Asked Questions
What are the best ways to create professional invoices?
To create professional invoices, you need to consider the following aspects:
Use accounting software
Adopt online invoicing software
Use MS Word, Excel, and even Google Docs
---
Does Microsoft Word have an invoice template?
Yes, Microsoft Word offers a variety of free templates for invoices. You will have many options to choose from invoice templates such as service invoices, statements of work, sales invoices. You can also create and send invoices using Microsoft Word.
---
How do I make a simple invoice?
To create a basic invoice, you can simply use Microsoft Word and get a suitable invoice. You just need to start adding information and create basic invoices using templates according to your business needs.
---
Is it mandatory to include a privacy policy in the invoices?
It is not mandatory to have a privacy policy in the invoice template. But, some business owners ask for it due to privacy reasons, and some also prefer such policies for transparent business payment terms.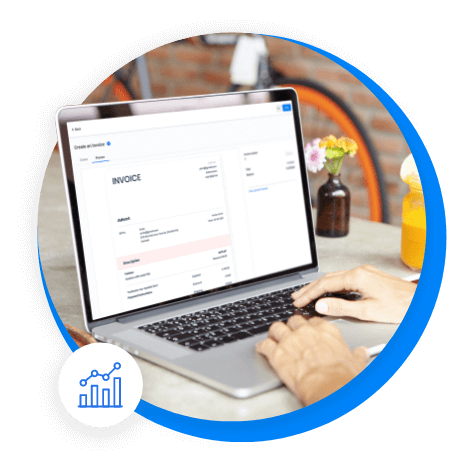 Create Professional Invoices Online Easily and Keep On Top of Your Finances
InvoiceOwl is a feature-rich invoicing app that helps small businesses, freelancers and contractors to create invoices on-the-go and get paid quicker!
Conclusion
Sending organized and well-designed invoices can help businesses in increasing the credibility of the products and services. After reading this article, you will be able to choose the most appropriate invoicing method that will allow you the most advanced features to justify your brand value.
InvoiceOwl is one of the best invoicing solutions that allows you to download an invoice as a PDF, Excel, and Word invoice template. Not only this, InvoiceOwl provides exclusive tips and tricks regarding invoicing best practices, invoice software, invoice templates, and many more that businesses can utilize to grow their business.
What are you waiting for? Take a free trial of InvoiceOwl and start creating your invoices now.