The cleaning industry is wiping the market rapidly.
As per one of the articles of CleanLink they have mentioned that "The commercial contract cleaning industry is currently worth $78 billion. And in just the last 10 years, contract cleaning has grown at an average rate of 6.6 percent each year."

There are a number of ways to help this growing business stand out in the market. One of those ways is how professionally you handle your accounting, invoicing, and payment processes.
Creating a house cleaning invoice will not only fulfill all the latest regulations, but it will also help you promote your brand that will turn out highly professional.
Usually, cleaning service providers provide bills by hours or as per the current rate running in the market depending upon the size of the home.
The free invoice template for cleaning services is the right way to ensure that the cleaning business invoice includes all the necessary details such as invoice date and payment instructions choosing the perfect layout.
This document should be used after housekeeping services have been performed by cleaning service providers. Basically, it indicates the total amount charged by the service provider.
Why You Should Use A House Cleaning Invoice?
As a house cleaning service provider, you clean every corner of the client's home with lots of attention to detail. Just like that, making a home cleaning invoice template and sending it on time is also important, especially the details you include in an invoice template, such as company name & contact information, line items, invoice date, and payment terms are equally important.
The purpose of using a house cleaning invoice is so that client understands what they have to pay for your house cleaning services, such as window cleaning, carpet cleaning, or deep cleaning.
In addition to billing your clients, a house cleaning invoice template is useful to keep important information regarding your financial transactions and keep updated about the payment you receive and the overdue payments the client owes.
There are many other benefits of using professional invoices for house cleaning invoice templates such as:
Keep all the records of transactions
Stay organized for the received payment
Avoid overdue payments
Pile up necessary details for tax filing
Take notes of debts and late payments
Describe the cleaning services performed in detail
Maintain your bookkeeping in simple ways
A well-developed professional cleaning invoice template will help you do more than just a typical payment request. For example, you treat such a document as a brand presenter which will illustrate your important transactions, appropriate fees, and payment information. Having this kind of cleaning invoice example will help you ensure accurate accounting and hassle-free tax filing procedures in your own business.
Try our free online invoice generator today!
Whether your business is in construction, landscaping, consulting, photography, auto repair, or the medical field, invoicing takes way too long. That's why we're here. Create Free Cleaning Invoice Template By Signing Up With InvoiceOwl.
Get Started Now
Things to Keep in Mind While Creating a House Cleaning Invoice
When you start creating your cleaning services invoice for the house cleaning business, you need to take care of certain things in your mind that will help you stay ahead of the competitors. Here are 5 things that you can consider while creating an invoice using a cleaning service invoice template.
Inspect Property and Give Estimation/Quote

After getting an inquiry, a professional cleaning service provider should go to the located property and meet the respective clients. Many cleaners have various approaches to give an estimation to their clients – some charge on flat-rate, some charge on a per-room basis, and some use hourly rates.

No matter how you are going to charge, but after observing the property, you should provide a written cleaning checklist and a quote (quote is not an actual cleaning services invoice, it is just a rough estimation of the charges you are going to charge) for the house cleaning services and the cleaning supplies you are going to use.

Commit Dates and the Hours of Work

The commitment of dates and the hours it takes to complete the task is very crucial while you have to manage your and your client's timing. Some clients prefer to get the job done during weekends, and some prefer to do that on weekdays.

Sometimes it gets difficult for the cleaning professionals to move from one place to another place while doing a job, especially residents who try to carry on their daily routine. So, you must commit the dates and the hours of work according to both of your convenience. It completely depends on how you and the customer want to get the job done.

Whatever it is you need to specify your timings and also try to know about clients' comfortable timings before you make any kind of commitment.

Ask For the Access to the Property

If you and the client have agreed to do the washing activity when the residents are away from the house, you must ask for access to the property. House cleaning professionals should get duplicate copies of keys or other ways of entering the client's house.

To make the relationship stronger, it will be your duty to safeguard the keys and make sure no one from the team of cleaners misuses the keys. This will help you maintain your relationship with the clients.

Establish terms and conditions

As a cleaning company and a small business owner, you definitely do not want to face payment-related issues, especially when you did your job on time. You must be thinking that once I send an invoice, I will get paid instantly, sorry to say but it won't be the case all the time.

To get paid on time, you need to be proactive before you send the house cleaning invoice to the clients and how to express your terms and conditions in front of the clients. The terms and conditions should clearly outline what you will require from the customer and what they are supposed to do after the job is done.

For example, clients need to release the payment as soon as possible or they can pay within 30 days. If they don't pay within a given time frame, what will the late charges be? Are you going to take any legal actions in case of nonpayment?

Such little but important things should be clear before you move on to create a bill and sign the necessary papers. You can also mention the agreed terms and conditions in the bill.

Apart from this, you can also offer a discount for early payments to encourage clients to make payments early. Whatever you decide, it is better you discuss everything with the customer prior to taking any contract job for providing your clients the best experience.

Create a Well Organised Invoice and Send

Once the assigned task is over, it's time to get paid for the hard work you did. For that, you need to create an official document of the job and cleaning services you have provided in the very best way.

You need to include all the tiny details such as your house cleaning business name, phone number, email address, bank account number, fax number, unique invoice number, customer's name, address, contact information, invoice maker number, type of service, hourly rate, materials used, the total amount of the material, due dates, payment terms, and if any applicable taxes (GST, VAT, and Sales Tax). You must describe all the necessary information for the clarity of the customer. This will help you in keeping track of due dates trouble-free.

To create exclusive house services invoice templates you can follow this step-by-step process on how to make an invoice?

Use your invoice to promote your cleaning business

Now that you have prepared a cleaning invoice, it's time to give some branding touch to boost customers' loyalty and assist them to understand why they should stay with you all the time.

For example, you can include a customized little thank you note and a special discount for your regular clients at the bottom of your bill, especially if you are going to send professional invoices during festival time. They can use this offered discount such as free window cleaning, free cleaning of the garden, free house cleaning at the time of their next cleaning service.

Another method is to provide them with a referral bonus in case they refer your cleaning services to their friends and relatives. Always ask for customer testimonials and if they have any complaints about the cleaning services you have provided. Do not be afraid to cross-sell or upsell your service to grow your cleaning business.

You can also include the preferred payment method or detailed payment instructions to provide comfort to the customers. Once you are satisfied with the house cleaning invoice you have created you are ready to send it to the customer.

Keep Reminding For the Payment Request

Sometimes it happens that you get irritated by the late or irregular payments and it might destroy your relationship with the customers. To avoid such stress, you should practice clear policies before taking the project and inform the customers about your policies well in advance.

If you miss doing that, you can also include your terms and conditions in your cleaning invoice examples in case you have not mentioned it to the customers before taking up the project.

In the case of late and irregular payments, you need to take several follow-ups and keep reminding about the payment requests to the customers, of course, in a professional way.

After the third reminder, still, if the client ignores your notice and refuses to make a payment you can legally escalate the issue.
By taking care of these little things, you can make sure that your cleaning invoice helps you get paid on time and you don't do free house cleansing without getting paid and your customers are loyal towards you, and the bond between you and the customers remains stable.

We, at InvoiceOwl, assist you in creating professional-looking bills using very easy steps and we will keep updating you about all invoicing buzz to grow your cleaning business.
Frequently Asked Questions
Who should use a house cleaning service invoice template?
Professional house cleaners who function as a cleaning company need to use a house cleaning service invoice template free for the house cleaning such as window cleaning, or entire house cleaning, etc. they have done depending upon the people involved in the house cleaning services and the hours they have worked. If a cleaning professional is a regular service provider of the client and provides service every month, the house cleaning service invoice templates depend on their mutual understanding. However, some freelancing cleaners working on a contract basis also use cleaning services invoices to bill clients. To get paid on time it is essential that they create an appropriate house cleaning invoice template for the customers and receive the payment on time.
---
How do I make cleaning invoices?
To make a cleaning service invoice we have given you the 7 things that you can consider while creating a bill. Apart from that, if you want some quick tips and tricks that will support you create professional and detailed invoices that will stand out from other competitors. You can also make professional invoices using invoicing software, which provides the right invoice template. Or you can create your own free invoice template using Word, Excel, Google Docs, or Google Sheets.
---
How do you write a receipt for cleaning?
As we said earlier in our blogs' FAQ section, that cleaner declaration is not a part of business invoices or bills. A receipt needs to be sent after you receive a payment from the customer. The format for the receipt will be simple, and it should acknowledge that you have received the payment.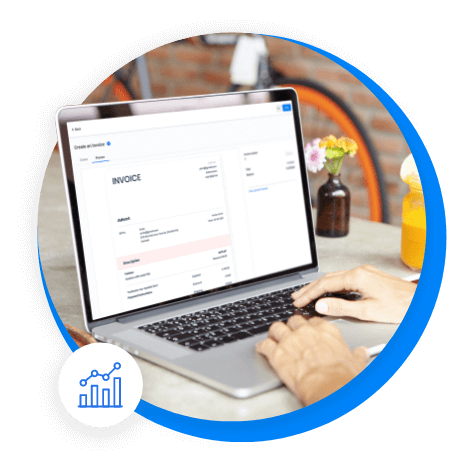 Create Professional Invoices Online Easily and Keep On Top of Your Finances
InvoiceOwl is a feature-rich invoicing app that helps small businesses, freelancers, and contractors to create invoices on the go and get paid quicker!
Get Started for FREE
Conclusion
Creating an invoice for the house cleaning service you provide is important if you want to make a professional impression on your clients' minds. It helps you get paid quicker and records important financial information by tracking all the paid and unpaid invoices.
After reading the tips of creating an invoice and the benefits of using invoicing software, we are sure you must be all up for creating unlimited invoices with free templates right now. So, download one of the most popular invoicing app —InvoiceOwl today!