Invoices are necessary for any business, no matter which type of business it is. It is the most essential step to get the money from the client for the products and services rendered.
It may also help businesses earn some money back through tax exemptions.
A presentable free printable invoice template helps create a professional invoice and get it printed instantly to hand over to the client. This will make your client appreciate your move and will come back to work with you again.
Finding the right free printable invoice for your business can be tricky sometimes for many people. Even though the majority of the invoice generator will have the same essential features, they will be different in design and might have some additional features.
For example, everyone will have common features like, details of the person who is sending an invoice and whom they are sending, the date of the invoice and totals, as well as space for other business details.
Before jumping to the conclusion, you need to first understand your requirement of creating an invoice and What is Invoice Definition? General difference between billing vs invoicing.
Once you are clear with your thoughts you can begin your search for the appropriate blank invoice template and if you are still in double minds and you are looking for a particular type of invoice, for example, you are a contractor and looking for free printable invoices for contractors you should search for that particular type of blank invoice template.
But before that, you need to understand what is a printable invoice template?
Well, a printable invoice template is a solution for the businesses that need to send/store paper-based invoices to get the job done professionally.
How do you get your free printable invoice template?
You always try to provide the best solutions and services to your customers. In return, you expect to get the money on time.
That is why, when it comes to invoicing, you need to find a solution that looks professional, easy-to-use, and cost-effective.
There are lots of ways you can find such new invoice templates online as per your business needs. In fact, the best thing is you don't have to purchase pro or any fancy software to create a good-looking free printable invoice template.
To get your free printable invoice template, you can search and download from the collection of an exclusive printable invoice template available in any format (Microsoft Word, Excel, PDF format, Google Doc, or Spreadsheets).
Try our free online invoice generator today!
Whether your business is in construction, landscaping, consulting, photography, auto repair, or the medical field, invoicing takes way too long. That's why we're here. InvoiceOwl makes your invoicing faster and simpler so you can get paid promptly and without the hassle.
How to fill out a printable invoice template?
Creating invoices online is much easier than ever. With the printable invoice template, you can download, edit, print, and send the invoices. Let see the step-by-step process for creating a printable invoice online.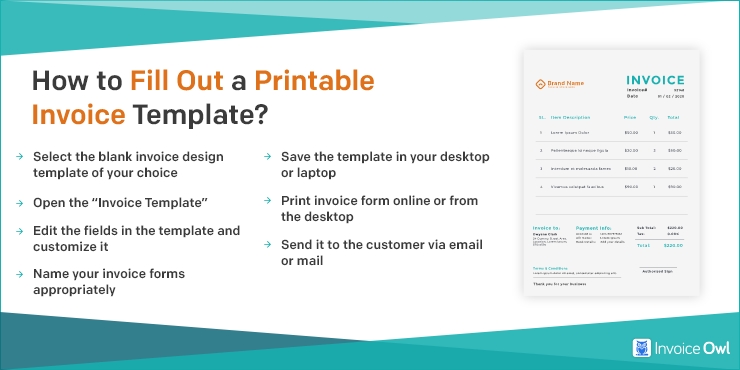 Select the blank invoice template of your choice
Open the "Invoice Template"
Edit the fields in the template and customize it
Name your invoice forms appropriately
Save the new invoice template on your desktop or laptop
Print invoice form online or from the desktop
Send it to the customer via email or mail
Editing invoice templates online is very easy to fill out your essential business information, invoice number, add services provided, total amount, payment terms, and conditions and it is also considered as one of the quickest ways to create and send invoices online.
The important thing is that this type of printable invoice fits the needs of your business and helps your client understand the amount they are paying for.
How to use the best online printable invoices for your business?
Whether you are a small business owner, a business tycoon, or a freelancer, it is very important that you get paid the right amount and at the right time and every time.
Printable invoices help you simplify your invoicing process, make it headache-free and fulfill all your payment-related queries. You can use any of the online printable invoices with any fancy accounting software especially when you need a simple and customizable solution.
The best way to use the online free printable invoices for your small business is to simply download, give it a unique invoice number, edit, and print at your convenience.
Because your branding requirements will be unique and according to that your free printable invoice template should be also unique for your clients. It also provides custom elements and options to send business invoices clearly to your clients.
How to send printable invoices to your clients
Sending custom online invoices is super easy with free online invoices. Once it is customized, you can send completed invoices straight away to your clients via post or straight to their mailbox. Here are steps to follow when you are sending a free printable invoice directly: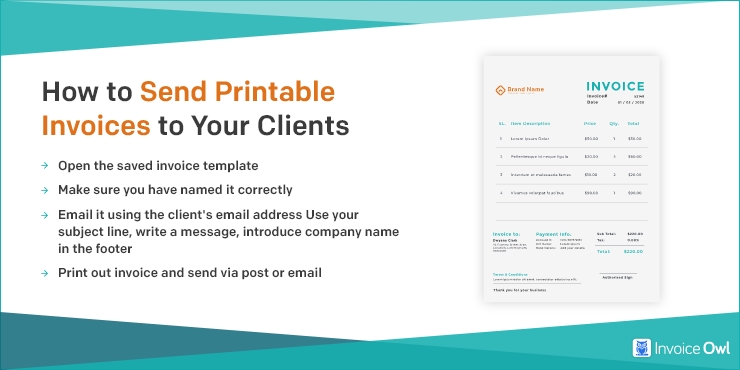 Open the saved invoice template that you have made for the client
Make sure you have named it correctly and it has a unique invoice number
You can email it using the client's email address and send it using your business email account. Use your subject line, write a message, introduce the company name in the footer and attach the invoice to the email.
If you want to send the invoice via post you can print it out and mail it to their mailing address
Benefits of Using Printable Invoices
Organizations need to look for faster transactions when they are doing day-to-day selling of products or services provided so that they do not leave behind their competitors. The online invoice template is one of the best suitable solutions to help them deal with many complex problems. There are plenty of benefits you will get when you are using printable invoices. Here are some of the benefits listed below:
Saving time and money

Printable invoices allow businesses to save time the potential time that they waste in creating invoices from scratch on paper. This modernized edition of invoicing helps you look good in front of the clients and save the money you waste on envelopes and extra stationery.

Keeps you structured

When you are dealing with various types of clients and projects, you must stay organized while dealing with the invoices.

It is the most challenging task for most businessmen. This challenging task can be resolved when you take the right step for it.

Choosing the appropriate invoice template and invoice generator will help you stay focused and organized with your invoicing needs.

Because invoicing generators help you create invoices online, and all the invoices are stored in the cloud or if you download them will be stored on your desktop or laptop.

You can access them anytime you want to and send or send them from anywhere when you are connected to the internet.

Set up a time to time reminders

Most of the online invoice template providers allow you to set up reminders as a function so that you will never forget to send reminders for the due payment and past due payments.

Some of them also provide you to set up a notification when a client reads your reminder notice. You can also get the report for the invoices you have generated and send it to the clients for your financial records and analysis.

Secured by data backup

The traditional invoice method was piling up the invoices in the files and stores them in a corner, but in an emergency, it can be dangerous for the businesses, and they might lose all the data. To save businesses from such critical situations, online platforms are known as an ideal that is secured by data backup options. This data backup is being stored continuously in the cloud and helps you get back the data you have lost by facing data interruptions.
Sending invoices is not the only way you will get paid. Choosing the right invoice according to your requirement is also an important aspect of the invoicing process that will help you grow your company. We at InvoiceOwl always try to provide you the right guidance through our blogs regularly.
Invoicing Tips for your Business
Think like invoices are the last opportunity to give your customers the best experience and get ahead of your competitors.
Therefore, a small business owner should send invoices with personalization and an extra edge.
If you want your invoices to be extraordinary, have a glance at the invoicing tips and tricks.
Keep all the doors open to send the invoices

While invoicing, you should keep the customer's convenience in mind and send them business invoices as they prefer. Limiting to either online or offline channels is not advisable.

Thus, use the free printable invoice templates. They let you send the invoice directly via email and mail as well.

Accept multiple payment methods

Wanting to send free printable invoices is not an excuse to not accept online payments. You should mention all the payment instructions for making the online payments on the invoice. Or you can include the QR code that customers can scan for hassle-free payments.
Download printable invoice template for free
Frequently Asked Questions
Are printable invoices free of cost?
Majorly, most of the invoice generators provide free printable invoice templates. But some of them also provide premium services at several costs. It completely depends on you that what you want for your business needs and what is your budget for the invoices.
---
Which is the right way to choose the right invoice type?
Different types of businesses offer different services and products, and according to that, they need to create various types of invoices. The right way to choose the right invoice type depends on the business type you are in.
---
Does invoice template pdf is the best suitable for the printable invoice?
All the printer-friendly invoice templates are suitable for businesses, it only depends on the information they include in the invoices. Sometimes it happens that they want to include more details in the invoices and based on that situation they need to choose the appropriate format whether it is PDF, Doc, or Excel. So, nothing is like only one particular invoice template that is suitable for the printers.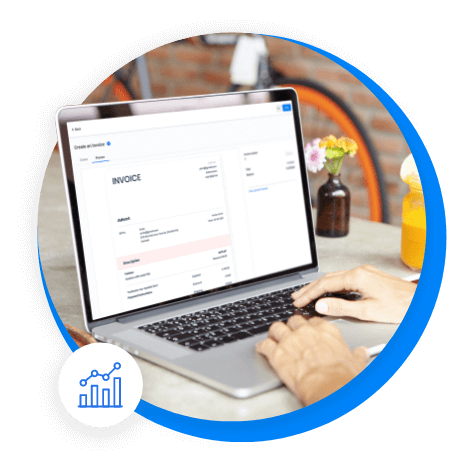 Create Professional Invoices Online Easily and Keep On Top of Your Finances
InvoiceOwl is a feature-rich invoicing app that helps small businesses, freelancers, and contractors to create invoices on the go and get paid quicker!
Conclusion
In this age of competition, your small business needs to cut costs of products and services provided to be on top of the competition. And the best area where you can save both time and money is invoicing by using a free printable invoice template.
Therefore, today we discussed everything about free invoice templates right from creating to sending. And the benefits mentioned must have excited you to get your free template right now.
So, what are you waiting for? Download the InvoiceOwl app and get your invoice templates for free.