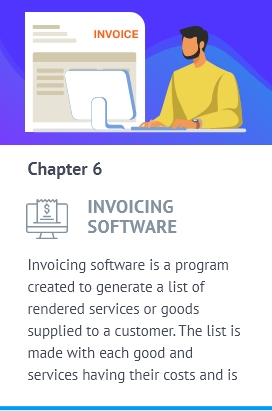 Chapter 6
What is Invoicing Software?
All You Need to Know About Invoicing Software
Invoicing software is a program created to generate a list of rendered services or goods supplied to a customer. The list is made with each good and service having their costs and is called an invoice. Invoices are drafted with inbuilt invoicing templates in the invoicing software.
They are created to look professional and help the customer to understand the cost of what they're paying for. It is also beneficial to the business owner in speeding up money conversations.
Invoicing tasks can be hard for you as the business owner because you have to keep records of payments made more than once for a service as well as late payments.
Nowadays, there are several mediums of payment suitable for you and the customer. Card payments, mobile transfers, ePayments, payment reminders, and likes are available anywhere in the world. With software for invoicing, you can move fast with business dealings and get paid for your services while you're closing another deal with a client.
Here, you'll be enlightened about how the software for invoicing will add core values and solve invoicing issues, including pricing structures and how it runs. You'll also gain knowledge of the answers a cloud-based program can offer over the latter, providing you with a range of choices to choose from.
Apart from the time and cost-efficiency of software for invoicing, there's a general tab that helps you monitor the progress of every invoicing template generated by the invoice management program. A recent study shows the high efficient profits and cost reduction as well as the trust gained from customers that improve business and extends to having long-term clients. All of these changes have been achieved with the help of digital invoicing.
As a small business owner, it is usual and excusable for you not to have a department that oversees finance and handle all accounts. You tend to do all the jobs or hand them over to a trusted person. Here's the simple process of how does the invoicing software works.
How Does Invoicing Software Work?
One of the primary reasons why invoicing software options were developed is to bring accuracy in all transactions for all the purchase orders. For simplicity, the automatic generation of records and invoices is another reason.
Invoicing software that issues invoices to different customers at a time upon request will have a system to take care of the multiple tasks, to be organized, and help you get paid. More importantly, the invoicing software is developed to facilitate the transaction for invoices.
Benefits of Using the Best Invoicing Software
Generate your custom invoices:
Online invoicing software that can be accessed anywhere is one to go for rather than the on-premise desktop software available on one computer. It allows the business owner to control, create, and make changes to invoice tracking regardless of their location, and it can also be customized to have your brand on the digital invoices.
This is different from the generally printed invoice where you have to fill up. With this software, you can create a new invoice with your preferred template and add any needed information to clarify any issue between you and the customer to maintain the cash flow. You are allowed to fill in different information, including sales tax, customer's information, discount, and other vital stuff.
You can as well choose from the existing templates in the invoice software and fill in the fields like name, address, amount, sales tax, extra notes, etc. Many billing and invoicing programs allow you to create your custom template and add your business information and logo to make it unique.
Customers' data can be saved or added from a database so that you can send them the invoice after creating it from the application or invoice software. You can also add the customer's approved estimate into the invoice before sending it. While you send the invoice, customers can access them from an online portal. If you're sending it to long-term customers, your invoice software for invoicing and billing can help you send automated invoices.
Facilitate billing and payment:
If you're creating and sending an invoice through the billing system or invoice software, there's no need to make another arrangement for a payment medium. It is easier to inform the customer about an existing payment method so they can pay after going through the invoice.
An online payment system accepts foreign currencies because the invoice software doesn't select currencies and it very easy to use. Payments made through software for billing can be managed and accounted for as the payment methods can be added to the software, either card payment, PayPal, or other forms of online payment.
Software for billing has a feature that helps you monitor and offline payment and does not select languages or any adjustment.
Generate analytical report: 
Another outstanding feature that serves as an accounting assistant for the business owner is the ability to keep track of every invoice generated. It is capable of tracking records and see-through invoices until you receive a payment, accounting reports can be generated as you want them, and conversion of files before sharing with a customer is allowed on the software.
Every invoice data can be analyzed to get a proper understanding of simple billing and operations. Under the analysis, you can get data for the number of unpaid invoices, payment overdue as well as late payments, the average time it takes to make an invoice payment, and the number of customers who have paid at a time.
What are the Features of Invoicing Software?
Different types of invoicing and billing solutions exist based on some features, users, and pricing structures. But they all have the same standard functions as card processing and records creation, currency settings, expenses, and other basics. Good software for the invoice should possess the following:
It enables you to create a professional invoice template for small businesses, or you can choose from existing templates. Depending on what model you want to create, you can add essential information.
Customer records creation:
You can have a secure database to store your customer information and keep essential records for reference purposes. This information can be sourced by search filters, provided you have the right keyword.
Credit cards' processing: 
Software for billing and invoicing should be able to keep and accept credit card information and process payment with credit cards smoothly. This is one of the time-saving features an app should possess and accept credit cards' payment. The system can help the customer set the next payment date from their credit card so the small businesses can get paid automatically.
A software for billing and invoicing should possess accurate analysis templates for all systems to help the business owner customize their brand on the app, and help the customer have a better view of what they are charged for and generate records when demanded.
Multiple currency settings: 
This enables you to receive the payment in different currencies and help you connect your billing and invoicing and payment systems to the general software architecture. With this, you can manage financial operations directly from the app, especially if you operate a global business.
Receive/send information: 
With the aid of a Central database where information can be reached, you can send invoices readily available information to your clients upon request, or when you have to clear an issue.
Invoice, payment, and tax report:
Ideal software for billing and invoicing should help you generate tax reports as payments are made through the system and easy to use elements. You do not have to work out tax reporting after receiving all the payments.
How Much Does Invoicing Software Cost?
You can purchase software with different packages. Either as a single application or a full program with accounting and financial packages. As regards the individual app, you won't get a standalone software because it has to run with other programs to carry out its tasks. In other words, the software has to pair with other online tools that work for your business so you can enjoy its benefits.
There are different prices for software for the invoicing and billing, ranging from small business free apps with a number of clients to a large number of clients and users. The different pricing is Basic, Starter, Pro, and Enterprise plans. Some also offer subscription management.
Regardless of your type of business, there's always a plan that fits in your budget. To select a plan, you can compare different offers from the developers and consider the benefits and costs.
Free software may not have what you need to be competent with others in your business, and it is also essential to consider the cost of acquisition before making a final pick. However, the price increases as the package become more expansive.
What are the Common Software Issues?
Software for the invoice is regarded as one of man's useful technologies in circulation; the development of the software has passed through different stages and modifications. In the course of making better software than the previous edition, they have had some issues that need a solution.
These are:
No Single Global Standard
Due to modern diversity, the invoice generating environment is facing some complex problems in terms of general acceptability. There are different acceptable standards for different settlements and variations in different tax and finance systems all over the world.
There are also different compliance of billing and invoicing in different parts of the world. For these reasons, it is tough for solution providers to find a balance between different compliance.
With all the available security to protect everyone, an online system can't have a "no entry" fortress. This means that every system online can be breached by serious hackers. The security of every user database on the system has to be assured by the online vendor to be tight. This may require the service of a third-party security provider to help with safety measures.
What are the Latest Trends in Invoicing Software Solutions?
We have highlighted some of the key software for invoices trends to watch:
The proving of time and cost-saving features with the use of invoicing software has made the governments of regions like South America, Mexico, Scandinavia advise business owners to adopt this system of billing software.
Other developed nations in Europe, as well as South Africa and Australia, have started pushing to reach an agreement with the government to comply with the e-invoicing adoption. Some years ago, the US Budget office instructed every government agency to adopt e-invoicing, while the EU declared that every Public Administrator accepts e-invoices in 2018.
The Driver of The Real-Time Economy
The efficiency and accuracy of software for invoice information of data between the buyer and seller have helped small businesses and governments to start arriving at a real-time marketplace. With this data solution, the buyer and seller need little time in solving issues related to payment reminders or purchase as there is a quick response from the buyer if confusion arises.
AI and Automation of The Invoicing Process
The software for the invoice brings in lots of solutions, invoicing services, and mobile invoicing capabilities that can be carried out in an automated response. While the automatic response is generated, the business owner does not have to bother about dealing with financial reports and manually.
This billing solution reduces errors and helps to track expenses, time management, and the reasons for delayed payments and unfinished transactions. Invoicing and billing solutions and artificial intelligence will help solve problems in the business and enlarge the financial process. AI will also provide a solution for identifying fraudulent invoices and increase cash flow along with accounting integration.
Factors to Consider While Choosing an Invoicing software for Invoicing For Your Business
This is a similar case that applies when you're looking for invoicing software, and there are different things to consider to help you make a better choice. Implement these solid tips when choosing the best invoice software for your business.
It should fit into your business context
The type of software for the invoice should be what your business needs to grow, from the billing software and creating of an invoice to the automated response you will need to have a clear conversation with repeat clients. These features will help you move faster and more efficiently while you're dealing with more than one customer at a time. You will need a software package to grow your small business. Accounting software and accounting plans can help you fulfill all your billing and invoicing needs and accept payments as per your requirement. Consider the extra cost you'd incur when you go for a full package invoicing software instead of getting what you need.
Its invoices should appear professional and be user-friendly
While you're looking for one of the best invoice software or accounting systems with the best invoicing features out there, the type of invoice it will create should always be professional and convince your client that you are a serious person.
There are some invoicing software or accounting systems that can generate an invoice, but not all do this professionally. The invoice structure should be natural for you and the buyer to break down and understand the necessary information through the client portal and appropriate document storage.
It must be safe to use
Besides the professional layout, your invoice should portray, the software must be secured. You have to choose from trusted vendors and those with good reviews in system security. It is essential to look into this factor, so your data and clients' information don't get into the wrong hand, through the source from which you acquired the invoicing software.
The invoicing software should also come with good security and end-to-end encryption to accept payments like a credit card along with monitoring expenses.
It must also offer robust customer support
You should consult a reliable vendor for one of the best invoicing software to provide insights into the software operation. Your vendor should also be available to help you with handy information to run the software without a hitch.
Every invoicing software is prone to having bugs when you encounter issues like this, your vendor should be one with accessible customer service, so the bugs don't stay for long, else you may have to spend extra cost or transaction fees to provide a solution to it.
Invoice Productivity Tools
The main goal of starting a business is to be successful at it, and every business owner wants to be the best in their dealings. As a new business owner, efficiency, smartness, and productivity is key to continuing the business in the long run.
While you have a lot of things to set up so your business can have a good beginning, being productive is one important thing to take note of. Choosing the right tools and accounting features to work with will boost your business beyond your expectations in every bit and give routine to explore other aspects.
As a young and upcoming entrepreneur, there are numerous tools, both free and paid (includes transaction fee), that you can use to kick start successful business and management activities as you progress. Listed here are reliable tools you can trust to help you grow your business.
InvoiceOwl – Invoicing Solution
With the right invoicing platform, your business can now run smoothly and take the right business decisions. Since you don't have to bother about waiting for checks to deliver, you can spend time on other things that will grow the business.
InvoiceOwl will help you manage all your invoices as well as helping you draft a professional type, create and send invoices out to different clients. These invoices can be tracked at different times and help you reduce the cost of employing an accountant to help you generate financial reports through these accounting software options. You can also create and send automated reminders to clients who are yet to pay up and receive payments through payment gateways and various payment options with ease in different ways.
With this software, you have more time to do other things that will grow your business and gain clients' trust. It is not dependent on a customer's location and the payment processor you use. As a new user, you can start using it for 30 days for free without any transaction fees.
ProofHub – Task Management Tool
One of the most trusted tools that will help you manage your task is ProofHub and is being used by successful entrepreneurs. It is used to simplify and assign a task to different people at a time.
You can customize your settings and add features like due dates, estimates, files, and other essentials in one workplace. The software will break down your task management and is easy to understand and use. It helps you work smart and fast.
The software has a dashboard that shows all your work as they progress, in charts and understandable patterns. There's a tab that helps you manage tasks in between themselves, making it possible for you to work together with other small businesses by including figures, leaving feedback, and adding comments. The software is available in paid (per month or year) and free trials. Overall, it keeps all your projects organized and prompt.
iMindMap – More Creative Planning
Only business owners can tell how risky and hard it is to make plans for the progress of their business. Keeping up with other factors outside the business can make it hard for one to concentrate when one needs to think for the sake of your business.
iMindMap software can help you remember anything you need to put into consideration later and pen them down so you won't forget. With this, you can have control over deadlines.
It successfully helped more than a million entrepreneurs in increasing their efficiency and productivity in different tasks they find themselves in, such as creative thinking, organizing, planning, tutoring, managing projects, and so on.
Evernote – Note-Taking App
For small businesses to be productive in the business, you have to be filled with different ideas and thoughts. You may not need some of the ideas and thoughts at the moment, but they can be useful later in the future when you have to ponder on other things. Evernote helps you keep the ideas you may forget later.
Small businesses can keep the thought and ideas in the form of text, pictures, videos, voice notes, and other forms. The ideas can be organized into one system.
The important ideas you'll need for later can be kept in a safe place until you need them. You can access your thoughts when you're not online, as it can synchronize on all your connected devices.
When you need to work together as a team, this project management software can help you manage your projects, even when they are spontaneous. You can monitor your task, control the time, check the status of your progress, and demand records from time to time.
As a business owner, this is one of the most reliable tools needed for your business to hit the next level. Regardless of the company size, you can rest assured as it can serve different capacities.
It comes with all the needed features your team will appreciate; Kanban, automation, project records, checklists, schedule, integration, track inventory, track sales, track income, time tracking, and status report.
Everyone knows it sucks to have a long list of unread emails, as seeing a list alone can kill your productivity. As a business owner, you can avoid this type of situation with Front. Front helps you manage your email list efficiently while your team members work with accuracy.
You can have all messages organized in an inbox and can assign specific emails to your members so that the task is equally shared and executed. With this invoicing software, your clients can get fast replies from you, and this will improve the relationship.
You can as well connect all the necessary tools in one workplace to increase productivity on all fronts. The invoicing software is free for 14 days for new users.
Sometimes, it can be hard to maintain a high level of productivity and inventory tracking. If you truly want to see progress in your business, working with the tools mentioned above can help increase your productivity level. At the same time, you will work smartly with these tools and avoid any setbacks.
Scheduling, Invoicing, Expense and Time Tracking
Now that you have clients, you have negotiated a deal with them and have done the job required of you; the next step is getting paid for your service. Throughout the entire process, the simplest part should be invoicing software. As easy as it is, you have to be smart at it, and as it could end up becoming the hardest part, especially when you don't get paid faster and on time.
The tedious job is done by accounting software or a tool. If you want a single system to help you create and send invoices, accept payments through convenient ways from your client (i.e., Credit Card, Debit Card, or Bank Account). To follow up on an invoice, you need an invoicing software that is able to accept credit cards, debit cards and other payment modes to get paid faster.
There are different software available on the web, and selected ones have been tested and can be trusted. This is to make sure you don't find a random app misbehaving after finding out all it can do for you in a quick time.
First off, good invoicing software should ease the stress of preparing a professional invoice to track expenses, and it should be done faster than the Word processor program. Also, it should be capable of helping you get paid faster through different payment processing fees and methods and help you in expense tracking and maintaining cash flow. Some other partners can help you perform time tracking the time spent on doing a job for the customer and explain the expenses in detail.
You only have to fill in the variables for every other invoice you're preparing, rather than repeating the whole process every time you need invoices on the go from the billing software.
While the selected applications were being tested, only the ones with multiple features and specifications picked, in other words. The final apps could do more than other apps.
Only the apps primarily designed for invoicing software and an accounting solution will be selected. Accounting software or mobile app that you can use from your mobile device to create and send invoices. It must have an appropriate invoicing feature and all rights reserved by the solution provider and helpful to small businesses.