Is invoicing a hurdle to your dream of a paperless office?
Well, no need to worry anymore!
We have brought you a sure-shot plan that helps you practice entirely paperless invoicing.
Because you know the future is all about going paper-free.
Want to know more?
Let's get started then.
How does Paperless Invoicing Work?
It is quite clear by the name itself that the invoicing that does not include the use of paper format is called paperless invoicing.
Are you wondering how is it possible?
A paperless invoice is the simplest and quickest way to invoice your worldwide clients without leaving your desk. For digitizing the entire invoicing process you need to invest in an all-in-one invoicing software such as InvoiceOwl.
It lets you create and send electronic invoices.
No doubt you can use Google Doc templates and photoshop to create invoices but invoice creation is just one-half of the game. You need to send them and collect the payment as well.
A truly paperless invoicing process is which lets your customer pay you online.
InvoiceOwl lets you issue electronic invoices with help of custom-designed templates. Unlike a paper invoice, you can store these invoices digitally on the cloud. It allows you to refer to the invoices from any device, from anywhere, and at any time you want. Once you have created the electronic invoice, send them as a PDF file via the in-app emailing feature.
When the customer receives your electronic invoice, they are able to pay you online via multiple payment gateways. This helps you get paid quicker. Now customers do not need to write a cheque and mail you, which you have to send for clearing and wait for the bank to process.
As soon as you receive the payment, you can send an electronic receipt of the payment and send it online as well. Thus, it makes invoicing to any customer regardless of which part of the globe he/she might be.
Try our free online invoice generator today!
Whether your business is in construction, landscaping, consulting, photography, auto repair, or the medical field, invoicing takes way too long. That's why we're here. InvoiceOwl makes your invoicing faster and simpler so you can get paid promptly and without the hassle.
Paper Invoices vs Paperless Invoices
The biggest difference between paper-based invoices and paperless invoices is that a paper invoice is in physical form, whereas paperless invoices are digital documents.
Other than that, both have different advantages and limitations that leave a significant impact on your accounting process. Thus to understand more, let's compare both and get a clear idea.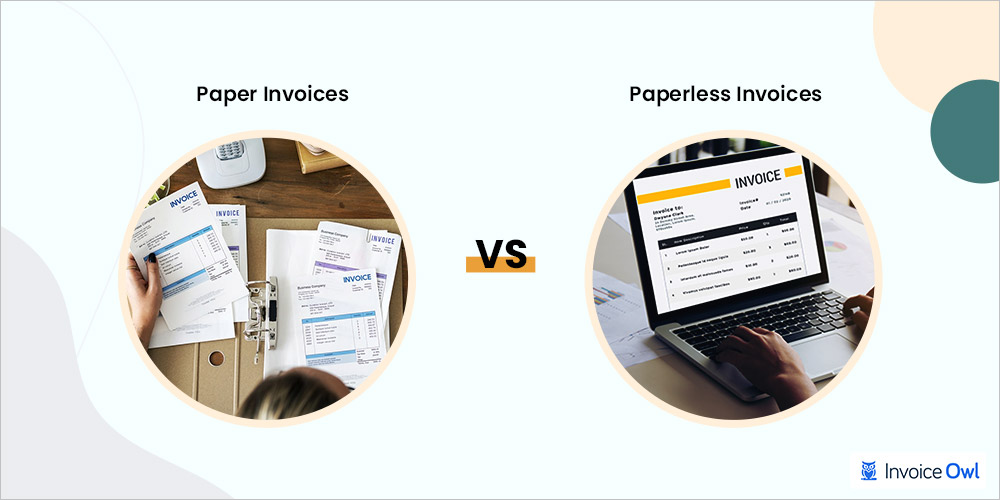 | | | |
| --- | --- | --- |
| Criteria | Paper Invoices | Paperless Invoices |
| Form | Paper format | Digital format |
| Can be sent by | Mail, fax | Any digital platform, such as email, WhatsApp, and link share |
| Stored | physically | On cloud |
| Time required | It takes a lot of time | Can be created and sent instantly |
| Workability | Can not be edited | Can be edited easily |
| Logistics | Paper, printer/pen | Computer/smartphone, internet |
| Time to reach | Can take a week or even a month (Depends on the distance) | Reaches instantly |
| Chances of misplacing | High | Extremely low |
| Most suitable for | Retail shops | Service providers and contractors working remotely |
It is quite clear why most organizations are switching to a paperless invoice system after knowing the difference between paper and paper-free invoicing.
However, paper-free invoicing might be better than paper invoicing, but does it have any cons?
So let's talk about the pros and cons of paper-free invoicing.
Pros & Cons of Paperless Invoicing
If you are not able to decide whether paper-free invoicing is for you or not, listing the pros & cons of paper-free invoicing would help you make the decision.
So, let's see the pros first.
Pro: It is Time Efficient
Working with paperless invoices helps you save a lot of time spent creating invoices and get you paid faster. This is one of the best benefits that businesses leverage. Small business owners have a lot of tasks at hand. And they are always looking for rooms to buy more time.
Generally doing things quickly means compromising the quality of work. Which is the polar opposite scenario with paper-free invoicing. It lets you invoice customers quickly and accurately.
Pro: It is Cost-Efficient
Electronic invoicing software such as InvoiceOwl helps you automate the invoicing tasks and limit the human touchpoint. It helps to eliminate the room for human errors. So, you can create error-free invoices on the first go.
And let's suppose you need to edit the invoice generated, e-invoices can easily be edited without costing you a penny.
Pro: It is Eco-friendly
In modern times, we as humans understand that climate change is real and we should do whatever we can to save the environment. Going paperless is one way of contributing to keeping the planet green. The fewer paper documents you use, the more trees you save from cutting.
Pro: It gets you Paid Quickly
Digital accounts payable helps you get paid quicker than paper invoicing. It eliminates the time for the invoice to reach the client and the payment to reach you. This way, you can get paid on the same day you create the invoice.
Pro: Lets you Accept Online Payment Methods
If you use the InvoiceOwl app, it lets you send invoices with a "Pay now" button. This allows you to accept online payments easily 24/7. It lets you accept payment gateways like credit cards, debit cards, Apple pay, Google pay, and Stipe.
Pro: It Strengthens Customer Relationships
Since digital invoices are easy to customize, every supplier can send bespoke invoices to clients. It gives a personal touch to the invoices and helps to boost customer satisfaction.
Pro: Easy to Invoice Verification Process
The paperless invoice approval process lets your customer verify the incoming invoices as soon as they are received. If you choose to stick to paper-based invoices, the AP process takes 15 to 17 days on average. Whereas, the online invoice can be processed within an hour.
Con: It Needs Internet Connectivity
All your customers might not have an internet connection. Paperless invoices might not be convenient for those customers. Other than that, some customers prefer paper-based invoices.
After reading all the pros and cons, you must be ready to switch to paperless invoice processing.
So, let's discuss how you can jump to paperless invoice processing from manual invoice processing.
How to Adopt Paperless Invoicing?
Adopting a paperless invoice processing system is not as complicated as it might sound. Here is the step-by-step invoice processing guide for businesses to go paper-free.
Digitize the Documents

If you want to practice e-invoicing, you have to go for cloud-based solutions for storing bills, purchase orders, credit memos, payment receipts, and estimates. Once you have stored all the invoice data on the cloud, you do not need the hardcopy for any reference in the future.

Invest in a Paperless Invoice Processing Solution

Online invoices are easiest to create and manage with AP automation software such as InvoiceOwl. It allows your clients with the paperless accounts payable process as it sends e-bills and allows them to pay via online payment methods.

Save Business Information in the InvoiceOwl

Say goodbye to manual data entry by using InvoiceOwl. InvoiceOwl remembers all client data, business details, your product and services with rate & description, taxes, and discounts.

This eliminates the need for data entry every time you create an invoice.

Design Invoice Layouts

The best part of working with InvoiceOwl is that it lets you customize the template for every invoicing document such as invoice, estimate, purchase order, and credit memo. And it is not time-consuming at all.

Simple and easy-to-understand invoice templates help you get invoice approval quickly and get paid in digital notes.

Send the Invoices Online

Once you have created the invoices on your desktop or smartphone, you need to send them to the customer. Since printing is not what you want, you can email them directly with the in-app feature.

InvoiceOwl helps you track the invoice status till it is finally paid. You get real-time notifications of customers receiving invoices, opening invoices, missing the due date, and invoice payments.

Generate Payment Receipts

Generating online payment receipts gets simpler than ever. Tracking invoices, marking them paid, and generating receipts is a tedious task for accounting professionals. They need to take regular follow-ups from AP departments and check accounts often.

But, if you practice paperless invoice processing, it generates payment receipts and marks the invoice paid automatically.
Voila!
You have totally eliminated the paper processes.
See, it is this easy with the simple online invoicing software for small businesses — InvoiceOwl.
Frequently Asked Questions
How do I go paperless?
Going paperless is quite easy. You just need to follow a couple of steps.
Digitize all existing paper documents by scanning and storing them on cloud
Create all the new documents digitally
---
Can you send invoices electronically?
Absolutely yes! You can send invoices electronically via email. Email is the safest and most professional way of sending documents electronically. Moreover, the invoicing software InvoiceOwl lets you send the electronic invoice, purchase order, credit memo, and estimate via the in-app emailing feature.
---
Why go paperless?
There are many benefits of going paperless.
Faster Invoice Approvals and Payments
Easy Invoice Storage
Simplified Document Management System
Simplified Audit Process
Invoice Searchability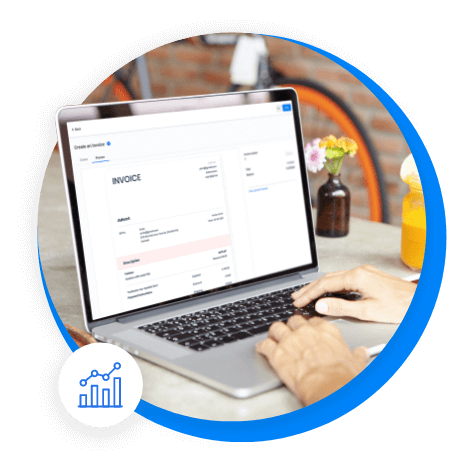 Ready To Paper-free and Automate Your Invoicing Process?
InvoiceOwl is a feature-rich invoicing app that helps small businesses, freelancers, and contractors to create paperless invoices online and cut the paper cost.
Conclusion
Going paper-free is one of the best things you can do to make your invoicing process efficient. It not only saves time and money but helps you improve customer relationships too.
If you are planning on automating your invoice process, InvoiceOwl is the perfect invoicing software for you. This cloud-based invoicing software will help you go entirely paper-free.
So, what are you waiting for?Sign up for FREE with InvoiceOwl and bid adieu to heaps of paper.