As a business owner, how do you manage the finances with your clients and suppliers?
Obviously, by creating and managing invoices time-to-time and getting paid faster.
If you're running a small business, it's likely that your customers will pay your invoices as soon as possible. On the other hand, if you have multiple invoices that are pending, you'll add them to accounts payable to be paid at a later date.
So, you must be ready with the accounts payable process, where your accounts payable department will take care of identifying and completing the outstanding payments and controlling expenses.
Here, we'll take a look at the basics, challenges, and even working of an accounts payable cycle to make it easy for you to deal with accounting perspectives.
So, let's start with the accounts payable definition.
What is the Accounts Payable Process?
Accounts payable means money which a business owes to its suppliers.
The accounts payable (AP) process is immensely important since it involves nearly all of the company's payments outside of payroll. It is responsible for paying suppliers and vendors for goods and services purchased by the company.
The accounts payable process is handled by:
An accounts payable department in a large corporation;
A small staff in a medium-sized company;
A bookkeeper or perhaps the owner in a small business.
The AP department follows a set of procedures to handle incoming bills and invoices, and that too just before making a vendor payment. The AP process involves four steps, although the complexity and length of each may differ from company to company.
All in all, the purpose of the accounts payable cycle is to avoid any fraudulent invoice & prevent paying a double payment.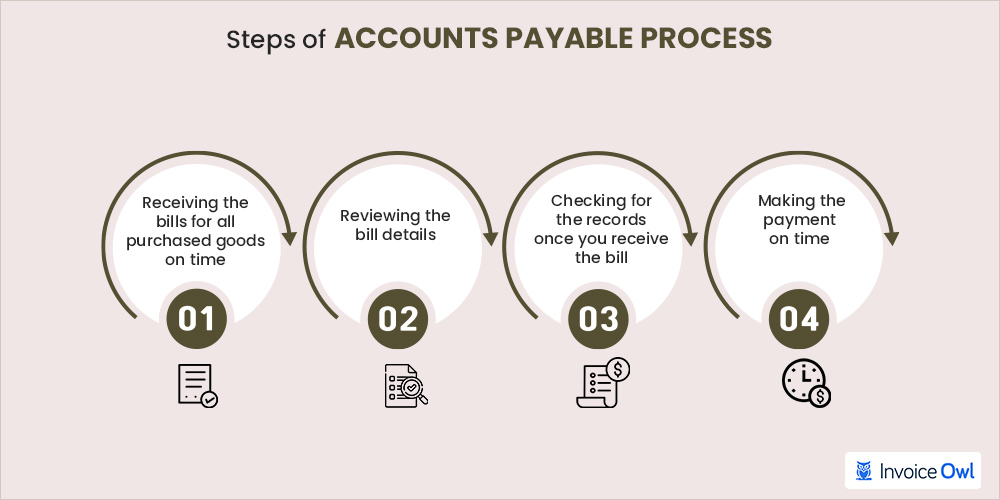 Step 1: Receiving the bills for all purchased goods on time.
The bill helps trace the quantity of what was received. You can even know the validity of the bill during this time too.
Step 2: Reviewing the bill details.
Make sure that the invoice must have a proper vendor name, authorization, date, and verified and matching requirements to the purchase order.
Step 3: Checking for the records once you receive the bill.
Ledger accounts need to be active, especially when dealing with received bills and an expense entry. You might require managerial approval at this stage with the approval hierarchy attached to the bill value.
Step 4: Making the payment on time.
All payments should be processed before or at their due date on a bill, as agreed upon between a vendor and a purchasing company. Required documents need to be prepared and verified.
Try our free online invoice generator today!
Whether your business is in construction, landscaping, consulting, photography, auto repair, or the medical field, invoicing takes way too long. That's why we're here. InvoiceOwl makes your invoicing faster and simpler so you can get paid promptly and without the hassle.
What are the Challenges Faced by Accounts Payable?
One of the biggest challenges that the accounts payable department structure normally faces is process optimization. It means that they need to perform the manual and hard work to get positive results. However, there are some common challenges that the AP department face like: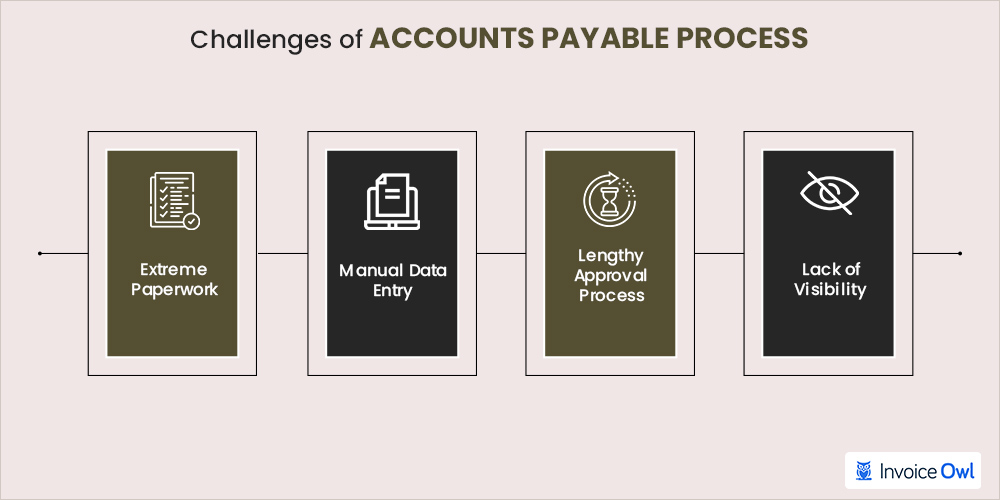 Extreme paperwork

AP department normally receives half of the invoices in paper format. The most challenging part is sorting, organizing, and processing paper files, which is a more time-consuming process for employees that could be spent on higher-value tasks.

Manual data entry

AP teams take a lot of time just to collect information from multiple sources and formats, causing more chances of data entry errors and misplaced documents.

Lengthy approval process

The approval process depends on the payment amount you're charging. Also, many invoices require approval from stakeholders outside of the AP department. The extra step in the accounts payable process flow chart could increase the cycle time, especially if approvers cannot easily access approval workflows.

Lack of visibility

Paper and manual processes prevent AP teams from tracking the company's cash flow. If you are not aware of what stage each invoice is in, it increases the risk of late payments and makes it difficult to analyze the company's financial health.
How Does Accounts Payable Process Works?
There are a few things you need to do in order to prepare and process accounts payable properly.
Credits:Technofunc
Create Your Graph of Accounts

Before you start your AP process, you need to create a chart of accounts. It is where you can store all your accounting transactions, and AP is not exceptional.

If you want to track your account payable expenses more accurately, you need to make sure that you add all your additional accounts in the accounting software or applications to get a clear chart of accounts.

You can also add your chart of accounts in Microsoft Excel if you are not using an online tool or software.

Set Up Vendor Information

Having the right set of the vendor information is equally important as having up-to-date accounting transactions.

If you have just started your firm, you must set up your vendors' information in your blank Google spreadsheet or use your Microsoft Excel worksheet before you start evaluating your accounting transactions.

Things will be easier, if you are using an accounting system, you can insert your vendor information including vendor name, purchase orders, expense entry, or vendor bank account details directly in the software or application that is getting stored in the cloud.

You can also associate accounting records or payment terms decided between you and the vendor. Such accounting terms will show you how much time the vendor or supplier has given you to pay your bills. For example, they can use some payment terms like:

Net 10
Net 30
Net 60
Due on Receipt

Let us see how these terms work, for example, if your vendor sends an invoice using payment term Net 30, that means you are supposed to pay before the 30 days period gets over otherwise it will be considered as a past due invoice, and you might have to pay late fees.

Evaluate and Enter Bill Information

Once the bill is received from a supplier or vendor, you need to start evaluating your bill details for more accurate results.

For instance, if you receive an invoice for the products ordered, make sure you match the products with the list mentioned in your invoice. If the invoice is generated for the goods or services, then make sure the services were provided as described on the invoice.

It is important to evaluate and match invoices with the goods or services mentioned to check whether everything mentioned is right or not and if there is any double entry.

Once this step is done, you can start entering the invoice information either in your ledger accounts or in the software you are using. Once the invoices are accounted for you need to cross-check all the details you will be able to enter all AP for your company and you can also have an approval hierarchy or appropriate approval process just to make sure it is legitimate and accurate.

However, you need to review the bill and match the correct account numbers with the correct information before you process the invoices. Also, check if there is any double entry. This method allows you to view incoming invoices and help you ensure accuracy while avoiding payment-related errors.

Once you have completed the process, you can begin to enter the payment information including invoice number, invoice due date, and the total amount due for the invoice.

Review and Process Payment for Any Invoices Due

The best way to ensure that your vendors are getting paid in a timely manner is to review your AP every week to avoid confusion or to check how much payment is due for the invoice.

Whether you are using a manual accounting tool or an online accounting tool, you will need to keep reviewing your invoices and due dates to see which invoice needs more attention.

There are many payment methods you can use to pay for the invoices. You can process a check from your accounting tool to pay your vendors and suppliers using company credit cards or use any e-payment method for making timely payments.

Repetition of The Process Weekly

The accounts payable process helps you in monitoring the entire business transactions and if there is any past-due invoice.

By implementing an accurate AP cycle each week, businesses can reduce their workload at the same time they will be able to avoid late payments and past due invoices from their account.

The core benefit of having a regular AP procedure business will be being able to maintain the cash flow even if they only have a few vendors to make payments.

If you are dealing with two or three vendor invoices a month, processing their payment process manually should not be difficult.

But you are a small business owner who has recurring invoices and vendor invoices or due vendor payment that will need attention regularly, probably each month or week.

If that is the case, using appropriate accounting or invoicing software can be a tremendous help to manage your vendor payments in a legitimate and accurate way.
Full Cycle Accounts Payable Process
In full cycle accounts payable — also referred to as procure-to-pay (P2P), both Accounts Payable (AP) and Procurement or Purchasing departments are functions within the greater P2P process. In short, each department has a hand in full-cycle accounts payable.
The basic accounts payable cycle includes three significant metrics: Purchase order (PO), receiving the report (or goods receipt), and vendor's invoice.
The purchasing department of the company sends a PO to a vendor. The PO includes the requested merchandise, quantity, and price to trigger an order to initiate the purchase.
Once the business receives the goods, a receiving report documents the shipment. It includes any damages or quantity discrepancies.
The vendor invoice is sent by the vendor to request payment for the goods or services provided.
The AP department receives vendor invoices and the invoice management process begins.
Frequently Asked Questions
What is the role of accounts payable?
The role of AP is to match and complete the unpaid invoices and control expenses by invoice processing, evaluating, and reconciling invoices along with receiving payments. A typical accounts payable department also indicates the day-by-day management of all transactions and the company's financial statements that the company has done.
---
Are accounts payable by debit or credit?
When you receive any invoice as a company, the amount of money owed to the vendor or the supplier increases. Since this liability is increased by credits, you will have the credit in the accounts payable. Once the liability gets decreased by debits, you will have to debit the AP for paying bills regularly.
---
What is the difference between accounts payable and accounts receivable?
Accounts payable is the money a company owes its vendors, while accounts receivable is the money that is owed to the company, typically by customers.
---
How to streamline the accounts payable process?
To streamline the accounts payable process, you need to follow the below-mentioned steps:
Centralize all critical AP documents and automate processes on a single platform
Reduce paper-based processes
Set up payment reminders
Generate monthly reports
---
How do you calculate accounts payable?
It is very easy to calculate liabilities on your balance sheet, you just need to add up the totals of all the invoices that you or your accountant team members have approved but the invoice is not yet paid. This is how the accounts payable department calculates unit costs, compares purchase orders, payment vouchers, financial statements, balance sheets, and applicable income tax before the due date.
---
How does accounting software help with the accounts payable process?
If you are dealing with very few vendor invoices in a month then accounts payable processing manually might be an option for you. But if you are a business owner dealing with recurring invoices that need your attention on a regular basis, then using accounting software can be very helpful. As it helps businesses in monitoring all their invoices. And using software like InvoiceOwl is how to organize accounts payable invoices for contractors.
---
Which set of steps would help track accounts payable at a business?
To track accounts payable at a business, follow these steps.
Setup client's account
Verify each invoice with the corresponding purchase order
Audit the account for transactions and any unpaid invoices
Repeat the cycle weekly or monthly
---
Where do accounts payable go?
The accounts payable go to the vendor's account. When the seller receives the AP, it is called accounts receivable.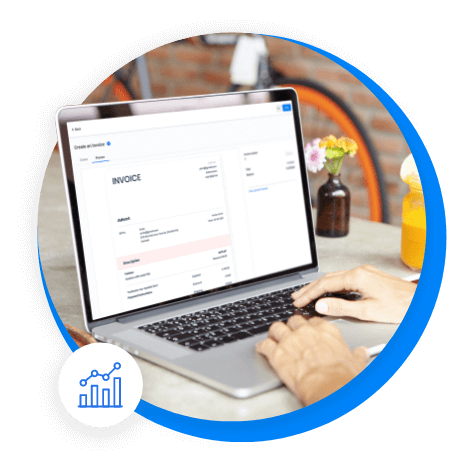 Create Professional Invoices Online Easily and Keep On Top of Your Finances
InvoiceOwl is a feature-rich invoicing app that helps small businesses, freelancers and contractors to create invoices on-the-go and get paid quicker!
Conclusion
Maintaining your accounts payable process must be a priority for you to run your business properly.
By implementing a good accounts payable process from the start, you can eliminate the chances of heavy late charges. The invoice you create must be accurate and it is made possible by adopting an online invoicing software solution that makes it manage invoices for multiple customers.
It will also help you maintain good relationships with the clients, and ensure that all the transactions are accurately considered in a certain way.