Whether you are a freelancer, e-commerce business owner, or a brick-and-mortar retailer, streamlining the cash flow is of utmost importance. As a business owner, your prime goal is to improve the cash flow and so, you must have an automated billing process to enhance your business growth.
Invoicing software lets you generate invoices quickly and make sure you receive faster payments. In short, your workload will be reduced and you can have track of ongoing activities. For example, you can easily keep tabs on your business expenses and even send professional invoices to your multiple clients quickly.
Apart from this, there are many benefits of billing software mentioned in this article that will help you to automate your daily activities. So let's get into it.
Try our free online invoice generator today!
Whether your business is in construction, landscaping, consulting, photography, auto repair, or the medical field, invoicing takes way too long. That's why we're here. InvoiceOwl makes your invoicing faster and simpler so you can get paid promptly and without the hassle.
Top 9 Benefits of Using Billing Software
Let's see how online billing software benefits your organization in 9 different ways.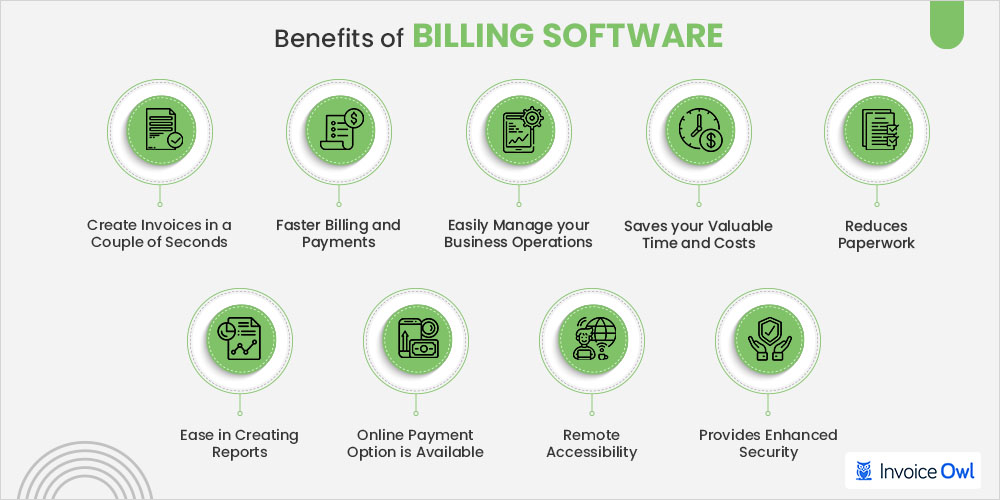 Generate Invoice Within Minutes

The manual billing process would be tedious and time-consuming as you need to verify each transaction and register information in the ledger.

Whereas invoicing software allows you to create invoices in less than a minute and it's quite easy to manage. Below is how automated invoicing software can be helpful to you:

Saves your time as you do not have to maintain spreadsheets or put entries into the ledger
Eliminates your long hours in entering essential information in invoices.
It easily stores your client's name, address, agreed payment terms, and even any preferred payment method.
You can easily maintain your business and customers all-in-one.
Set up the entire payment process for small businesses.

An incredibly user-friendly platform makes it easy for everyone to use, whether small businesses or freelancers.

Faster Billing, Instant Payments

As stated earlier, the manual invoicing process is time-consuming, and you'll need to deal with numerous steps before an invoice is generated. Once you've provided the services or delivered the product to the customer, an invoice needs to be created.

One of the best recommendations is to adopt an online invoicing software that makes your payment processing easier. Moreover, it helps you save the previous invoice records sent to the customers to preserve future references.

Other than that, collecting payments via multiple payment gateways with invoicing software is no big deal. You can accept online and offline payments too.

InvoiceOwl is one such invoicing software that brings automated billing systems. You can not only create invoices, but this software enables you to create and manage estimates, purchase orders, and credit memos too.

Easily Manage Your Business Operations

Many times, you might forget to look out for invoices that are still unpaid. In that case, you need to be aware of all the essential criteria to manage your business finances.

Automated billing software is one such solution that allows you to create and send an invoice to the customers. Moreover, it makes the billing systems easy for you to keep track of reminders and automatically generate invoices each time they are sent.

Overall, it reduces your burden and helps you easily create professional-looking invoices for clients. Moreover, it ensures the correct numbering of invoices and customer details inside the invoice. Following that, you can download or print to send the e-invoices to them.

Unlimited Cloud-Storage

As a small business owner, you would be worried about the storage space on the software. Now, with an option of cloud facility from an invoicing platform, you never have to worry about losing invoices (i.e. client's confidential credit card information).

Plus, you do not have email problems or pc crash issues amidst data entry. Everything you register into the billing software is automatically saved and stored online. You need to read their storage capacity before you opt for any invoicing services.

Once you are satisfied with their cloud offerings, you can immediately start sending invoices to your clients right away.

Ideal for Brand Identity

One of the advantages of using cloud-based invoicing software is that it strengthens your brand's identity. You can add your logo, branding colors, matching fonts, and a professional look that suits your branding style.

When you are busy strengthening your identity, you can also expect quicker payments on time. For example, when you include your brand identity into your invoice, it increases the collection of online payments by three times and helps you receive payment faster.

A digital platform has a special place to put your customized messages, such as a "Thank You Note". You will also be able to up-sell your new or upcoming services. Also, you can attach a link to open your new webpage.

Such small things will enhance your brand value and will further demonstrate your expertise in the specific field.

Enhanced Security

Easy-to-use invoicing software is extremely secure. It consists of additional security of the transaction data, customer's identity, and most importantly, cost to the customer.

Security will be a top priority for any business person. Therefore, reputable and well-known online billing software always offers high-level security since it must adhere to PCI Security Standards. Hence, it helps you raise customer confidence about personal and business data security and payment processes.

It is not that easy to get a PCI Security Standards Clearance. However, this clearance will help you implement advanced security safeguards against any loss and damages. For example, you can have such protection in your billing software as SSL encryption.

Multi-currency Feature

Fundamentally, we all are 'Global Citizens' these days. Thanks to emerging technologies, sitting in Canada, we can bill our clients in the U.K., or customers from Africa can make a purchase of their choice.

It was not possible a few years back, but now the entire scenario has been changed, and people trust each other without knowing their language and preferred currency. It's just the requirement that matters, and it has been possible with the use of the latest technologies.

Because of this technology, invoicing platforms are allowing users to select their preferred language and currency. This facility makes it possible for everyone to do the business of their choice and customers to pay at their convenience.

Accessible From Anywhere

Online invoice software is usually cloud-based, which gives you the power to manage necessary estimates and invoices from any corner of the world. In addition, you can access invoices and all the invoicing details 24/7 using your own portable device.

Moreover, if you can't go to the office for any reason, you can send and manage your business invoices by sitting at home or when you are traveling. By using invoicing software, you will find it easier to manage multiple customer-vendor records.

You can compute tax returns efficiently on your transactions for easy reporting. Overall, it saves your valuable time and your customer would be satisfied with your quick services.

Fewer Errors And Quick Audits

Making an invoice on paper will have high chances of human errors because it would be a lengthy process. Processing wrong invoicing amounts or sending an invoice to the wrong customer may hurt your business reputation.

Such errors and disputes in the invoice process can cost you thousands of dollars. The send and resend will be even more damaging. Online invoice software automatically calculates the total amount for you to prevent errors. Also, it adds the appropriate taxes and ensures that you are invoicing the right client.

During the tax season, you or your accountant might need to sit together and figure out the eligible tax deductions. At this time of the season, invoicing software eases your work by simplifying auditing.
Frequently Asked Questions
What are the types of billing?
Generally, there are twelve types of billing available in the market:
Standard Invoice
Credit Invoice
Debit Invoice
Mixed Invoice
Commercial Invoice
Timesheet Invoice
Expense Report
Pro Forma Invoice
Interim Invoice
Final Invoice
Past Due Invoice
Recurring Invoice
---
Is billing and invoicing the same thing?
Both the terms, billing and invoicing convey the same meaning in somewhat different ways. In short, an invoice means you are requesting money, and a bill means that you are required to pay for something.
---
How to create an invoice for hourly work?
Maintain the invoice record clients-wise
Number the invoices date-wise
Show all the calculations
Use e-Invoicing
Market your services
---
Is there any hourly invoice template available to download for free?
Yes. InvoiceOwl offers free invoice templates to charge your clients on an hourly basis. You can easily download the templates in different formats like Word, Excel, PDF, and even Google Docs.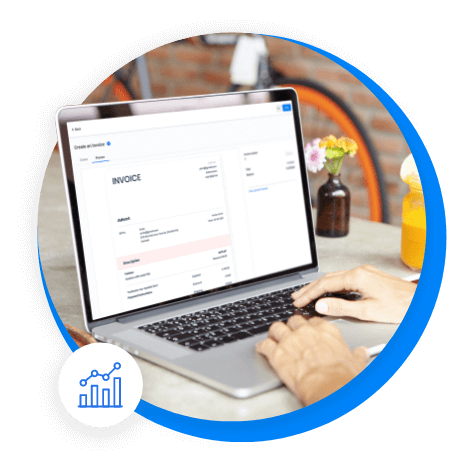 Create Professional Invoices Online Easily and Keep On Top of Your Finances
InvoiceOwl is a feature-rich invoicing app that helps small businesses, freelancers and contractors to create invoices on-the-go and get paid quicker!
Conclusion
Automated billing software is becoming a part of the business for most of the owners. Sometimes you may find that an industry-specific software is right for you and sometimes you feel that a universal solution is the best that offers everything.
Naturally, the choice of online invoicing software depends on your business requirements, workflow, and accounting processes. Invoicing software fulfills your invoicing needs and manages your customers' data.
In the process of selecting the billing and invoicing software, we recommend you compare all the essential things that are necessary for your business.
If you are willing to leverage the above-mentioned 9 benefits, Sign Up with InvoiceOwl and get a free trial of 14-days to explore amazing features. Try InvoiceOwl now and generate invoices in a matter of seconds.