Struggling to maintain a positive cash flow because of unpaid invoices?
We know it is frustrating.
But, would you give up your freelancing business over it? No, right?
You need to take it as a challenge.
Freelancers have to face late-paying clients or even non-paying clients at some point in their careers.
So, know that you are not alone, and it can be tackled professionally.
Want to know how?
Let's go through this complete guide on how to deal with a freelance unpaid invoice.
Try our free online invoice generator today!
Whether your business is in construction, landscaping, consulting, photography, auto repair, or the medical field, invoicing takes way too long. That's why we're here. InvoiceOwl makes your invoicing faster and simpler so you can get paid promptly and without the hassle.
Things to Check Before Chasing The Payment
If you want to make sure clients pay your unpaid invoices, you need to prepare before you start pursuing the invoice.
So, let's quickly look over those things and figure out what you need to do to get the hard-earned money from your freelance client.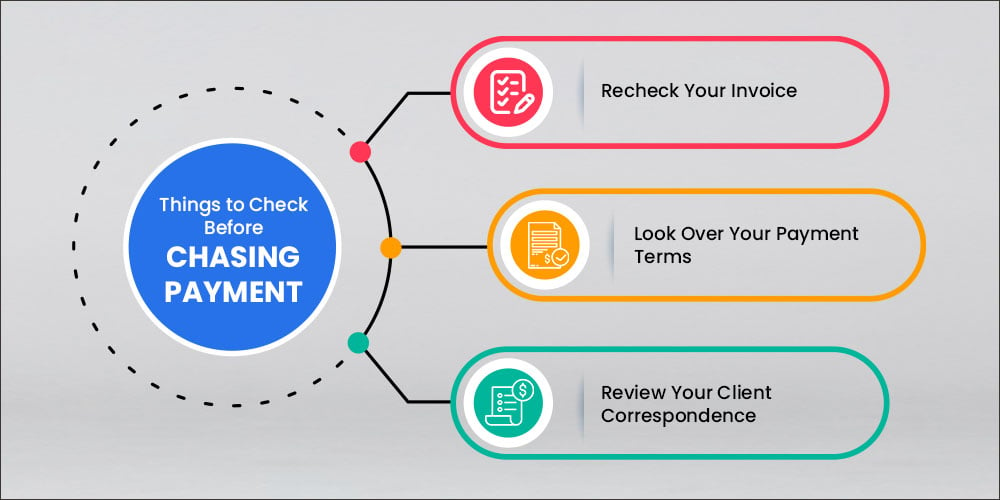 Recheck Your Invoice

Proofreading the unpaid invoice should be the first step before jumping to any conclusion.

What are the things you should check?

Your business details
The customer details
Invoice date
Invoice number
Line items
Final amount
Due date

Make sure there are no discrepancies in your invoice. Most of the time the reason behind unpaid invoices is that the customers have not received them in the first place.

So, before accusing the customer, check whether you sent it to the right address.

Moreover:

Check all the other details closely and if you find any, send a new invoice to the customer immediately.

Look Over Your Payment Terms

The person who makes the purchase and the one who processes the invoice might not be the same in your client's accounting department.

Thus, not stating your payment terms on the invoice might create a communication gap and you have to face a late payment.

Moreover:

Before calling it an unpaid invoice, always check the payment terms. Make sure that the invoice has crossed its due date and still is not paid.

Before you chase payment, make sure you know all the details, such as the date of invoice, the due date, the total amount due, and the late fees.

You don't want to falsely charge your clients a freelance late payment fee. This will tear apart the client relationship and would harm your reputation as a professional as well.

Review Your Client Correspondence

Before you reach your clients, check whether they have tried to reach you first. You might have missed a message or email from the client query regarding the invoice.

You should not be charging interest to the clients that couldn't make the payment process in due time because of confusion. This is considered unethical. If the client has asked you a query regarding the payment plan, you must revert to the appropriate solution.

Many times, the client has already reached you to notify you about the late payments due to genuine financial difficulties. So, in such scenarios, you might have to wait a little longer to receive payment.

If all the above things are checked, get ready to approach the client.

Want to know what you can do about it?
7 Steps Freelancers Need to Take To Tackle Unpaid Invoices
Getting your client to pay can get a little tricky. One incorrect step and you can forget your payment. Thus, know what you should and could do to get your clients to pay your overdue invoices.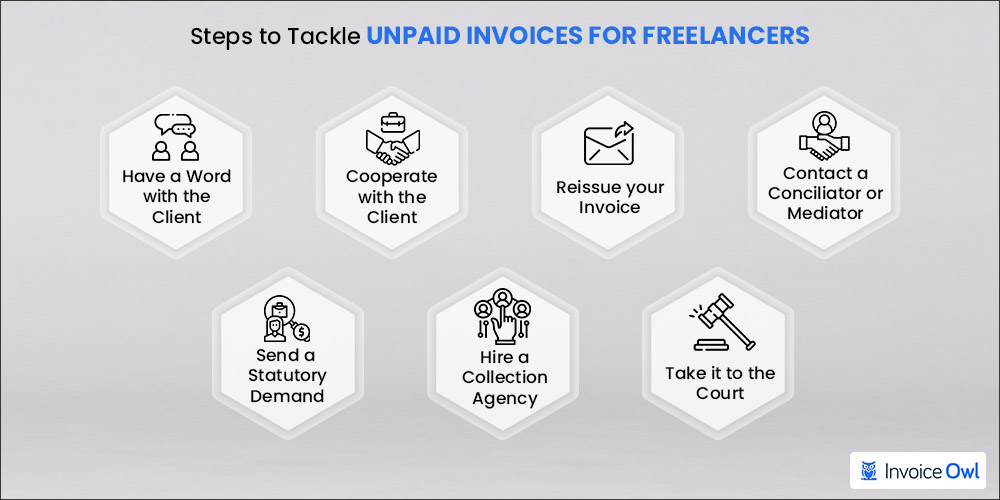 Have a Word with the Client

The client doesn't need to intentionally fail to pay you on time. Your clients are human too.

Use the commonly used channel of communication to know the exact reason for the delay in payment. For example, if you communicate with the client on emails, send an email during business hours. Allow them at least 24hrs to respond to your email.

If you do not receive a reply, you may use the contact number provided by the client and contact them over phone calls.

Remember that you need to use a humble and polite tone in an email to chase the late payment.

Give them the benefit of doubt and let them explain the reason for the delayed payment.

Cooperate With the Client

Sometimes, the client misses making the payment due to technical issues. For example, the client is not able to make the online payment. In such cases, guide them.

Other than that, any business can face issues like cash flow, accounting, or staffing issues.

So, considering that, if you want to keep the client, you have to be flexible. Be willing to find a middle ground.

One of the common solutions is to allow them a couple of weeks to make the payment. This will lead to stronger business relations with the client.

Reissue Your Invoice

It might happen that the client has misplaced the invoice.

Or, did not receive the invoice in the first place.

In such cases, resend the invoice making sure that the email address is correct.

Other than that:

Send the invoice through every channel. Email the invoice to the company, the manager, the accountant, and the company owner as well. Mail a hard copy of the invoice to the billing address and notify the same on the phone as well.

Even if this doesn't help you get paid, it shows that you made efforts and tried reaching the client in every way possible.

Moreover, do not forget to mention your contact information and let the receiver reach you easily.

Contact a Conciliator or Mediator

If you can not come to a middle ground with the client, an unbiased facilitator has to intervene.

When you have to face an invoice dispute where you fall into the endless pit of "he said – she said", solving the conflict on your own is just a waste of time.

In such cases, you should introduce a conciliator or mediator to come to a solution. This brings.

For example, the quality of your service could not match the client's expectations. Therefore, he/she refuses to pay you the due amount. And your contract clearly states that the payment has to be made if the service has been delivered.

These types of issues are tough to resolve without a third party's help.

Most of the time, the mediator would help both the parties to negotiate the due amount and agree on a settled amount in such scenarios.

Send a Statutory Demand

Getting a cold or no response from the client?

You should now escalate things a bit.

When you have tried to contact the client in every possible way and have not gotten any response, you need to issue a statutory demand.

A statutory demand is a formal warning from the vendor to the client to pay the accounts payable on time.

This does not count as legal action but it is enough to encourage the client to pay you. You might call your lawyer to create it or create yourself.

If the client doesn't pay the outstanding amount even after receiving the demand, you can move towards the insolvency proceedings against the defaulter.

Hire a Collection Agency

When the overdue invoice crosses the 60 days mark, you can call a debt collector.

These collection agencies are professional debt collectors. They follow legal means and get the client to pay you.

You would need to provide the collection agents with:

Copy of the signed contract
Product/service delivery proof
Copy of the unpaid invoice
Communication in form of emails, mails, or texts between both the parties

However, the debt collectors will charge you a fee. Therefore, evaluate whether the unpaid invoice is worth hiring a debt collection agency or not. And only chase the payment that you see chances of getting paid.

Moreover, spend some time researching the right collections agency. Look at their portfolio and previous cases. You do not want to hire someone not aware of the legal obligations.

Take it to the Court

This is the most costly option for you. It won't cost you only money but time too. That's why you would want to go down with this step only if you have tried all of the above.

If the client is not answering you or not agreeing to pay you at all, you might have to go to court. And yes you can do it yourself but calling your lawyer would be advisable. The lawyer is a professional. He/she knows how to make your case stronger.

Of course, the lawyer would charge you money and that is worth it. Not only for this case, but for setting a reputation as well. It sends a message that you are willing to go to court and not paying you is not an option.
Tips to Always Get Your Invoices Paid On Time
Let's learn a few tricks to always get paid timely.
Because:
Prevention is better than cure.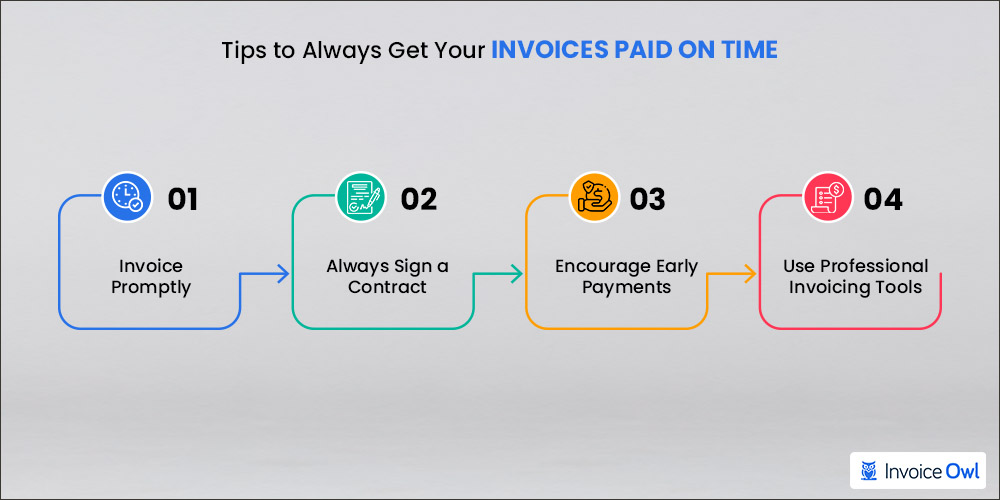 Invoice Promptly

Isn't it quite clear?

If you don't send invoices on time, how can you expect your customers to pay you timely?

One of the commonly occurring invoicing mistakes is not issuing it on time. You need to send invoices as soon as the service has ended.

You need to give at least 15 days to the customer to pay the invoice.

So, if you ask us what's the right time to send invoices? We would say as soon as possible.

Or else, late invoicing can get you a stack of overdue invoices.

Always Sign a Contract

Relying on handshakes is not wise.

Want to be a professional?

Always get a sign on the contract.

You should create a contract stating all the terms and conditions regarding the business to stay on the same page. It must include:

the services you will lend
the quality of services to be delivered
the expected time for it to be delivered
the tenure of the service
the expected amount to be paid at the end of the service
the time frame in which you expect payment

Don't forget to send an estimate with the contract. An estimate is a document that lets the customer know what would be the charges of your services before hiring you.

Estimates let the customers be ready with the money when the service ends and help you get paid on time. Thus, InvoiceOwl lets you create estimates in just a few clicks.

Encourage Early Payments

Many freelancers use tricks to motivate the clients to pay you quickly, such as:

offer early birders discounts
accept payment via multiple payment options like cash or direct deposit in a bank account via cheque, debit card, or credit card
send automated reminders
send personalized thank you note for the received payment

Use Professional Invoicing Tools

Using a professional invoicing tool like InvoiceOwl helps you create professional invoices in just a few clicks. With maximum automation, it slims down the chances of human errors.

The invoicing software lets you create customized invoice templates for a translator, writer, plumber, landscaper, and whatnot. With invoices personalized for your freelance business, you can create easy-to-understand invoices and get it simpler to process the invoice for your customers.

The easier to understand your invoices are, the more are your chances to get paid without any invoice disputes.
Frequently Asked Questions
How long should you wait for an invoice to be paid?
How many days to wait for the payment depends on the invoice terms that both you and your client agree upon in the contract. This time frame is different for all businesses. However, commonly it is 15, 30, 60, or 90 days at max.
---
What happens if an invoice is not paid?
Freelancers and small business owners have to face cash flow problems due to unpaid invoices. Thus, freelancers need to be aware while picking a new client and sign a contract before rendering services. And for that, you may use any of the best websites for getting freelance clients.
---
What impact do unpaid invoices have on freelancers?
Freelancers have to bear a huge impact on unpaid invoices as they do not have as many clients and budgets as large-scale businesses. And here are the impacts a small business has to handle.
Cash flow problems
Money mismanagement
Less profit margin
---
How do you handle unpaid invoices?
Handling an unpaid invoice is by being fully aware of your rights as a service provider.
You can:
inform the late-paying clients
give clients extra time to pay the invoice if they have trouble paying you
charge interest on late payments
take them to small claims court
sue them
---
How do you make sure to get paid as a freelancer?
A freelancer has more chances to face a no-payment than a big corporate business. Thus, here is how to make sure you get paid as a freelancer.
Sign a contract.
Make sure to provide the agreed quality of service/product.
Invoice timely.
Know your legal rights.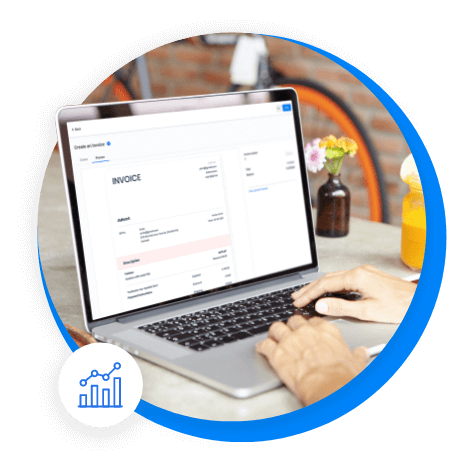 Create Professional Invoices Online Easily and Keep On Top of Your Finances
InvoiceOwl is a feature-rich invoicing app that helps small businesses, freelancers, and contractors to create invoices on the go and get paid quicker!
Conclusion
No freelancer wants to face unpaid invoices. But that is an unfortunate reality in the freelancing world that every business owner has to face.
Thus, you need to be prepared for that. Keep a plan ready if any of your invoices go unpaid. And even better, take the necessary measurements to avoid such a scenario.
In a nutshell:
Never let your hard work go in vain.
And for that, we have discussed the 7 simple steps to handle debt recovery, things to check before chasing the payments and tips to get paid on time.
If you want to encourage prompt payments, send your new clients invoices generated by InvoiceOwl. This invoicing tool helps you send professional estimates, invoices, issue payment receipts with just a few clicks, and get you paid faster.