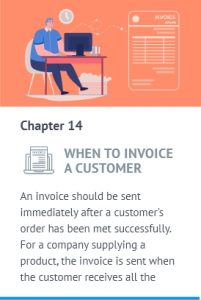 Chapter 14
When to Invoice a Customer
Jul 2, 2020
Best Practices To Follow for Small Businesses
There is a general question "When to Invoice a Customer". An invoice should be sent immediately after a customer's order has been met successfully. For a firm supplying a product, the invoice is sent when the customer receives all the goods. For a firm that offers its service to a customer, an invoice is sent immediately after the full service has been rendered.
In this aspect of the guide, we'll cover:
What is an invoice?
How to send an invoice
Invoicing mistakes a vendor makes
What Is an Invoice?
An invoice is a document prepared by the merchant to receive payment for the service and goods supplied. It can also be called a list of a product or service the merchant provides to the customer and the prices for every quantity.
The commencement of payment begins when a customer first receives the invoice.
An invoice no. is often used to reference the customer's order no. P.O no. is issued by the customer and is seen as an agreement between the merchant and the customer to explain the details of a sale. It is given by the customer at the initial stage of the transaction.
A P.O that is completed and cleared by the customer leads to payment of an invoice. This means that the list on the seller's invoice has been pre-approved.
How to Send an Invoice?
An invoice can be delivered to the customer in different ways:
By Mail:

This is the slowest means of sending invoices; this method is also unreliable as the invoice may sometimes not get to the customer.

By Email:

To send an invoice by Email is one sure way to get it delivered to your customer as quickly as possible; it is a trusted and secure means.

By an Accounting Software:

A majority of modern accounting software now comes with an internal email system that can send to any customer with just a click. Accounting software also helps you follow up on the invoice and notifies you when the invoice is overdue.
Invoicing Mistakes a Vendor Makes
Sometimes, some mistakes are inevitable when invoicing a customer; these are some of them:
The date on an invoice you're sending out should be the date you prepared the invoice. This date is meant to be on top.  Another date to take note of is in the description of goods and services; this is the date the goods were delivered or when the service was offered.
Incomplete Vendor Details
When a customer sees that the seller's details are incomplete, he feels reluctant to make payment soon. Complete vendor details include small businesses' names and addresses, Emails, and phone no.
Most times, the customer looks out for the vendor's company name on the invoice. Most large firms do not make payments when detail is missing from the vendor's details.
If the vendor accepts different methods to pay such as cash, credit card payments, or bank account, it is best to signify in the invoice so the customer will have to choose the most convenient means to pay faster.
Misplaced Purchase Order Number
A purchase order number shows the department in charge of paying invoices that the invoice has been approved before getting to their desk. Without a purchase order no., the amount cannot be made for an invoice, so the due is placed on hold until it is resolved.
Do the numbers correlate? This is a prevalent issue for invoices created in MS-Word. Hence, the vendor usually needs to recreate and resubmit the invoice, as the client cannot adjust it themselves.
When a vendor supplies services to a company or goods, they must state in clear terms what they have provided, a detailed explanation will clarify the customers if they are confused.  For reference purposes, it is important to explain what service has been provided.
Omitting the Subject Heading In the Email
Sending invoices through Email requires professionalism from the vendor.  A vendor should not send an invoice to a customer with a casual approach.
Annie sends an email to Mark, asking about his welfare and how's life with him, she proceeded to inform him of some issues that are not business-related. At the end of the email, she writes, "here is a copy of the invoice."
Mark feels tired to check the invoice and decides to do so some other time. Later, when he starts checking unread emails, he skips Annie's message with the attached invoice because no subject line shows it is an invoice email.
Annie would have written about the invoice in the subject line of the Email, something like "Annie's Pastries Invoice," for a win-win situation so Mark does not skip the message.
How to Invoice a Company: A Practical Approach for Business Owners
Small business owners need to have good knowledge of how to properly invoice their clients to get paid quicker, even though they're dealing with a firm or an individual.
Businesses that offer credit to your clients often, supplying an item and getting payments later, you'll have to request the total due by sending an invoice.
Learning the art of invoicing will help you get the due easily and reduce your paperwork. It will also help you cut down on the cost of other materials and labor, as well as managing your financial situations.
For a simplified invoicing process, InvoiceOwl invoicing software is easy to use invoicing solution that helps you get paid on time.
This aspect of the guide will cover:
Selecting an industry invoice template

Adding items and service to the invoice

Summing up the total price

Adding essential information 

Sending the invoice

Following up on an invoice
Selecting an invoice template
Make sure that you send an invoice almost immediately when you finish up the customer's work. According to Forbes, almost 80% of invoices sent out the same day jobs are completed getting paid.
To prepare an invoice as per industry standard, the first thing required of you is to choose a template. In Word, Excel, Google Docs, and PDF programs, you'll find already existing templates you can use for your invoice.
Some invoicing solutions help you download templates online and personalize them for your use. This is beneficial for freelancers. You can download your preferred template and open it in any program that can draft an invoice.
Adding Products and Services to the Invoice
For each product, there should be a separate line that indicates their description. Your description has to be detailed so that the customers can understand you in clear terms. Explain in quantities for products supplied and describe the service you're charging them for. Do not miss out on the dates you supplied the products or offered the service.
Every customer wants to be sure of what service they're paying for. Do not mix things up in the process. Simplify each service as possible as you are getting paid in time.
Include your hourly or flat rate pay, as discussed with the customer when negotiating. If you're working hourly rate, add the total hours you worked.
Summing Up the Total Price
Add up every price and hour to make the customer see what he's paying for. If applicable, add the tax and discount rate or any outstanding balance for tax purposes. Sum up everything to a total.
If you're going to charge a late fee, you must have agreed with the customer before preparing the invoice. Additional charges the customer is not informed about may be confusing and may breach trust in customer relationships.
Adding Essential Information
The invoice you send to a customer must be professional to prove your authenticity to the customer. You must always include your company logo, the date you're issuing the invoice, invoice no., business name, and business address, business email, the date the amount will be due, tax numbers, and reference numbers. Also, include your terms of use and a thank you message at the bottom of the invoice.
Adding thank you and appreciation notes will help you get paid quicker. You should be polite in your gestures so the clients will be impressed. Do not forget that your payment terms will help clients hasten up payment.
Your preferred payment options (cash or check) should be included to avoid late dollar amounts.
Check that your invoice has no spelling or mathematical error. Mistakes like these can cause a delay in the payment process, and the clients may see you as a business owner who's not serious. If you're dealing with a large firm, they'll not tolerate errors like these.
Sending the invoice
In sending the invoice to your clients, there are few ways by which you could send it. You mail it to the companies' address after printing on paper. You can as well send it immediately through Email, or fax. If you use accounting software, you can send it through the email system in the software.
Hi <insert client name>,
Please find attached an invoice for <insert project name and details>. Thank you for your business. If you have any questions, please don't hesitate to contact <insert name> at <insert contact details>.
Best,
<insert your name>
Check again to be sure that you're directing the invoice to the right person. If you agreed to execute the contract with an individual in the firm, the same person doesn't need to be in charge of pay.
Since you're working with a firm, the finance or accounting department should be in charge of paying invoices or a standalone agency that is contracted to help handle finance. You should always communicate with your contact to be sure.
You also have to be aware of the billing cycle; maybe the only time they make payments is the 15th of every month. You're advised to send the invoice when the due date is fast approaching. When you're aware of the billing cycle, you'll know how and when to follow up on every invoice properly.
Following Up on an Invoice
After sending the invoice to your customers, your job does not end there. Sometimes, companies don't manage invoices well; it is your duty to follow up on the invoice to ensure that you get paid. An invoicing system or solution helps you send reminders to every customer you invoice with the software in automated routines.
People also ask:
How do you send an invoice to a firm as an individual?

How do you send an invoice to a firm for contract work?
How to Invoice as a Consultant
To run consulting businesses, you have to be responsible for tracking hours as you work and invoicing your customers. When you think about how to invoice as a consultant, you are about to record the time you spend working on projects accurately and invoice your customers the right information to get paid faster.
In this aspect of the guide, you'll be taught as a consultant how to invoice your clients and get paid in time. Here, we'll cover these topics:
Invoicing as a Consultant

Tips of Invoicing for Consultants work

Free templates for Consultant Invoice
Invoicing as a Consultant
As a consultant, your invoices should look professional and make the customers understand you're a serious person. The work you have rendered and the hours it took for the work to be rendered should appear in the invoice. Below is a guide to put you through invoicing as a consultant:
Keep Record of The Hours Worked
A consulting job is a business that deals with hours, meaning that customers are billed by the hour. If your billing is always by the hour, you should build a system that helps you keep a record of hours you have worked.
The system should perfectly fit what you do and how you work so that it can be reliable. Every hour your work should be recorded so that there's no omission whatsoever.
Your consultant invoice should contain a clear header that appears on every other invoice you create. Your invoicing bill should contain the following:

Your business logo

Your business contact us details, including name and address, email and phone number

An assigned invoice number using an appropriate numbering system and the word "Invoice."

Add Your Client Contact Details
Underneath the header, create a space for your customers' details, and contact information.
Every bill you create should carry the correct information about your client. If you're working with a large company, you may be directing the invoice to someone else in another department and not your direct contact.
Be sure to get the correct details of the contact you're sending the invoice to help you get your payment faster.
Your invoice should contain the exact date you're creating it. The date should be positioned just below the customers' contact details. For record purposes, you and the client can file the invoice.
Every invoice you create should have a unique identification; as such, the identifier is in the form of numbers. It is always good to number the invoice so you can reference it for bookkeeping purposes. To number your invoice, start with a sequence, something like 001,002, and so on.
You can also create your system of numbering with the combination of numbers and dates. The invoice number should be in the upper part of the invoice.
On the part where you're to account for the services rendered, make sure you describe each service for a proper understanding of the client. The section should include the following:
Description of each service

Number of hours you've worked

Your hourly rate

The total due for each of the services
With these inclusions in your job description, you'll look organized to the client.
Your payment terms inform the customers on how you want to get paid. It should appear at the bottom of your invoice. Before entering the contract with your customers, you should discuss the payment terms (e.g. Net 30 – pay in 30 days) with them so you can both reach an agreement, and there won't be any confusion when the client sees the invoice. Your payment terms must also list out what payment methods you accept for the job. For example:
Credit cards

Cash

Checks

Online payment

Mobile payment

Recurring payment
If you have late fees policies, your payment terms especially for credit card transactions should state them and should not affect your cash flow. And add the exact charges for late payments.
The payment due date in your invoice will let the client be aware that after the stipulated date you include, he'll have to pay extra charges, if applicable. To help the customers get the message, you can type it in bold fonts.
Giving the actual days helps to get paid faster to maintain the cash flow.
Add The Total Amount Owed
The total amount you have worked for and the total due you're expecting from the customer should be added to the invoice. After adding all the subtotal from the hours worked, you should also add applicable taxes or discounts. The total due must be clear enough for the customers to see.
Free Templates for Consultant Invoice
If you're unable to create your consultant invoice template, you can always download and personalize invoice templates. This process is easy with InvoiceOwl invoicing software which provides you with several templates and also a free invoice template for consultants.
You can download the online templates into different document processing programs so your invoices will look professional when you send them to clients.