If you want to run a successful consulting business, you must track your billable hours and invoice as a consultant to the client for the hours you have worked.
Each consultant should carefully record the time that he/she has spent working on the project and invoice the clients regularly to get paid for their work. In this blog, we are going to discuss outstanding small business invoicing tips and tricks to offer successful consulting services.
Try our free online invoice generator today!
Whether your business is in construction, landscaping, consulting, photography, auto repair, or the medical field, invoicing takes way too long. That's why we're here. InvoiceOwl makes your invoicing faster and simpler so you can get paid promptly and without the hassle.
How to Invoice as a Consultant?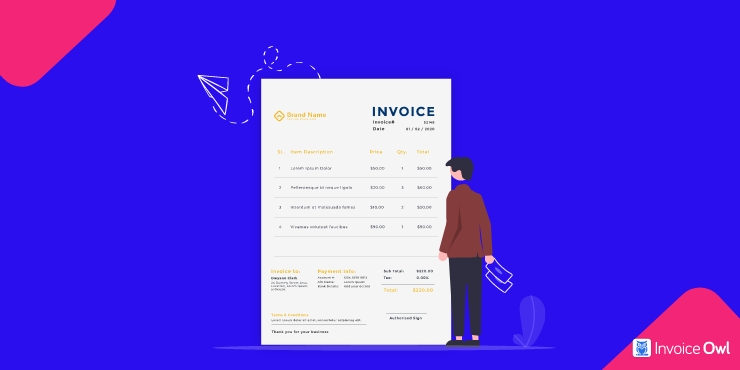 Consultants have to create professional invoices that clearly list down the services they have provided, the hours they have worked, and the total amount to be paid. Here is a simple yet effective guide that shows you how you can invoice as a consultant:
Track Your Consulting Hours

The consulting industry runs on an hourly basis and, commonly, small business owners charge customers by the hour. If that is the same policy you are following for all of your customers, you must develop a process to track your hours.

Make sure the process works and is sustainable. You must track every billable minute of your work in your records so that you do not miss any potential income.

Tracking your work hours is the first step to invoice as a consultant, so you can bill the client based on the hours you have worked for them. If you need any kind of help tracking your hourly rates, you can use some tips for calculating your hourly rates as a consultant.

Start Writing an Invoice with Header

When you are going to write your first consultant invoice, you need to start writing your header first. You need to create a standard header that will be constant on every invoice you will create in near future. You can include the following in your header of an invoice template:

Your small business Logo
Your every business contact information, including your name, address, phone number, and email
Include the word "Invoice" in your header so the client can easily identify what kind of document it is.

Add Client's Details

Just after the header, you have to utilize the space on your invoices to fill in the client's information as per their contact details. You need to make sure that you have included the correct point of contact in every invoice you create.

If you are dealing with a large company, it is obvious that you should have the contact details of a person who is working in the billing department. Take your time to confirm the correct billing contact person who can help you receive payments quickly for the services you have provided.

Include the Invoice Date

Add the date that you are creating the invoice below the client's contact details. This will help both the client and you to file the invoice for bookkeeping purposes.

Unique Invoice Number

Create a unique number for every invoice you create. Numbering your invoices makes it easy for you and your customers to understand.

Your customers can use a unique invoice number in case they have any questions regarding the invoice. A consistent invoice numbering system will also help you file your invoices and keep your records organized.

The easiest way to add a numbering invoice is to do it sequentially. For example, your first invoice number can be #001, so your second invoice number can be #002 and you can follow the sequence. Some consultants create a numbering system that also includes a type of project or the client's name.

Make sure you are including the invoice number in the top portion of the invoice.

List Your Services

Create an itemized list of all the services you have provided to the client, including:

A detailed description of each service
The number of hours worked
Hourly rates of pay
A subtotal of the charges for each service

You can organize this information into a table, using a separate column for each piece of information.

Include Your Payment Terms

It is mandatory to include the payment terms and conditions on every invoice you send to the client. It will be great if you discuss your payment terms and conditions with each client before signing a contract.

So, when you send them an invoice there are no surprises. Your payments terms should also have the payment methods you accept, which can be any of the following or all of them:

Checks
Cash
Credit cards
Business bank account transfer
Online payments
Mobile payments
Recurring payments

The payment terms and conditions of your invoice should also include your late payment policy. If you are going to charge late fees for overdue payments, you need to include all the details of the late fees you are going to charge as a small business owner.

The Payment Due Date

Include the total amount due on the invoice, along with the applicable taxes keeping in mind tax deadlines for business tax returns. Just like the accounts receivable due date, make the total due section clearly visible, with larger, colorful, and bolder fonts.

Add the Total Amount Due

Include the total amount due on the invoice, along with the applicable taxes keeping in mind tax deadlines for business tax returns. Just like the payment due date, make the total due section clearly visible, with larger, colorful, and bolder fonts.
Invoicing Tips and Tricks for Consulting Services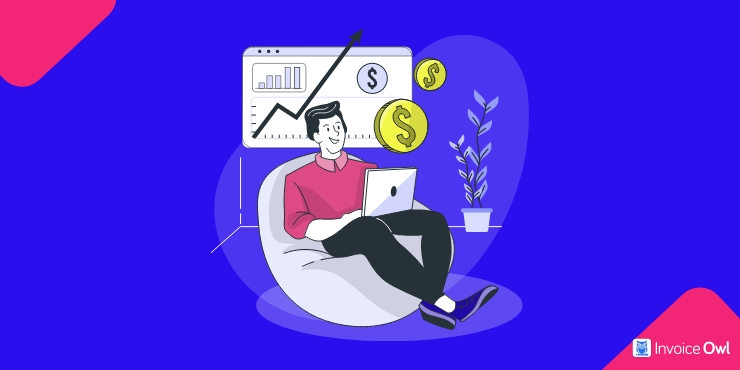 To run a successful small business, you need to discover some really good hacks that help you avoid mistakes and improve your business process and maintain a good cash flow. Here are some valuable small business invoicing tips and tricks for consulting service management to follow:
Adjust Your Terms

You are unrestricted to adjust your payment terms and conditions for your invoices. You need to choose your payment terms according to your convenience.

It is no longer a written policy that you have to wait for 30 days to get the payment or get pain on the 20th day of the month.

Nowadays, companies causally outline a 7-day payment term, this is perfectly reasonable to keep updated accounting information.

Always be specific to your customers about your terms in advance before creating an invoice or even before you sign a contract with them.

It is ideal to state your expectations such as due dates, late fees, business credit, extra business expenses, payment methods, and what happens if the payment deadlines don't match.

You may also require advance payment or deposit income to start the work or the client might need to split the payments. It will be good if you adjust your payment terms in advance before giving any kind of commitments to manage extra business expenses and finances.

Follow-up Overdue Invoices

When it comes to getting paid for the work you have delivered, you need to let go of the awkward feeling about asking for money to manage cash flow.

In many cases, when companies take follow-ups they have discovered that the client has simply forgotten to pay, never received the payment due to a change of address, and/or misplaced the invoice due to poor financial management.

It clearly indicates that the clients' intentions were not like what the companies were thinking. The customers feel awkward sometimes that they have forgotten to pay. One of the important invoicing tips for small businesses is that it will be easier if you gently talk to the client over the phone, just ask about their well-being first, and then ask about the reason for not paying on time.

If you don't find it genuine then you can take the help of a debt collector at the last stage – but do not leave it easily.

Value-Added Services

First of all, you need to stop feeling guilty about charging for the time you are investing in a client.

You need to trust your value-added services and feel confident with your pricing whenever you are sending an invoice to the client. When you value your time and efforts only then the client will be able to understand your point of view.

Invoice As Soon As Possible

You do not have to wait till the end of the month to send your invoices; rather, you can just send them off as soon as you complete the project.

Using online invoicing software —InvoiceOwl, you can send your invoice straight away as soon as you are done with the project. This process is better to maintain your cash flow and also good for your clients.

As a side note – you can also ask your clients for a testimonial or feedback for the project you have just delivered as the project is still fresh in their minds.

Back-Up Your Invoice

One of the key benefits of using accounting or invoicing tools is to track your time so that you will have an accurate record of the work you have completed.

Apart from that, it will also help you backup all the invoices for bookkeeping and accounting at a safe place from where you can access them anywhere, anytime. The software will also help you send reminders for the overdue invoices from the backup of bookkeeping and accounting.

Make It to Get Paid

The sole purpose of creating an invoice is to get paid, right? Invoices do not make sense if they do not help the business get paid. The invoice you create must be easy to understand and clearly highlight the total amount.

Moreover, it should also state the payment instruction, terms, and conditions. This helps and guides the customers to pay you promptly without any confusion.

Open a Business Bank Account

Keeping a separate bank account for business and personal expenses is immensely helpful during the tax season. If you have kept business and personal bank accounts separate, you do not have to distinguish between business and personal expenses when tax season comes. It may help you get a tax deduction.

Moreover, a separate bank account makes it easy to keep your personal funds unaffected by the ups and downs of the business.

So if you want to get accurate financial statements for analyzing the health of your business, open a business bank account already.
Why You Should Have a Consultant Invoice Template?
The consultant invoice template is specially designed for consultants who want to have professional invoices that help them receive payments faster. There are many online invoice templates and tools available that you can use to create faster invoices for saving time and money.
One of the crucial small business accounting tips is that you just need to customize the consultant invoice template and edit it as per your requirement as a small business owner.
Such an invoice template is good for freelance consultants and consulting business owners. InvoiceOwl offers various designer consultant invoice templates that are easy to download and will fulfill all your business requirements.
Frequently Asked Questions
What are some invoicing strategies?
When it comes to strategizing invoicing methods for small business owners,
Issue invoices as soon as possible
Track invoices and follow up regularly
Create purchase orders and estimates to process invoices quickly
---
What qualities do accountants need?
The best quality an accountant should have is the accuracy he/she maintains for all the business transactions. He/she should be sharp enough to handle all accounting tasks and catch the error and sufficient enough to catch the overdue invoices in no time. He/she should know all the information regarding the cash flow and create profit and loss statements of the business accounts.
---
What are the best invoicing practices?
The best invoicing practices may vary from business to business. It completely depends on the business terms and conditions for the invoices they generate and the way they are getting paid. Business owners can follow bookkeeping tips and invoicing tips to better their game. But being aware of all the financial statements and profit and loss statements is essential irrespective of the kind and scale of your business.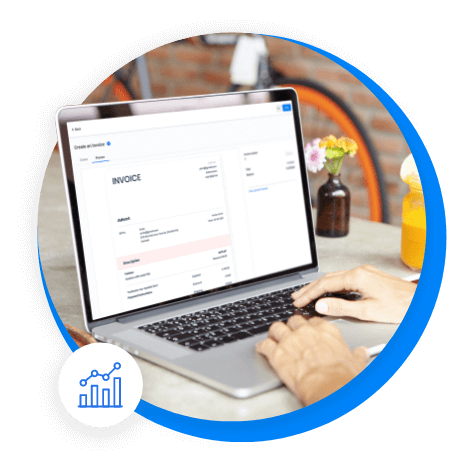 Create Professional Invoices Online Easily and Keep On Top of Your Finances
InvoiceOwl is a feature-rich invoicing app that helps small businesses, freelancers and contractors to create invoices on-the-go and get paid quicker!
Conclusion
So, if you are looking for consultant invoice templates, then you can check out our guide on invoicing that has covered all the information about your invoicing needs. In addition to this, you can explore our free invoice software to create an invoice, following different formats and rules that are meant for small businesses.