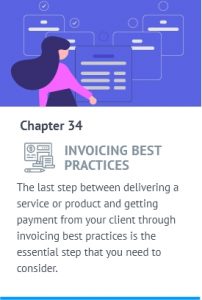 Chapter 34
5 Invoicing Best Practices For Small Businesses To Follow
Oct 21, 2021
Many small businesses still struggle to send invoices to clients on time.
Without proper cash flow, it's challenging to pay your bills on time and keep your business in operation.
Are you wondering how to get rid of it and make the invoicing process easier?
Well, it's made possible by learning, understanding, and following the invoicing best practices to make the invoicing process simple.
Invoicing Best Practices to Follow
Let's highlight some of the best invoicing practices that you have to follow to make the payment processing faster.
Keep Your Invoice Simple and Easy to Understand

The first thing that you need to do is to keep your invoice simple and preferably a short one.

Your invoice must be something that makes it easy for the clients to check what they are paying for and easily navigate to making the payment in no time.

Many times, it happens that customers find it challenging to make payments because there is no specific payment option included in the invoice. You need to include the payment option in the invoice to make it easy for clients to pay promptly.

To get paid faster, include the information in your invoice that easily speeds up the payment process.

To make it easier, you can even adopt standard online invoice software that helps you generate professional invoices.

Enter All the Essential Information in Your Invoice

Your invoice is incomplete without having any essential financial information. So, you have to include the following information in your invoice without fail.

Invoice Date
Invoice Reference Number
Client Company & Contact Person Details
Total, Due Date, and Payment Terms
Preferred Payment Option

Now, let's see what this information means.

Invoice Date

The invoice date is the date when the invoice is created. By having an invoice date, you and your customers remain on the same page as you can easily find out the invoices whenever you need them in the future.

Invoice Reference Number (IRN)

The Invoice Reference Number (IRN) is a unique number (also known as hash) generated by the Invoice Registration Portal (IRP) using a hash generation algorithm, under the e-invoicing system.

Client Company & Contact Person Details

In your invoice, you must mention the company name and mailing details in the address field.Remember that, you need to include the name of the person who approved the purchase. This way the invoice will go to the person that can quickly confirm the charges and approve them for payment.

Total, Due Date, and Payment Terms

These three crucial pieces of information keep everybody on the same page and make sure everything is clear for both parties. Based on different business requirements, payment terms may differ. Your clients must be given either 15 or 30 days for making payment as per the service provided.

If your client is ready to pay in advance or you're ready to negotiate a payment in advance, you can offer them discounts for services rendered.

Preferred Payment Options

The heart of invoicing is payment processing. You need to include payment options that are convenient for clients to pay you quickly. To make the payment processing easier, you need to include the payment options in your invoice, making it easy for your clients to process the payment. Some of them are:

Online or mobile payments
Credit card or debit card payments
QR code linking in the web browser or through an app

Apart from these options, there are other payment methods that you can try to make your payment processing faster.

Provide a Detailed Description of Every Item

In your invoice, you have to include a description of the service rendered to the client.

You need to mention the total cost of your services offered to the client. Moreover, it's a great way where you can build a strong relationship with your clients.

Again, remember that you have to keep your invoice simple. And it is made possible by keeping transparency and mentioning all the essential information in your invoice.

Try To Send Invoices ASAP

Sending a late invoice to your clients leaves a negative impact on your clients. It decreases your cash flow and increases the chance of unpaid invoices.

So, send your invoice to the clients as soon as your project is completed. If they are not able to pay your invoice on time, you can charge them late fees.

Creating and sending invoices to the clients is made simple by adopting online invoicing software. One of the best solutions that make your work easier is InvoiceOwl.

Why InvoiceOwl?

It allows you to:

Create invoices in a matter of seconds
Send invoices quickly to clients
Make payment processing easier than ever
Create and manage professional invoices all in one place
Send payment links directly to clients

Send an Invoice by Email & Request For a "Read Receipt"

One of the most common modes of communication that many companies use is email. You can use email to send your clients invoices or bills quickly, and it is a great platform to save your money on postage fees.

Invoicing software like InvoiceOwl supports "Read receipts" functionality. It informs you of the email being received and read by your client.

With the help of this functionality, you're assured that an email has successfully reached the client's inbox.

You can either send your invoices using a direct link mentioned in your invoice. Moreover, you also have an option to send the invoice as a Word, Excel, and even PDF.

We hope that these invoicing tips will help you get paid quickly.
Still, having questions related to invoicing?
Don't worry! The next section will clear your doubts on invoicing, as we've answered a few frequently asked questions.
Frequently Asked Questions
What can go wrong in invoice processing?
Missing invoices
Confusing invoices
Data missing
Missing or incorrect contact information
Incorrect pricing
Inaccurate math
Missing payment due dates and other oversights
How do you ensure an invoice is accurate?
Get the numbers right.
Personalize your invoice.
Include all the essential business information.
Use the online invoicing software – InvoiceOwl.
Are there any templates available to create an invoice?
Yes. The templates are time savers as they are available in Word, Excel, and even PDF format. With the help of templates, you don't have to repopulate the same information whenever you create an invoice. InvoiceOwl provides free online invoice templates that make it easy for you to create invoices quickly.
How can the invoice process be improved?
The invoice or billing process can easily be improved if you follow the steps mentioned below.
Establish clear payment terms upfront.
Make your invoices look impressive.
Provide complete and relevant information.
Invoice your clients as quickly as possible.
Take regular follow up with your clients.
Utilize digital tools.
Automate your invoice process.
What makes a good invoice?
To make a good invoice, make sure you include the following details in your invoice:
Accurate contact information
Payment details
An invoice number
Complete cost breakdown
Conclusion
Learn and follow invoicing best practices to maximize your profitability.
Small business invoicing is key to improving cash flow and reducing your overall stress.
To summarize,
your invoice must be simple and easy to understand
you must enter financial information accurately in the invoice
your invoice must have a detailed description of your work done
you must send your invoices quickly as soon as your project is ready
you must adopt online invoicing software
To make your invoice process smoother, you need to use an online invoice software like InvoiceOwl. InvoiceOwl offers free invoice templates that make it easy for you to create invoices by just adding essential information. Isn't it exciting?
Why wait for more? Sign up now for InvoiceOwl and get paid faster.