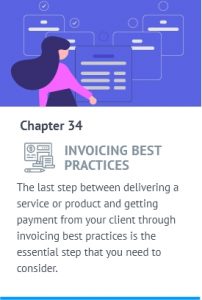 Chapter 34
12 Invoicing Best Practices You Must Follow
How The Best Practices For Invoicing Help You Get Paid?
The last step between delivering a service or product and getting payment from your client through invoicing best practices is the essential step that you need to consider. This crucial step is often omitted from the mind and strategy that goes into deploying the perfect communication strategy for your small business invoicing.
Don't forget that the best practices serve as the only direct communication you have with your client. Therefore, you need to be sure it's not the last one. Check through the invoice payment sample twice, and ensure that it has a friendly tone.
Don't just make it a numbers game as it is easier for you to engage a previous client than it is to entice a new one. To make your clients happy and maintain the cash flow, you need to take essential steps.
Invoice processing may seem tedious and unnecessary to you, but it is vital for your business. The accurate invoice processing best practices allow you to create a plumper bottom-line for those that get it right from the beginning. Avoiding invoicing mistakes and following the right process is important for you.
This process is an integral part of business, either big or small. It serves as a reward for your hard work and serves as the last thing you leave with your client. A complete and professional invoice for business is crucial to maintain the cash flow; this is the main reason why we have touched on the best practices for e-invoicing in this section.
Below are some steps and tips that will assist you in improving your billing and invoicing process as an organization. We have also added some examples that are ideal for giving you a concise idea of how a personal, simple, and well-structured invoice looks. Are you trying to automate your process from accounting to projects?
Keep It Simple

Make sure your invoice is simple. Your invoice numbers are easy to track. Take a glance at your invoice and make sure all the information and details can be recognized easily with a glimpse. Look back at that time that you struggled to pay an invoice, don't make the same mistake as you did as an organization. Do your part in making sure that your client pays on time.

Incorporate Marketing and Branding Principles in Your Invoicing
Don't think invoices are just pieces of paper. They should be an essential part of your communication strategy. Make sure the features align with your marketing activity and your overall branding. Include it as a natural part of your communication with the clients.
You have many accounting software and invoicing companies at your disposal to make your invoice align with your business. Some of the top invoicing software companies that offer invoice generator tools such as InvoiceOwl, Zero, and QuickBooks. These are some of the best invoicing solutions for different purposes and businesses.
Have The Date and Reference Number Clearly Visible On the Invoice

The reference number, invoice number, and date are significant too. It gives you and your clients the ease to navigate your invoices back and forth. It also allows you to organize your invoices. At the same time, it serves as an easily communicated reference when you need it internally, i.e., between departments and when you're communicating with your clients externally.

Address The Person and The Company

Including the clients' names, logo, and phone numbers helps to keep a friendly and approachable tone for smaller businesses or clients. Including the title will also allow larger clients by serving as a means of reference if questions need to be asked about the billing.

Include an "appreciation" Note


An app note also serves as a way to keep a friendly tone. You don't have to write too much. A short paragraph will do a lot of work. The bottom line is you just need to keep it professional. For e.g., "Your business is well appreciated." You can also personalize it, as per your branding trends especially if you're dealing with a long-term basis customer or businesses.

Provide a Thorough Description of Every Item on the Invoice


It might seem like the necessary information, but it is very crucial to your invoice. It serves as an opportunity to explain your service's value and build trust between you and your client. You can also use it to answer any questions your client might have about the products.

Don't forget to keep it simple. There's nothing more to transparency than keeping it simple. Sending a massive list of time registrations to your clients is not transparent. Most of your clients won't even care about every single individual item, especially in substantial order.

Moreover, most others won't understand the amount of stress you went through to get it done. You can instead sum up all your items to just a few, such as using milestones.

Provide The Total Amount, Due Date, and Terms of Payment


You need to include these three crucial pieces of information on your client billing; total amount, due date, late payment fees, and the terms and conditions for invoice payment. The payment terms help to promote clarity between both parties. Clearly mentioned payment terms for the pricing and the late payment would also help avoid conflicts of accounts payable between you and clients if there is a legal battle related to the payment terms.

Include Payment Information


Make sure all your payment options are simple and easy to find from the invoices. Do your best to make things easy for you and your client regarding the payment process for your invoices to maintain the cash flow. You can include an online, mobile service, invoice handling practices, or other payment methods to easily make accounts payable without hassle using a bank account or credit card. A common example is a QR code that links to the payments service in a web browser or an app.

Forward the Invoice via Email and Request for A "Read Receipt"


Emails are straightforward, stable, and also a swift means of communication. You can use it to send your invoices immediately while saving money on postage fees. Most billing tools and email services support the use of "read receipts," so you'd know when your client gets the invoices. You will also know if the mail hasn't read the client's inbox, so you'll be able to take action and make it so.

You can send your invoice as a PDF copy or use a direct link to the online invoice in your payments and invoicing solution or combine both. The second option should be the most effective in many cases.

Send a Friendly Reminder Before the Invoice Due Date


You are probably not the only person your client deals with. You can send them a simple reminder for the due invoices ahead of time. It has been seen that a gentle reminder for invoices always works. You can also offer assistance and help by answering a phone call in case the client has any questions as a part of the customer service.

Send a "Thank You" Note after Receiving Payment


This simple gesture helps to improve your relationships with your clients. After you finalize a project work and send invoices, offer or suggest a form of future partnership. Let them remember your small business invoicing and introduce them to make you a member of their venture.

Also, mention your toll-free service number in case they need further assistance. You can also offer your customers additional discounts for their next purchase. This sweet gesture will help you maintain your branding style.

Keep Track of Your Invoices and Save Them in An Organized System


Keep your invoices and other relevant information in a centralized area, e.g., services like InvoiceOwl, QuickBooks, or Xero. A tracking system gives you easy access to current and previous invoices. It also allows you to quickly offer customer service's contact information when there's an issue to see what you communicated to your client. You can provide excellent customer experience and customer satisfaction.

The bottom line is an organized system also gives you a chance to look back on all the payments and invoices that were processed correctly, and whether everything correlates with the agreed amount and other conditions.