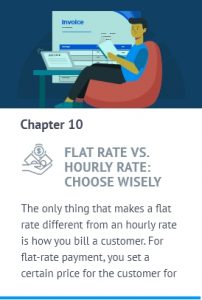 Chapter 10
Flat Rate Pay vs. Hourly Rate Pay: Choose Wisely
Jun 25, 2020
Which One to Choose? Flat Rate vs. Hourly Rate
The only thing that makes a flat rate different from an hour-based rate is how you bill a customer. For flat-rate payment, you set a certain price for the customer for the whole job quotation. An hour-based rate payment is based on how you work per hour; this means you are paid to work on the job every hour. There are differences when we look into flat-rate pay vs. hourly rate pay.
For business owners or self-employed people, there's a pricing structure that should be considered. Every pricing structure has its benefits and detriment; it is important to look into what pricing structure works best to pay for you and your customer.
This aspect of the invoicing guide covers:
Flat Rate 

Hourly Rate 

Advantages and disadvantages of flat-rate pay and hourly pay
A flat rate is when you and the customer agree to work on a set price for the whole project, regardless of how long it takes to execute it, but you have agreed to receive a fixed price for the work or project. Flat rates are suitable for projects that can be completed over a certain period. The payments can be made as you complete some part of the project until it is fully completed.
Calculating your flat-rate pay means you will multiply the number of hours it will take you to complete a project by the amount you charge per hour. 
In other situations, there are fixed prices for the work and jobs, and depending on their value, the fixed may be higher than the hour-based charge calculation.
An advantage of a flat-rate for a customer is that they are aware of how much they will be paying for the work and will make plans for the payment beforehand. With this in mind, there's no chance of confusion between you and your customer.
The amount you charge a customer as you work per hour on their project is called hour-based charges. Billing customers every hour means you need an hour-based record of all you have worked on until you complete the job or until you have achieved a milestone on the project.
Long term projects that are prone to changes are best for working hour-based rates. Hour-based charges help you improve your rate system in the course of working on the project.
Advantages of Flat Rate Pay
Freelancers who work on flat rates and complete the job on time get the payment with more profit. If the job is done before the stipulated deadline, it means you'll have time to work on another job and make more income.
Customers' conflict will reduce when you prefer flat-rate because they'll be sure of what they are paying for beforehand. You can run an estimate of the whole job flat rate system and invoice them. Pricing will also be based on the total work done.
The hour-based charges can be confusing since you have to record how you work per hour. You have to keep track of each hour you have worked for the particular project and need to give justification for the same.
With hour-based charges, you can easily account for a change in the project.

Customers can compare what you have done so far and pay you accordingly.

They are best for long-term projects to help you get paid as soon as you reach a milestone.
Disadvantages of Flat Rate Payment & Hourly Payment
If you're new to the flat-rate system, flat rate pay estimation can be difficult to calculate. You'll bear the loss if the work is bigger than the amount you charge the customer. Therefore, some customers prefer the pay system of hour-based invoicing.
You can continue negotiating prices with the customer for a long time at a flat rate pay system. To charge at a flat rate, you have to look professional enough to the customers, so they can trust you for their job in your hands. When customers trust what you do, they can easily release the payment.
In some cases, miscellaneous expenses can arise, which will affect the amount you receive per hour. If you have to make calls or travel, for example, the hour-based charge will be increased, and the customer may not be comfortable with a change.
With an hour-based charge, you're not going to get the payment for the real value of the project. Also, your income is limited, depending on the number of hours you work. If you design a company logo, for example, it may take you just a few hours to do so, and you'll be paid for just the limited time, but the value may be higher than what you'll get the payment for.
Both the hour-based rate and flat-rate have their pros and cons. You should look into each rating system and see what suits your type of business and customers. At times, customers decide whether they want an hour-based rate or a flat rate. The bottom line is, you should bill the customers at the rate that favors you in the long run.
How to Invoice for Hour-Based Work?
For hour-based projects, it is required to calculate the rate per hour and the number of hours you have worked, with details of each completed task. You should also organize the work you have done in hours, so the customer can see what they are paying for.
If you prefer to charge your customers by the hour, you should keep records of the total hours spent working for them. You can then proceed to bill them after both you and the customer have set an agreed cycle, maybe weekly or monthly, as the case may be.
This section covers: 
How to prepare an invoice per hour to get paid?

How to number your invoices?

How freelancers prepare invoices?
How to Prepare an Hourly Invoice to Get Paid?
The first thing to do when preparing an hour-based rates invoice is to import all the hourly records you have worked into the invoice. You can record the hourly tasks and hourly rates on a spreadsheet and then bring them into the invoice. You can also make use of time tracking software to help you calculate the amount of time you've worked.
The next thing to do is prepare the invoice with a Word or Excel program,  or preferably an online invoicing solution. Then, you name the document "Hourly Rates Invoice."
Include your necessary contact information (business name, email, address, and phone numbers) on the document header.
Beneath the header at the right-hand side, add the correct invoice number, the date you're issuing the invoice, and the due date for payment.
On the opposite side, you can include the customer's information like address, name, email, phone number, and postal address.
Explain in detail the work you have done alongside the hours it took you to complete each task.  For a different task, enter a new row. To the right, add the hourly charge.
Add up all the hourly charges on the right-hand side to give you a subtotal and include any applicable tax to get the total amount.
There's a note section at the bottom of every invoice. Space has been created, so you can add your preferred payment methods and policies. You can add discounts and penalties in the section. Appreciate the customer for dealing with you.
You should send the invoice after preparing it. You can email the invoice to the customer, so he can receive it as soon as possible. This will reduce any excuse for not getting the invoice on time.
Here, you'll find a list of things you need to include in an hourly invoice:
Your contact information

Invoice label

Invoice number

Customer's contact information

Date

Billing period

Hours worked

Hourly charges

A detailed explanation of services rendered by you

Total amount to pay
How to Number Your Invoice
An invoice number is a unique identifier assigned to every invoice to help the business owners, customers, and tax authorities find an invoice. There are several ways to assign an invoice number.
When you are numbering an invoice, start with the first number on the sequence. For instance 1. If you are using three-digit, for example, you also number with a sequence in this order 100,101,102,103.



Customer and Project Number
You can also assign an invoice number based on the number of the customers you have worked with when each customer is representing a numbering. Also, you could replace the customer with the number of projects you have worked on so far.
For example, ALTE1000, where ALTE stands for the customer or project code, then followed by a numeric sequence.
You can start numbering the invoice with any number, just make sure it follows a sequential order.
How Freelancers Prepare Invoices
The hourly invoice explains how much the jobs will cost to the customer in terms of the hours worked. You can select from a variety of available templates or create your template for your specific taste. The important thing to add is the work you have done, and you have to account for the job you've done to get paid duly.
You also have to write down the number of hours you've worked on the job, your rate per hour, and the total amount after multiplying the hourly charge and the number of hours worked.
All the payment methods you accept may be listed in the invoice, as well as your payment policies and terms. If you offer discounts and penalties, add them as well.
With accounting software, the task of invoicing will be simplified by maintaining the industry standard; you can also personalize invoices to boost customer relationships and trust.