Don't you feel good while paying a business that was professional and polite to you?
You are not alone.
It's basic human behavior.
Therefore, the way you request payment is mastered. And we have stats to prove that.
Moreover, when you ask for payments professionally, you increase customer retention as well.
Try our free online invoice generator today!
Whether your business is in construction, landscaping, consulting, photography, auto repair, or the medical field, invoicing takes way too long. That's why we're here. InvoiceOwl makes your invoicing faster and simpler so you can get paid promptly and without the hassle.
We know you have a lot of payments to request. So, without any further ado, let's learn how to ask for payments professionally.
Obviously, you do not want to send a payment request to your business partners via an Instagram DM, right?
So, the first step of asking for a payment professionally is to know what are the appropriate channels to ask for the payments professionally.
Right Channels to Ask for Payments Professionally
The medium you use to send an invoice for requesting payment matters a lot. You should send an invoice in a way that you can produce evidence in court if needed. Therefore, payment requests over such unprofessional means like social media platforms or over phone calls in that matter are not valid.
So want to know the right channels?
Here we go.
Email

Email is the new black when it comes to invoicing. Payment request email is the most convenient and safest means to ask for payment professionally.

Most businesses these days consider invoice emails one of the best practices for their business. Sending invoice emails, payment reminder emails, and a follow-up email is just now an industry standard.

As an email is counted as legally binding by most of the courts, this helps both the parties (buyer and the seller) on the safe side. Once the email is sent and read by the buyer, he/she cannot deny the fact that they were notified about the due amount.

Other than that, an email can be sent and received at any time and from anywhere. This makes invoicing so fast and convenient that it has become the primary channel to invoice.

Businesses do not have to wait for the client's business hours to send them the invoice. Especially for those who have foreign clients, emailing is the best legal channel to request payment professionally.

However, the only drawback of an online payment request is that not all customers have an internet connection or infrastructure necessarily.

For those customers, we have other channels, which take us to the next medium.

Post

Post is the age-old method to send legally binding documents. This is the best way to make sure that the customer receives the payment request. When you mail a customer invoice, the postal service generates a receipt and when the addressee receives the payment request, they are supposed to sign as received.

This is the evidence that you have sent and the customer has received the invoice. Therefore, if the customer misses the due date, you can take it to the small claims court to get the overdue payment.

Moreover, it doesn't matter whether your customers have access to the internet or not. It makes sure that they get the invoice. And not only for the intranational, but you can also mail invoices to international clients.

Having said that, it does have a few shortcomings. The main drawback of sending invoices by post is that you have to wait for a few days or even for weeks in case of the international post.

Other than that, if you want to ask for payment by post, note that you have to allow longer payment terms so that the client does have enough time to process the payment.

But, what if you can not wait too long to get paid and the customer doesn't have access? In such cases, we have to go for the following method of asking for payment professionally.

Physically Handover

Physically handing over the invoice is the most common method used by small business owners. This is a quick and simple means to ask for payment. All you have to do is print out the invoice and hand it over to the customer at the time of the deal.

Does it sound unprofessional?

Well, yes!

You are right. It doesn't.

If you just give the invoice in their hand, you might come across as rude even if you do not intend to. Thus to remain professional and polite. Keep it in an envelope and don't forget to attach a well-written invoice letter as well.

Writing a polite invoice letter means a lot. It signifies that you value the relationship and are grateful for the business you have with your customers.

And to give it a personal touch, use personalized envelopes with your company branding.

NOTE: If you hand over the invoice physically, do not forget to get the customer signature on the invoice and keep a seller's copy of the invoice on you as evidence.

Invoicing Software

All the above options are great, but the main issue with all the above is that they add another task to your schedule.

Thus, using an invoicing software like InvoiceOwl helps you automate creating as well as sending the invoices easily. With its inbuilt emailing feature, all you have to do to send an invoice is click on send. It automatically sends the invoice to the client's email address with a predefined polite invoice letter to secure payment.

Wasn't that easy?

So, we have discussed how to ask for payment professionally. These were the polite ways you can ask for payments.

Now, there are a few things that you must check before sending the invoice via any of the mediums.
So, let's talk about a few of the major points you need to make sure of prior to requesting payment.
Points to Check Before Requesting Payments
Sending an invoice and then calling does not project professionalism, and is not even polite.
A small business owner should avoid invoicing mistakes of these types. It damages the reputation of your brand and is not good for the business client relationship as well.
So, let's have a look at those points one by one.
Is it the Right Time?

First of all, make sure if this is the right time to invoice your clients. Do you know when you should invoice your clients?
It is extremely necessary.

If you issue an invoice before the time, you might surprise your customer. This might lead to unprofessionalism and customer dissatisfaction. Moreover, it makes a false entry in your invoicing logs, which creates misunderstanding down the line.

And if you are late to issue the invoice, you have to face late payments. Since the fault of the late payment is on your side, you can not charge the late payment fee as well.

Therefore, send the invoice at the right time. And the right time is subjective for every deal. This is generally stated in the contract you make with the client.

Is it Accurate?

Precise invoicing is the hallmark of professionalism. If you send invoices with discrepancies, they will surely go under invoice disputes. And you don't want it, right?

Make sure the invoicing date, due date, invoice number, line items, and the total amount are what you and your client agreed upon in the contract.

Issuing estimates is one of the best practices to make this task effortless. If you have issued an estimate at the time of signing the contract, you just have to tally it with the invoice and make sure everything matches up.

This makes you assured and helps you create precise invoices quickly.

Is it an Unpaid Invoice for Sure?

Double invoicing is the worst accident for a company for its brand image. Requesting the same payment more than once harms your brand reputation and might even cause a civil lawsuit against your company.

Thus, make sure you are not double invoicing before sending the invoice.

And for that, cross-checking the invoice date and invoice number is mandatory. Keep a practice of assigning invoices a unique ID number in sequential order.

This will help you check the invoice quickly and never make the mistake of asking for the same payment twice.

If you have checked these major points before asking the customer to send payment, you save your company from a great image defacement.
Once you have checked all the above points, there are a few things that you should keep in mind while asking for payments.
Things to Make Sure When Asking for Payments
If you want to be professional while asking for payment for the goods/services rendered, it's better to ask a few questions to yourself while requesting the amount due.
And those questions are: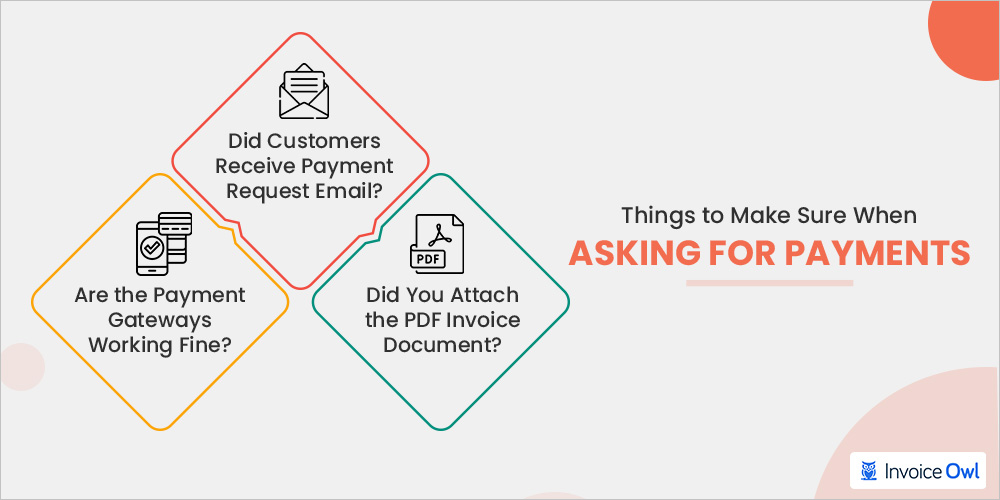 Did Customers Receive Payment Request Email?

This might be hard to believe, but it is quite common to forget to invoice the customer in the first place.

Small business owners have to take care of a lot of business operations. Thus, it happens a lot that you might slip a task or two out of your mind.

Therefore, always make sure that you have sent the invoice to the customer. And here comes the importance of sending the invoice professionally. If you had sent the invoice unprofessionally, you might not have any records to confirm whether you did or not.

If you send invoices through email, check your sent emails and confirm. Moreover, you might even send it to the wrong person. So, even check that you have sent the invoice to the right person by confirming the email address.

If you use the post, check the postal receipts, and contact the postal services to confirm the delivery. And if you hand over invoices personally, look for the customer's signatures on the seller's copy of the invoice.

Yes right, this is a lot to do. As you do not have only one invoice to send a day, going through various invoices takes a lot of time that you can not afford as a small business.

Thus, use the invoicing software —InvoiceOwl. It helps you track invoices with real-time notifications when the client receives, opens, and pays the invoice.

Did you Attach the PDF Invoice Document?

Don't tell me you have never made this mistake. We all have walked down the embarrassment of sending an email with no attachment at least once in our lifetime.

Well, that's okay when sending a selfie to parents, but not at all when sending professional invoices to clients.

Thus, make sure you have attached the PDF file for the invoice in the mail.

Although the invoice letter mentions the date of invoice, amount due, and due date, you need to send the PDF invoice mandatorily. Without this, it will be tough to understand the charges and the customer will not be able to process the invoice.

Are the Payment Gateways Working Fine?

What if you want to pay for Netflix, but you can't because it's not accepting your card? Won't you get mad over Netflix even if they are the best streaming platform?

The same goes with your clients. Don't lose clients even after providing the best service/product. Check whether all of your mentioned payment options work or not. Sometimes due to technical errors, you have to take off that gateway for a while. According to a few business owners, that would be better than leading the customers to a failed transaction.

In addition, if you have mentioned your account details for direct transfer, you need to verify all the information, such as bank account number and bank name along with your business contact details for a smooth direct transfer.

Alright!

We have made sure that we ask for payment professionally.

But, is that enough?

If you want to boost customer satisfaction and customer retention ratio, you need to be polite as well.
So, here are a few quick tips on being polite or not being rude while asking for payments.
How to Ask for Payment Politely
Asking for payment professionally is one thing and politely is a whole another skillset. A collection agency also is very professional while collecting payment, but might not be polite at every stage.
Thus, let's discuss the points that make your payment requests polite.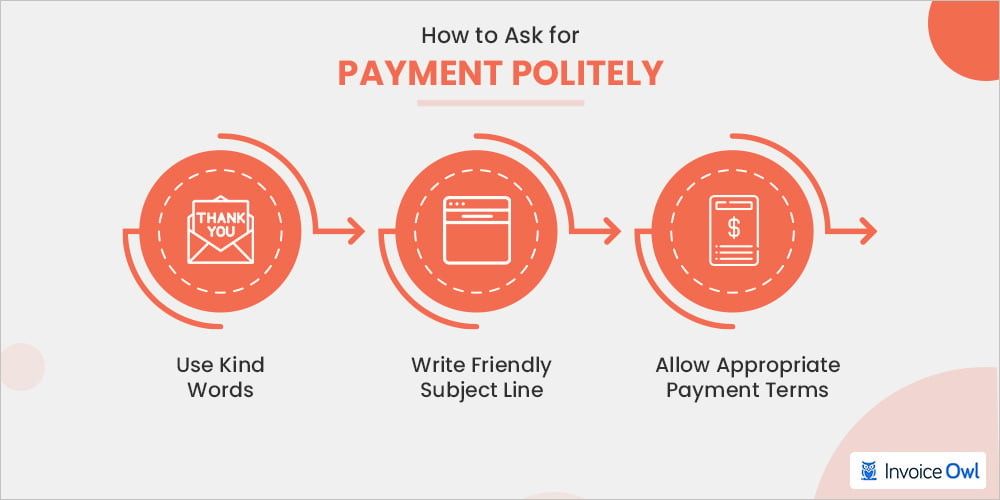 Use Kind Words

The words you use matter a lot. Thus, use kind words, such as kindly, request, and grateful. Leave a thank you note for the business and sign off the email with kind regards.

Write Friendly Subject Line

The first thing the client sees is the email subject line. Thus be friendly and do not write threatening subject lines.

For example:

Hello "client name", Kindly pay the Invoice from "your business name"

Pay "amount" ASAP

Allow Appropriate Payment Terms

Who wouldn't want instant money? We all love getting paid as soon as possible. But, you need to keep in mind that it's a customer and not an ATM you are asking money from. Customers need time to process your invoice and schedule payment. So allow them the time and have patience.
How to Tackle Overdue Invoices
Being polite and professional doesn't guarantee you timely payments. There are numerous other factors for an overdue invoice. For example, invoice mistakes, late invoices, improper invoice template, miscommunication, or just because it's a late-paying client.
When you are facing overdue payments, you have to take steps based on how late it is.
So, let's have a look at the table and understand how to chase an overdue payment.
| | |
| --- | --- |
| When to Do | What to Do |
| 2 days prior due date | Send an initial email with just a reminder |
| On the due date | Send polite payment reminder emails |
| 1 day overdue | Apply late fee and send a friendly reminder |
| 1 week overdue | Contact over a phone call and resend the original invoice |
| 2 weeks overdue | Warn about interest charge on the overdue payment and cutting of future work |
| 3 weeks overdue | Research collection agencies and hire a reputable collection agency |
| 4 weeks past | Send a legal notice |
| 2 months past | Take it to claims court |
NOTE: Hiring a reputable payment collection agency and filing a civil lawsuit costs you money and months of your busy time. Thus, take these actions only if the payment is worthy of it. Don't end up spending more than the actual payment amount.
Frequently Asked Questions
How do you politely ask for payment?
When asking for due payments, send a polite reminder with an initial email. Be friendly and consider the client's situation. Feel free to talk over a phone call. When the client pays the amount, send a thank you note and kind regards.
---
How do you do a follow-up payment?
When a friendly reminder doesn't help you get an outstanding payment, charge late fees, look for professional collection agencies to hire. And even if that doesn't work, take the matter to the court and file a civil lawsuit.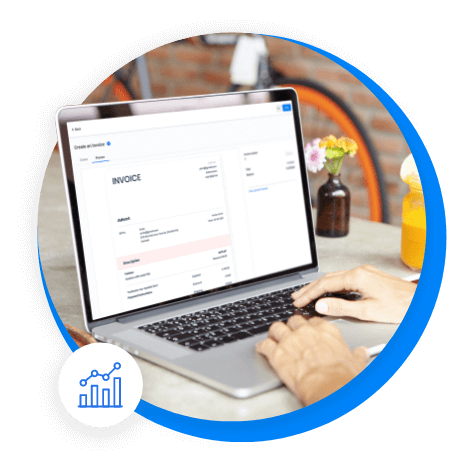 Create Professional Invoices Online Easily and Keep On Top of Your Finances
InvoiceOwl is a feature-rich invoicing app that helps small businesses, freelancers and contractors to create invoices on-the-go and get paid quicker!
Conclusion
Most small businesses rely on timely payments. Thus, upsetting a client while asking for payments would be the last thing you would want.
So, ask for payment professionally and politely. This increases the chances of you getting paid quicker.
In this blog, we learned about things to take care of before sending invoices, while sending invoices, and chasing the payment.
We hope you would practice these tips and not only get paid faster but, create goodwill with your clients.
And if you want to get paid even faster, sign up to InvoiceOwl now!