Whether it is a seemingly simple remodeling work or an elaborate construction project from scratch, a general contractor cannot afford to go wrong while estimating the project cost. And each building project has its unique requirements, overhead costs, and subcontractor labor expenses. That requires your quotations to be distinct, making it a hectic process.
Thankfully, there are various contractor pricing models general contractors can rely on to optimize profits and distribute risks. All while providing the best construction services, exceeding the client's quality expectations.
What are these pricing models? Which one should you choose? We will discover all that and more in this blog to make the construction estimating process a bit simpler and profitable for you.
But before we start exploring different pricing methods for your next construction contract, let's first understand what a construction contract is.
What Do You Mean by a Construction Contract?
A construction project, regardless of its size and scope, tends to involve more than one stakeholder, such as general contractors, owners (clients), subcontractors, engineers, designers, architects, and suppliers. And each stakeholder here has their own interest in the project, which needs to be protected. The best way to do that is through a well-defined document that we call a construction contract.
Hence, by definition, a construction contract is a legally binding document between all the involved parties that:
Specifies the project scope and requirements in detail, including project timelines
Defines roles and responsibilities of all the stakeholders
Identifies and distributes risks among the parties involved
Minimizes project uncertainties
Provides total construction project cost, including the payment cycles and stages
Protects rights and interests of everyone involved
Out of all these pointers, the total price remains one of the most focused aspects of the contract, especially for the contractor and client.
How Much Does a General Contractor Charge?
When it comes to the costs of building projects, whether it is a big commercial project or a small-scale home improvement project, there is no one-size-fits-all. The price estimates depend on several factors; some of them include the following: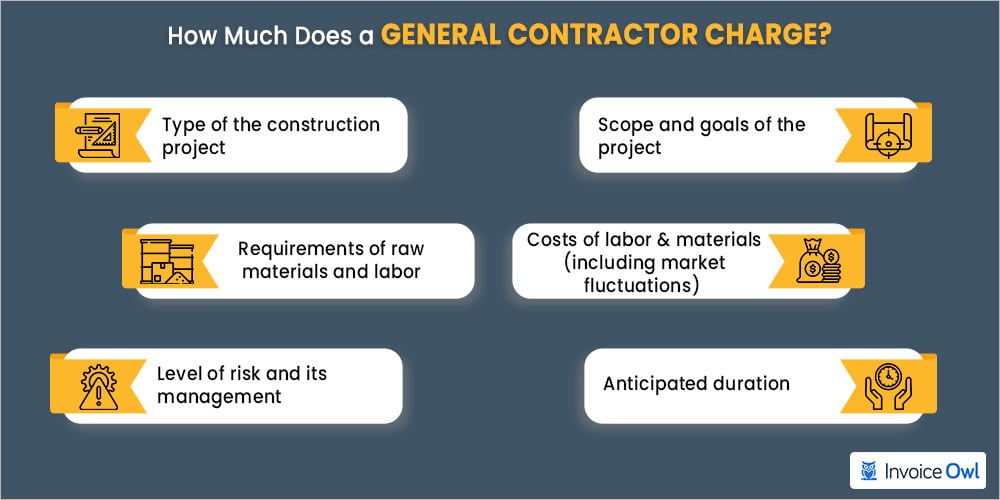 Type of the construction project
Scope and goals of the project
Requirements of raw materials and labor
Costs of labor and materials (including market fluctuations)
Level of risk and its management
Anticipated duration
Therefore, the ideal answer to how much general contractors charge is highly subjective. To give you a rough idea, though, small repair work may cost as small as $50 to a homeowner while building a recreation area for an office complex could fetch thousands of dollars to independent contractors.
In the end, it all comes down to the requirements, contract pricing methods used, and multiple variable components.
The Most Profitable Pricing Models for General Contractors
As a construction company, you have several contractor pricing methods available to calculate the anticipated total cost of the project. However, only five of those models are widely used by the construction industry. Let's have a detailed look at them: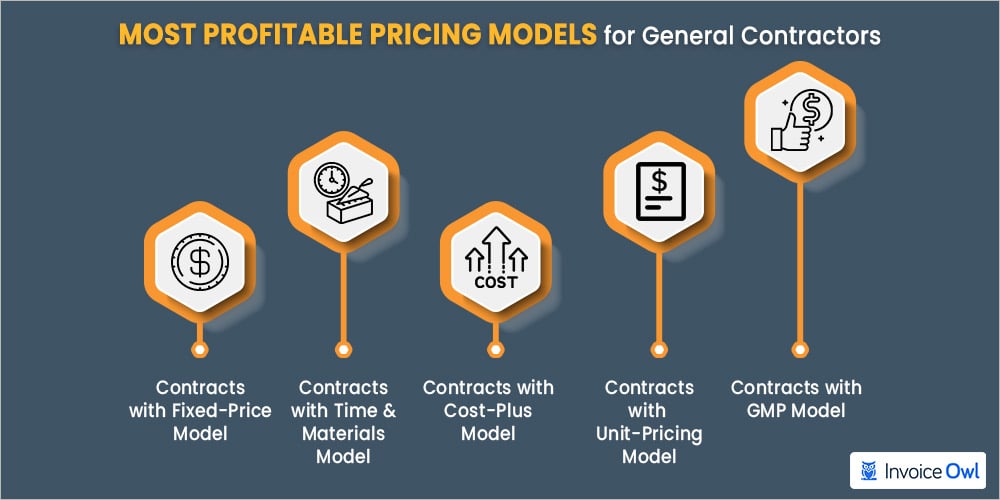 Contracts With Fixed-Price Model

In a lump sum or fixed-price model, the general contractor can quote a fixed fee for all the construction services agreed upon with the client. Contractors estimate the project cost on the basis of project scope, detailed construction drawings, and any additional specifications. Then they add the overhead expenses, together with the revenue, to calculate the aggregate costs. It's vital to note that the fixed price would also include the cost of labor and materials.

Besides, most contractors also assume potential delays in the timeline while drawing up a fixed-fee contract type. It helps cover up for the sudden zero activity days instead of asking for timeline extensions.

In this type of construction pricing method, it is the contractor who has to bear all the risk. And the project cost often includes the price of such risks too.

Ideal For: Projects with a definite, detailed project scope as well as design. That helps general contractors in coming up with accurate estimates.

Lump-Sum Contract Pros
Lump-Sum Contract Cons

Less management, paperwork, and accounting lead to lower administrative costs for both the parties
Little financial risk for the client as the cost overruns come under the contractors' responsibilities
Limited supervision by the client
Payments at mutually-agreed iterations

Rigidity in project scope and specifications
Possibility for the client of being charged more than the average cost by the contractors as they don't have to define how they calculated pricing for labor, materials, and risks involving unforeseen events
Unexpected changes or price fluctuations could run into the contractors' profits

Contracts With Time and Materials Model

In Time and Materials or T&M contracts, a general contractor is entitled to receive reimbursements towards the total material costs. Moreover, the payment in this type of construction pricing method is estimated on a per hour or everyday basis. And that cost often includes all the potential additional expenses that may take place during the actual construction process.

What's vital to note is that a T&M pricing model requires you to include the aggregate costs and classify the same into direct, indirect, mark-up, and overhead expense costs.

Ideal For: Projects that do not have a well-defined scope and specifications. It also works well for small-scale projects and the ones where you are certain about the timeline.

Time and Materials Contract Pros
Time and Materials Contract Cons

Agility in payment plans
Expense coverage for potential roadblocks, sudden delays, and changes in the work scope
Hassle-free negotiations to finalize the hourly rate
Simpler to chalk out rules for material cost estimates
Minimization of risks for clients as they can set up definite duration or price cap for projects

Difficult to monitor the time & cost of materials
Recording every material expense is time-consuming
Potential of cost overruns for the clients
No incentive for timely or early completion of projects

Contracts With Cost-Plus Model

With a cost-plus or cost-reimbursement price model for old or new construction work, the client agrees to pay the general contractors for total project costs plus a specific amount as profits. How do they determine the profit money? By calculating a certain percentage of the overall project price.

This type of contractor rate method has to detail both direct and indirect expenses, such as direct material and labor rates, contractor overheads, and travel expenses.

Interestingly, the cost-plus method has more than one variant that includes:

Cost-plus percentage
Cost-plus fixed fee
Cost-plus fluctuating fee
Cost-plus with guaranteed maximum price

Ideal For: Projects with uncertainty in the scope of work or projects that need more creative flexibilities

Cost-Plus Contract Pros
Cost-Plus Contract Cons

Coverage for general contractors for additional material rates or time put in for execution of the project changes
Flexible in nature
Hassle-free negotiations to finalize the hourly rate
Inaccuracies in initial contractor bid don't lead to losses
No risk for construction companies in case of increase in costs

The client bears all the risks in this type of price agreement
Close involvement by the client in the administration of projects
No incentive for rapid work to lower labor rates
Difficult to track average cost and expenses

Contracts With Unit-Pricing Model

Also known as measurement contracts, the unit-price model contracts divide the total project work into individual units. A general contractor then provides the client with estimates for each of these units rather than estimating the entire project quote as a whole.

In other words, contractors charge for the independent tasks of the projects. As a result, the exact cost of the project remains unknown until you reach project completion. However, the client can estimate the possible total cost based on the unit prices.

This type of costing method is mostly used by construction companies, as well as federal agencies.

Ideal For: Projects for which you are uncertain about the quantity of work required as you begin. It is also beneficial to use for projects with repetitive work scope or high dependency on the cost of materials.

Unit-Pricing Contract Pros
Unit-Pricing Contract Cons

Flexibility to manage differences between actual and planned work
Increased transparency in the evaluation of each unit costs
Simplified invoicing process due to pre-determined unit price
Inaccuracies in initial contractor bid don't lead to losses
Easy additions of extra work as add-on units to the project scope, enabling uncomplicated management for the construction manager and the client

Tough to determine the overall cost of work
Chances of inflated general contractor rates
Comparison between prices of different units by clients may slow down the payment cycle
The client bears the maximum risk

Contracts With GMP Model

A GMP or Guaranteed Maximum Price model for construction contracts empowers the property owner (the client) to put a price limit on the general contractor's services. In this case, even if the project requires additional work, labor & material costs, or overhead expenses, the client is not liable to pay for the same.

In other words, the client would only bear the predetermined contractor cost; any added expense has to be incurred by the contractor. Hence, it becomes more crucial for the general contractors to come up with accurate estimates to refrain from undercharging or overcharging clients for their services.

The risk in this type of method largely shifts to the contractor.

Ideal For: Projects having a clear definition of the work scope with limited possibilities of uncertainties or major changes.

GMP Contract Pros
GMP Contract Cons

Contains a rapid bidding process for contractors
Offers more scope to obtain financing as the projects have a guaranteed maximum price limit
Provides incentives to contractors to cut costs on overheads
Encourages contractors to complete the work before schedule
Relieves clients from the burden of cost overruns

Poses more risks on contractors, causing possibilities for them to run into losses
Includes a relatively lengthy negotiation process as clients may take more time to review the quote
Chances of contractors quoting a higher maximum price as their estimate to cover for potential added costs and unforeseen events
Importance of Choosing the Right Costing Method
In the absence of a right costing model, a contractor would end up undercharging or overcharging the client. While the former entails possibilities of losing out on a project, the latter may cause losses to their business. Hence, any reputable contractor insists on understanding the project requirements first to be able to select the correct pricing method for their construction projects.
A correct evaluation method thus ensures the contractors receive the right pay for their services at rational payment iterations. It also doubles up as their safety net, protecting them against unreasonable liabilities that may arise in the future.
Final Thoughts
As a general contractor, you cannot provide the same estimates for all the inquiries that come your way. Residential remodeling work is strikingly different from the repair work of a commercial site. Therefore, it makes sense to quote an appropriate price for each proposal carefully. And that's when contractor pricing models can come to your rescue.
There are different costing methods available to suit the diverse requirements. Understand the needs and work scope first to determine which model could draw in the maximum revenue without compromising on the quality. To be precise, you can rely on a good estimating and invoicing software solution.
It helps contractors to create estimates and invoices in less than a minute and send them to a number of people. In short, this software simplifies the estimation process, helps achieve unparalleled accuracy, and saves your time. Moreover, this estimating and invoicing software has different estimating templates, allowing you to save time and effort that you spend on creating them from scratch.
So, what are you thinking? Just start your FREE Trial Today!