Struggling to create that perfect estimate for your construction projects? Well, you no longer have to. This blog will act as a guide to let you leverage estimate templates available out there, helping you bag the project & get paid right each & every time.
Working in the dynamic construction industry is everything but easy. Whether it is a simple painting work or the construction of commercial premises from the ground up, each project comes with its own set of challenges and requirements.
One such challenge is to create a sleek quotation to get the go-ahead from your prospect. The one that not only puts the cost estimates right but also looks professional. Since doing that from scratch every time can be taxing and tedious, it is best to resort to ready, customizable contractors estimate templates for the job.
But wait.
What is a Contractor Estimate Template?
An estimate template for contractors is nothing but a ready piece of online document you can use to craft your quotations in mere minutes. It generally contains every basic detail a professional quote should include – from dates to materials used to costs to specific notes.
Moreover, these templates are fully customizable, letting you maintain your distinct brand image and standards hassle-freely.
The best thing? You would find plenty of bid templates for your construction project online in multiple formats, such as an excel sheet, a word document, or PDF. You can download, print, and share them easily with your team as well as prospects.
In fact, many templates also allow your clients to approve or decline your quote with a single click. That reduces your clerical burden, accelerates the process, and ensures you focus on what you do best.
Try our free online invoice generator today!
Whether your business is in construction, landscaping, consulting, photography, auto repair, or the medical field, invoicing takes way too long. That's why we're here. InvoiceOwl makes your invoicing faster and simpler so you can get paid promptly and without the hassle.
When Should You Use an Estimate Template?
A contractor estimate template can be used for a multitude of home construction projects as well as commercial construction project-related activities. It also comes in handy when taking up reconstruction work of residential and commercial premises. Some of the examples of the work scope include:
Painting
Furniture
Plumbing installation, repair, or remodeling
Electrical repairs and installation
Wiring installation
Structural restoration
Flooring and roofing work
HVAC repair and installation
Landscaping
Remodeling and routine fixes
Why Do You Need a Construction Estimate Template?
With a construction estimate template in place, you get an organized break up of the detailed services you would be offering, along with the total estimated cost. That helps you arrive at a relevant budget for each project as close and accurate as it can get to the real expenses. That, in turn, helps to draw in the right revenue.
Furthermore, a free estimate template gets you up to speed faster, saving your time, efforts, and resources. At the same time, such estimates also act as a foundation of your contract, binding you and your client in a legal agreement.
What's interesting is that many templates can be turned into an invoice automatically upon client approval. That accelerates the process even further. If required, you can refer to our dedicated blog on how to invoice as a contractor.
What All You Should Include in Your Contractor Estimate?
For the success of your next construction project, it's imperative for you to include the following necessary elements in your estimate template:
Contractor Company Information

The contractor estimate template should mention your full name, company name, business address, mailing address, and contact information, including email id. Putting together all these details makes it simple for your client to get in touch with you.

Apart from that, it is a great practice to add your business logo to the estimate. Thankfully, many templates now allow you to do that, elevating the overall professional feel of your contractor estimate.

Client Name and Address

The estimate template must specify your customer's full name, address, and contact information. Double-check the spelling and address of the client to avoid any confusion and mistakes in your final estimate.

Sales and Support Contact Details

If you have a distinct team to handle client queries, whether it is about project Q&A, support, or project-related assistance, your estimate template is incomplete without their contact information. So, make sure to include the full name of the Point of Contact (POC), along with their phone number and hours of availability for a better customer experience.

Detailed Description of the Work to be Done

To avoid any disagreements during or post the construction project, your estimate template must detail a clear outline of the scope of work. Whether it is an out-and-out development or a room remodeling, list out the services you will be doing for the client thoroughly to capture what makes a completed project.

Materials and Labor

Since any construction project requires extensive use of raw materials and labor, the same must be there in your estimate. Put together a sleek list of the materials you will be using with their respective costs. However, avoid being too detailed since tricky customers could give you nightmares about the number of nails you used for a task.

Also, don't forget to mention the labor required for each task with its respective cost. Sum it up to get an accurate estimate of the total labor costs.

Total Cost

The total project costs are the essence of your contractor estimate. It provides the client with a solid estimate of the overall expenses they would have to bear. For an error-free projection, add up the cost estimate of labor, materials, and services to refrain from causing any losses to your business.

Payment Terms

To see the project through completion effectively, every estimate template empowers you to draw up a clear payment schedule and terms for each of your projects. Define the stages and modes of payments. Be specific on how much you will be charging upfront, during phases, and as the final payment. Also, mention discounts or penalties for late payments, if any. That helps avoid monetary disputes later.

Project Timing & Completion Expectations

With a good contractor estimate template, it becomes easier for you to create an approximate timeline for the project for each phase of the work. It helps you plan better and extends peace of mind to your client. However, these are only rough estimates of the timeline; there may be sudden, unavoidable changes. Thus, both parties need to be flexible around it.
Tips to Create Accurate Estimate For Your Construction Projects
Construction estimating is a difficult job, and any new contractor may find it a bit challenging initially. To make it simpler, here are some tips that can help you craft a precise estimate without breaking a sweat: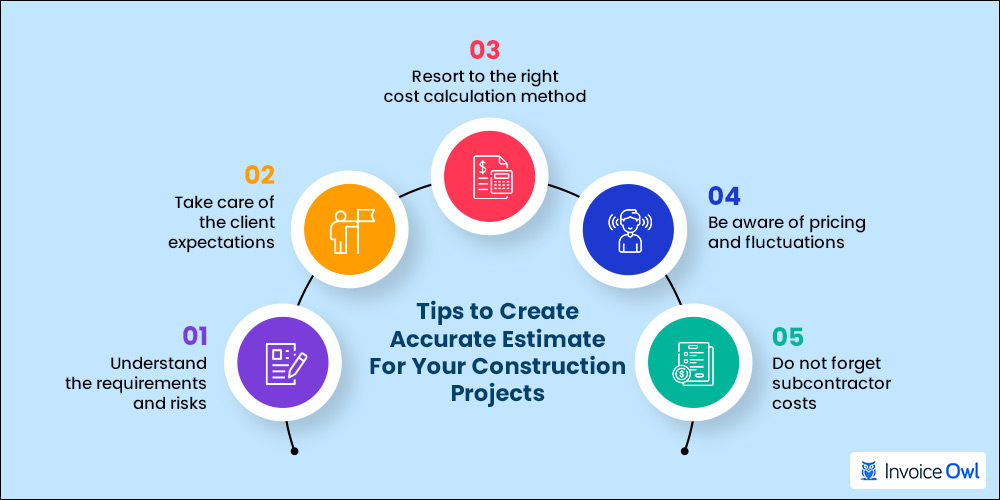 Understand the requirements and risks

Before beginning the project, you should be crystal clear about what is expected of you and what all things could go wrong. Factor these elements into cost and duration, and you're a step closer to a perfect estimate. Studying your previous quotes also helps calculate the commonalities of risks.

Take care of the client expectations

Ensure that your clients have a thorough understanding of the services you have proposed. And you both are in line with the project outcomes. That helps you draft a fruitful estimate form.

Resort to the right cost calculation method

There are multiple approaches to cost estimation, for instance, stick estimating, unit cost estimating, and production functions. Choose the one that meets your project requirements to arrive at a fitting estimate.

Be aware of pricing and fluctuations

From materials to equipment and labor, make sure you are aware of the current market rates and potential fluctuations to steer clear from losses.

Do not forget subcontractor costs

While drafting an estimate proposal, consider the quotes your subcontractors may furnish for both labor and raw materials. Take into account the cost-effective bid and calculate your costs accordingly.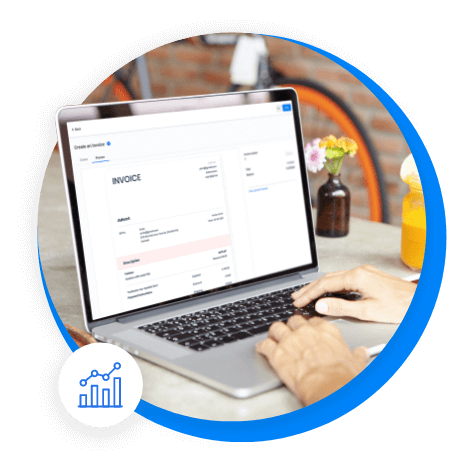 Create Professional Invoices Online Easily and Keep On Top of Your Finances
InvoiceOwl is a feature-rich invoicing app that helps small businesses, freelancers and contractors to create invoices on-the-go and get paid quicker!
Final Thoughts
Estimating construction costs requires precision and expertise. While you can build a new form for each project, it would be better to have a template for your contractor estimate that saves your time and resources.
Luckily, there are both paid and free estimate templates available online. However, I would suggest trying our InvoiceOwl that is the best online estimating and invoicing software for contractors.
The software allows contractors of different industries to create estimates and invoices in real-time in just a matter of seconds. So, start your FREE Trial Today and explore how this software helps you as a contractor.