Is tracking productivity time killing your productivity?
As a freelance worker you are already handling a lot of business operations all alone, and the last thing you would want is to keep an eye on the clock and count hours you worked to invoice accurately.
Because:
Multitasking can decrease productivity by 40%
Therefore, we are here with the best software that has time tracking & invoicing for freelancers.
So, let's explore each of them right away!
Top Productivity Tracking Apps Pricing Comparison
First thing first, being a freelancer or a small business, we need to function on a tight budget and schedule.
Hence, before investing time to know all time-tracker in detail, let's look at pricing and plans of all the top productivity tracking tools.
Logo
Name
Pricing & Plans
Websites
TimeCamp

Free
Basic: $5.25 (per user per month)
Pro: $7.50 (per user per month)

Website
Hello Bonsai
Website
Clockify

Basic: $4.99 (per user per month)
Standard: $6.99 (per user per month)
Pro: $9.99 (per user per month)
Enterprise: $59.95(per user per month)
Server: custom pricing

Website
Toggl Track

Free
Starter: $10 (per user per month)
Premium: $20 (per user per month)
Enterprise: Custom pricing

Website
TopTracker

Free
$10 (per user per month)
$20 (per user per month)

Website
5 Best Time Tracking Apps For Freelancers in 2021
The best time tracking app for your freelance business is subjective. Thus, we have picked the best productivity tools that have helped numerous small businesses by tracking accurate hours and getting the precise amount to a request for their hard work.
Accurate time tracking helps to win trust and acquire more clients online.
So, let's start!
Try our free online invoice generator today!
Whether your business is in construction, landscaping, consulting, photography, auto repair, or the medical field, invoicing takes way too long. That's why we're here. InvoiceOwl makes your invoicing faster and simpler so you can get paid promptly and without the hassle.
Pros

Reporting system
Easy to use interface

Cons

The mobile app needs to be updated

Pros

All-in-one solution
Unlimited time tracking projects

Cons

Too many features might overwhelm users

Pros

Built-in Invoicing tool
Web, mobile, and desktop apps included in the free tier

Cons

Invoicing feature costs extra

Pros

Chrome and Firefox browser extension
Pomodoro Technique setting

Cons

No screenshot capturing feature

Pros

Simple timesheet management
Non-billable hours tracking
6 Points That Make a Great Time Tracking App
Live Time-Tracking

Live time tracking is a necessity of every time tracking app. It should show the time you have been working in real-time. Moreover, it should let the user start, pause, or stop the work whenever it is required.

Idle Time-Tracking

Idle time tracking is as important as tracking the working hours. Without this, you might issue inaccurate invoices and harm your brand reputation. It should automatically detect the idle time by detecting the keyboard press and mouse clicks. This helps you deduct non-billable hours even if you forget to pause or stop the work hours.

Editable Time Tracked

The time-tracking app should let you edit all the data. Anyone can mistakenly click on pause or stop tracking time, thus it should let the user edit the time spent on the project.

Other than that, it should let the user add time blocks manually. It helps you add the work done while traveling, on phone, or all the offline work preparations.

Reporting

Reporting is a key function of time-tracking apps. It lets you generate reports on total hours of work in a particular period. It lets you analyze and study your productive hours and that of your team members.

Invoice Generator

Isn't invoicing your clients the purpose for tracking billable hours?

As a freelance worker, you would mostly charge your clients an hourly rate. This makes invoicing more complex. Thus, the time tracking app should help you record time spent working on the project and generate hourly invoices easily.

Data Export

The time tracking apps should let you export data into CSV, PDF, or Google Sheet files. It helps you to keep a record of your productive hours.

Moreover, it gets easy for you to share the data with the authorities whether they use the productivity apps or not.
Frequently Asked Questions
How do freelancers track hours?
Most freelancers track hours by using productivity tools. These tools have time tracking features, which let you record billable hours and set billable rates easily. This way you can create precise estimates and invoices without manually counting hours worked.
---
What are the best time tracking apps for freelancers?
Here are a few of the best time tracking apps for freelancers.
Toggle Track
TopTracker
Clockify
TimeCamp
Hello Bonsai
---
Why is timekeeping so important?
Tracking time is important because it helps to:
accurately record the hours worked
enhance performance
encourage productivity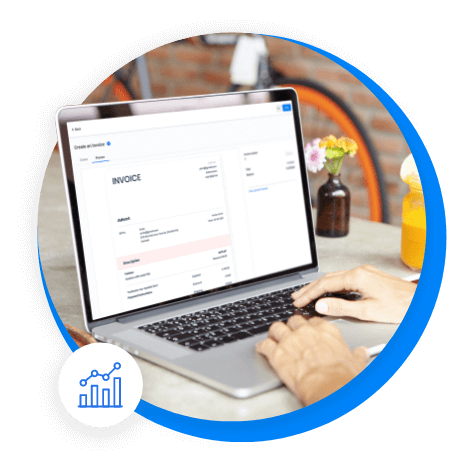 Create Professional Invoices Online Easily and Keep On Top of Your Finances
InvoiceOwl is a feature-rich invoicing app that helps small businesses, freelancers and contractors to create invoices on-the-go and get paid quicker!
Conclusion
Manually tracking time for invoicing is not as simple as you might think. And, time-tracking tools are not as costly as you might think.
Thus, don't spend time tracking time. In this blog, we discussed the best time tracking apps that enhance your productivity and help you charge hourly rates fairly.
So, if you don't wish to tackle unpaid invoices, start tracking time now!
However, if you charge hourly rates or a fixed amount, the all-in-one invoicing app —InvoiceOwl lets you generate invoices the way you want instantly. It also helps create professional estimates, credit memos, purchase orders, and sales reports just by a few clicks.