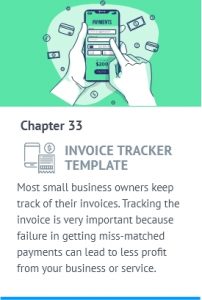 Chapter 33
Invoice Tracker Template for Small Businesses
Oct 12, 2020
Why Should You Have an Invoice Tracker Template?
Most small business owners keep track of their invoices. Tracking the invoice is very important because failure in getting mismatched transactions can lead to less profit from your business products or services. Keeping a separate note for tracking invoices can also lead to complications. These are the issues that inspired us to build a registry tool that addresses these issues a seller face while their buyer makes a purchase. This invoice tracker template helps you keep the records safe and check data on the invoices.
The invoicing tracker also allows you to compare month by month with a graphical representation if necessary. The invoice tracker records the invoice number and helps to understand your receiving payments and your outstanding payment in a structured manner.
Keeping track of payments from customers and sale invoices is very important for small businesses. This invoice tracker will allow you to track all your sales invoices. The spreadsheet template will calculate outstanding balance amounts with the formulas when you enter the customer's transactions. You'll never have to miss an unpaid invoice again for your services.
Features of Invoice Tracker Template
Calculate the expected amount in the immediate future
Track invoice in one place (i.e. invoice tracker spreadsheet)
Identify specific invoices that are due and by how long
Simple and easy to use
Calculate how much amount is outstanding
Easy to identify owed amounts by customer
Invoice Online or On The Go
It is quite tedious for a small business to receive payment in part because the payment process can be tedious.
For example, if you are an entertainment business developer and need to receive a deposit before you render a service, you need to issue an invoice, send it through the mail, wait for the check or transfer before receiving your funds. The easiest way to eliminate these steps is to enable mobile payment.
You can quickly generate the invoice templates on your phone or using Google spreadsheet template or Excel Templates and receive the amount through the customer's credit card. Using a mobile invoicing software or system will allow you to bill your customers easily, monitor the amount paid, and track your invoice number and tracking invoice process easily with a convenient invoice tracking tool that does the work for you.
Collecting your deposit immediately will save you a lot of time and mental energy. You can easily set up mobile payments, especially if you're using accounting software or invoice tracking tools like InvoiceOwl, which directly import your payments into your accounting dashboard.
Here are things to note when setting up a method for mobile payments system:
What Can I Do on My Phone?
I'm sure you're wondering how much can be done from your mobile phone – the InvoiceOwl invoicing software for Androids, iPads, and iPhones gives you all the essentials and features needed to run your business smoothly.
Access your customer and products' lists
See a quick overview of your annual and monthly sales
Create and send the invoice using invoice templates or excel templates
Track expenses and taxes, received invoice amount, using OCR technology to scan and read images of your receipts
Payment reminders for before due date or after the due date
Keep track of payments, items and enter new amounts whenever you want
What is a Mobile Payment System?
Mobile payments are regulated transactions that are done using mobile wallets or money transfers via mobile devices. Instead of paying for the invoice templates in cash, check, or physical credit cards, mobile payment facilities allow users to do digital transactions from any corner of the world.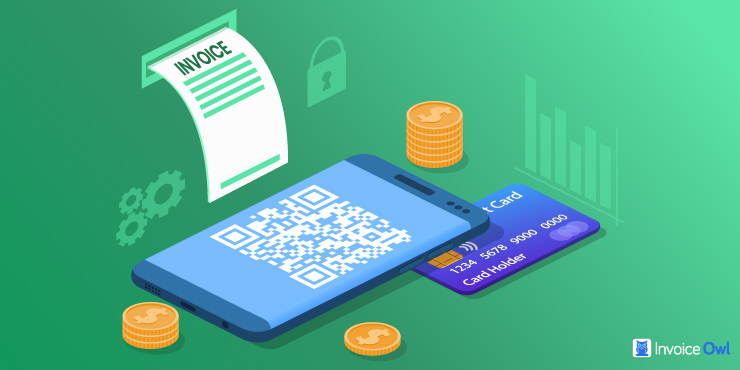 Benefits of Mobile Payments System
Mobile invoicing helps you to simplify various workflows in your business, gives you predictability in your finance, and helps you get paid faster. It saves time and requires less workforce to manage your accounting.
Central Location for Client Information

You don't have to lose your customers' information or details anymore. A mobile interface allows you to directly input your customers' details into an invoicing software with a tablet or mobile phone. Some store the information on your mobile phone while others send it into the cloud directly. Mobile invoicing software allows you to keep every detail with you all the time for invoice tracking.

Instant Billing

The best thing about mobile invoicing is that it allows you to create invoice templates after the job is done and forwarded to the customer. This process can also be automated using many accounting software programs and invoice tracking. The process saves you time and the stress of snail mail and its alternatives. Smart invoice templates allow your customer to pay you in an instant before the due date. Anywhere, anytime.

Integration With Your Accounting Software

Mobile invoice tracking makes most accounting software programs that manage your financial records better. For example, InvoiceOwl gives you a chance to enter an invoice amount and other data into invoice table and invoices from its mobile app, therefore, eliminating the possibility of double entries and getting you paid before the due date. This encourages accurate and smoother expense management in all formats, including fields in Microsoft Word, Microsoft Excel, PDF formats, etc.

Capture Signatures and Generate Receipts

Modern mobile invoicing software allows users to capture their signature and the customer's sign with a stylus or finger on your mobile phone. This is handy for adding your signature or receiving approval on an estimate to a bill before sending it to the customer for payment through an email address. It also allows you to print receipts easily to keep up with your accounting paperwork.

Centralized Storage

If your software supports cloud storage, all your estimates and invoice templates and other fields will be remotely stored, giving you easy access to your records. Keeping some documents in the cloud helps to free local memory on your mobile device while giving you the range to access your files from any device of your choice. You can take assistance or resources if you want from the service provider.
Other helpful ways to invoice tracker, meetings, or progress on a project are to include notes or pictures to clients' records. Also, programs like InvoiceOwland other applications help separate your invoices into categories, giving you a clear view of your billing. This also gives you a chance to know if you'd need to send invoice templates to request payment and to track the amount status.
How to Get Started with Mobile Invoicing?
You'll need an application software that connects to your accounting software. A credit card reader will also be required if you plan to accept payment via your cellphone. If you have InvoiceOwl, the app syncs every payment data of yours to your books. You can choose how much you want to use the mobile invoice tracking template.
Most mobile payment solutions come with a free card reader. GoPayment card reader accepts magstripe cards and is portable, lightweight, and connects through Bluetooth. You can also upgrade to receive the payment through Android Pay and Apple Pay.
Upfront payment is not required. Most of the platforms use a pay-as-you-go system and a combination of accounting and invoicing tools that collect flat Fey and a small percentage.
Small businesses should do in-depth research or take inspiration to create bills on invoice tracking technologies to figure out the one that is best for their business. Imputing mobile invoice tracking as part of your accounting procedures helps you save a lot of time, provides faster payment collection, and streamlines your processes.
The flexibility of managing invoice templates from anywhere will help improve client experience, grow your venture, and also manage your cash efficiently and give you ideas about your thousands of transactions.
The invoice tracker template provides the ease of issuing bills using an invoice tracking template like never before. You might face many unique challenges as a business owner when you are new to mobile technology. One of them will be about making sure there's enough money to keep your business growing and healthy.
It's not just you. Many entrepreneurs have identified low cash flow while performing invoice tracking as a prominent reason why startups crash.
Staying up to date on outstanding payments and issuing timely invoices is the best way to stay on top of your cash flow issues. If you're able to send out invoices while you're taking care of other tasks such as invoice tracking outside of the office is an excellent thing.
Self-employment is gold nowadays, and it gives you the chance to explore. Whether you're attending a meeting, visiting a supplier, or traveling for a job, chances are, you're never in the same place for long.
You need mobile invoice tracking software if you want to keep up with being a modern entrepreneur. This is why we developed the InvoiceOwl invoicing software that creates an invoice template in all the formats, including Microsoft Excel, Microsoft Word, or PDF. It also tracks the invoice template with the help of an invoice tracker for you anywhere, anytime.
Accounting software and InvoiceOwl allow you to be on top of your accounts and finance anywhere, anytime.
Quicker and more efficient: The ability to send invoices from tablets or mobile phones helps to increase the efficiency of your workflow. You won't have to waste your time entering an expense for invoice tracking or creating an invoice tracker template since you'll be able to access your account whenever you want.
More convenient: If you're like most people that take their smartphone anywhere, you can efficiently conduct business and invoice tracker wherever you are. You don't need to feel stuck at your desk since the invoicing app and the tracker template allow you to be autonomous and independent while handling your business.
Less paperwork: Creating an invoice tracker or expense on your tablet or phone requires no form of paperwork. Each document and template created in Microsoft excel is synced to your devices, and any changes made will be automatically updated to the cloud. This makes it a lot easier to monitor your finances without any paperwork and reviews.
Whenever you're ready, install the InvoiceOwl invoicing software on your Android, Apple, or iPad device.