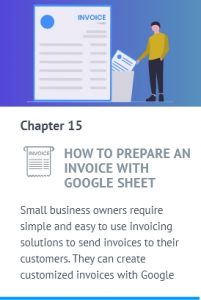 Chapter 15
How to Make an Invoice in Google Docs
Jul 3, 2020
Making Google Docs Invoice
Small business owners need simple and easy-to-use invoicing solutions to send invoices to their customers. They can make an invoice in Google Docs, either by designing from scratch or downloading fresh templates. Google docs invoice facility helps you prepare invoices, and you can save them to your cloud storage, where they can be accessed anytime as alternatives.
How to Prepare an Invoice with Google Docs
For small business owners, making invoices in Google Docs can be done with the following steps:
Log In To Your Gmail Account
The first step to take to start creating invoices is logging in to your Google account or download Google App on your smartphone. You need a Gmail account to make use of the Google Docs tool. If you are new to the system, you have to create a Google account, but if you have a Gmail account,  you can proceed instantly.  Creating or signing up for a Gmail account is easy; you just need to follow the instructions and make a copy of the free invoice template.
Open The Template Gallery
After you have logged in, you will be directed to Google Docs homepage. At the top of the page, you will find a template gallery containing templates for several document types. You can narrow down your search but typing "invoice" in the search bar.
Select The Preferred Template
After browsing through different templates, you will find one that's good for your business, so click on it to have a full view. Selecting your preferred template means the template has what small business owner needs for proper invoicing.
Save The Template
When you find the best bill template for your business and have viewed it, you can save it in your drive, then feel free to name it, so you can remember whenever you're ready to prepare an online invoice design. To name the document, click on the title box and type the name. Hit enter when you are done naming it. If you have many clients in the same business make sure you name each of them with their business name in one format so you can easily find out the invoice later on to make a copy.
Prepare A Fresh Invoice
When you are ready to start creating invoices using Google Docs without other tools, login and open the saved invoice template. Click on File to create a new copy. Use a copy of the saved online invoice template generator when you have to create an invoice, so you don't save on an existing invoice.
Edit The Invoice
After you've created a new copy of the invoice template, edit all the required fields so the details of the project will reflect. You must always include this information into every invoice you generate:
Your Business or brand logo
Your business contact details
Customer's contact information, as well as their name
Date invoice was created
Invoice number
A detailed list of all the service you offered the customer with the hours and appropriate hourly rate if applicable
Subtotal of all the listed services tabulated in rows and column
Total fee after adding up all the subtotal
The date the payment will be due
Your payment terms and policies, including all the methods of payment you accept
Select A Unique Means Of Identification For Your Invoices
Each time you create an invoice, it is required of you to name the invoice with a certain convention appropriately, so you don't mix them up. In Google Drive, you can create a folder for all the invoices after creating and naming them.
A common way of naming the template invoice is by using the invoice number and date or customer's name. For instance, if you created an invoice in March 2017, with an invoice number of 112, the name of the invoice could be "Invoice112_0317" you can add the customer's name at the end to get started.
Send The Invoice To Your Customer
After you've created the invoice for your customers and you're satisfied with the layout, from the free Google Docs invoice template, you can share it with your customers. Click the blue-button from the invoice template for Google Docs that directs you to share the File, at the upper right-hand side. Type in your client's email address and complete it with a friendly note, then click send to get paid. Make sure the email address is accurate before you proceed.
You can also download the invoice template for Google in Google Drive from the Google Docs invoice template and send it through email to your clients to get paid. The preferred format, in this case, would be PDF so that no one can edit the free Google Docs invoice template. When you are ready to send the invoice template from Docs, you'll find created free Google Docs invoice template in the Downloads folder of your PC, after saving to your drive where your invoice template for Google Docs is kept you can now send it to get paid.
How to Create Free Invoices?
Today, you will find several invoicing solutions and free invoice templates to help you create effective invoice templates that clients can easily understand, foremost among them is free online invoice software which provides you with different invoice templates for different industries and businesses. You can download the free invoice template in Word, Excel, and PDF formats and personalize those invoice templates according to your needs. It offers free professional-looking invoices that can help you maintain your brand image in front of the clients.
There are other invoice generator tools available in the market which provides paid services. If you do not want to opt for paid subscriptions for the invoice generator then you can choose the free invoice generator that also provides outstanding services free of cost like Google Docs. Still, you need to make sure what kind of services you want for your business.