Do you want to send invoices professionally but don't want to start from scratch every time? Creating an invoice overwhelms almost every freelancer across the world. So relax! You are not alone. And hence, we are here with a complete guide on how to invoice as a freelancer.
After reading this blog, you will be able to create a professional-looking invoice by picking the right invoice type and with all the important elements needed in an invoice for a freelancer.
As a bonus, we will provide you with a freelance invoice template sample perfect for making invoices in just a matter of a few minutes.
So, without any further ado, let's get started!
What is a Freelance Invoice?
A freelance invoice is a document used to request payment for provided services. It conveys and explains the final amount to be paid. With the exclusive invoice designed for freelancers, any freelance service provider effortlessly gets paid faster, such as writer, photographer, web developer, accountant, musician, and similar professions.
Since a freelance business is different from large-scale business contracts, a standard invoice would not suit to bill your clients for the freelance projects.
So, let's discuss what are the important elements a freelance invoice must-have.
Try our free online invoice generator today!
Whether your business is in construction, landscaping, consulting, photography, auto repair, or the medical field, invoicing takes way too long. That's why we're here. InvoiceOwl makes your invoicing faster and simpler so you can get paid promptly and without the hassle.
What are the Important Elements of Freelance Invoice?
Without the following elements, a freelance invoice is incomplete. So pay attention and we have put a few tips and tricks to get paid faster in between too.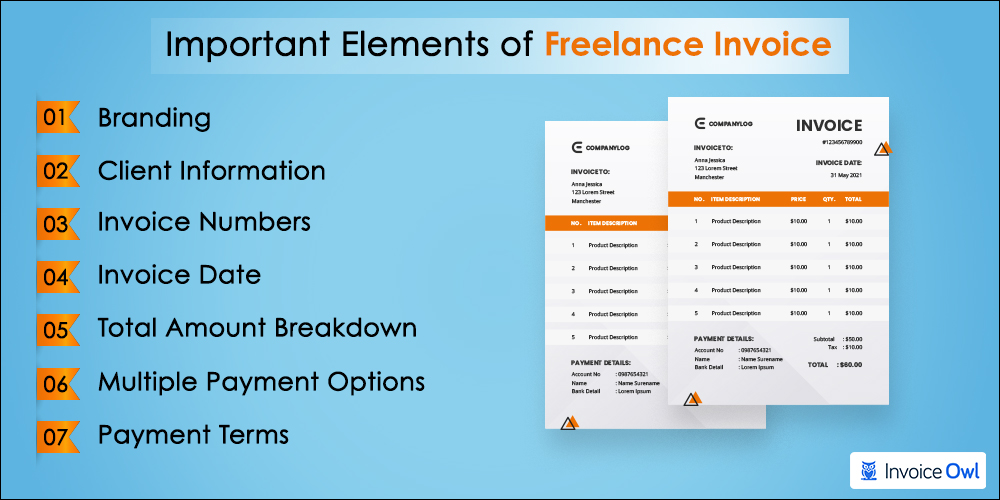 Branding

Invoices are a great opportunity for brand awareness. Unlike huge businesses, many freelancers can not afford to advertise their brands on paid platforms. Thus, freelance businesses should make invoices an integral part of the brand.

Add your brand logo, freelance business name, contact details, use watermarks, and color it in your brand colors. Branding impacts a lasting impression on clients.

Client Information

Client information is crucial to include in a freelance invoice. It helps in sorting and managing the invoices. It comes in handy to track the payment status. If you have included the client information, it helps you create reports on business done with a particular client.

Without mentioning the client information, it gets hard to know the client information if the payment is due. And at the end of the month, you may have to process a lot of invoices. Thus, to make things easier for you, it is wise to add client information, such as business name, and contact details.

Invoice Number

The invoice number is one of the most crucial elements of the invoice. It helps you manage and organize all the invoices easily. It also helps to keep a count on the invoices and sales figures.

There are multiple ways to allot the invoice number. You can simply number them in the numerical series, or you can mix up some alphabets dignifying the type of the freelance service, or you may number them the 'invoice date'-wise.

Speaking of the invoice date, it takes us to the next crucial element of the freelance invoice.

Invoice Date

Invoice date plays a much bigger role than just showing the date of invoice. It helps you decide if this invoice is to be counted when calculating the annual tax. It also helps you count the due date by which the client must pay the amount.

Moreover, the invoice date has major significance in a legal dispute. Actually, if you have not mentioned the invoice date, you can not sue any business for not paying your fees.

Total Amount Breakdown

The total amount payable is the most important thing in the invoice. It is the fundamental thing for which the invoice has been created.

And, not only the final amount, but you should break it down and explain how you reached the digits. Mention every freelance service or material used, rates, quantity, and cost individually. Also, mention the applied sales tax and discounts.

So it goes both ways. After mentioning all the details, you should not leave it for the clients to calculate the net amount or mention only the final amount without justifying it.

Multiple Payment Options

If you want to get paid quickly, you must accept multiple payment options. In this new age of technology, your freelance business should take full advantage of multiple payment methods and accept credit cards, debit cards, Stripe, PayPal, online payments, and other offline payments.

Allowing the client to pay via their preferred payment method boosts client satisfaction and you end up getting paid faster. Other than that, modern technology handles all the tough tasks, such as managing different currencies, and tax calculation. Therefore, it is a win-win situation for your clients and your business too.

Payment Terms

The 'payment terms' is one of the elements that many freelancers often forget to include. Payment terms consist of the payment methods you accept, the due date, your account number, and the late fee. It also includes refund conditions.

Other than saving your business from a lawsuit, it gives your invoice a professional look.

Now, you have to choose the type of freelance invoice depending on the type of freelance service you provide.
What are the Invoice Types for Freelancers?
Broadly, freelance invoices are classified into three types. These are based on the type of service you provide and the charging pattern you follow.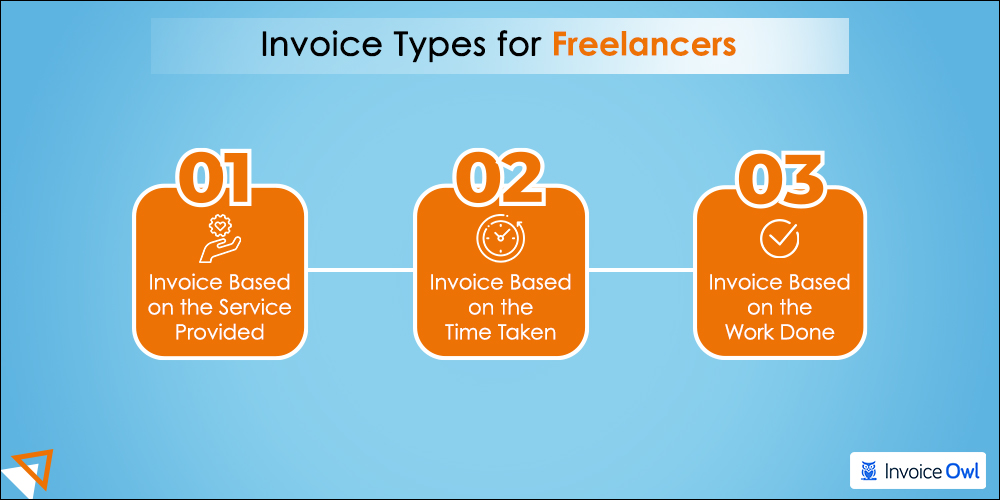 So, let's talk about all the three major types of freelance invoices, and pick the perfect invoice for your business.
Invoice Based on the Service Provided

Many freelancers charge clients a lump sum amount for the particular service provided. This is a common practice for freelance workers, such as accountants, tutors, and photographers.

For such business deals, you need to issue a quotation first and then the final invoice at the time of completion of the service. It may include the charges for materials used too.

Invoice Based on the Time Taken

Freelance web developers, graphic designers, video editors, counselors, and similar business owners like to be paid for the time taken for the compilation of the freelance work. They may charge an hourly rate.

These invoices may include the timesheet for individual service provided to justify the final amount.

Invoice Based on the Work Done

The freelance businesses which get paid for the total work done may not find either of the above types of invoices suitable for them. Thus, they have to use the specific type of invoice that lets them bill clients on the amount of work done.

For example, professionals, such as writers charge on the word count, the wall-painters charge on the area painted, and a taxi driver may charge on the distance traveled.

So, now you know which type of invoice is the best for your freelance business. And it's time to create a customized invoice for your freelance business.
How to Write an Invoice for a Freelance Business?
If you have created an invoice manually, you must be well aware of the struggles and time the invoicing process takes.
But to take all the fuss out, InvoiceOwl assists you to create an invoice on the go. You will not even need a computer system to generate one. All you have to do is open the InvoiceOwl app on your smartphone and get going.
You must be excited to know-how. So, follow the below-mentioned steps and you will get a personalized invoice before you know it.
Step1: Download the free invoice template from the InvoiceOwl template library
Step2: Include your business name, logo, contact information, and customize it to match your brand colors
Step3: Mention the invoice date clearly
Step4: Mention the client information (for example, client name, phone number, and email address)
Step5: List out each service provided and material used individually with description, rate, quantity, and cost
Step6: Calculate the applied tax and discounts (if any) under the gross amount
Step7: Highlight the final amount to be paid
Step8: State all the payment terms and conditions, such as due date, refund conditions, accepted payment methods, and further details of the payment process
Step9: Print the invoice or you may send invoices via email too
And you have your own invoice with you.
Wasn't that simple?
Furthermore, the InvoicingOwl is not just for creating invoices, it simplifies the entire invoicing process.
Want to know more about it? Then let's tell you why InvoiceOwl is one of the most popular Invoicing apps.
InvoiceOwl —The Invoicing Software for Freelancers to Simplify Process
As we already discussed, creating an invoice with the InvoiceOwl is way easier than the conventional method. And once you have designed a unique template, creating an invoice out of that template is just like filling a form.
What is InvoiceOwl Software?
InvoiceOwl is an easy-to-use software designed to simplify the entire invoicing process for freelancers, self-employed businesses, small-scale business owners, and sole traders. It automates all the mundane and repetitive tasks in invoicing and frees you from the pile of paperwork.
Now, let's have a look at InvoiceOwl's relevant features that help you work smarter and get paid faster.
Invoices: Create unlimited invoices with this free invoice software. It helps you design unique templates for your invoices and lets you download the template in PDF format.
Estimates & Quotes: The InvoiceOwl helps you in standing out from the competition by letting you design modern estimates and quotes. It helps you to seal the deal and get hired as a freelancer.
Purchase Orders: It lets you make purchase orders for the materials and equipment required to provide your services. This is all done with just a few taps on the screen.
Clients: The InvoiceOwl app remembers all the client contact information, such as email address and phone number. It automatically feeds in so that you do not have to fill it every time.
Reports: This software produces detailed reports on sales with all the important details. It provides you with reports for a particular year or month, or for a particular client.
Real-time Notifications: The InvoiceOwl helps to follow up payments, track the due date of invoices, and notifies you when clients check the invoices in real-time.
And the cherry on the top is that it is amongst the most reliable invoicing apps to keep your personal data secured.
So, don't keep it for tomorrow, Sign UP for Free NOW!
Download Free Freelancers Invoice Template
InvoiceOwl provides you multiple free invoice templates that are perfect for a freelancer to generate invoices effortlessly.
Such a freelancer invoice template helps you a lot with getting paid faster. And unlike many other invoicing tools, you can download the freelance invoice template in your preferred file format, such as MS Word, MS Excel, and PDF for free.
So, get your fully customizable invoice template free of cost.
Frequently Asked Questions
How to invoice freelance services?
Majorly you can invoice freelance services based on the service provided. You can invoice based on the:
Time taken
Work-done
Service Packages
These are the most professional ways to invoice a freelance service.
---
Can I issue an invoice as a freelancer?
Yes, you can! All professional services are chargeable and you can invoice as a freelancer to ensure you get paid. And an invoice is the most efficient tool to request payment.
---
How do I write my first freelance invoice?
It might take a lot of trial to write the perfect first invoice. And it takes a lot of time and money to go through those trials. So, to make things simpler, follow the below steps:
Customize it to suit your brand
Add line items with descriptions
Calculate tax, discounts, and the total amount
Send it to the client then & there
---
Can I invoice as an individual?
Yes, if you are self-employed, you are the sole proprietor. This means you can invoice as an individual to run your business.
---
What should be included in a freelance invoice?
If you want to create professional-looking invoices for your freelance business, make sure you include the following things in every freelance invoice of yours.
Your business branding
Client information (for example name, phone number, email address)
Invoice date
Invoice number
Line item (services provided) with a detailed description
Rate, quantity, and cost of each item
Discounts and tax details
Payable amount
Due date and payment terms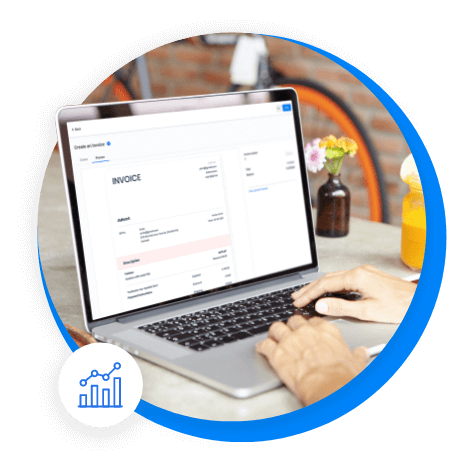 Create Professional Invoices Online Easily and Keep On Top of Your Finances
InvoiceOwl is a feature-rich invoicing app that helps small businesses, freelancers and contractors to create invoices on-the-go and get paid quicker!
Conclusion
We have discussed every aspect of creating invoices as a freelancer. Right from the definition to sending invoices. We have discussed the entire invoicing process in detail. So, we hope you are ready to create one of yours right now.
But remember, finding the perfect freelance invoice template is an iterative process that takes a lot of trial and error. So, if you want to eliminate the trial & error and want to be paid quickly, download the InvoiceOwl app —The complete invoicing solution and create a perfect invoice in the first go.