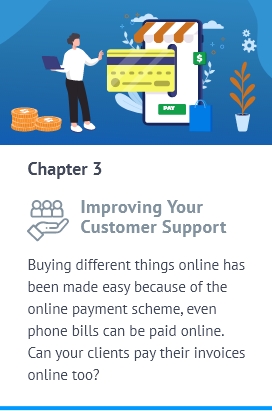 Chapter 3
Improving Your Customer Support with Invoice E-payment
Jun 2, 2020
What is an Invoice E-Payment?
A payment invoice is an invoice that is presented by a small business owner to pay for the products and/or services they have provided to their customers. Well, payment invoices are not just for the customers but organizations also get the invoices from the vendors they have purchased material or outsourced any products. So, everyone providing line items or services is supposed to generate payment invoices and get paid in return to run their operations. Every small to a large business should have a constant invoice E-payment system that helps them being organized and simplified with their accounting processes. All who are sending invoices to their customers should ensure that their clients pay time to time to avoid penalties. Such a step will help them maintain strong relationships with their clients.
For sending payment invoices, service providers need to know which payment method is the smartest and most convenient for their consumers to pay the bill. For example, your clients are flexible to pay using credit cards but if you cannot accept invoices payments due to additional costs that will create conflict between both of you. So, it is ideal to know which method will be most suitable and bring an advantage for both suppliers and buyers.
Benefits of Using E-Payments For Invoices
Buying different things online has been made easy because of the online payment scheme, even a phone bill can be paid online. Can your clients pay their invoices online too through e-payments? The answer is yes.
Allowing e-payment for the invoices or a bill in your business transactions can make things very easy for your business. You won't have to bother about losing money, and you get to spend less time complaining about bouncing checks and the long deposit queue in the bank. You even get paid on time with the e-payment of the invoice.
With the addition of the e-payment of invoice options on your online invoice payments, your consumer may even benefit from the ease and stress-free transactions.
Listed below are the ways various e-payment methods can help you build excellent customer service and relationships.
If you're the type that always emails invoices, your email box will get filled with different invoices to different people. As you receive a new order to email an invoice, the previous one is swept under the new email, coupled with other notifications you receive. The same thing happens when your consumers search their email box for invoice payments before the payment is overdue after receiving other alerts.
Adding an online e-payment for invoices option will reduce the stress, so the consumer doesn't get to the bank all the time. They can easily enter their card details and make instant payment, while you receive an alert of the payment.
While late payments will always attract charges and may cause some setbacks, some clients may find it difficult to leave their workplace to deposit in the bank. An online e-payment option for invoices will help create a database for keeping the purchaser's payment info after making the first payment. With this, they don't have to go through inputting card information again when they need to make a payment for a bill, especially if it is a weekly payment.
A few clicks will get the job done, and the payment is made. If you have a new buyer trying out different outlets for a handyman service, with this e-payment information stored safely in a database through the cloud, he or she will likely patronize you again because of less stress in making a payment.
The types of service you render to your customers should not be stressful, hence the need for quick payment options. You can separate your brand from other competitors when you extend your stress-free service to the aspect of making payments. When clients make an easy payment, they can always settle with you because of the service you render throughout the process.
A new client will do business with you again if there's an option for customers to make payments easily without stress.
This will help your customers make payments on the go. uIt you have an internet connection, a smartphone, or tablet, they can typewrite in their card details to make a payment as soon as they acquire your service. You won't have to bother about bounced checks too if your customer while you have made it easy for the consumer to make payment.
E-Payment facilitates instant payments for any business organization. It also breaks the stereotype geographical restrictions and allows customers to buy or adopt services without getting involved physically and you can get paid faster. Clients can easily make a payment from their home or office choosing payment methods of their choice from given options. The invoices integrated with the payment gateway can allow businesses to accept invoice payments online and also sends instant notification of the transaction to the clients and business owners to be assured of the purchased items.
Setting up an option to get online invoice payments is very quick and easy for businesses to accept the payments just after delivering the services or the product. Moreover, there are many service providers that are not aware of setting up the payment method; the online setup with low set up fees and very low transaction rates will also help them in getting paid without any hassle.
Reliable Mode of Payments
Online invoice software offers reliable features for global merchants to receive the e-payment in the most secure way. The global merchants can receive the money without any risk of bounced checks and the penalties associated with it.
Build More Trust in Customers
As per the current situation, customers often prefer those service providers who accept payments online. It encourages them to do business more frequently because of the ease they offer. It also saves them from any kind of fraud and secures their money if they don't receive the product or purchased products online. They will always have the proof digitally as a secure transaction. Such a situation will build more trust between customers and business owners.
Boosting Up a Referral Marketing
If you have an integrated e-payment system properly aligned can help you create an affiliate program. Because of its easiness, it can create perfect referral marketing. This will boost your sales and can help you boost up your revenue.
Add Convenience to Frequent Payments
If you are a service provider and offering some subscription-based services where customers need to make payments after a certain period of time, they will definitely look for the option to pay online. This option will be more convenient for both customers and business owners to make frequent payments. Instead of sending the payment reminders every time and requesting to send checks for the payments, business owners can automatically collect payments through e-payment after the end of the subscription or during the subscription.
Stay Ahead in the Competitive Edge
For a business, an option to receive online payments can help them improve its reputation and allows them to gain the trust of the customers. Moreover, when their competitors are implementing online payment systems and becoming advanced it is essential for businesses to go beyond their competitors to stay ahead in this competitive edge.
Influences Impulse Buyers
An online e-payment for online invoices may influence buyers to purchase products listed on the website or opt for the services and make payments online. Since the e-payments are quick and easy for the customers they can help businesses to serve the clients more effectively without thinking about the money trouble.
Ways to Accept Online e-payment For Invoices
Nowadays customers are making all the transactions through online payment gateway than ever before, all using their smartphones for the estimates they get.
According to the PWC survey, 45% of users say that they are using their mobile phones as a shopping channel and the users are rising day by day.
When it comes to accepting payments online, it is important to have various payment options for the customers. Businesses can increase their customer experience and satisfaction by offering multiple options for making online invoice payments. Many merchants find it, time savior, as it helps them get paid faster and securely. Most importantly, making online payments are considered ideal for managing the cash flow on a regular basis of any business.
How to Accept E-Payments Online?
Traditionally, firms used to send paper bills and invoices each month and also used to accept paper checks in return. This process was so long for them to complete one transaction. Getting started with accepting electronic payments is much easier than the traditional long process. But many businesses get confused about how they can accept e-payments online, here is the answer.
Choose an E-Payment Gateway
To accept payment through credit card payments and debit cards, you must have to choose one payment gateway and get registered with a payment processor such as PayPal which will help you make an easier payment process. Then the payment processor will handle all the merchant services related to online transactions, so as a business owner you do not have to worry about your background process of the transactions.
E-payments are the most convenient if you implement automatic payments feed in your invoicing process and billing. There are many portals in the market that offers built-in features that help business owners to implement automatic payments process along with the invoices. All you need to do is just choose one, activate it, and set up your merchant account details linked with your bank accounts. You will also have the option to add your business logo and customize your e-payment as per your branding needs.
You can collect e-payments via an online portal, so you will need to set up your invoices before you send out them to your customers. These portals also provide documentation to create perfect invoices. If you use the standalone version of the portal, you will be able to send invoices directly from the portal. Apart from this, you can choose which clients should receive invoices through one portal.
Accept Credit Cards and Debit Cards
The most basic way you can accept online payments is by accepting payment through credit card payments and/or debit card payments. To offer these features to your customers, you need to first decide whether you want to have one dedicated merchant account or to have an intermediary account. Choosing one method for accepting the payments might be difficult for business processes but it is also mandatory for them to have one. Apart from this, you also need to take off the charges or taxes that the credit card processing company or your bank charges you for accepting the online payments. So, it is very important for merchants to conduct detailed research before choosing the best suitable option for the business.
Accept eChecks using ACH Processing
eChecks is the most popular way to accept payments as it is considered as the direct debit of a bank account. Basically, such eChecks allow customers to input all the essential information such as a/c number, name, amount, and authorization from their paper checks through online payments form for ACH processing. Using this method the clients can pay the bill with their paper checks electronically if they do not want to use credit or debit cards. Make sure that you know about the ACH processing fees before you start accepting eChecks. This is the best suitable option for business owners to adopt for getting paid for the bill as it is more secure and predictable than waiting for a physical check.
Nowadays, as technology is getting more advanced day by day, swiping a credit card and adding a credit card number to a smartphone has become a new norm for many businesses and clients. When clients use their mobile app to make payments they will get instant receipts through e-mail. Such mobile payment applications increase the ability to buy and sell products or services online, manage customers from any corner of the world, and send invoices whenever you get a signal. With such advancement, you can accept payments anywhere anytime, and grow your business.
As per the current situation, it is proved that the smartphone in your customer's hand is the best opportunity for you to increase revenue using mobile payments. Many customers find that making payments through mobile payments makes their shopping experience easier and more convenient while saving lots of time. On the other hand, some customers have security concerns about storing the information on their phones. Well, in that case, it is up to the consumer and service provider how they mutually agree on payment methods and payment terms.
Adding a Payment Gateway Online
By adding a simple payment gateway, customers will be able to pay directly from the website. Regular customers can have saved accounts and payment details for fast and easy repeat payments. Businesses can outsource this feature from the companies that are specialized in online payment services, secure payment processes, and secure buyer account storage. Depending on the service provider business owners and customers can customize the form to match their branding. Such an online payment gateway allows service providers to accept payments through credit card payments, debit card payments, or eChecks.
Ready-to-Pay Email Invoicing
Email invoicing provides your customers the ability to pay their invoices and get the receipt within seconds. Such e-mail invoices come with ready-to-play links from where your customers can make payments within a few clicks. Along with this integrated experience, you can also streamline your accounting in your invoicing software and manage the data securely. You can also track payments made using credit card payments or any form of payment through invoicing software. So, whenever your clients make payment the invoice you have generated is marked as paid in your accounting system automatically. Businesses also believe in these ready-to-play payment methods to get paid faster and keep the cash flow running in the business.
Which Is The Best Way To Accept Online Payments Online?
The list of options for accepting online payments for your business is continuously evolving and helps businesses to grow for the long term. The key to shaping the right method for your business is to know about all the pros and cons of each option. Apart from that you also need to know about the cost of the option you choose to get the payment. Your overall goal should be getting paid quickly and your customers should trust you for making secure online payments. You also need to consider the benefits before you choose any payment methods or payment gateway. Usually, businesses choose the service provider that offers personalized customer service and constant support and maintenance. Not only this, but you also need to check which method provides greater control over the payment security rules and regulations. You must choose the best method for accepting payments after considering all the factors that can fulfill your business requirements and can provide an outstanding customer experience.
There are plenty of online invoice payment systems out there that you can use to conduct all your accounting activities, get paid on time, maintain your business details, and cash flow. Choose the payment methods that are in line with your business objectives and branding. You can also ask your clients about their payment experience and what they suggest based on their experiences and which method is more preferable to them.
How do I Send an Electronic Invoice?
There are many invoice generators and software that provides businesses to create professional invoices that help you get paid quickly. You can customize invoices and make changes such as editing email address, first name last name, purchase orders, etc. Such invoice templates created through invoice generator helps businesses to maintain their finances and cash flow in the most effective way and it also allows them to send electronic invoices in just a few clicks. With this convenience, your clients will be able to print the invoices. they can also make payments with their preferred method. On the other side, business owners will also get paid quickly and able to keep the cash flow run smoothly.