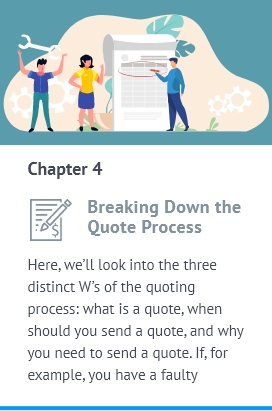 Chapter 4
Breaking Down the Invoice Quote Process
Jun 4, 2020
A Quick and Easy Invoice Quote Process to Comprehend
Here, we'll look into the three distinct W's of the quoting process: what is a quote, when should you send a quote, and why you need to send a quote, what is the invoice quote process, and why you need to pay the charges. 
If, for example, you have a faulty refrigerator, and you make a call to a repair service or sales reps, then they tell you how much you are spending to repair the refrigerator. You badly need to get the fridge working again, but you'll take time to process what the amount you're told to pay will cover.
You need to inquire about the total service you are paying for, so you can request a quotation invoice for the service. Once the service provider gets the invoice request, they will inspect the work and give an estimation/quote or invoice you are seeking, and break down the quote process to make you understand why you need to pay the charges.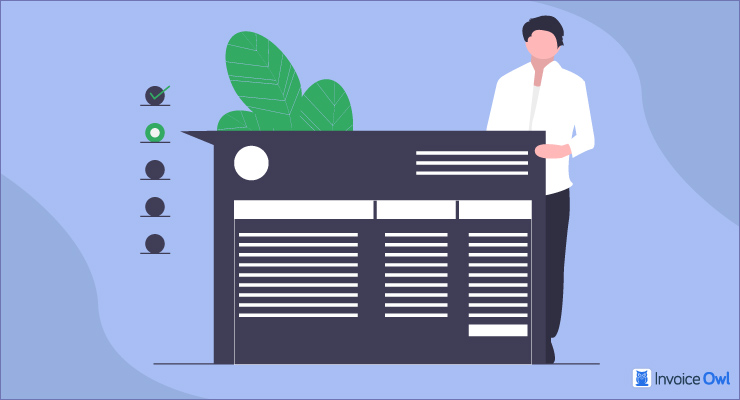 You need to inquire about the total service you are paying for, so you can request a quotation for the service you're seeking.
What is a Quote?
A quote is a watered-down analysis of different charges that add up to make the total cost of a service or line items rendered. A quote cannot be altered once it has been agreed upon by the service provider and the customer.
When Should You Send a Quote?
A quote is usually sent upon request by the customer. When a customer calls to make an inquiry about the service or line item you render, and you are ready to take up the job, the next course of action is to send a quote of the project breakdown.
You should issue a quote and ensure a formal agreement should be reached between you as the service provider and the customer before you start work.
To the customer's understanding, a quote is a documented record to look into as they browse other competitors to compare the differences in rates. When you email a quote and a formal agreement is reached, this shows, you are more professional on the business side than another vendor that sends a quotation over a text message with just the total amount. Your quote can easily be referenced compared to a text sent to notify a customer of the total amount to maintain the cash flow.
Why Should You Send a Quote?
A quote clarifies the client on what they are going to be spending on. It also helps to ask the service provider that every service you render in the course of executing the job is accounted for, including any purchase you make to complete the job.
A quote also serves as legal proof of an agreement between both parties, the service provider and the recipient of the service or line item. With the quote, you can be sure that you'll get what you worked for after the whole job has been completed, based on the documented terms of the agreement. It can also be used in settling disputes between an employee and an employer, while the job is being executed.
What Should Your Quote Include?
Aside from the payment breakdown, there is vital information that should appear on the quote:
Select a template

Add company name and logo 

Add client information

Include the quote number

Enter a date of issue

Add products or services

Mention your terms and conditions

Payment method option details

Include notes
In addition, a detailed outline of the job should be stated in the quote. This outline includes hard cost; what is to be purchased for the job to complete. The quote will also contain every cost or labor input until the job is completed.
If you wish to make your pricing look professional, you should read up on how to price your services, including other details that were discussed with the client during negotiations.
Some quoting features or programs will help you custom quote templates just like a typical sample below. Just a few clicks of the invoicing software and you can send the full quote to your client via email. It will also help you maintain your business finances in just a few clicks. It can help you in order management, order fulfillment, and maintaining your sales team, finance team, and customer information at the same time by providing an outstanding browsing experience.
Some website functionality also offers to make payment in dollar amounts or in other currencies. It also saves credit card, debit card, and bank information including advance payment terms for making invoice payments in one platform. 
For small business owners, the advantage of knowing how to write a correct quote that covers all expenses and services to be rendered is a great addition to your skills.
How to Request an Estimation/Quote?
A small business owner might request a quote in case they need to hire a specialist or a contractor/subcontractor for a job. For that, they need to send a "request for a quote" to not just one vendor, but to the multiple vendors, who can send them price quotes.
A quote request should be clear and concise that mentions on what date the customer wants the quote. Customers need to include the quality of products they intend to opt for. For services, they need to specify which one they want to choose. Also, for the comparison, they can mention special requests they are interested in.
Difference Between a Quote and an Invoice
Many times people get confused with a quote and an invoice. So let's take a look at both of them to know them a little better, and get the best out of them. 
A Quote
A quote is known as a formal estimation that shows the estimated amount for the proposed products or services. It can be verbal or written, may or may not be the same as the end product delivered. A quote lets customers know how much they will owe at the end of the projected work or services, and it also ensures they should expect the payable amount. 
Usually, a quote is valid for 30 days from the time it was issued, and it can be readjusted as per the client's requirement. For example, you have sent a quote to the client but the client wants to make changes in the services you have offered as per their budget and requirement. It will be possible with the estimations because it is not the final invoice. You can easily regenerate the new estimation as per the needs. 
An Invoice
On the other hand, an invoice is a detailed document that includes a list of products or services that already have been delivered. Apart from that, the invoice also includes due dates, payment terms and conditions, taxes, and preferred payment methods. An invoice is also considered as a legal document from which the vendor can provide an invoice as proof for legal actions in case it is not paid on time or crossed all the notices. So, the invoice will be considered as the final document to get paid.