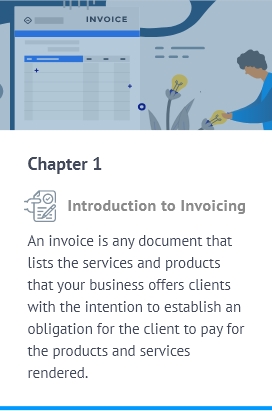 Chapter 1
What is Invoicing?
May 25, 2020
Introduction to Invoicing
The Oxford English Dictionary defines an invoice as a list of services provided or goods sent, with a payment statement i.e a bill.
In other words, an invoice is a document that lists the services and products that a vendor provides to purchasers intending to establish an obligation for the purchaser to pay for the products and services rendered.
Invoicing is an important concept especially for growing businesses, as an invoice acts as the most important business document that helps companies get paid for their services.
Many professions use invoice templates to create invoices. These templates are time savers since you don't have to repopulate the same information whenever you create an invoice.
If you wish to learn more about this, InvoiceOwl is a ridiculously intuitive invoicing software.
Invoices are very important for both the business and the client. Small businesses use invoices to facilitate partial payment and early payment too by notifying the client of the amounts due for a particular service provided. For clients, an invoice is used to record and organize expenses with itemized details.
Invoices can best be described as the backbone of the online system for emerging companies. An invoice informs the client of their bill, the due date for payment, total cost, and the particular service that warranted the bill down to the littlest details.
The topics discussed and questions answered below, will mostly cover all you need to know about invoicing.
Basics of Invoicing: Mastering The Process
Invoices are used as the base record for accounting in a business. When you generate the invoice, it can be extremely useful for recording all transactions a business company makes with a client. Many professionals use bills for a variety of reasons, including:
To keep track of sales
To record business revenue
To track inventory for products
To ask for payments in a timely fashion
To predict potential sales using historical data
Why is Invoicing Important?
Invoicing is considered a pillar of the accounts and sales processes for all businesses. Still, many professionals wonder how invoices work?
Well, it is the record that a company has provided the goods or services to the client. An invoice created with a proper process and format is considered a legal document.
Having invoices is important for the firm to keep a trail of payments and sales, stock levels, and balance sheets. They can also use invoices in case of overdue payments and take follow-ups with the most formal approach.
Basically, the invoicing tool is the way to collect and track the payment that a seller owns to a buyer.
Why Send Invoices?
An invoice is a good way for vendors, small businesses, and freelancers to bill clients for service rendered.
Below, we have highlighted the most important reasons why you need an invoice:
Record keeping is one of the basic uses of an invoice. An invoice can be used to track the delivery date of goods sold, the amount paid, and if there is any outstanding debt. In accounts, an invoice plays a crucial role in tracking sales and income.
It is crucial to maintain and save all sales invoices for tax objectives. The IRS suggests companies keep an active summary of all balance sheets and cash flow, which invoices help with.
Invoices help the company when it is time to file taxes ensuring the correct payment amount is received and eliminating any chance of errors.
Invoices can be a protective measure against civil lawsuits and fraudulent scams. An invoice proves that specific good or service was delivered at a certain time. A customer's signature on the invoice can come in handy, in the event of a disagreement between the vendor and client.
An invoice proves the sale occurred and provides specific details regarding pricing and delivery.
An owner that uses invoices can utilize sales data to target the company's customer base. A good example is when businesses include data such as products sold, date of sales, and the price of goods sold.
Marketing firms curate this information to identify peak purchase periods, earning trends, and popular products. This is useful for creating business marketing strategies.
Moreover, invoices are a great way for brand awareness. By designing it in your brand colors with your logo and motto, you can set a brand image.
What are the Important Elements of Invoicing?
Usually, an invoice should have the following information:
The title 'Invoice'
A unique reference number or invoice ID
The date of the services/products rendered/delivered
The date of invoicing
Company name and contact information of the seller or supplier
Registration number of the seller
Purchase orders' number
Name and contact information of the buyer
Detailing of the line items/services
The rate of the products/services
The total amount and applicable taxes
Payment terms
Due date
Preferred payment methods and Payment link
Payment policy
Thank you note
Do Invoices Need an Invoice Number?
Yes, invoices must have a unique ID number. An invoice without a unique ID won't be useful when the vendors have to trace the transaction related to partial payments or advance payments.
What Is an Invoice ID?
The invoice ID is a number unique to each invoice generated by a company. The invoice ID is a significant invoice excellent because it acts as an identification to pinpoint individual transactions with customers.
It can include both letters and numerals. While an invoice doesn't require the invoices ID to be numbered sequentially, it is advisable to employ a consistent invoice ID system to avoid issuing the same number of the invoice, multiple times.
How Can I Assign Invoice Number?
There are many approaches that businesses use to assign invoice numbers. Among these approaches, the most common are::
Sequential Approach
A sequential process is the easiest way to assign invoice numbers. It remains the default option used by the majority of cloud-based invoice software.
To use the sequential process, you need to start with any number and then assign the best number in the sequence for future invoices. A good example is this:
#Inv-001
#Inv-002
#Inv-003
Assigning invoice numbers in the sequence is the best way to create new invoices without the fear of assigning duplicate invoice numbers.
Chronological Approach
The chronological method of assigning the no. of invoices involves sorting all invoices according to the date of generation. The first set of numbers of the invoice ID must always refer to the date. Next, the number for the invoice will include a unique no. specific to that particular invoice. Any date format is accepted for chronological numbers of invoices.
For example, you generated an invoice on February 17, 2020, and the unique ID is 0098, your no. for the invoice should look like this: 2020-02-17-0098.
By Customer ID
In some cases, certain businesses attach a unique customer ID to the customers, hence, you can assign a no. for the invoices to the customer ID. Using the customer ID process is similar to the chronological numbering in many aspects.
In this case, the invoice ID starts with the customer ID no., and then the series of unique numbers follow suit. For example, if the customer is assigned a client ID no. of 057 with a unique no. of 003, the customers' process for an invoice ID no. will show the ID as 057-003.
By Project ID
If your company works on different projects at the same time, then it is advisable to use project ID to assign the invoice number. Many businesses in the construction industry employ this approach when requesting payment.
To use project ID to assign the no. of invoices, the beginning of your invoice no. will be the project ID while the latter part will be sequential to differentiate between invoices for the same project.
For example, if you have a project ID 6221, and you need to create an invoice, the invoice number should be 6221-001.
What Does An Invoice Look Like?
A standard invoice looks simple, readable, and easy to understand while providing specific details on the service rendered and the amount to be paid by the client. Standard invoices must include the following :
Business contact details
Invoice number
Owed amount
Itemized list of services or products delivered
Client contact information
Payment method and deadlines
What is the best way to prepare an invoice?
There are many ways you can prepare an invoice. But there are three most common ways a service provider or a company owner can create professional invoices easily.
Using a template

You can have an online tool, software, or manual platforms like Microsoft Word or Excel, Google Docs, or Spreadsheets, PDF. These platforms provide professional invoices that are quick to customize and easy to fill in.

There will be plenty of template options to choose from. Templates are usually designed considering common branding patterns so that most businesses can easily relate to that template.

This also allows the businesses of any industry to make changes according to their company needs and their branding patterns. Such platforms and templates also can send invoices through an email or print them out and send physical copies to their clients.

Using accounting software

There are many accounting platforms available in the market that allow you to create an invoice and send your own branded invoice online. Some will let you send reminders for the late payments and notify once the clients receive the invoices.

Apart from that, such an accounting generator also allows you to manage your regular account needs and also allows clients to make a payment through credit card, internet banking, or third-party tools like PayPal so that you can get paid without any trouble.

Fill out a paper invoice

If you want to have a completely customized and hand-printed invoice and want to stay away from the computers, you can always fill out a physical paper-based invoice form.

You can have readymade invoice pads which you will easily find at most large office suppliers or you can find them online. Sending paper-based invoices might sometimes delay payment from the clients.
Free Online Invoicing
Online e-invoicing tools make it easier for businesses to create and send electronic invoices. Such cloud-based online software is available any time for users with an internet connection, smartphone, computer, or tablet.
When you start using a good billing software or invoice generator, it provides outstanding professional templates that are suitable for your business needs.
Apart from this, it also fulfills your demand for legal requirements and tax objectives. Using these online invoice generators, you will be able to include all the essential details such as the table of contents, company registration number, business information, purchase order, payment terms, due date, sales tax and help you set reminders for the electronic invoices you have sent and overdue invoices.
Online billing is the best suitable and preferred method to save all the invoice info on the cloud. It has invoice settings that help companies set reminders through the invoice settings option and help you receive payment as per terms through credit card or PayPal quickly.
Many companies have started using online billing tools for their firms because it saves lots of time and effort they take in creating invoices from scratch. These tools are very convenient and helpful for many professionals to maintain all the accounts needed from one platform.
Types of Invoice Templates
If you are running a small business and want to collect payment regularly, you might not want to spend lots of money on expensive billing software.
In that situation, there are some quick templates that you can have free of cost. Using such templates you can quickly create professional invoices that help you get paid quickly. Here are the simplest and most effective formats that you can apply to present your invoice.
Microsoft Excel Template

Microsoft Excel (Version 2007 or later) has free basic invoice templates that are sufficient for small firms. With Excel invoice templates you can have simple calculations for totals and subtotals along with taxes.

It is ideal for solving complex equations and creating professional-looking invoices that will help you receive payment instantly. You can choose a suitable template from the tool's template gallery that is easy to download, edit, and send.

Microsoft Word Template

If you are not comfortable with Excel Sheets, you can also create your invoice using MS Word (Version 2007 or later). It provides exclusive invoice templates that are easy to fill in and customize.

You just have to download the invoice template of your choice, add necessary business-specific information such as product or service description, prices, total amount, due date, sales tax or GST, and payment terms.

Basically, you can give it a professional touch in your unique style with such ready-to-use templates and get paid in the quickest way possible. Templates created using word also enable you to attach the link for the payment and help you get paid without taking much hassle and get the payment receipt.

Google Doc and Google Sheets Templates

Google Docs and Google Sheets work similarly to MS Word and Excel works. The only difference is Google Docs and Sheets work online and auto-saves the information on the cloud whereas details added in .docs and .xls work offline and save the information on the computer.

This feature makes Google Docs and Sheets more comfortable for business owners who travel from one place to another place. They can access their invoices from anywhere and make changes to them anytime and send them to the clients. Google also provides outstanding invoice templates for the ease of companies; you just have to open the invoice you would like to practice and start editing it and send it.

Google also allows you to attach the method to make an immediate payment from where clients can send you money straight from their bank accounts, credit card, debit card, or cash and get the payment receipts straightaway.