In the current tentative financial market, the growth of the business can severely hamper by the slow payment flow of invoices. If businesses serve without getting paid on time, then their finances will get impacted in a big manner. Therefore, business owners must ensure that they are following invoicing best practices. They should make an invoice template for Word and Google Docs or use any free invoice generator to avoid tough scenarios of not being paid on time.
Invoicing is an important aspect of the accounts department of any business which refers to the total amount that must be paid for the products or services procured. Therefore, invoice processing must be executed systematically and that should make an impact on the client no matter which invoice format you choose whether it is an online invoice generator or it is a manual template using a free Word invoice template or Google Docs. Your template for the invoice should be with a professional layout.
How to Stand-out by Customizing Invoice Templates
As a B2B or B2C organization, you will bump into thousands of invoices daily. Poor management of invoices can result in delayed payments or a cash crunch. Not only this, but it will have a serious impact on your market reputation.
Thus, it is important to stand out in the market with professionally formatted invoices, organized accounting, and regular interactions with clients. If you lack any of these, that might cause a problem for your business. To help you with the invoicing process, we have created some Tips & Tricks to Create a Professional Invoice.
Now you know all the invoicing hacks but confused on –
How to get started?
What to choose? and
Which tool is best?
Well, this blog is for you. Let's get started with choosing the best suitable professional invoice template for you which can take control of your business invoicing.
Try our free online invoice generator today!
Whether your business is in construction, landscaping, consulting, photography, auto repair, or the medical field, invoicing takes way too long. That's why we're here. InvoiceOwl makes your invoicing faster and simpler so you can get paid promptly and without the hassle.
Get Started Now
The Best Ways to Create Professional Invoices
When it comes to choosing a suitable invoice template, it is important to consider your branding style, your business goal, the services you offer, and your clients' needs. The best invoice template should allow you to bill professionally for the services you have provided and get paid straight away.
There are types of invoices available in the market that you can check out and/or get professional advice from the professional invoice service provider. You can also create a unique and modern template using MS Word, Microsoft Excel, or Google Docs which gives you the freedom to play with space.
Let's make an Invoice template using Word or Google Docs and learn each of them in detail.
How to Create an Invoice Template Using Word
Microsoft Word offers fully customizable templates for generating invoices to suit your business needs. With Word, you can create an invoice template from scratch without any accounting software, however, the simplest option is to use Word's existing templates according to your need. Once you select the template, you need to download and fill out the necessary information into it.
Generally, you do not need a Microsoft Office subscription to utilize Microsoft Word's online invoice maker which has more than a hundred online invoice templates, but editing invoices online requires a subscription.
Microsoft Word provides templates for generating invoices that you can customize according to your branding needs. It also helps you update the color, fonts, style, alignments, and other layout elements. Some of these invoice templates include a pre-designed space to upload your business logo to help identify your business or company to your clients.
Once you finalize a template you want to try, you can start playing with it.
Let's start with the basic template using Microsoft Word following some simple steps.
Open Microsoft Word
Click on File
Select New
Write invoice into the search field,
Check out all available invoice templates.
Choose invoice template
Use the "Download Button" and download the invoice format
Double-click to open the word template
Customize the invoicing template according to your branding needs
If the invoice template has a separate place for your business name and/or logo, click the box around the text that says, "Add Your Logo Here".
Add contact details, invoice number, and any relevant information
Click on Insert and choose Picture, then browse for your company logo, select it, and choose Insert. (You can only include .jpg, .gif, and .bmp.)
Delete unwanted fields that you do not want to use.
You can leave the fields blank if you want to add the information later on. For example, the date you may need to add later on or you want to hand-write client information.
You can also change the shapes, lines (dotted or solid lines), and colors of the text wherever needed using the tools available.
Add your company's terms and conditions.
Review all the information carefully and save.
Pros and Cons of Word
Pros
Includes standard invoice templates i.e. service invoice, statement of work, sales invoice, etc.
Cannot use formulas in MS Word invoices
Cons
Flexible and fully customizable to get startedSending invoice process isn't automated
Send an invoice as a pdf attachment via email or print it and post
Clients must make the payment manually and take extra steps after receiving the invoice.
How to Create an Invoice Template using Google Docs
Creating an invoice template does not require hiring a designer or an accountant to get it done right. As a small business owner, you need to see that Google Docs gives you the freedom to create invoice fully customizable templates that are suitable for your business needs on your own absolutely free of cost. This way it helps small businesses control their expenses.
Google Docs helps you create detailed and smooth invoices for your business. Simply, just download the template, customize it according to your business branding (Add logo, products, prices, sales tax, VAT, GST, etc.) and send it to the clients.
To make it easier for you, here are simple steps that you can follow:
Log into your Google account with ID and password
Go to Google Docs
Download the "Google Docs Invoice Template"
Name the document (E.g. – "business name + invoice template")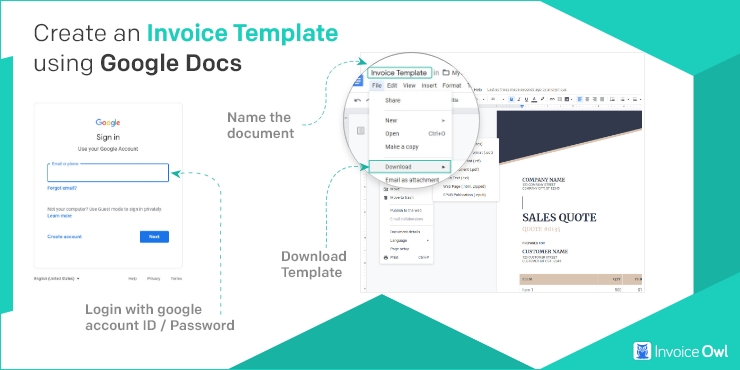 Personalize your invoice template by filling in invoice numbers, invoice date, invoice amount, your business details (logo, business name, business contact information, mailing address), customer's details, products/services, costs, taxes, payment terms and thank you note.
You can make thousands of copies from the invoice template. You just need to select "Make a Copy" and rename the new invoice document (E.g. "Client name + invoice date")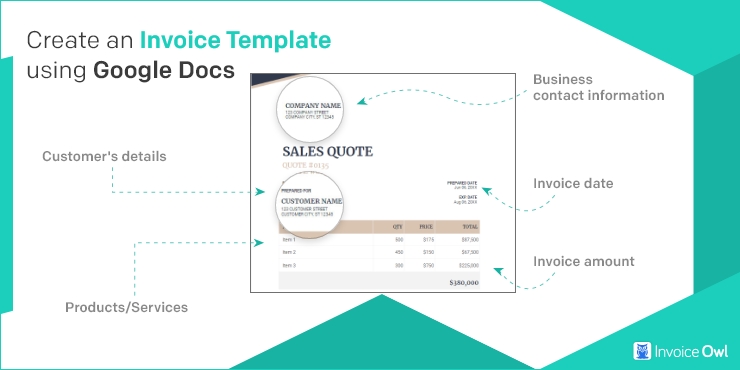 Add payment methods in the invoice template
Cross-check all the information before you send it to the clients.
Share the invoice with your client by entering your client's email address.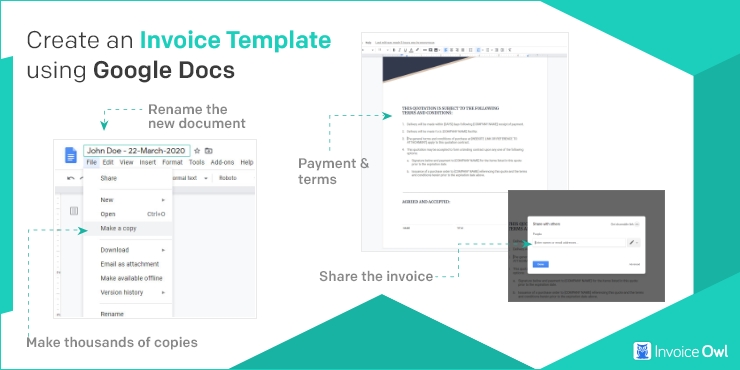 Pros and Cons of Google Docs
Pros
Easier for multiple users to work in the same document
Make real-time collaboration, edits, and adjustments to the invoice template to save time
Allows sharing the invoices with specific people by creating a link to the invoice.
Cons
Customization seems a little limited in Google Docs
The editing tools are not powerful
It can't work without the internet especially when you need a document at a remote location.
Microsoft Word vs Google Docs: What are the Differences?
Now, you must be thinking, both Microsoft Word and Google Docs look similar and their features are also quite similar, then why should you compare both before making any decision? The answer is, they look similar but are different in many ways.
Let's find out the major differences of each platform that may help you decide the best suitable option for you.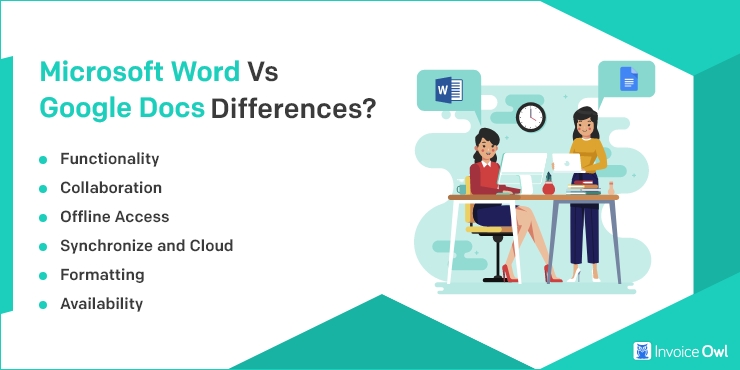 Functionality

When it comes to functional capability, Microsoft Word has more features for invoice templates compared to Google Docs. The core reason for this is, Microsoft came before Google Docs and had more time to build up and analyze a stronger piece of functional software.

The advanced features of the blank Word invoice template have well-organized table formatting and controls, more options for text styles, and smooth image and graphic implementation. Not only this, page numbering, header, and footer are also some of the core functionalities included in the Word invoice.

Word also has far more powerful invoice templates, which can speed up the work and save time. The lists and bullet points are also more convenient than Google Docs. The issue with Google Docs is sometimes people face small issues such as line breaks are added, formatting is lost, and bullet points are removed.

No doubt that Word download has the most advanced functional capability. That doesn't mean that Google Docs is not useful, in fact, when you are making a free Word invoice template the functional capability is only useful when the user knows all about the more advanced functional capability.

So, for the functionality – the winner is Microsoft Word

Collaboration

Now that Microsoft 365 takes Word to the cloud, Microsoft Word and Google Docs both are having collaboration features.

However, Google Docs wins in the collaboration category for several reasons.

Firstly, Google Docs has the option to share files and securely store them in the cloud using Google Drive. It becomes easy to locate and navigate the files you have shared, and other people have shared with you. Sharing is easier with Google Docs by just clicking File>Share and create a link. Instead, you can send out emails to the individuals, too.

The specialty of Google Docs is it has the facility to control who can see, edit, and comment on the shared documents. Because of this feature, people believe that Google Docs is a great platform to create invoice templates with special rights.

On the other hand, Microsoft also allows collaboration – you just need to click on the "Share" button in the top right corner, then save the document into the OneDrive and then add the names of the person you want to share the document with. Contrasting to Google Docs, you are forced to send the invoice template to a specific person, so it will be difficult to share access to the invoice template with more people.

The winning feature of Google Docs is the timeline feature that illustrates all the edits made in the past and who has made those edits. At any moment, you will have the option to revert to an old version of the invoice template or simply preview the old version to compare changes.

Offline Access

Without a doubt, Microsoft Word is the best option for those who need offline access for creating a Word invoice template. As we are discussing making invoice templates, a platform like MS Word gives you the power to generate new Word invoice templates offline whether you are using Office 2019 or Office 365 and once you are online you can get that uploaded to the cloud.

The main benefit of using Microsoft Word offline is that you won't lose any functionality. However, co-authoring is not possible when you are working offline. On the other side, Google Docs has very limited features when the internet is not functioning. That means, by default Google Docs does not have the offline facility to create invoices.

However, you can turn on "offline" mode from the setting menu using Google Docs offline Chrome extension (If you are using Chrome as your browser), but there is a little problem with this extension. Many reviews from the users suggest that the extension does not work properly or functions sometimes only.

The clear winner for offline access is Microsoft Word for creating Word invoices as it has been built to be offline from the very beginning.

Synchronize and Cloud

The good news for the users is now Microsoft Word and Google Docs both have great cloud capabilities. If you want to open, edit, and sync your Word invoice automatically online with Microsoft Word, you will need to be an Office 365 subscriber.

On the other hand, with Google Docs, your invoice template will be saved automatically and sync to the cloud. In fact, the process of saving your invoice template will run every time you make a change, so you never have to worry about saving the document.

On top of this, you can look at all the changes from the beginning of the time you have started making an invoice template saved in the Drive. Luckily, both Google Docs and Microsoft Word can be accessed on all the major platforms i.e. Android, iOS, Mac, Windows, and the web.

So, in this case, Microsoft Word and Google Docs both are very close in this section, but we can say Google Docs is a little ahead with its auto-save sync and cloud feature.

Formatting

Without a doubt, Microsoft Word wins in the formatting section. These feature in MS Word is much easier than it is in Google Docs because Google Docs has several issues when it comes to arranging an invoice template, such as it doesn't have some options that Microsoft Word has from the beginning.

Another key point is when attaching tables, images, or spreadsheets from excel, there is no guarantee that the file another person will open will be the same as it was formatted. In this case, Microsoft Word Doc does not have this issue with formatting.

Availability

Well, if we talk about availability, Google Docs wins this because it provides free templates and you can access them by just having an internet connection. Basically, Google Docs is slightly less feature-rich compared to Word. But, when you consider it is completely free of cost you can utilize the available features at your best. On the other hand, Microsoft Word is not free. You have to either pay monthly invoices or one time for Office 365 or to use the full features of the Microsoft Office 2019 package.

Microsoft Word and Google Docs are next to each other but in many areas, one is good and one is bad. It is all about your preferences and your priorities. you need to choose whatever is best suitable for your business needs.
Choose What is Best for Your Business
As a business owner, you need to take care of your clients' expectations when it comes to generating an invoice. They will appreciate receiving an invoice that is customized for them and summarizes all the products and services they have opted for.
The invoice template you are going to send is also a key document for your business as it will help you track the payment details and due date to assure you get paid regularly and on time. Business owners need to be more concerned about all these things when you or any of your team members are generating an invoice for the clients.
So, you must choose what is best for your business invoice and what goes well with your business branding.
Frequently Asked Questions
1. Does Microsoft Word have an invoice template?
Yes, Microsoft Word offers a variety of invoice templates. You will have many options to choose from invoice templates such as service invoice, statement of work, sales invoice. You can also create your own invoice template using Microsoft Word.
---
2. How do I create an invoice template in Microsoft Word?
As a business owner, it is obvious that you are not the master of graphic designing but Microsoft Word gives you the flexibility to create invoice templates easily. We have given you all the steps in the above blog that you can follow while creating invoices using Microsoft Word. Still, if you have any queries regarding creating an invoice using Microsoft Word, you can contact us. We will be happy to help you.
---
3. Where is the invoice template in Microsoft Word?
First, open Microsoft Word. Go to New document. Select "Invoice Template" from the Template section. You can also download a free invoice template from the online tools and edit them in your blank word invoice template. Free invoice templates are also available in Microsoft Word, you can choose one of those and personalize them according to your need.
---
4. How do I make a simple invoice?
It is very easy to make a simple invoice. If you want to create a basic invoice template, you can simply use Microsoft Word. You just need to start adding information and create basic invoice templates according to your business requirements. It is better you create at list one template on your own before you start using available invoice templates. Microsoft Word offers some simple invoice templates that may fulfill your requirements. Microsoft Word also gives a professional layout to your simple invoice template with preloaded basic information.
---
5. Is it mandatory to include a privacy policy in the invoices?
It is not mandatory to have a privacy policy in the invoice template. But, some business owners ask for it due to privacy reasons and some business owners also prefer such policies for transparent business terms.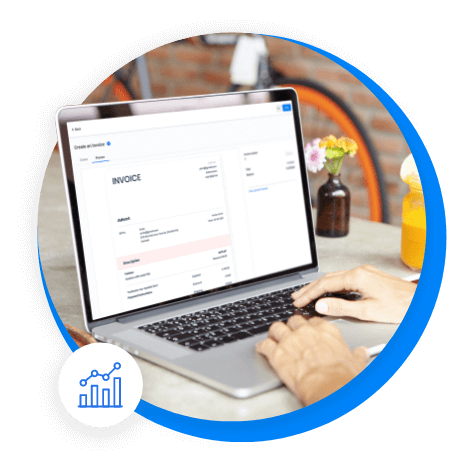 Create Professional Invoices Online Easily and Keep On Top of Your Finances
InvoiceOwl is a feature-rich invoicing app that helps small businesses, freelancers and contractors to create invoices on-the-go and get paid quicker!
Get Started for FREE
Conclusion
Now you know, you do not need accounting software to create invoice templates. Microsoft Word and Google Docs help you to create templates easily.
However, they do not help you keep track of sales, customer information, and nor help with accepting multiple payment methods. Thus, if you are looking for a complete accounting app, simply download the InvoiceOwl app to get more templates, create unlimited invoices, and take care of all your accounting & billing tasks.