Sometimes, it's necessary to make a purchase on credit. And when your business does purchase goods or services on credit, you'll see an accounting entry called "Accounts Payable" on your balance sheet.
Almost every business follows the accounts payable (AP) process to manage invoices and debts of the company and can benefit from automating at least some of this process.
You can automate AP integration to save time—and money.
But many business owners don't know what accounts payable automation is and how they can automate accounts payable. So, let's take a look.
What is Accounts Payable (AP)?
The money which a business owes to its suppliers is accounts payable.
For example, when a company purchases essential goods and services from a service provider, especially on credit, intending to pay the amount back in a short time. That specific amount is referred to as accounts payable.
Before we understand the basics of accounts payable automation, it's essential to understand accounts payable process.
The accounts payable (AP) department must follow a standard set of procedures before a vendor makes payment.
The AP process includes the following metrics:
Receiving the bill;
Reviewing the bill details;
Updating records on receiving the bills;
Making a timely payment.
Try our free online invoice generator today!
Whether your business is in construction, landscaping, consulting, photography, auto repair, or the medical field, invoicing takes way too long. That's why we're here. InvoiceOwl makes your invoicing faster and simpler so you can get paid promptly and without the hassle.
What is Accounts Payable Automation?
Accounts payable automation (AP Automation) refers to the technology that is used to streamline and automate the accounts payable process.
AP automation simplifies your work by processing supplier invoices and provides a digital workflow to manage every step followed by an AP member.
In other words, AP automation also refers to the tools or processes that eliminate manual processes of accounts payable and automate the entire process using its background elements.
Accounts Payable Automation Flow
AP automation enables companies to process suppliers' invoices without any human intervention by providing digital workflow. This digital workflow manages every step that is usually handled by the AP team.
The standard accounts payable automation initiates its process by capturing invoice data in a digital format; for instance, it captures invoice data through scanning methods, such as OCR (Optical Character Recognition).
The OCR scanning process is very easy, and you'll come across many tools that make it easy to scan invoices.
Once it captures the data, it will manage the invoice's coding and routing, maintaining the digital workflow. This workflow will generally function based on the specified logic configured in the firm's accounts payable automation software.
You can easily integrate the payment automation flow with your company's ERP systems (Enterprise Resource Planning) for transferring the data seamlessly. In addition, it will help your business avoid damaging the ERP systems or businesses' other IT resources.
By using AP automation flow, vendor management and AP staff provide clear visibility and reporting capabilities in invoices and transactions across the organization.
With the systematic payment automation flow, businesses can have significant cost savings by eliminating manual tasks. In addition, businesses can optimize their vendor portfolio, avoid erroneous and duplicate payments, and take advantage of early payment discounts.
How to Automate Accounts Payable?
After looking at the detailed information on the accounts payable process, it's time to see how you can automate accounts payable and improve the cash flow in your business.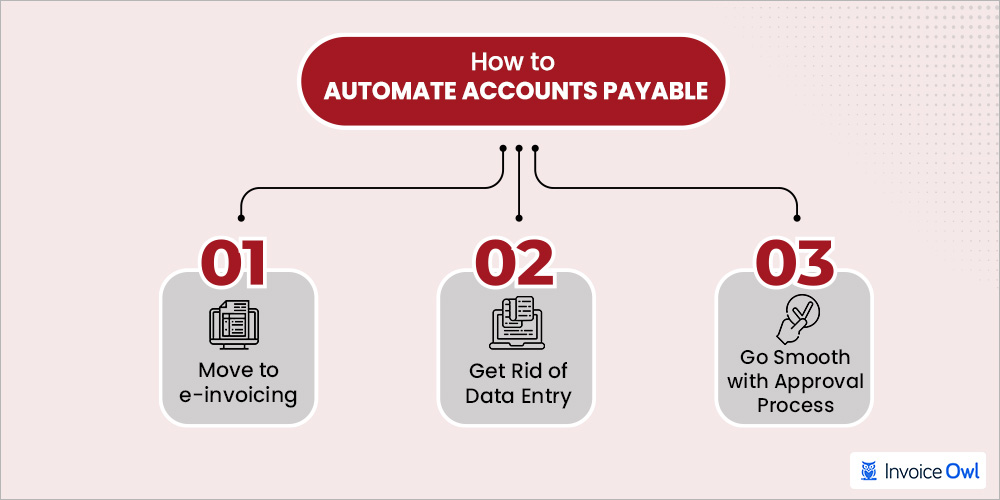 Move to e-invoicing

The primary role of the accounts payable process is to receive the vendor invoice or any request for payment from the customers.

By adopting the digitized format, you can effectively improve the entire workflow of your business. It is made possible by using the standardized method for invoice captures like PDFs, JPGs, PNGs, DOCXs, emails, faxes, or even a physically mailed paper invoice.

By shifting to e-invoicing, it becomes easy for you to work with your vendors and clients to process all invoices electronically. It will not only save your time but help you to get rid of losing essential documents by cloud document management.

Get Rid of Data Entry

Automation is an essential factor that helps you get rid of manual accounting processes, and data entry is one such possible factor. Unfortunately, manual data entry is a time-consuming and error-hidden activity in any business.

OCR systems take care of everything and help you to capture data through accounts payable software. For example, you just need to load your invoice data in the OCR system and make your accounts payable process smooth.

Once you load the invoice data in the OCR system, you can store it in an accessible medium like a smart spreadsheet or CSV file for future preferences.

Go Smooth With Approval Process

Having an automated account payable process workflow makes it easy for any business owner to route each invoice to the customers on time.

It becomes of prime importance for any business owner to first verify an invoice before sending it to the customers.

Let's say an invoice for a new inventory arrives. First, it will be sent to the person who created purchase orders effortlessly. Then, likewise, it will be redirected to the senior authority and finally to the CFO or financial admin for the final approval.

So, both the customers and service providers will have precise data and an accurate approval workflow. Moreover, there will be no chance of lost paperwork and no lost time.
Benefits of Using Accounts Payable Automation
Here are some of the advantages that companies need to look into before investing in automating accounts payable.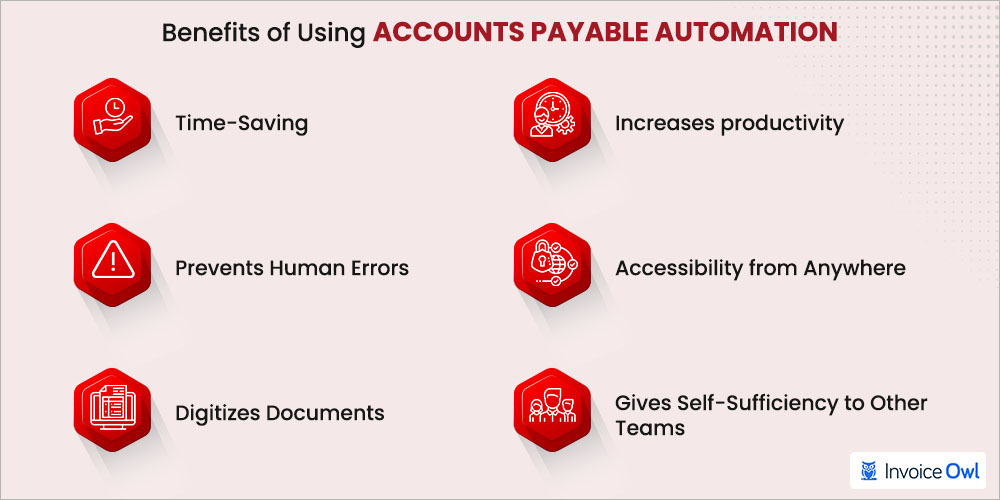 Time-Saving

It saves time and energy AP teams invest in checking purchase order forms and doing manual data filling for invoices using accounts payable automation.

Now, an AP automation software powered by artificial intelligence does these slow, repetitive invoices work instantly with clear visibility and control.

Prevents Human Errors

Humans tend to make errors while performing manual tasks. On the other hand, computer-generated programs like accounts payable automation can perform the same tasks without any mistake because they are coded to stop errors and are very easy to use.

Digitizes Documents

Traditional paper filing is an old-school way of storing paper invoices and other critical business transaction records easily manipulated or misplaced.

Accounts payable automation saves the entire documents digitally on the cloud and can be quickly restored if any hazard occurs.

Increases productivity

Accounts payable automation saves time as teams do not have to perform the same manual tasks. In other words, your team will have more time to focus on other essential tasks that software can't perform.

Thus, accounts payable automation will increase the employee's productivity for the essential part of the accounting process and help the business grow in the right direction.

Accessibility from Anywhere

When you are functioning with paper-based processes, you need to stay in one place and work accordingly. For example, you need to file your documents in the right in-tray and in the right cabinet to access them properly.

In this case, if you opt for AP automation, so you do not have to be at the same place, you can work and access your accounting system from anywhere with internet access as all your data is stored in the cloud for easy access.

Gives Self-Sufficiency to Other Teams

If you choose a well-functioning, intuitive AP automation solution and accounts payable processes will become self-sufficient and accessible for all the other team members, not only the finance team.

Not only this, other teams will be able to complete their tasks quickly without having any dependency. That means they don't need to wait for the other team to complete their task, and then they will start their work.

They can immediately track the work and finish the task without any hassle. You will find plenty more advantages the longer you use any good AP software and continue to grow your business.

For those new to accounts payable automation, we will discuss how to select an appropriate AP automation solution that makes your work easier and faster than you have ever thought.
Frequently Asked Questions
What is automated invoice processing?
Automated invoice processing is a process of extracting invoice information, integrating the invoice data in an accounts payable automation system, and processing those invoices for accounts payable using automation functionality. Business owners will save valuable time and money for their accounts payable department when they use this method effectively.
---
What is the accounts payable workflow?
The accounts payable workflow is a process to determine the correct workflow of the invoices before the payment is processed for the audit trail. Automatic accounts payable workflow is more accurate and easy to use than the manual workflow. In addition, this workflow makes the invoice approval process easier and quicker for the AP department to follow.
---
What are the accounts payable life cycles?
The accounts payable full cycle is the entire process of having invoice data capture, coding invoices with accurate account transactions, approving invoices, matching invoices with purchase orders, and posting for payments.
---
What is the difference between accounts payable and accounts receivable processes?
Generally, accounts receivable (AR) refers to the total amount owed to a company or firm for goods or services but that has not yet been paid. Whereas accounts payable (AP) is fundamentally the opposite of accounts receivable – it is the total amount that a company owes to other organizations or businesses.
---
What is touchless invoicing processing?
Touchless invoicing processing or paperless invoice processing is invoicing with help of invoicing software such as InoviceOwl. It lets you process an invoice without touching a single piece of paper. These accounting systems store all the data on the cloud and help you send the invoices online.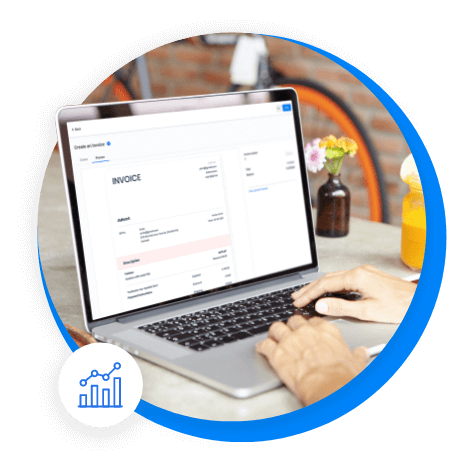 Get Paid Quicker With Our Online Invoicing Software
InvoiceOwl offers you a free invoice generator that allows you to create invoices and makes your accounting process easier than ever.
Conclusion
Nowadays, businesses are adopting emerging technologies, yet most AP departments are still using a paper-based invoice processing system.
However, they are finding a better way to keep their business payment process up-to-date in this technology era through accounts payable automation.
As we have seen, accounts payable process automation is a procedure of minimizing human interference and getting rid of error-prone tasks from the accounts payable process.
You can initiate to improve your business productivity by adopting online invoicing software to create and manage invoices for your customers.