When you are dealing as a small business owner you need to measure the actual invoice cost. You might have additional costs for creating and sending an invoice such as paper, ink, envelopes, etc. You might also have indirect costs as well such as hiring additional employees just to maintain those piles of invoices. In this case, accounts payable automation software comes forward to rescue your business efforts. In this blog, we are going to discuss all the details about accounts payable automation.
From a management perspective, if the accounts department is committing too many errors during their AP processes, the natural reaction of a business owner will be to double-check or monitor the workflows to prevent the errors. This can be done through accounts payable automation. But many business owners don't know what exactly accounts payable automation is and how they can automate accounts payable.
What is Accounts Payable Automation (AP Automation)?
As per the definition, accounts payable automation (AP Automation) refers to the technology that is introduced to streamline and automate accounts payable processes. This automation technology also removes manual tasks and provides better visibility and control over important financial transactions and data.
In other words, AP automation also refers to the tools or processes that eliminate manual aspects of accounts payable and automates the entire process using its background elements. AP automation lets accountants submit and approve invoices and orders digitally instead of sending them physically. Some of the tools are able to read invoices and extract information themselves which means you or team members don't have to worry about the data entry task while having such helping tools.
The entire goal of having an automated process is to move faster, reduce errors, and help businesses scale without any hassle.
Now let's understand what accounts payable automation flow is and how it works.
Try our free online invoice generator today!
Whether your business is in construction, landscaping, consulting, photography, auto repair, or the medical field, invoicing takes way too long. That's why we're here. InvoiceOwl makes your invoicing faster and simpler so you can get paid promptly and without the hassle.
Get Started Now
Accounts Payable Automation Flow
AP automation enables companies to process suppliers' invoices without any human intervention by providing digital workflow. This digital workflow manages each and manages every step that is usually managed by the AP team.
The standard accounts payable automation initiates its process by capturing invoice data in a digital format, for instance, it captures invoice data through a scanning process or capture method, such as OCR (Optical Character Recognition).
Once it captures the data, it will manage the coding and routing of the invoice maintaining the digital workflow. This workflow will generally function based on the specified logic that is configured in the firm's accounts payable automation software.
Payment automation flow will be integrated with a company's ERP systems (Enterprise Resource Planning) for transferring the data seamlessly between the two systems without damaging the ERP systems or businesses' other IT resources.
AP automation flow significantly reduces the risk of fraud by giving vendor management and AP staff clear visibility and reporting capabilities in a form of invoices and transactions across the organization.
With the systematic payment automation flow businesses can have significant cost savings by eliminating manual tasks. Businesses can optimize their vendor portfolio, avoid duplicate payments and erroneous payments, and take advantage of early payment discounts.
How to Automate Accounts Payable?
Businesses who want to automate their accounts payable usually implement an AP automation solution that is capable of interconnecting their ERP system and other business applications. There are cloud-based accounts payable software that suit all sizes of companies and industries.
Automation of accounts payable functions differently according to the type of invoices that companies need to handle. Let's understand this process by taking a few examples.
Example 1
For indirect spending or expenses on invoices, the AP automation solution will first do automatic data capture, then coding, and then distribute the invoice to the AP professionals for the invoice approvals.
Example 2
For the direct spending where there is a purchase order involved, the AP automation solution will automatically match the invoice data with the electronic purchase orders and, if everything matches in real-time, it directly sends invoices for the payment processing without any human intervention. This process is considered touchless invoice management processing and it is the end goal of automation in accounts payable.
The concept of AP automation is pretty simple: It takes away the slow billing management process and cuts down the repetitive manual processes that normally waste hours or days each month, and lets smart software take care of them for you in real-time.
There are so many touchpoints from PO to supplier invoices, from the approval invoice approval process to an accounting system that businesses still manage manually. As we discussed earlier, there are plenty of benefits of using AP automation, which means it will help businesses to process invoices instantly. Let's check out some core benefits of automating AP automation.
Benefits of Automating Accounts Payable
Automation of artificial intelligence technology makes everyone's life easier no matter the industry. But it is still an investment of another accounting system for many companies, but it is still an investment so companies need to think twice before investing in any invoice automation solution. Here are some of the advantages that companies need to look into before investing in it.
Time-Saving

It saves lots of time and energy AP teams used to invest in checking purchase order forms and doing manual invoice processing when they use accounts payable automation. Now an invoice automation software solution powered by artificial intelligence do these slow and repetitive invoices work instantly with clear visibility and control.

Prevents Human Errors

Humans tend to make errors while performing manual tasks whereas computer-generated programs like accounts payable automation can perform the same tasks without any error because they are coded in a way that stops chances of errors and is very easy to use.

Digitizes Documents

Filing paper invoices is an old-school way of storing invoices and other important business transaction records that can be easily manipulated or misplaced. Accounts payable automation saves the entire documents digitally on the cloud and can be easily restored in case any hazard occurs and never leaves you with lost invoices.

Increases productivity

As we discussed earlier, accounts payable automation saves a lot of time as teams do not have to perform the same manual process. In other words, your team will have more time to focus on other important tasks that software can't perform. Thus, accounts payable automation will increase the productivity of the employee for the most important part of the accounting process and help the business grow in the right direction.

Accessibility from Anywhere

When you are functioning with paper-based manual processes, you need to stay in one place and work accordingly. You need to file your documents in the right in-tray and in the right cabinet to access them properly. In this case, if you opt for AP automation, so do not have to be at the same place, you can work and access your system from anywhere with internet access as all your data is stored in the cloud for easy access.

Gives Self-Sufficiency to Other Teams

If you choose a well-functioning, intuitive AP automation solution and accounts payable processes will become self-sufficient and accessible for all the other team members not limited to the finance team only.

Not only this, other teams will be able to complete their tasks quickly without having any dependency. That means they don't need to wait for the other team to complete their task and then they will start their work. They can immediately track the work and finish the task without any hassle.

Evidently, you will find plenty more advantages the longer you use any good AP software and continue to grow your business. For those who are new to accounts payable automation, we are going to discuss how to select an appropriate AP automation solution that makes your work easier and faster than you have ever thought.
How to Select Accounts Payable Software?
Businesses that are looking to add automation in their accounts payable, need to first clear out their requirements. Then they should start their research for different accounts payable automation options and study their features carefully to ensure how it best fits their organization.
The accounts payable automation software must be capable enough to support the business' every invoice processing scenario. This step will ensure the true outcome of an accounts payable system by saving time and cost.
There are many options available in the market that offers invoice automation for accounts payable. While choosing the best software you need to consider many aspects. Here are some of the key points that you should look for when choosing your AP software.
Reporting Facility

Your invoice processing AP software should support an extensive reporting facility so that the data presented in the report will help you quickly resolve the charges incurred. It should also let you figure out ways to avoid unnecessary expenses for the future. Basic AP software should be able to generate reports based on invoice type, due date, payment date, invoice period, and invoice status. The system should also show which payments are due, already made, processed, and yet to be cleared.

Invoice Reconciliation

The software you choose should include the control of payment reconciliation. It should help you maintain invoices by reducing errors and prevent you from fraud. The system should have the strength to eliminate unauthorized payments by reconciling invoices and respective accounting entries.

Integration Options

The software for invoice processing automation should be a part of your large business processes. The software should deliver the payable information regarding liabilities to the balance sheet. You should be able to integrate other systems without any hassle. The integration helps identify all the payment-related information to reconcile.

Multiple Payment Methods

Accounts payable automation solutions should also support ACH online payments. The benefit of using such secure payment methods is that it reduces the cost of printing & mailing checks. This facility results in a quick turnaround time in completing transactions on time.

The above-given points will definitely help you in choosing the right invoice processing software that boosts up your business. In addition, business owners need to understand how the new AP automation solution will integrate their existing ERP system to synchronize the data and streamline the process by removing manual tasks and delivering automation of accounts payable. To choose the best AP automation solution you need to make sure that it offers all the features that you require the most. Also, you need to compare both the features and prices to maintain your financial budget. If you get stuck in the middle way, InvoiceOwl is a place where you will find all the solutions handy. You can contact us for all solutions related to invoices.
Frequently Asked Questions
What is automated invoice processing?
Automated invoice processing is a process of using automation software to extract invoice information, integrate the invoice data in an accounts payable system, and process invoices for accounts payable. When business owners use this method effectively they will be able to save their valuable time and money for a company's AP department.
---
What is the accounts payable workflow?
The accounts payable processes approval workflows is a process to determine the correct workflow process of the invoices before the payment is processed for the audit trail. Automatic accounts payable workflow is more accurate and easy to use than the manual workflow. This approval workflow makes the ap process easier and quicker for the AP department to follow.
---
What is AP automation software?
Businesses opt for Accounts payable automation software or accounting systems to manage their large amount of invoices, track their financial operations, and reduce the process of manual tasks. Such software eases the manual tasks of finance professionals dealing with accounts payable.
---
What is the accounts payable full cycle?
The Accounts Payable full cycle is the entire process of having invoice data capture, coding invoices with accurate account transactions, approving invoices, matching invoices with purchase orders, and posting for payments.
---
What is the difference between accounts payable and accounts receivable processes?
Generally, accounts receivable (AR) refers to the total amount that is owed to a company or firm for goods or services but that has not yet been paid. Whereas, accounts payable (AP) is fundamentally the opposite of accounts receivable – it is the total amount that a company owes to other companies or businesses.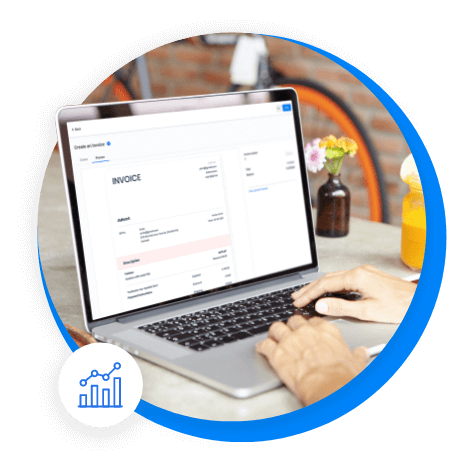 Create Professional Invoices Online Easily and Keep On Top of Your Finances
InvoiceOwl is a feature-rich invoicing app that helps small businesses, freelancers and contractors to create invoices on-the-go and get paid quicker!
Get Started for FREE
Conclusion
Businesses are getting advanced day by day, yet most AP departments are still using a paper-based invoice processing system. However, they are finding a better way to keep their business process up-to-date in this technology era through accounts payable automation.
As we have seen, accounts payable process automation is a procedure of minimizing human interference and gets rid of error-prone tasks from the accounts payable process. This can be only done through comprehensive accounts payable automation software that delivers greater efficiency and effectiveness throughout the process.