You might be a freelancer, designer, contractor, or a small business owner that makes you spend a lot of time invoicing the customers. So, you know how important it is to have the best tool to create your professional invoice. No matter who you are invoicing for, a well-formatted invoice through the software billing solution contributes significantly to the business procedure which helps you receive your payment.
The billing and invoicing process is a pain for many business owners. Let's go a few decades back when companies used to hire accountants and data entry operators to maintain invoice records in heavy files. This process was really hectic and insecure.
For example, what if your garage catches the fire and you have stored all your invoices in that garage? You will lose all your invoices within seconds. It took weeks and sometimes months to recreate those invoices. And this process could also cost a lot of time and effort even might cost you extra money.
But nowadays the time has changed. This is the era of automation where the companies no longer need to hire specialists just to create invoices and make data entries for billing and invoicing. There is outstanding software for billing that can effectively manage the invoicing process without any hassle that too saving a lot of time and money. Before we understand how to choose the right billing and invoicing software, let's check out why we need one effective billing solution for your business.
Why Do You Need Billing and Invoicing Software?
One of the core reasons for having billing and invoicing software is it is very easy to create and send personalized invoices. They can ensure that all the bills you generally get paid on time and you don't have the unpaid invoices in your bucket.
Here is what billing and invoicing software usually do:
Create and customize the bill invoices
Simplifying payment cycle
Generate analytical reports for financial transactions
Manage client's information
This is just a little glimpse of the software, apart from the above-given point it does many more things that help businesses grow without any complexes. Let's see it in detail.
Monetize the Payment Duration

Earlier the invoicing process was so complicated that it used to take weeks and even months for businesses to complete the payment transactions. To avoid this situation, the right billing and invoicing software can complete the payment transaction in just a few minutes. You can easily monetize the payment process, increasing the productivity of your business.

Reduce the Chances of Lost Payments

Invoicing tools can help small businesses reduce the chances of payment loss, which was big trouble for the B2B SaaS companies following the traditional process of invoicing. They used to lose a lot of payments due to carelessness from the invoicing or accounting department.

However, you don't have to worry now as all the errors will be handled by your billing and invoicing software that will keep track of every single record of the transactions. So, there will be minimum chances of lost payments (especially in the case of recurring payments) and high chances of getting paid on time.

Streamline Accounting and Financial Processes

In the old days, businesses used to hire a large finance department including various accountants to manage their accounting and financial process. Still, there was no organized process. Payments often got delayed at both the end and sometimes it got lost. The online billing and invoicing software take care of the whole process in an organized way.

Things get done in a well-planned manner by the billing and invoicing software and businesses do not even have to hire a large team of accountants to maintain their business bills and custom invoices. Instead, small businesses can hire a few accountants or invoicing experts to handle the online tools to get efficient results.

This way, businesses can cut down unnecessary expenses by reducing the staff in the billing department. Also, businesses will be able to save a lot of time that they were earlier spending on following up with their clients.

Such tools reorganize the entire accounting, financial, and billing processes and increase the possibility of cash liquidity with the faster and comprehensive accounting solution for the invoices and enhance the chances of potential customers.

Minimize the Fraud and Improve Security

The traditional style of billing invoicing and the invoicing process was full of risks. For example, anyone could steal invoices, burn records, or sometimes your own staff can mislead the transaction process.

To defeat all the security challenges, invoicing software offers enterprise-level security features, which ensure that the entire billing process remains safe and secure. As all the data goes to the cloud (if it is cloud-based software) no one can tamper with the records stored online, and you will always get the backup whenever it is needed.

Maintain a Brand Image

As we discussed, invoicing software is needed to process your bills and invoices faster, have secure transactions & payment processing, reduce the chances of the lost payments, and have an organized and prompt way to streamline the accounting process. Apart from doing all these tasks efficiently such tools and software can significantly help you improve your brand image.

Your customers will start trusting you even more because they will be able to do secure payments. They will get on-time invoice reminders to make payments and help them pay in the most efficient way. All these benefits will help you and your client maintain a healthy professional relationship.

Now that you know why you require billing software, the problem is how to choose the best invoicing software? This becomes a challenging task for many businesses. As we know this era is of automation and the market is flooded with thousands of software options and each one of them claims to be the best in the industry.
So, the question remains the same, which one is the best for your business and your billing process? Let us help you with the answers, that you will be able to choose the best invoicing tool for your business.
Try our free online invoice generator today!
Whether your business is in construction, landscaping, consulting, photography, auto repair, or the medical field, invoicing takes way too long. That's why we're here. InvoiceOwl makes your invoicing faster and simpler so you can get paid promptly and without the hassle.
Get Started Now
How to Choose the Right Invoicing and Billing Software?
Before we start you need to ensure you list out all the essential things such as challenges you are facing or anything specific that you might require to consider while shorting out the billing software for your business. Here are a few things that will help you out with your hunt.
Let's get started.
Know Your Requirements

The first and most important thing that you should know is your business requirements. For that you need to ask few questions to yourself and list out the answers for those questions:
What are you looking into in any billing software?
Do you just want to track your invoices?
Do you need billing software that is also integrated with your accounting software?
Do you prefer a system that offers all account-related services?
Not only this, there is a lot more to think about. Many invoicing solutions offer cloud accounting, cloud storage facilities, and some solutions only offer facilities for desktop computers only. What do you prefer?
To evaluate your business needs, you need to figure out how many people are going to access your billing system? Also, think about how you are going to use the software and from where you are going to use it? For example, you are going to use it from the office only or you will require your software while you are travelling also.
Another thing is will you require to integrate it with other software that you are already using?
Depending on the size of your team, you may want to get an advanced version.
What is Your Budget?
You should have something in your mind when it comes to spending your valuable money. There are various payment models available that can influence your purchasing decision and might also mess up your budget. Some tools are cloud-based and have a monthly fee.
They also offer a discount if you pay the entire amount a year in advance. So you need to read their plan very carefully and choose the best option that is suitable for the budget. You can also invest in a full suite of services including accounting and billing in one platform. Such packages can help you save money in the long run because they can help you with tax deductions.
Just remember one thing, do not be afraid to spend your time and money on a source that is mandatory for your business growth.
Industry Specific Invoicing Solution
Your business is unique and the invoicing solution you choose should be unique as identical to your business. An all-in-one platform package might not work for you. So might require combining two or three packages that can fulfill all your business needs.
As we all know, various industries have various needs. For example, a freelancing designer should use software that is focused on design-oriented invoice templates and coded in that way.
On the other side, contractors might require a solution that focuses on bid management and job costing combined with accounting software. Such specific account payable features are required for each and every industry. That is important so that industry-specific businesses can get the payment on time.
In that case, you can look at the accounting or invoicing software providers, which offer features that completely resolve your industry-related billing issues.
Feature Comparisons of Different Packages
When it comes to choosing the best invoicing software or invoicing app, you should carefully examine the packages and accounts payable features that the software offers. The first thing you should check in the features list is what type of information you will be able to include in your invoice customization.
Why? Because some basic free software won't allow you to use your logo on the invoices, there will be their watermark on the invoice you create. You would have to upgrade to use your logo.
The other thing you should look at is, will you be able to have your own invoice number formats and have separate sections for services with start and end dates?
You might also want to inquire about the payment reminder facility and know whether the tool automatically sends the payment reminder when an invoice becomes overdue or not.
If you require access to your accounting or invoicing system from every corner of the world, then you may require something that is cloud-based and also has an application so you can view your billing process through your smartphone or tablet.
Availability of Integrations
You might be using multiple billing systems for your invoicing. For example, you are using one as your accounting solutions, one for billing, one for invoicing, one for HR, or one for payroll.
When you choose the best invoicing and billing solution, all of these systems should communicate with each other and have all the information you require in one click.
Availability of other system integrations will save you a lot of time jumping from one system to another system just to find the necessary details. However, integration with other systems will save time you spend on data entry work and reduce human errors.
Online and/or Offline
The first question to ask yourself as a businessman is – whether you want online software or desktop-based offline software? Why does it matter to you? Well, most businesses nowadays are adopting cloud-based solutions as they offer a lot of benefits that you can't have in the traditional offline software.
However, some businesses prefer to have offline systems such as retail stores that use offline systems that require speed and that are not always connected to the internet.
Benefits of Cloud Invoicing Software:
No need to install anything. Just sign-up online and start entering your details
Don't have to worry about upgrades
Cloud accounting eases your job
All the changes are pushed automatically
Online software is always up to date
Details of invoices can be accessed from anywhere using a cloud-enabled device
Cloud invoicing software providers take care of backup and maintenance even for recurring payments history
Data across all your offices will be store in one place and are always synchronized
It can be integrated with other cloud-based applications
Why you should buy offline or desktop-based software:
When you have a pharmacy store and need to create hundreds of invoices over the counter and you do not have internet connectivity at your business location, in this case, you can have offline or desktop-based software. In such scenarios, it is highly recommended that you choose an offline version of the software. Additionally, you can have a combination of both to handle your financial transactions on the go.
Data Security
Data security becomes the most concern for many businesses. You can skip this step if you have opted for an offline accounting or invoicing package. If you are thinking forward and going to choose an online accounting application, then data security becomes the most essential thing you should check.
Essential you should check:
Ask the service provider how they store the data they collect from the application. In most cases, such details will be available on their website. Some of the most trusted brands like Amazon for cloud hosting have very clear policies about customer data storage. If you invoicing a service provider is hosting the application on their own servers, then you must ask about the security measures they are taking to safeguard your valuable data, payment information, and payments.
Check if their services are using a secure HTTPS connection. It is very simple to check this – you just need to open the desktop application and see if the URL in the address bar starts with 'HTTPS://'. Normally you will see it highlighted in green color. There is also a security certificate that indicates the security measures of the site/app. The reason for having HTTPS protocol is to ensure that the data transferred from your desktop to the service provider's servers are encrypted and can not be viewed by hackers.
Look for What Their Competitors Offer
While you are choosing the best tool for your billing then you should also compare top tools to get the best out of them. You can also ask your colleagues and accounts team to have ideas about which tool will be able to ease out their work, or which tool is more user-friendly for them?
Check all the competitors of the software provider you have chosen. Ask around to see what others are using for their business, what benefits they are getting, how much time and money it can save. Does it allow you to accept a credit card or just allow you to take bank transfers? You need to find out what is best suitable for you and your customers.
In the end, you will find out that you got the best tool that is suitable for all your requirements.
Ask the Exact Questions
When evaluating the best billing and invoice software, you should have a list of questions that you and your team should have prepared. To ensure you are buying the right solution for your office. If you haven't prepared anything here are a few questions that might help you:
Is it user-friendly?
Is there any kind of hidden costs such as monthly costs?
What kind of security does it offer for payments and data?
Do they offer customized for the business?
How is their data backup facility?
Will the software grow with your business?
What kind of maintenance support is there?
Are there any additional costs for technical support?
These are just a sample of questions to look for while selecting invoice software or invoice application. When you have decided to opt for any software, take a demo to experience the software for yourself.
"20% of small businesses fail in the first year, 50% go belly up after five years, and only 33% make it to 10 years or longer" – Small Business Administration (SBA)
You do not want yours to be one of them by not sending out invoices on time, tracking expenses, and your financial transactions. Invoice software is designed to take all the pressure of sending invoices on your behalf.
5 Tips for Choosing an Appropriate Invoicing Software
Talk to the team who will be using the software

You should find out what exactly your team needs to get their job done. Once you understand their requirements, include them in your list and make a search based on those points.

Know your budget

Find out how much you can afford to pay for such tools. This step will filter out almost half of your search options. You will be comparing only those which meet your financial requirements.

Search and shortlist the best

Google is the best search engine to start your research. In your search, you will also find out that some websites offer software comparisons and testimonials of the existing users. You can shortlist your suitable options based on your search, comparison, and budget in a simple Excel sheet or Google Spreadsheet.

Have a free demo session

Most small businesses think twice before investing a lot of money in any software. As a small business, you can ask a service provider to arrange a small demo session for you to understand how their tool works. You can also tell them about your niche or if you require any invoice customization during the demo session. You can also watch their videos of the application, if available.

Take a trial

Almost all billing and accounting or invoicing software providers offer free invoicing trials for at least a week, for customers to experience their user interface and feel how easy to use their software is. Most of the customers prefer to have easy-to-use accounting systems or invoicing software billing so that everyone in their team can use it effectively. Some of that software also allows you to create invoices for different pricing models and accept credit card payments for a trial. If everything works smoothly in the trial, you are all set!
Top Billing Software to Watch Out
There are lots of tools and software available in the market but businesses always get confused about which one is best for them. All the accounting or invoicing software claim that they are the best in the market. But, are they really the best as they claim?
As a businessman, how will you decide which one is the best? Well, you need to first search for the accounting or invoicing software then you should short-list the best suitable tools according to their billing functionality, and then you should compare their prices and features.
To ease your task we have listed the top billing tools and invoicing software that you can use for your business's invoicing module procedure.
To ease your task we have listed the top billing tools and invoicing software that you can use for your business's billing procedure.
InvoiceOwl

You should choose InvoiceOwl as accounting professionals, small business owners, individuals, and freelancers. It is one of the most reliable mobile-based invoicing software solutions that helps you generate extraordinary invoices within just a few minutes.

This is one of the best online invoicing software for all kinds of businesses. With that businesses of different industries can create estimations, quotes, purchase orders, invoices, and credit memos. They can easily manage invoices and clients' information and generate monthly and quarterly audit reports using a single platform.

This is one of the best online invoicing software systems for all kinds of businesses. With its billing services businesses of different industries can create estimations, quotes, purchase orders, invoices, and credit memos. They can easily manage invoices and clients' information and generate monthly and quarterly audit reports using a single platform.

InvoiceOwl is an all-in-one invoicing application that allows users to generate all kinds of invoices, such as recurring invoices for subscription billing, credit invoices, debit invoices, and mixed invoices from anywhere. Business owners or their team need to issue invoices for the products or services they have provided, so when they use the InvoiceOwl application they can easily keep track of their sold products or hours they have worked for the client. They can instantly share their invoices with the customers and get paid faster.

Freelancers, designers, contractors, plumbers, service-based businesses, painters, musicians, and electricians, everyone can use the InvoiceOwl mobile app (for both iOS and Android) for billing and invoice-related tasks.

Invoicing Features:
Make professional invoices
Manage both paid and unpaid invoices
Generate estimation and quotes
Convert quote to invoice
Create purchase orders whenever ordering supplies and products
Instantly generate credit memos
Manage client information and their financial information
Manage all the products and services from one platform
Quick payment processing
Create monthly, quarterly, and yearly reports
Get real-time notifications whenever you get any update related to your invoice
Price: 14-day free trial + Price upon request
Sage 50c
Sage is a business management software and invoicing software for small and medium business owners. It is accounting software that combines a facility of using a desktop-based product along with the accessibility of data anytime, anywhere stored in a cloud-based solution. Sage 50c is a combination of the power and productivity of a trusted desktop solution with secure online access and Microsoft Office 365 integration.
Key Features:
Create, edit & send invoices directly from the software
Track cash flow by linking directly to your bank account, record sales, and receipts in real-time
Create professional quotes
See powerful reporting and dashboards
Display all the payment terms and conditions
Track Project income, expenses, and profit
Transactions through secure payment gateways
Trade-in multiple currencies
Various payment options to accept payments (i.e. Credit cards or debit cards)
Manage business finances
Price: Free trial for 60 days. Package starting from $192 user/year.
OneUp
OneUp is a cloud-based accounting and invoicing management software for small-scale businesses to large businesses especially for those whose financial side is run by someone with a good knowledge of accounting. It allows you to take care of all your accounts, invoices, CRM, and even inventory needs from your desktop, laptop, or mobile phones. OneUp allows you to create a quote, convert it into an invoice, and send it to your client in just a few clicks.
Key Features:
Create, customize, and send invoices
Automates 95% of your accounting tasks by synchronizing with your bank
The built-in email system to put invoices directly in the customer's inbox
The customer Payments screen is there to show how many invoices are due soon
Get automatic payment reminders by email just before customer payments are due
Billing system to accept payments (Credit cards or bank transfer)
Project management, project tracking, and inventory tracking
Customer 360° views for a one-glimpse understanding of their activity
Price: Free trial for 30 days. Package starts from $9 user/month.
FinancialForce Billing
FinancialForce billing is used to generate invoices directly from the data you have already prepared on the Salesforce Platform and transforms your recurring billing into a streamlined, efficient, error-free process. This will help you raise customer satisfaction and you will be able to improve your cash flow.
FinancialForce billing is an efficient way to connect your CRM, billing, and ERP systems in the same place. Because the invoices are created directly from CRM, there are no CRM or Billing discrepancies.
Key Features:
Create invoices from opportunities, quotes, or custom objects.
A 360° view of any customer for Finance, Sales & Service teams
Monitor all the financial transactions
Analyze customer's details and their all orders
Project management, project tracking, and inventory tracking
Create reports on the go
Various payment options (accept online payments, credit card, debit card, and offline payments too)
Price: Upon request
Frequently Asked Questions
1. Which is the best billing and invoicing software?
There is no definition of the best billing and invoicing software, but in the business world you can choose the best billing and invoicing software by its offerings and features. An ideal billing and invoicing software is which matches the customer's requirement. It should have the potential to serve the customer in the best possible way.
---
2. What is the cost of invoicing or accounting software?
The cost of billing or accounting software depends on the features they offer. Every billing and invoicing software has its own individual plans and accounts payable features that they have created based on their customer's requirements. They can also customize the cost of the tool as per invoice customization or as per market demand. But to stay in the competition the cost of the billing and invoicing software products always depends on competitors and customers' likes and dislikes. All of them try to give the best deal to their customers.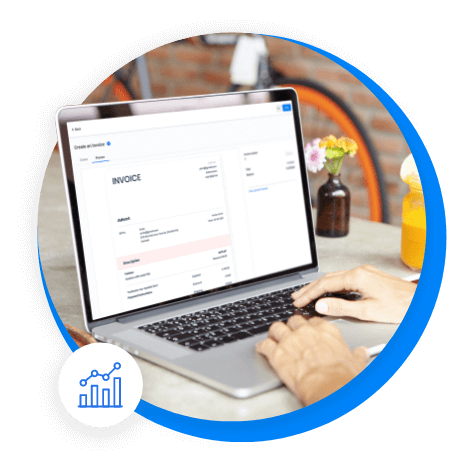 Create Professional Invoices Online Easily and Keep On Top of Your Finances
InvoiceOwl is a feature-rich invoicing app that helps small businesses, freelancers and contractors to create invoices on-the-go and get paid quicker!
Get Started for FREE
Conclusion
Choosing invoicing software is a big decision for all businesses. Sometimes you may find that an industry-specific software is right for you and sometimes you feel that a universal solution is the best that offers everything. It is also a good sign that you are taking this important step seriously and looking for the best solution for the growth of your business.
It is up to you to find the appropriate solution, you just need to ensure you don't be one of the 18% of small businesses that are not using accounting software. In the process of selecting the billing and invoicing software, you should make sure to compare all the essential things that are necessary for you to consider. You can use the above-given information to make sure your selection becomes the most effective for your business. For more great accounting and invoice-related tips for your business, check out our invoicing blogs every day on the InvoiceOwl Blog section.