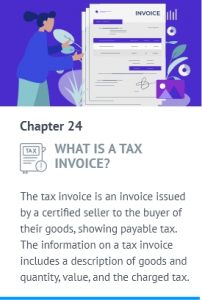 Chapter 24
What Is a Tax Invoice?
What Does a Tax Invoice Mean?
The tax invoice is an invoice issued by a certified seller to the buyer of their goods, showing payable tax. The information on a tax invoice includes a description of goods and quantity, value, and the charged tax.
When a seller makes sales that are taxable, they have to invoice the company or buyer for tax credits on purchases, most especially when the seller has to resell the goods.
This aspect of the chapter covers:
Meaning of Tax Invoice
Is Tax Invoice a Receipt?
Why is Tax Invoice Necessary?
Meaning of Tax Invoice
Every business has to charge for different taxes, whether VAT, HST, and GST, from every customer who makes purchases and remits them to the government. Only a registered vendor has the right to issue a tax invoice.
The invoice appears like the summary of all applicable tax and can be used to charge HST or GST regardless of the timely report. The tax invoice is also issued to a customer who is GST registered.
The following make up a tax invoice:
The word " Tax Invoice."
An invoice number
Contact details of the vendor
Tax Identification Number
Description of the taxable goods and services
Price of the goods and services
The total amount with the inclusion of tax
Tax charged for each item
Payment details and accepted payment methods
The invoices are sent at the end of a fiscal year to tax authorities.
Is Tax Invoice a Receipt?
Receipts and invoices are created by vendors or sellers and are issued to a buyer. Even though their information on both documents may look similar, a tax invoice is not the same as a receipt.
An invoice is sent to the buyer or company before payment is made and is used to request payment. It contains prices, discounts, taxes, and the total amount payable.
A receipt is issued after payment. It is proof that sales have been finalized and payment has been made. It also serves as proof of ownership. The products and services are listed in the invoice as well as discounts, taxes, payment methods, prices, and the amount paid.
An invoice can be used to request payment, while a receipt is a proof that certain products and services have been paid for.
Why Is a Tax Invoice Necessary?
Tax invoices are useful for different reasons, so in various countries that implement GST. Below are the reasons why a tax invoice is necessary:
To uphold a claim from the registered seller of charging incurred tax on a purchase
To determine what supplies are to be included in a period
To find out the time when tax payment can be made from the invoice received
A dated tax invoice will signify when the tax was accounted for.
If your business uses accounting software, tax calculations can easily be made, and the invoicing task will be made simpler.