As a domestic shipping merchant, you must have heard, but you might not have used the commercial invoice. But if you are planning to expand your business and ship your goods to leverage the international market, then you must use a commercial invoice template to create a professional commercial invoice.
Let's see what exactly a commercial invoice template is and how to use it for your business.
We are going to cover the basics of commercial invoices in this article and how we can help you streamline the process of creating, editing, and downloading a commercial invoice template.
What is a Commercial Invoice Invoice?
A commercial invoice form is a document used to illustrate the detailed price, value, and quantity of goods sold. Basically, it is the document used to calculate taxes and duties required for customs clearance. That is why it is the most essential document when shipping your goods internationally. It will not be wrong to consider it as the biography of the package.
In other words,
A commercial invoice is an important document for traders that they can use while doing global trade and shipping. When products are shipped internationally the shipper must provide the consignee with a detailed commercial invoice and other shipping documents to send the products safely.
This is why a commercial invoice template will include all the important information and instructions for the client, importers, exporters, customs, agents, freight forwarders, and banks while processing the import and export process. Such invoice templates will also contain columns for transactional information of products and the details of the exporter and consignee. You will also find shipping details such as the type of shipment, the port of loading, and the port of discharge.
Try our free online invoice generator today!
Whether your business is in construction, landscaping, consulting, photography, auto repair, or the medical field, invoicing takes way too long. That's why we're here. InvoiceOwl makes your invoicing faster and simpler so you can get paid promptly and without the hassle.
What Is the Use of Commercial Invoice Templates?
When products have been shipped internationally, the exporter should create a commercial invoice and other supporting shipping documents and hand them over to the importer or the client.
The importer can proceed with the commercial invoices and other shipment supporting documents to get the goods released through customs in the importing country. The commercial invoice must hold all the relevant information to evade any kind of issues and obstacles while clearing the goods through customs.
Important note: A commercial invoice should be issued after the goods have been delivered or shipped. In some cases, exporters can provide a proforma invoice before shipping any kind of goods and they will send a commercial invoice after shipping.
Commercial invoices are important for all the export-import companies including B2B and B2C. Sometimes shipping to foreign destinations can be complicated, but if you provide accurate documentation, it will go smoothly.
Commercial invoices –
Provide additional information about the order.
Help businesses evaluate annual reports and sales.
Can be used to find out insights for the target audience for specific order and goods.
Acts as a legal document in payment assurance
Notifies a due payment
Will be an organized way to maintain the cash flow.
What is the Difference Between Proforma Invoices and Commercial Invoices?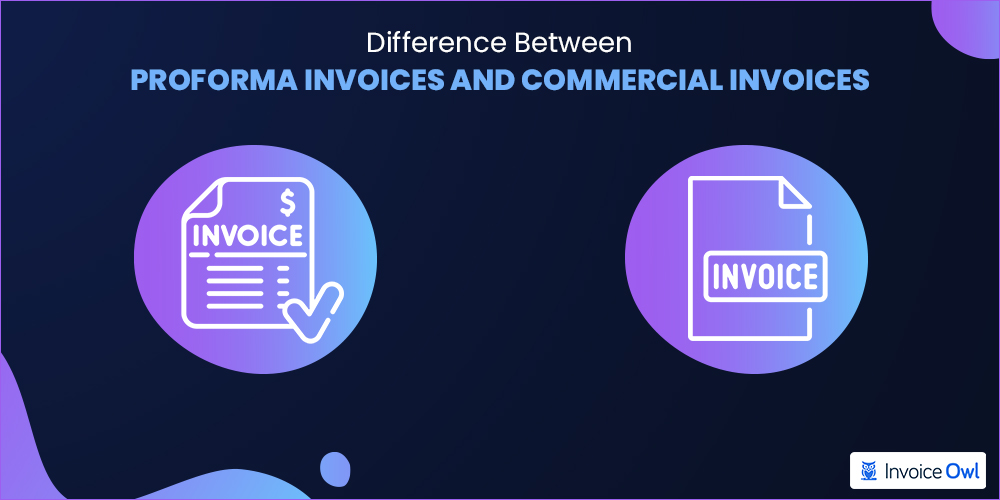 Despite having clear differences, the two—proforma invoices and commercial invoices, are confused with each other quite often.
Therefore, let's talk about the difference between a proforma invoice and a commercial invoice once and for all.
Yes, both are related to the shipment of goods, but both of them come into play at a different phase of the shipment process.
The proforma invoice is an invoice that is created by the seller before the goods are shipped. It reads all the information related to the nature of the shipment. Including size, weight, and quantity of the shipment. Other than that, it also displays the transactional details, such as the price of the shipment, payment instructions, and delivery terms.
In short, the proforma invoices are to record sales. It is not used to request payments from clients.
Whereas, a commercial invoice plays its role post shipping. This document requests payment for the sold items in the shipment. It notifies the shipper, receiver, and authorities involved in the shipping process about the price, payment terms, payment status, transaction currencies, and other transactional details.
Why Do You Need a Commercial Invoice Generator?
If you are running an export-import company or trading company, you must be aware of all the processes of the commercial invoice. But if you are starting up a new export-import business you need to learn about commercial invoices.
Furthermore, you might also need commercial invoice software that can help you create professional invoices with sufficient information and save plenty of time.
Apart from that commercial invoice software helps businesses –
Create their shipping documentation up to 10x faster.
Going paperless through digital signatures and authenticating documents.
Ensuring their entire team creates compatible shipping documents.
Getting actual insight into their global trade operations.
Getting instant access to essential company information from anywhere, anytime.
The commercial invoice software helps businesses in streamlining the process of shipping data to all the members involved in the supply chain. If your documentation is created through commercial invoice software, it will help you keep all the documentation digitally safe and secure and reduce the documentation fees. There are plenty of benefits while you create a commercial invoice online, the only thing you need to consider is choosing the right platform.
Frequently Asked Questions
What does a commercial invoice include?
A standard commercial invoice includes all the package details including country of origin, invoice number, phone number of the concerned persons, company name, item details including cost, description of items, country of import, country of export, details of shipments, carrier terms, and conditions, etc.
---
What are the essential shipping documents?
The main shipping documents are commercial invoice, list for shipments, verified gross mass declarations, shipper or exporter's letter of instruction, forwarding instructions, product payment receipt, a tax receipt for the particular product if any, and other shipping documents for customs.
---
Which Countries Ask for Commercial Invoices?
Whenever you want to ship an assignment internationally, you need the commercial invoice.
However, if you live in Europe, you do not have to add a commercial invoice for shipping to a country part of the European Union. Having said that, there are exceptions to this case as well. If you are shipping to the following countries within the EU, you will need a commercial invoice.
Andorra, Gibraltar, the Vatican, The Canary Islands, San Marino, and the Channel Islands(Guernsey, Jersey, Herm, and Sark, Alderney).
---
What if I don't have a commercial invoice?
If you do not attach a commercial invoice, the customs authority at the country of destination will not allow the shipment to enter the country. This may lead to monetary loss or even worse, you may lose the shipment too.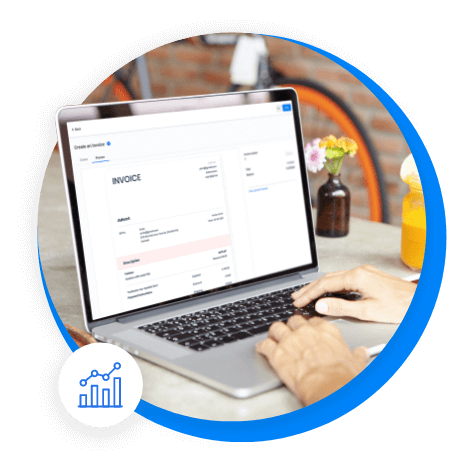 Create Professional Invoices Online Easily and Keep On Top of Your Finances
InvoiceOwl is a feature-rich invoicing app that helps small businesses, freelancers and contractors to create invoices on-the-go and get paid quicker!
Conclusion
Manually adding data into shipping documents can cause a human error and sometimes you might end up entering the wrong information on your customs documents. So, you must choose a solution that can ease your work rather than creating a mess. As we discussed there are plenty of benefits when you are using online software to create professional commercial invoice templates. InvoiceOwl helps businesses in creating effective commercial invoice templates that can be tailored as per business needs.