Does your business work with independent contractors? Are you struggling to figure out a feasible payment option to compensate them? Then this blog is for you. Here, we will explore different ways how to pay independent contractors, along with a comprehensive step-by-step guide and much more. Let's get started!
Organizations across the globe have embraced the idea of working with independent contractors, consultants, and freelancers in the last decade. And not so surprisingly, the pandemic only fueled this phenomenon as people were forced to stay home and work remotely. What's more interesting is that independent workers are projected to make up approximately 50% of the total workforce of the United States in 2027, as per a Statista report.
The reason behind the popularity of such an arrangement is flexibility and work-life balance for a contractor and cost-savings for the company. But how do you go about paying independent contractors? Before we take a closer look at that, let's first understand how paying a contractor is drastically different from compensating your full-time workforce.
How Paying Contractors is Different From Paying Employees?
An independent contractor is a self-employed professional who offers their services and gets paid for the same. Unlike the traditional full-time employees, contractors take up projects as per their choice and decide their own working hours, remuneration, and payment terms. They also don't depend on the organizations to provide them with the amenities and tools to work. That, as a bunch, makes contractors' payments different from that of your 9-5 employees.
Hence, the total pay of your independent contractors may not include things listed below that form an essential part of the salaries of your full-time workforce:
Health benefits or medical insurance
Unemployment/disability allowance
Workers' compensation insurance
Unemployment or social security taxes
Overtime pay
Paid sick leaves or time off
Equipment or fully-equipped workspace
Considering this, it is quite evident why paying independent contractors are less expensive than the cost of W-2 employees.
Moreover, the independent contractors may not wait a whole month for the remuneration. Some ask for a one-time upfront fee or take payments at mutually-agreed iterations, while others seek 50% as advance and 50% upon completion of work. What remains constant in any of the provisions is fair and timely pay if you want to establish a long-term relationship with them.
We'll look at the payment options to pay independent contractors in a separate section later in this blog.
What are the Different Payment Arrangements to Pay Contractors?
The payment plans vary from one independent contractor to another. Besides, the domain they work in also plays a significant role in finalizing the payment arrangement. Here are the most common types of remuneration provisions independent contractors choose from:
Hourly Rates

Many independent contractors prefer to be paid for every hour they put into work. And to accurately charge their hourly rate, the contractors often log their working hours or fill in the timesheet provided by the organization they're working for.

An hourly rate of an independent contractor may be more than that of your in-office staff for covering the contractor's local taxes.

The per-hour charges suit the best for coaches, service workers, caregivers, landscapes, content/copywriters, and advisors.

Fees Per Project

A lot of independent contractors charge fees on a per-project basis. In this case, they expect an advance at the start of the work and the remaining after the project completion. You can also agree to pay the compensation at predetermined project milestones.

Such type of pay is suitable for self-employed professionals, such as general contractors, artists, designers, software/web/app developers, and event planners.

Commission-based Payment

In payments based on commissions, an independent contractor is compensated purely as per their performance. The commission can be a predetermined amount or percentage of the total revenue or sales.

Commission-based remuneration is ideal for a contractor in the real-estate business, sales, recruitment, staffing, and marketing.

Retainer Fees

For an independent contractor, consistent cash flow is of utmost importance. That's the reason why many prefer to work with organizations on a retainer fee. Retainers are usually fixed for a monthly, quarterly, or 6-month period. For the organizations, it ensures the availability of the contractor ahead of the work. And for the contractors, it spells consistent money & work.

Retainers work best for independent contractors working as business strategists, marketing professionals, visual/graphic designers, lawyers, and tech executives.

Got the diverse payment terms to engage a contractor? Now it is time to find out various ways your small business can process contractor payments.
5 Best Ways to Pay Independent Contractors
The payment to independent contractors has to be quick and accurate to make them want to continue working with your organization. At the same time, though, you have to make sure that the payment process is cost-effective and in line with your company policies. Thankfully, there is not one but five ways to pay contractors with optimum security and required flexibility. Here is the list: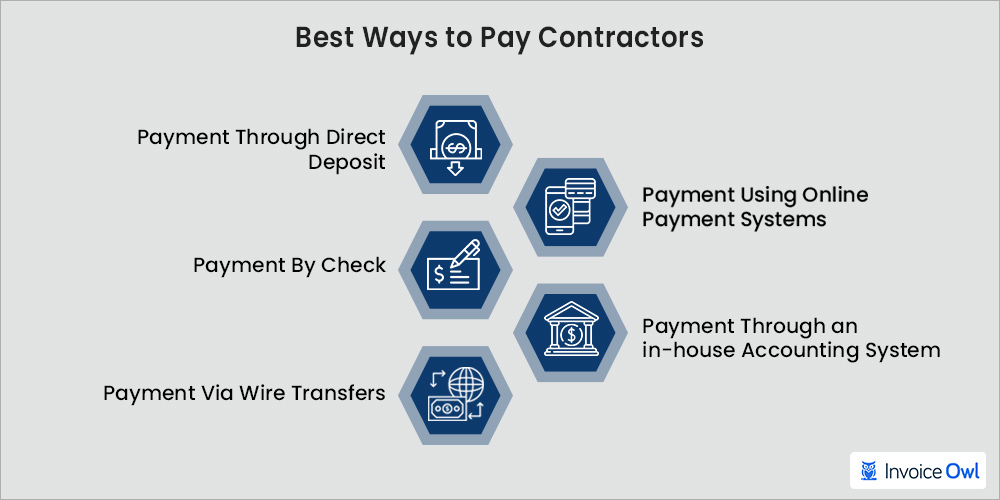 Payment through Direct Deposit

One of the most common and fastest payment methods to process payments of your independent contractors is direct deposit. It is simple, secure, and paperless. Besides, it is efficient and accurate for both smaller and big transactions.

To carry out payment through direct deposit successfully, you only need the account details of the contractor. And the money can be sent directly to the account within 1-2 business days. Some banks also offer same-day deposits to make the contractor experience even better.

If you work with contractors often, on a retainer-basis, or use software to automate your recurring payments, direct deposits can be your go-to, time-saving option.

Payment by Cheque

Check payments have been around for decades now. It is one of the oldest and the most reliable payment option. However, it is a time-consuming mode of payment. If you use a check to pay your contractor, it can take about 2-5 business days for the contractor to receive the payment in their account.

Making payments through checks is also relatively cheaper and simpler than signing up for payment transfer services or installing a software system. If you are going to work with an independent contractor for a single project, this can be a good option to pay.

You can also leverage online checks. Many payroll software nowadays lets you create and print your checks through the system, simplifying your task.

Payment Via Wire Transfers

Wire transfers are one of the most rapid ways to pay your contractor. In the case of domestic money transfers, it takes about 24-hours or less to process payments. International transfers, on the other hand, may take a bit longer through this payment method.

Furthermore, wire transfers come with a fee for both the sender and receiver. It depends upon the amount of money as well as the payment frequency. That can be quite expensive for a small business, especially for a routine, small payment to a contractor.

Payment Using Online Payment Systems

With growing digitization, it has become convenient to transfer funds using online payment systems, such as PayPal. Online payments offer flexibility, accuracy, and security to pay independent contractors just-in-time.

With PayPal, for example, your bank account and PayPal account remain distinct. You connect the two and transfer the necessary funds from your bank account to your PayPal account. And use it to pay your contractor. Upon the receipt of payment, your contractor can transfer the funds from their PayPal account to their bank account.

What's important to note is this method is only feasible when both parties have a PayPal account.

Moreover, such online payment platforms also charge a certain fee for money transfers.

Payment Through In-House Accounting System

Not necessarily a payment method, paying independent contractors through your business accounting software streamlines the entire process for your business, making it a hassle-free experience.

Such software, take InvoiceOwl for example, automates a range of tasks related to the payment process, from tracking and invoicing to payments and tax management. The fact that these software solutions integrate with other business tools easily makes them an ideal choice if you regularly deal with multiple independent contractors. Not only this, but you can also refer to actionable accounting tips for contractors and get huge help.
Things to Keep In Mind Before Choosing How to Pay Contractors
Before finalizing an ideal payment option to pay independent contractors, you first need to ascertain the number of contractors you are going to hire, your cost limit, and the frequency of payments. You also need to put in place financial documents, such as tax forms, for a swift and smoother payroll process. Another factor to consider is the transfer fee that varies with the type of payment method.
Once you are done absorbing these aspects, have a discussion with the contractor about the best-fit payment mode that suits both your needs.
Now that we have discovered different ways a contractor charges their fee, along with the diverse payment options, let's break down the actual payment part into 5 easy steps.
5 Steps To Follow While Paying Independent Contractors
Determine how to pay independent contractors

After considering hiring a contractor for a particular role, the first thing you need to decide is contractor pay rates, frequency of pay, and taxes. The things we already explored in the above sections. Based on this information, you will be able to arrive at an appropriate payment method that is cost-effective, efficient, accurate, and secure.

If you are hiring an independent contractor for the first time, educate yourself about the current market rates contractors charge for your domain. That would help refrain from closing a deal costing you much more than needed.

Once you both are on the same page regarding the payment terms, create an agreement to make the deal official and legally binding.

Collect the W-9 forms

After determining the payment method, it's time to collect the contractor details through a W-9 form before they start their work. It is an IRS document used to gather information, including contractor name, address, taxpayer identification number, or Social Security number, to make your year-end IRS report simpler.

In case the contractor provides a wrong Social Security number, you are liable to withhold 24% of your contractor's payment (known as backup withholding) and remit the same to the tax agency.

Add Contractors to Your Organization Payroll Software

When you have collated all the required information, as well as the W-9 form, you can proceed to add the independent contractors to your organization's payroll system. Collating all the details in the system well in advance helps you make rapid, error-free payments whenever you have to pay.

Process the Payment

Once you have all the details in your organization system, process the payment as per your agreement with the contractor. Follow the predetermined payment iterations and mode of payment. The actual payment process won't take up much of your time.

Share the 1099-NEC Forms

While approaching year-end, set time aside to prepare the 1099-NEC forms to report to the IRS the payments you made to independent contractors in the financial year. Such forms are prepared for every contractor you have paid more than $600 in a year. You will keep a copy of these forms for your business books while sharing the others with the contractors, the IRS, and the state tax authority. Doing so adds precision to your books and helps contractors pay their income taxes correctly.
Ending Note
To establish a pleasant working relationship with independent contractors, it is essential to pay them fair and on time. Since there are several ways to pay independent contractors, it may get difficult to choose the right one.
Especially if you are going to hire a contractor for the first time. But this blog can be your guide as we tried ticking off all the necessary elements to paying a contractor to help you make an informed decision.
When it comes to making estimation and invoicing, all you can do is use InvoiceOwl which is a leading estimating and invoicing software for contractors. Using this software, you can create, send and track estimates and invoices in real-time. With just a few simple taps on the screen, you can manage all the things of estimating and invoicing using different estimates and invoicing templates.
So, what are you waiting for? Just sign up for a FREE trial today and experience it yourself.