It might be the homemaker's duty to put on the HVAC system inside their comfort area, but to keep the unit in working condition is a contractor's job. If you are a contractor, you would know how difficult it is to meet your client's expectations.
Do You Know What's The Actual Hourly Rates Of HVAC Repair?
Hourly charges for general repair work are $75 to $150 approx. In some minor repair works, contractors also charge around $200 or more. While major repair works like adjusting coil or refrigerant leak fixing can be charged in between $250 to $1500.
From digging holes to switching on the machine, an HVAC professional does it all to keep the HVAC system in a good condition. Relaxing in a comfort zone is what the homeowners like the most. And therefore, HVAC experts need to be more attentive while installing a new HVAC machine.
Besides, you also need to maintain the electrical components when you are turned up for a repair. Mostly, HVAC contractors perform heating repairs or air conditioning repairs based on rates per hour. So, are you charging your clients as per the HVAC industry? If not, let us dig deeper into the hourly rate for HVAC contractors.
How HVAC professionals Can Help Residents?
When a contractor receives a service call or repair call, they send their best tradesman to help the customer. The HVAC machine requires operation from professional hands. And therefore, it is up to you that HVAC inside and outside units keep running.
Analyze the faulty parts at the time of service.
Regulate the airflow of the machine as per user requirements.
Clean gas valves, indoor coil, and heat pumps.
Keep furnace serviced periodically.
Inspect the outside unit to ensure no breakdown in the future.
Adjust internal HVAC units to the user's preferred location.
Restart the system to check if the unit fan operating normally.
The repair work is not over after the contractor's visit as you also have to perform the annual tune-ups. Yes, the HVAC technician has to be up to date with the unit. This would be helpful to the customers as they can have a better performance of heating and air conditioning unit.
Why To Charge Hourly Rates?
The HVAC (Heating, Ventilation, and Air Conditioning) system needs service and maintenance at regular intervals. Homeowners lookout for a contractor whenever they feel poor air quality or minor sound coming from the internal unit. While flat rates usually consist of more than one task, contractors ask rates per hour to keep track of working hours.
Perks of Offering Hourly Rates
Fewer Late Payments Of Your Work

When you are on a visit to a new client, there are chances that the working period may get extended. In such situations, flat rates may not give you desired return on service. Thus, you can charge hourly rates as per job done.

Clients Will Give Priority To Your Service

Mostly, customers also look after the HVAC technician who can give them better service. So, while they are on the search, they do compare your work with a few others. Hourly rates will not only simplify the client's job but also make clients prioritize your service.

Beneficial For The Long Term Projects

HVAC business owners will need support from their clients to keep up the excellent work. By offering hourly rates, you can expect faster payments in your long-term projects. This would be helpful for you to attract more customers.
If the HVAC company sends their specialist far away for heating repairs, cleaning gas valve, or furnace repair, contractors charge hourly rates for HVAC repair costs. In such cases, you may have the approval of payment prior to the work done.
Know When To Expect Peak In HVAC services
Being a professional contractor, you should grab the opportunity when you receive more service calls are high. But, when? Let's see when there can be a higher demand for your services.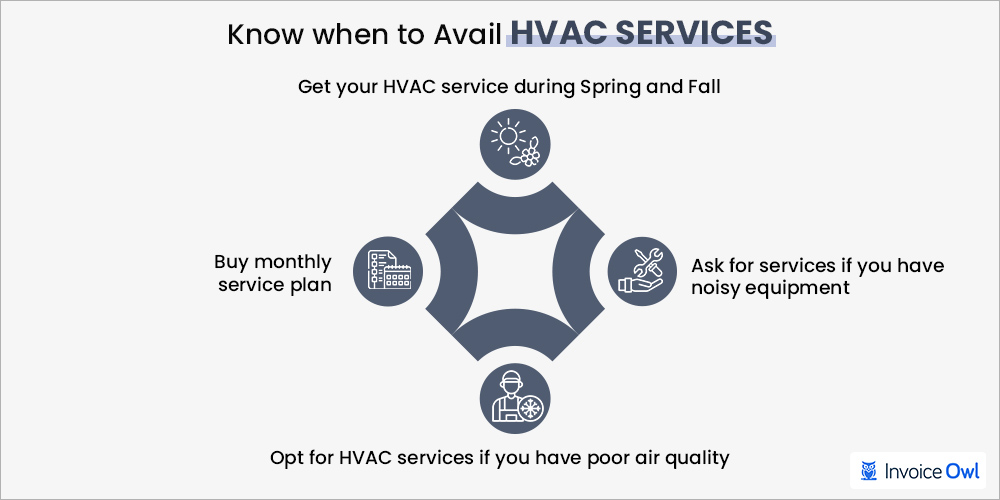 During Spring and Fall

To keep your system healthy, one should avail of the service during the spring or fall season. During this time, it may not be more expensive.

Scorching Summer

In summer, poor air quality might lead to multiple health troubles. And so, whenever owners find very poor air quality, they call a nearby contractor for hvac repair.

Festival Season

Amid the festival celebrations, owners approach the door of contractors to prevent damage to their hvac system.

Season Sales

New Buyers and old users may get attracted to the new service plan. Especially, when they find an offer on hvac systems maintenance, they seek assistance from the contractor.
Hourly Rates Offered By Professional Contractors
An HVAC specialist charges a different figure to cover the technicians' wage, travel cost, and other business operating costs. Hourly rates are charged when there is a necessity to replace parts in the heat exchanger or air conditioner. HVAC repairs are based on hourly rates at the cost of $75 to $150.
Hourly rates are also considered when there is an urgency and therefore, charges are a bit high. For instance, your client has a complaint regarding a broken furnace at midnight, then you can charge them around $200 or more.
Other Rates For HVAC Experts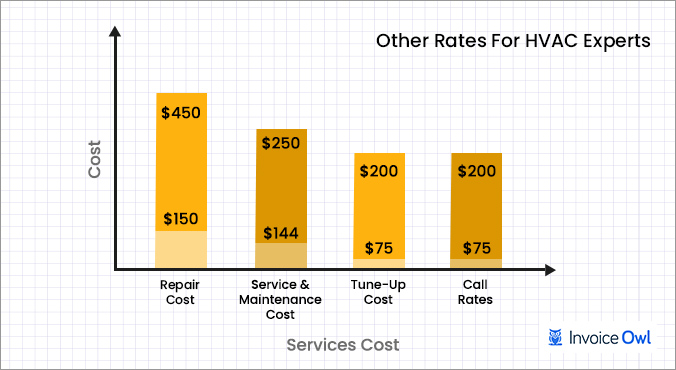 Cost for HVAC Repairs

On average, an HVAC repairing service can cost between $150 and $450. Most HVAC experts charge $319 and $268 on air conditioner service and furnace repair respectively. HVAC technicians charge a minimum service call fee of $75 to $200 as far as HVAC repair costs are concerned.

Cost for HVAC Service & Maintenance

HVAC contractors charge $144 to $451 for most AC (air conditioner) and furnace services with a minimum. Moreover, you can also charge $89 for detecting the fault.

Cost For Tune-Ups

Generally, HVAC experts perform tune-ups by charging $70 to $200 approximately. In this process, the HVAC tech will closely analyze and clean the dust from pipes. Two or more tune-ups can be included if you choose an annual service plan.

Call Rates for HVAC Service

As an HVAC business owner, you can also charge anything between $75 to $200 for a visit. Usually, contractors offer call rates when they have on-site consultations.

Now that you know what to charge, you can create estimates and invoices with InvoiceOwl.
Frequently Asked Questions
What is the labor rate for HVAC?
The hourly labor rate for HVAC jobs depends upon the hvac repair work and the scope of the job. However, on average, the labor rate for HVAC repair work is between $75 to $150.
---
What is the average price for an HVAC service call?
According to Howell's Heating & Air, the average HVAC repair cost falls somewhere between $100 to $150. Having said that, it depends on various factors, such as emergency, complexity, size, type, and age of the HVAC system.
---
Do HVAC tradesmen make good money?
Yes, they do. The HVAC industry is a booming industry. It was evaluated to have a market value of USD 57.8 billion in 2020 and is projected to reach USD 82.5 billion by 2026. So, the HVAC contractors have a lot of opportunities to grow and scale their business.
---
Why do HVAC companies charge so much?
The HVAC companies charge fairly due to the high business operating costs. HVAC business owners have to bear high overhead expenses. The traveling cost to reach various sites adds to the fuel costs. Moreover, to do effective furnace repairs, hvac ductwork, or maintenance job, hvac technicians need additional tools and equipment.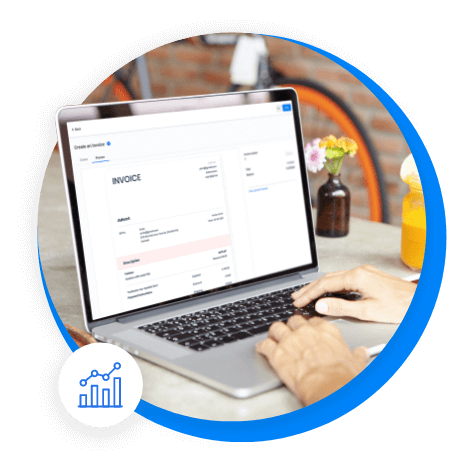 Check out a free online invoice generator!
construction, landscaping, consulting, photography, auto repair, or medical assistance, invoicing gets easy when you are on InvoiceOwl.
Wrapping Up
As an HVAC service provider, you deserve to get paid well. And to make a good profit out of your HVAC contracting business, you need to know what exactly are others charging?
So we hope this blog gave you an idea about charges that most hvac companies ask for cleaning and maintaining the entire hvac system.
Now you would want to win more jobs and get paid faster right?
To do so, you would need the best estimate and invoicing software for HVAC contractors like InvoiceOwl.