As a small business owner, you should know all the different accounting documents. As it does not just affect your accounting but the entire business as well.
And about 21% of small business owners are confused with purchase orders and how to use them and how they are different from invoices.
Therefore, we are here with a comprehensive guide on purchase order vs invoice.
So, why wait any longer?
Let's start digging!
What is a Purchase Order and When is it Used?
A purchase order (also referred to as "PO") is a legally binding document that a customer sends to the supplier for requesting the purchase. It mentions all the order details, such as:
expected delivery date
quantity and quality of the service/goods to be purchased
special notes
In other words:
A purchase order is simply a legally binding document confirming an order request. It helps the purchaser to place an order for buying services or goods.
When to use it?
Whenever a business has to make a purchase, the buyer sends a purchase order.
A purchase order is created during the purchasing process. It is generated when the requirement of purchase is issued by a purchase requisition. Once the purchase requisitions are approved, a purchase order is issued.
Try our free online invoice generator today!
Whether your business is in construction, landscaping, consulting, photography, auto repair, or the medical field, invoicing takes way too long. That's why we're here. InvoiceOwl makes your invoicing faster and simpler so you can get paid promptly and without the hassle.
How do Purchase Orders help Businesses Organize their Finances?
Want to know how POs can help organize your business finances?
As we all know, purchase orders are created by a business that needs to make a purchase. Thus, POs help businesses track their expenses.
Tracking expenses helps businesses to analyze where they need to spend the most and where they can cut it.
It helps them to design an accurate and practical budget. Moreover, it helps freelancers to write off self-employed tax deductions too.
Now, we know what a purchase order is.
So, let's talk about an invoice.
What is an Invoice and When is it Used?
An invoice is a legally binding document to confirm the purchase. It establishes the sale and is used to request payment from the customer.
However, it does not confirm the payment. It just notifies the customer about how much money they owe to the service/goods provider.
An invoice shows:
Invoice number
detail description of all the products/services bought
the amount to be paid
the last date to pay
In other words:
Businesses issue invoices to initiate payment collection from the clients and document the business transaction between the two parties.
When to use it?
An invoice is used when the supplier wants to solicit payments from his/her client. The invoice is generally issued after selling the product or at the end of the service rendered.
However, the invoice is generated before the service begins in some cases such as collecting advance, deposit, or partial payments. These agreements depend on business to business.
Looking at POs and invoices individually might not help you to differentiate between the two.
So, let's look at them side by side and learn how purchase orders and invoices are different.
How is a Purchase Order Different than an Invoice?
Both Purchase orders and invoices are different documents with different objectives. So, if you are starting a new business, you need to know the key difference for a flawless accounting process.
So, let's look at those differences closely.
| | | |
| --- | --- | --- |
| Criteria | Purchase Order | Invoice |
| Who issues it? | Buyer | Seller |
| Who receives it? | Seller | Buyer |
| Who is authorized to create? | Purchasing department | Accounting department |
| What's its purpose? | Requests order | Requests payment |
| What does it conform | Purchasing order request | Purchase |
| Time of generation | Before purchase | After purchase |
| It is a part of | It is a part of | Selling Process |
| What does it track? | Business expenses | Business revenue |
| What does it record when generated | Inventory inflow | Inventory outflow |
How is a purchase Order Similar to an Invoice?
Both purchase orders and invoices have various differences but they have many similarities as well.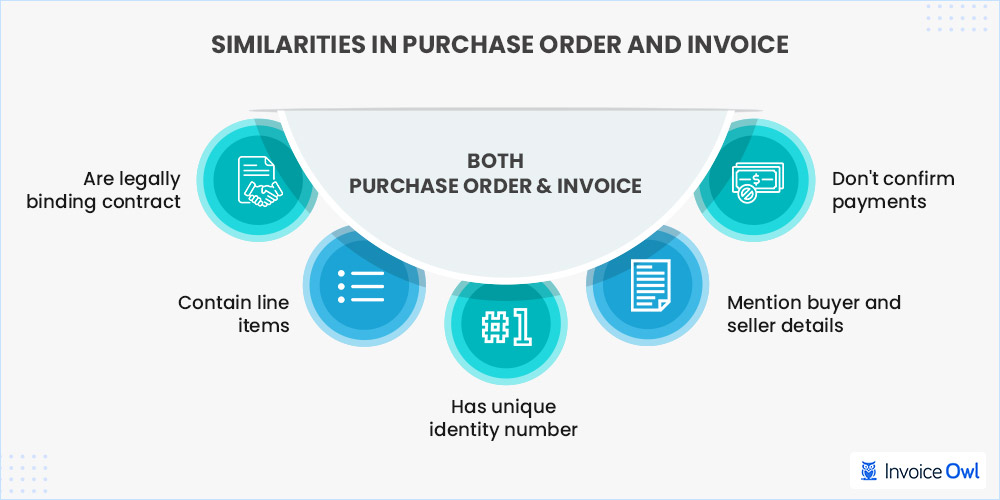 And this is why most new business owners get confused. So, after discussing the differences, let's shed some lights
Both are considered legally binding contracts.
Both contain item detail description, quantity, and quality.
The Purchase order number and the invoice number for all business transactions are unique.
Both the PO and the invoice mention buyer and seller details.
None of the documents confirm payments.
Now that we are clear about the differences and similarities between both documents, let's understand why companies need both documents.
Does your Company Need Both the Documents?
If answered shortly, YES!
No matter what line of field you work in, every business needs to use POs and invoices at some point.
If you sell products, you need to buy them first.
If you manufacture those products, you need to buy the raw materials for the same.
If you sell services, you need to buy equipment and products for providing the services.
For example, A spa owner needs to issue invoices for charging his/her clients, and purchase orders for buying essential oils.
Other than that:
The purchase order and invoice make tracking your business expenses and revenues easy, and creating accurate financial statements simple.
Alright!
You have learned how both legally binding documents are important to your business. Thus, you can now make more effective invoices and POs.
So, here is a guide on creating invoices and purchase orders professionally with InvoiceOwl.
How to Create Invoices and Purchase Orders Professionally
InvoiceOwl is an invoicing software that lets you create customized invoices, purchase orders, estimates, and credit memos.
Thus, if you want to create unlimited invoices and purchase orders effortlessly, this is how you can do it.
Creating Purchase Orders
Every business, small or large needs to create purchase orders to maintain the physical inventory. And the InvoiceOwl app makes it easy-peasy.
You just need to login to the InvoiceOwl app and
select "Purchase Orders" from the right-side menu bar, and you will be directed to the purchase order dashboard
Click on the "Create Purchase Order" on the top right corner
add the client name
add items to order
check the automatically assigned purchase order number
fill in the purchase order date
confirm the subtotal
verify automatically calculated tax
enter shipping charges
verify the total amount
Click the "save" button on the top right corner
That's all!
You can now preview the purchase order and send the PDF file directly via in-app emailing.
This helps you create professional as well as unique POs as quickly as possible.
Creating Invoices
Whenever you make a sale, you have to create sales invoices. And if you have a self-billing invoice arrangement, you have to create invoices even when purchasing.
Thus, if you do not want to spend all day invoicing, have a look at the simple steps with which InvoiceOwl lets you create professional invoices.
To create invoices with InvoiceOwl
click on "create an invoice"
add client details
add items with details
mention payment terms and conditions
set payment due date
offer discounts (if any)
verify the balance due
click save
And it will show you the preview of the sales invoice. You can change the templates without losing any data and see the real-time preview.
Once you are satisfied with the invoice design, you can download the invoice PDF file for printing or can send it via email right from the app.
Frequently Asked Questions
What's a purchase order number?
The purchase order number is a unique identification number of the particular purchase order. It helps to sort, manage, and store purchase orders. The best practice to assign a purchase order number is by assigning them in a sequence.
It could consist of digits and alphabets too. Thus, to make your job easier, you can assign a number with the year, month, and client id as well.
For example, 2021/10/C1/02, which is in the format (year/month/client ID/#PO).
---
What information should be on a purchase order?
A purchase order officially authorizes the buying requirement. Thus, it has to have certain information included in it, which are:
Purchase order date
Purchase order number
Issuing business's information
Vendor information
Vendor contact information
Delivery/shipping address
Line item with quantity and quality described
Price of each line item
Total cost
Delivery date
Authorized signature
---
Are purchase orders still relevant today?
Yes! Purchase orders are still relevant. From small to large scale businesses use POs to track their business expenses and place orders professionally.
Most businesses use purchase orders to plan their next year's expense budget.
---
Is a purchase order the same as a bill?
No! Purchase order is not the same as a bill. The bill is meant to pay, whereas a purchase order is meant for delivering the service/product.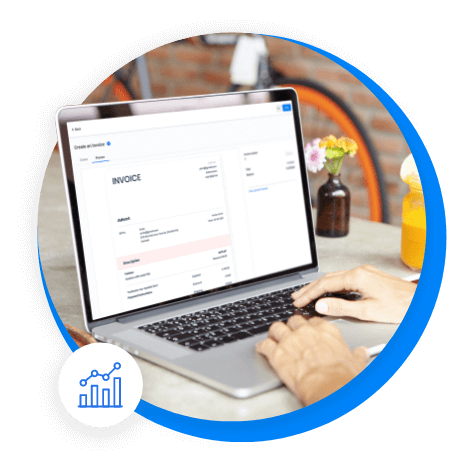 Create Professional Invoices Online Easily and Keep On Top of Your Finances
InvoiceOwl is a feature-rich invoicing app that helps small businesses, freelancers and contractors to create invoices on-the-go and get paid quicker!
Conclusion
We hope you are now clear with the different use of invoices and purchase orders. This can help make your invoice processing streamline.
If you are a new business you must be curious to learn the difference between billing and invoicing.
Moreover, if you want to smoothen your accounting tasks, such as invoicing, generating purchase orders, estimates, and credit memos, sign up now with InvoiceOwl.