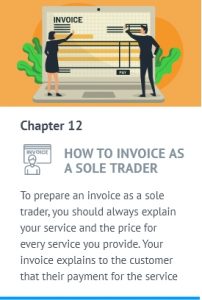 Chapter 12
A Step-by-step Guide to Create a Sole Trader Invoice
Sep 20, 2021
Invoice as a Sole Trader: A Basic Invoicing Guide For Beginners
Being a sole trader, what's your main goal? – To represent and maintain all the business transactions accurately.
But, how is it to be done?
A sole trader invoice helps you do that. Generally, you must include the list of service offerings, pricing, and preferred payment method in this invoice. This article covers the essential aspects that help you in creating a sole trader invoice from scratch.
Why Sole Traders Need Professional Invoices?
The requirement lists changes as per the client's expectations. And as a sole trader, it becomes of prime importance for you to deal with the customers' demands and it is made possible by creating and sending professional invoices to your customers.
The sole trader's invoices must be flexible enough and easy to read for the customers. It means that the customers can easily understand what they are being charged for. The sole traders just need to outline the work done and the amount charged to make it easy to use for their customers.
What To Include in a Sole Trader Invoice?
The primary job of a sole trader is not just to enter the essential work details and price list in the invoice. But, a sole trader must create invoices efficiently to avoid any flaws that exist between both the parties and authorize the business transaction.
All the necessary information to include in the free invoice are:
Date of invoice
Invoice number
The word "invoice"
Your business name and address
Phone number and contact information
Email
Your registered business number
Your customer's name and address
An explanation of the service your customer is paying for
The date you rendered the service
Tax if applicable
The total cost of your service
Payment methods you accept
How to Prepare a Sole Trader Invoice?
If you're sending an invoice for the first time or you've been doing so regularly, you need to learn how to prepare an invoice using templates.
You can select pre-existing invoice templates or create a new invoice template in formats like Word, Excel, and even PDF using an invoicing software solution to get paid quickly.
When you create invoice templates, you need to follow specific rules that indicate what information needs to be included in an invoice template. The guideline is essential for formatting an invoice template, which is less restrictive.
An ideal way to format invoice templates is to think about your invoice template as it contains four parts that include certain kinds of information.
The Header: It should contain the business information, client's details (i.e., company name, address, and contact details).
Top right or left: In this section, you must include the information specifically related to the invoice. Remember, you must include the word 'Invoice,' the invoice number, the date of issue, and the due date.
Body: This is the main area where you have to input your product or service information. You can include the list of products or services, including the price of each product/service, number of units sold, the cost per unit, product number, the total amount due, and applicable taxes.
The Footer: In this part, you should include the payment terms and conditions, payment method, bank details, and a small thank you note to get paid quickly.
Now, let's highlight the steps that you can use to prepare a sole trader invoice:
Create a blank page in Microsoft Word.
First, create a header to include your business name and contact details.
Provide your customer's name just below the header and make sure it is left-aligned.
Assign an invoice number and date of billing. The invoice number helps with reference and bookkeeping purposes.
Include the product you supplied or the type of service you rendered with the right description and price. The price of each service or product should be at the end of each description.
At the end of all descriptions and price tags, calculate the total amount you're going to be paid and write it down, with tax rates and other discussed fees.
Add all necessary payment details and terms as well as your preferred payment methods.
Helpful Tips For Sole Trader Invoicing
Below are the tips that will be helpful to you for creating invoices.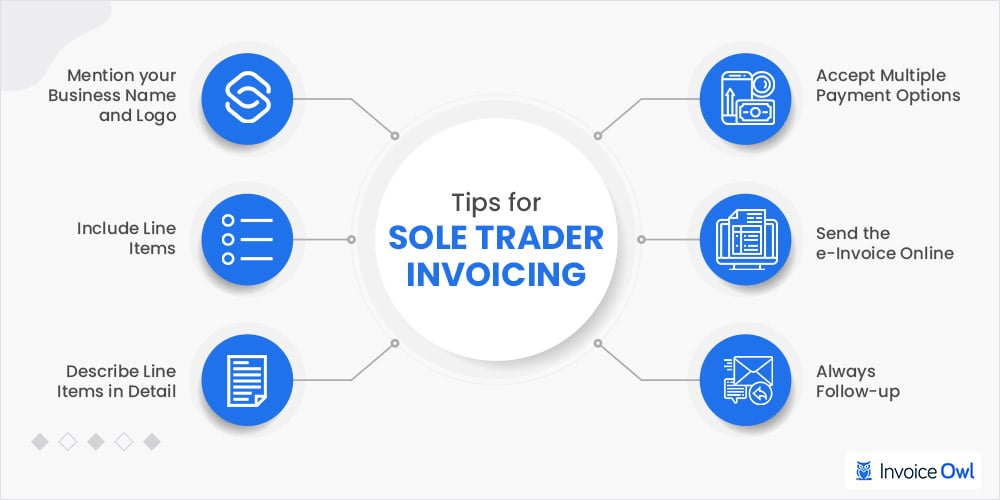 Create an invoice by mentioning your business name with a logo clearly.
Include all the essential products and service offerings along with the charges you're providing to the customers.
You must mention the service description in detail, making it easy for the customers to read and verify it. If it is a product, describe it and add the quantity you supplied.
Include the different payment options in the invoice which makes it easy for the customers to pay an invoice on time.
You help your business send invoices with automated systems or via electronic mail so that you and the customer will have an original copy of the invoice.
Have a follow-up plan, always remind the customer to make payment when the payment is overdue.
Bank Details That Should be Added to An Invoice
An essential metric to include in a sole trader invoicing is selecting the preferred payment methods for transferring money directly from the bank account. So, you need to include the following bank details in your invoice:
One of the preferred payment methods is bank transfers; if you want to get paid through bank transfers, you'll need these details on your invoice.
Account Name
Account Number
Routing Number
Business Bank Name
Invoice Number
After including these details, you can add your payment terms clearly to get paid. After that, have all the necessary information and terms and conditions, endeavor to add a note, and appreciate your customer for doing business with you.
Afterward, you can introduce them to other services you offer. Showing appreciation to customers will help you maintain the customer relationship and also get them to pay you faster.