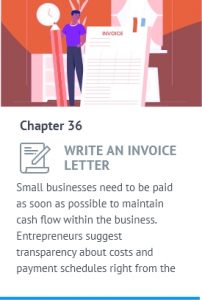 Chapter 36
How to Write An Invoice Letter for Small Businesses?
Oct 23, 2020
Ways to Write an Effective Invoice Letter
Small businesses need to be paid as soon as possible to maintain cash flow within the business. Entrepreneurs suggest transparency about costs and payment schedules right from the beginning of the transaction. Excellent communication gives you a vivid idea of what the client wants and gets you paid faster. An excellent way is to include a winning invoice letter with your electronic invoicing.
A proper invoice letter gives you the edge with a professional and yet, friendly tone that shows when payment is due and who to talk to when they have any questions.
An invoice letter should be in the same format as a standard business letter. In this guide, we will show you the different steps involved in writing one.
Need an invoice template? InvoiceOwl contains many downloadable invoicing templates that will help to make your invoicing better. In this guide, we will cover:
Get a Template

Insert Your Address

Put the Date

Add the Recipient Address

Add a Salutation

Write the Letter's Body

Include the Closing

Mention Attachments
Get a Template
A blank document can be easily used to write an invoice letter. You can also download various life of business letter templates. Microsoft Office contains a free template that can be downloaded for your Microsoft word application.
Open your preferred word processing software and create a new blank document or open your template to continue.
Insert Your Address
This step can be skipped by printing the invoice on your company letterhead.
If your company doesn't have a letterhead, with your business name, your full mail address, and contact information, or contact us page information from your site at the left top corner of the letter.
Standard address format:

Name

Company

Street Address

City  Zip Code
For example:
Justin Beaver

Hollywood Groomers

64 Allen Avenue Road Ste 400

Beverly Hills NY 90201
The method follows the guidelines of the United States Postal Service guidelines. Don't forget that there is no space for punctuation between every number or word, except the parts with two spaces between the zip code and the state.
Add the Date
Add the date on which the invoice was written, and if it takes more than a day, add the completion date of the invoice. Add either the date the invoice was written or completed.
Use American date format that is; month, day, year. For example, April 1, 2020.
Add the date on a line below the address. If your address is tilted to the left, the date should be on the left side of the letter. If you're using a letterhead, put the date at the center, according to the Purdue University Online Writing Lab.
Include the Recipient Address
Add the address of the recipient below the date and include the customers' name, company logo, title, and mail details. Don't forget to include the zip code, state, city, and accurate mail details. It should be a line below the date and is always left-justified.
It is also very advisable to include a specific name at this point. Most entrepreneurs suggest that you always double-check the receiver's postal details of your invoice templates. This is especially very important in large companies where you might have to send sales invoices straight to the accounting department or a third party that primarily handles part payments or transactions.
Talk to your customers about the terms and conditions of the payment details, who to copy on the sales invoice, and, most importantly, the person that the invoice letter templates will be addressed to. It is advised to add accurate postal details of the sales invoice cover letter so that it directly reaches the particular person making the payments.
You might also start to wonder about the best type of title to use when adding contact details. You can use standard personal titles like Dr., Mrs., Ms., or Mr.
You can use Ms., Mrs, or Miss, for women. If you are not certain, use Ms.
Add a Salutation
The next step is to open the letters. Use the same personal title used in the recipients' communications. You can add a salutation under the recipients' address for your sales invoice.
If you're well acquainted with the recipients, you can use their first name alone. If you're not, add their last name and personal title. Include a colon at the end.
For example:
Dear Chloe:
Dear Ms. Brown:
If you're not sure of the recipient's gender, you can use their full initial instead, such as;
Dear Chloe Brown:
Write the Body of the Letter
Left justify your paragraphs and single space your letters. You don't have to include the first-line indent. You can choose to add a blank space within every paragraph. When it comes to content, your writing should be as concise and transparent as possible about the short description of products or services. The first thing is to include a friendly opening, for example, I hope you're good.
Then move straight to the point:
    Please find attached the invoice number for [project name].

    Your order for services or products has been shipped. An invoice template has been attached for these items.

    Please find attached an invoice for provided e-commerce services which is [due amount] 
You can now add some payments' details or payment terms like:
    This is a reminder of my payment terms: Your payment is due on January 20, 2020. You'll get a 10% discount if you submit payment within 15 days, thank you.

    Payment can be sent via direct deposit or check

    A late fee of 5 percent is incurred every week

    If you have any questions about the invoice or bill, please contact us at [the contact details].
If you need to talk about projects:
    I'll be available next week if you have any further concerns or inquiries.

    If you want to talk about projects

    I'll arrive in the office next week if you have any inquiries 
Add a friendly line:
    It's been an honor working with your business

    I look forward to working with you in the future

    If you need anything, just call me

    How can we help you again in any way?

    Thank you for your business
And finally:
    Confirm that the invoice or bill has been received.
Write the Closing
The closing should be a line after the last line of the letter template. The first word must be capitalized, and a comma should be added to the end. If you're adding a signature in the letter template, put a blank line between your company name and then sign off.
For example:
Thank you,
Michael Jackson
Mention Attachments
Attachments are also known as enclosures in this case. Enclosures should be written four lines below the closing. You can either add various attachments from the platform or list them by contact name.
For example:
    Enclosures: 3

    Enclosures: 3D Model, Preliminary Drawings, Invoice 001
Your invoice letter format is almost ready to go. Before you send it, make sure you have proofread it thoroughly for grammar and spelling mistakes.
How to Create a Cover Letter for an Invoice?
A cover letter of an invoice format is an invoice letter. Follow the above steps to write a professional standard letter for businesses.
Below are additional tips on how to write a cover letter for invoices, according to Wisconsin-Madison University.
Take the cover letter to your customers. Make sure you include specific timelines and project details. If you have coming invoice templates, be sure to mention them.

Avoid jargon. Depict clarity on your invoice. Show respect for clients' professionalism.

Don't forget the aim of your word letter: to get paid.

Make sure you add the purpose of the invoice and don't forget to include the due date in the first paragraph of the letter's body.

Don't forget to include the contact information in your word too, so the client will easily sort out any concern about the invoice letter templates as soon as possible.

The paragraph of the body should be focused on a single point.

You must proofread your work, and you can have a colleague do that for you.
In this guide, we will show you tips on how to write an invoice as a small business or for freelance work plus invoice wording examples.
How to Write an Invoice Email?
This is how to write an email and attach the invoice templates to it. Emails are, most of the time, less formal than professional business communications letters which you can choose through the browser. Nevertheless, they should also be well-written and professional.
For example:Hi [insert client name],
Please find attached an invoice for [insert name of the project client has assigned].
Thanks for your business. If there is any question regarding your invoice, contact[name] at [contact details].
Best,
[your name]