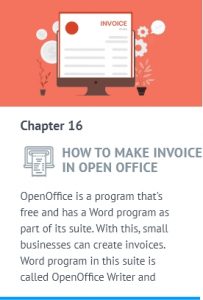 Chapter 16
How to Make an Invoice in OpenOffice
Jul 6, 2020
Steps to Make an Invoice in OpenOffice
OpenOffice is a program that's free and has a Word program as part of its suite. Small businesses can easily make Open Office Invoice. Word program in this suite is called OpenOffice Writer and can be used for generating different documents. To prepare an invoice in OpenOffice, you have to first download and personalize one of its invoice templates.
If you are looking for another convenient way of creating your invoice, InvoiceOwl invoicing software is another invoicing solution and OpenOffice templates that will get your customers to pay you faster.
This aspect of the guide covers:
Downloading OpenOffice
Opening OpenOffice Writer
Choosing a Template to Create Invoice
Personalizing the Template
Saving and Sending the Invoice
Downloading OpenOffice
On your web browser, search OpenOffice.org and download the free software suite.
Opening OpenOffice Writer
When you install OpenOffice, you can start using it for the invoice templates. When you open the program, you will see a pop-up requesting what application you wish to open. Click on "Text Document" or "OpenOffice," depending on what shows up on the version you download. After that, you are set to use OpenOffice for your invoice templates.
Choosing a Template to Create Invoice
You will find invoice templates on OpenOffice.org or click an option on the screen that reads in the invoice manager, thus "Get more invoice templates for OpenOffice." 
You can also get invoice templates by following directions when you click on "File." When you are on the page where you will select invoice templates, type "Invoice" into the search bar, also, on the navigation page, there's a search bar on the left hand. Filter your search by clicking "Writer."
Select your preferred format and download your best invoice template. The File will automatically be available on your PC. You can access the downloaded invoice template in the Downloads folder of your PC.
Personalizing your Template
After downloading the invoice template for your invoice, you can personalize what you want on it like services or business details. You can add your brand logo by inserting a picture of it. Click on File and then insert to direct you to where the image is. If you have the image ready on your desktop, you can drag it into the space of the invoice manager in your invoice template.
Include all the necessary details like your business name and information, your client's contact details, products and services, and the services' description, invoice number, payment terms, and accepted payment methods, date, and due date of payment.
Saving and Sending the Invoice
After creating the invoice, click on "File" and save the invoice from there. You can as well print a hard copy of an invoice and mail the invoice to your client or email the invoice to the clients from your PC.
To learn how to create an invoice in PayPal, follow these steps:
Sign in on PayPal.com if you are new to PayPal, sign up
Click on  the "Send and Request" tab at the top of the page
Click on "Send an Invoice"
Fill in all fields in the invoice template. Include your business name and contact information, your customer's contact information, invoice number, date, products, or services with appropriate descriptions, hourly rate and subtotal if applicable, tax charge and discounts if applicable, your payment terms and policies, payment methods, and due date of payment.
Don't forget to add a friendly short note at the bottom of the invoice.
Import files if needed
Select preview after you've filled all spaces and cross-check all details of the invoice
You can copy the link to the invoice and send it through email or send it directly from PayPal. PayPal can help you email the invoice to your customer when you're ready.
You're done.
Why is Apache OpenOffice Worth for IT business?
If you are dealing with an IT business and create lots of invoices, an OpenOffice billing invoice template can help you serve good business. You can easily build your business around the Apache software foundation. The flexible word processor, excellent spreadsheet, easy access to the database, and many more requirements for office software services.
Apache OpenOffice org adds value for your clients, and that is free license costs.
OpenOffice org is the highest-rated most popular choice for many big-name software companies. The team of OpenOffice org provides additional value by providing training courses, user guides, constant support, and integrated systems. For all kinds of businesses, the Apache OpenOffice org Template provides an unbeatable value proposition. You do not have to spend a large chunk of your customer's budget on software costs. With OpenOffice org, you can have the highest quality product at no cost.
Apache OpenOffice org is as open as it indicates by its name for the developers and system integrators. All users can openly adopt this open-source platform and save their time and money. Apache software foundation OpenOffice offers a wide range of options to choose from; from extensions to a variety of programming languages. For developers and customers, Apache software foundation OpenOffice is a component-based architecture.
Apache software foundation OpenOffice provides its compatibility with other office software as well, both the way it works and in the files it uses. So, the Apache software foundation OpenOffice does not close the options for your customers – in fact, it opens up new opportunities for them. Surprisingly, this software comes without any license fees. You just have to pre-install it on your computers.
Does OpenOffice have an E-mail program?
Of course, in Apache OpenOffice, you can send the documents as an email attachment. As per the OpenOffice's official Guideline – On the Solaris and Linux platforms, the email client must support the attachment of a document to an email message through a command at the command line. In Windows, the email client must support the Messaging Application Program Interface (MAPI).
Apache OpenOffice works with most common email clients, including but not limited to:
Mozilla Thunderbird

Evolution/Groupwise

Sylpheed/Claws-mail

Apple Mail
You do not need to configure Apache OpenOffice to use an email client in Windows. Apache OpenOffice automatically uses the default email client, if the client uses the Messaging Application Program Interface (MAPI).
Is Open Office free for business?
Apache OpenOffice is absolutely free software. That means you are free to download it and free to install it on as many desktops as you like. You are free to pass copies to as many people as you want. You can also use OpenOffice for any purpose without any kind of restriction no matter in which industry you are private, public, educational, or commercial. It's all free for all.
Many people find it hard to believe that high quality and easy to use software can't be really free. But thanks to contributions of time and efforts from individuals and companies, OpenOffice is free for you to use instantly. Moreover, the open-source license policy practiced by OpenOffice means it offers the freedom that can never be taken away. The OpenOffice community is excellent for business and creating an invoice template if you find the worth of the software.