Do you have a hard time organizing your business's daily accounting? Accounting mistakes, irregular cash flows, and time management are real challenges you might be facing.
Well, you are not alone.
To make organizing your business's daily accounting and finance easier, we have created a 7-step guide that will answer your question on how to organize small business accounting.
How to Organize Small Business Accounting
Digitize Your Paperwork

The first thing you must do to organize small business accounting should be decluttering all the paperwork.

The pile of paper could be one of the reasons for unorganized business finances. Organizing and sorting the plethora of files and documents is highly time-consuming. Thus, the best option for a small business owner is to get it digitized.

Digitizing your paperwork cuts the need for space to put all the hard copies. And it gets easy to organize the softcopies on your computer. It helps you sort the data by multiple criteria.

Utilize The Cloud Technology

Once you have digitized all the paperwork, you need to put them on a cloud system.

Keeping all your data just on your hard drive can be disastrous. In case if the hard drive gets corrupted, you will lose all the valuable data. So, in addition to keeping it in at least two hard drives for backup, you need to upload all the data to the cloud.

Once you have put your data on the cloud, you can never lose it. It helps access the data from anywhere and on any device you want.

Keep Your Personal and Professional Business Bank Accounts Separate

Keeping your personal and business bank account separate would work wonders to organize your business finances. This is one of the basics of financing.

It separates business transactions from personal transactions. Thus, it helps a business owner segregate the business and personal finances easily.

If you have kept both accounts separate, you can track expenses and revenues easily. Analyzing bank statements becomes extremely simple for your business finances.

Other than that, a business checking account gets you a business credit card and secures your personal assets in an unfortunate bankruptcy situation.

Therefore, never mix both business and personal accounts with each other.

Design an Accounts Payable System

An efficient accounts payable system is essential to maintain a healthy cash flow. On the other hand, an improper system can lead to late payments. Which means you have to pay late payment fees. Thus, to save your business from such easily avoidable expenses, design an accounts payable system.

If you want to cut short the time in invoice processing, you can use automation technology and save a lot of time.

A well-designed workflow automatically organizes accounting and helps you reduce the tasks.

If you do not have a protocol for accounting invoices, the invoice verification process will depend on the employee, creating miscommunications.

Be Prepared for the Tax Season

Filing taxes is a huge task that should not be left for the last day.

A small organization should prepare for the self-employment taxes every month to do it accurately. And if you don't pay it correctly or on time, your business may face a penalty.

Bookkeeping all business transactions (big or small) helps you calculate the sales tax precisely.

Recording the business transactions lets you file for tax returns too. So, effective bookkeeping not only saves you from paying penalties, but it helps you save money.

Run Timely Audits

A timely financial audit is a key to success for every small organization. Audits help organize every aspect of accounting. It points out flaws in the accounting system and lets you improve them.

It is advisable to hire a certified public accountant to audit your accounting regularly. It highlights the strong and weak areas of your accounting system.

The cost of an accounting mistake can multiply with time. So, regular audits help you detect it and rectify it as soon as possible.

Use an Accounting Software

If you don't have time to organize business accounting, you should use small business accounting software. It helps you with almost every accounting task and saves a lot of your time, which you can spend on other crucial business operations.

An accounting tool helps you with automatic financial reports, bookkeeping, paying bills, and organizing business accounting.

Pick an accounting tool that stores data on the cloud to do not have to transfer the data manually.
Frequently Asked Questions
How do you do bookkeeping for a small business?
The following are the steps for business bookkeeping.
Track expenses
Track income
Save bills and receipts
File taxes on time
Use accounting software
---
How do small businesses organize their finances?
Most small businesses organize their finances manually. It consumes a lot of time, which restricts them from growing. But, you don't have to face the same challenges. You should use appropriate accounting tools for your small enterprise and spend more time on other business operations.
---
How do I organize my business expenses?
Here are the steps to easily organize your business expenses.
Track your revenue
Track and your expenses
Keep a separate bank account
Organize how you receive payments
Digitize hard copies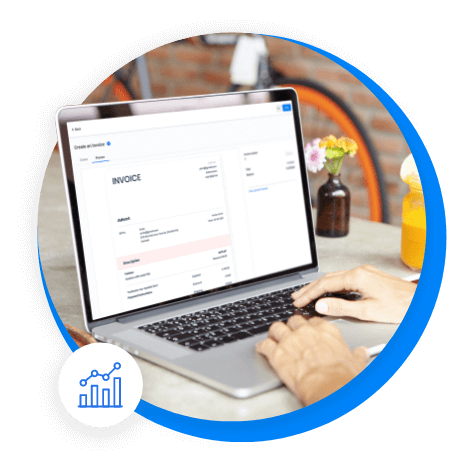 Create Professional Invoices Online Easily and Keep On Top of Your Finances
InvoiceOwl is a feature-rich invoicing app that helps small businesses, freelancers and contractors to create invoices on-the-go and get paid quicker!
Conclusion
Organizing small business accounting might sound simple, but it is as complex as small business owners have limited resources. Therefore, we have provided 7 easy steps to organize small business accounting effortlessly.
Store your paperwork Digitally
Make use of cloud technology
Open a business bank account
Know who you would pay
Prepare for taxes in advance
Audit your accounting system regularly
Get an accounting software
Other than that, invoicing is a vital aspect of accounting. Therefore, you must keep your invoices sorted for an organized accounting. And if you are struggling with that, InvoiceOwl lets you create and manage invoices with just a few clicks.
So, download the InvoiceOwl app and get your accounting organized now!