Whether you are a general contractor or a subcontractor trying to grow your business, it is very important to have pre-defined terms and conditions for your work. Not having such predefined terms will leave a bad impact on your client, which is not favorable for your business.
One of the most important things you are required to take care of is your contractor payment term. Being a general contractor or contractor in any industry, you get to choose your construction payment terms. However, this should be taken a lot of care since you want to work on the construction industry standards.
Not having proper payment terms can cause irregularity in your payment. And property owners typically can also take advantage of it by making you work more for less pay. It is for that reason, it is a must for every freelancer or contractor to have pre-defined payment terms.
Now the question is, how can you make a payment contract from scratch without any prior knowledge? The simplest solution is using InvoiceOwl to create effective and professional-looking payment terms estimates and invoices. However, for now, let's focus on how you can make contractor payment terms and what things you need to take care of.
What is a Payment Term?
In general terms, payment terms are the criteria that govern the payment portion of a transaction, which are usually stated by the seller to the buyer.
Payment terms specify the amount of money that is expected to be paid to the general contractor by the client based on the agreed-upon price. Payment terms are usually stated on invoices and describe a reasonable timeframe in which the client has to pay for the service.
These terms include additional information, such as:
Type of payment expected
Payment methods
Late fees charge and interest
How quickly does the contractor expect the payment after the service
Any special term discussed with the client regarding the payment schedule
Try our free online invoice generator today!
Whether your business is in construction, landscaping, consulting, photography, auto repair, or the medical field, invoicing takes way too long. That's why we're here. InvoiceOwl makes your invoicing faster and simpler so you can get paid promptly and without the hassle.
4 Advantages of Having Payment Terms
Though we have discussed some of the advantages of having common contractor payment terms, let's throw more light on why you should have a payment term and how it can help you to grow as a general contractor.
It's easy to scan over and overlook a line at the bottom of an invoice, but it's something you should look at if a client doesn't pay on time or at all.
Invoice payment terms are in place to assist you in all the payment stages based on the terms that you and your project owners have agreed upon. What they do for you is as follows: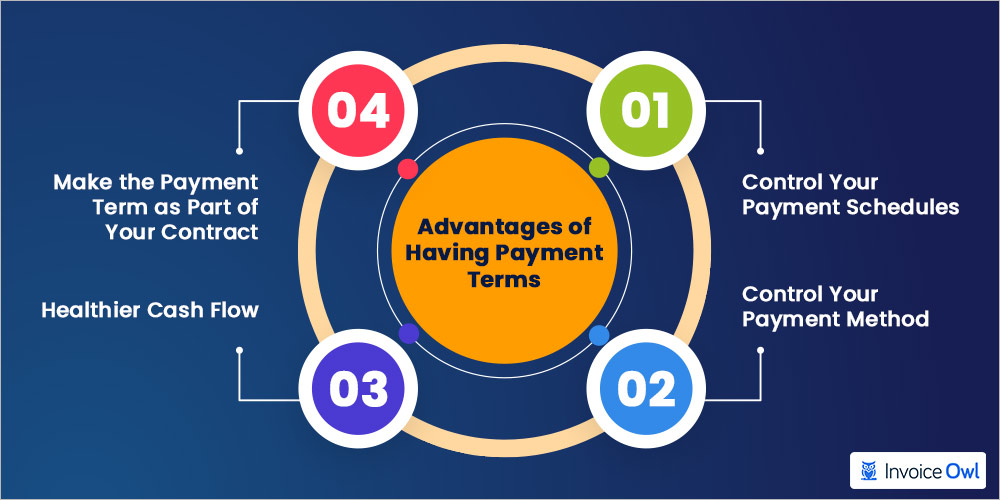 Control Your Payment Schedules

Though this might seem obvious, the primary reason for the invoice payment term is to ensure that you get the scheduled payments on time from the client. So being a small business owner or a general contractor, it is essential to negotiate about the payment with the client beforehand so that you both are on the same ground.

Your payment methods should have an equilibrium between boosting your cash flow and minimizing your clients' discomfort. Remember that while getting paid is the most important goal, you also want to build strong, long-term customer connections. However, this does not mean that you allow their internal problem to affect your payment chain.

Control Your Payment Method

The payment term allows you to mention the payment method and the progress payments beforehand. This allows you to get the payment in the form you are most familiar with or comfortable with.

However, it is important to make the payment method in your payment terms as simple as possible for your clients. There are a lot of factors to consider depending on how many payments you process each month, but allowing clients to pay in their chosen method gets you paid faster in the long run.

One of the most efficient and fastest forms of payment nowadays is online payment. It is easy to use for both parties in a contract and keeps a record of all the transactions between you and your client.

Moreover, allowing clients to pay with credit cards or bank transfers directly on invoices is a progressive payment technique to consider.

Make the Payment Term as Part of Your Contract

Before you start working with any client, it's crucial to agree on payment arrangements. The majority of clients are rational and willing to talk about your and their expectations. Once payment conditions have been agreed upon, include them in your client contract as well as your invoice.

You have legal standing if your customer fails to pay an invoice before the due date because your lenient payment policy is stated on both your invoices and your client contract. You don't have to go to court every time a payment is late for a few days, but it's something to think about if follow-up emails and phone calls go unanswered.

Healthier Cash Flow

Getting paid is one of the most difficult tasks for any small business owner or an independent contractor. While methods like online payments might help you get an invoice paid faster, defining payment terms can also help you estimate your cash flow.

Knowing how much money you are expected to have on which date can be beneficial since it allows you to make important financial decisions beforehand.
How to Create a Perfect Payment Term?
You'll need solid payment terms and conditions section to create the invoice. Your clients will know when and how to pay you for your services if you describe your payment terms clearly. Any prompts, such as discounts or late payment penalties, should also be communicated upfront. All of this information can help you avoid late payments and cash flow concerns.
Let's understand what are the things you need to take care of while making payment terms:
The Net 10, 30, and 60 terms

Net payment is the most common payment phrase for medium projects contractors. It means that an invoice must be paid within a certain number of days of the invoice date in cash or credit accounts. The indicator "Net 10," "Net 30," or "Net 60" put in the corresponding area of your invoice informs the client that payment is due in 10, 30, or 60 days from the invoice's issue date.

However, you can decide the Net date by yourself as well. Suppose you want to receive payment after one week of issuing the invoice then, Net 7 will be written. Before deciding any due date, it is important to check the industry standards and adjust your Net based on the construction industry standards.

End of the Month

A client's responsibility to pay an invoice by the month's end is referred to as the end of the month (EOM) payment. This net payout, however, has certain differences. You might employ a "net 5 EOM," which requires the client to pay within five days following the EOM.

The Prepayment Term

Often the client is asked to pay some amount in advance before delivering the service. Most of the firms generally ask for upfront payment in a small percentage of the overall payment. The prepayment term is also referred to as payment in advance (PIA). It sometimes becomes crucial for freelancers and small construction companies owners to have some security money in advance for their service.

The first payment can help with unforeseen project-related expenses, in addition to preventing contractors from having to deal with an unpaid invoice. However, after a total estimate of a job has been prepared, advance payment should be requested. This way, the clients will also feel safe and confident in your work ethic.

Principle of 2/10 Net 30

Sometimes it can be seen that customers paid early, which is good for general construction contractors or freelancers. It is for that reason many contractors value this and reward this behavior in the form of some discount from the total bill.

For example, let's say that a client pays two days after the issuance of a Net 30 invoice. Meaning that they have done the payment way before the payment deadlines, so general contractors can offer them a 4% discount after receiving payment to motivate them to keep such behavior for the future as well.

The discount you want to give totally depends on your judgment. You can adjust the discount, especially when you have already tested this and found that it attracts more customers.

The term above appears to be a mathematical formula. But don't be afraid to simplify the tempting offer. Consider words like "A 4% discount will be applied to the total amount of payment is received within the first seven days of the invoice date." This will motivate your clients to give you construction projects in the future as well.

Secured Business Line of Credit

Often clients don't want to pay the whole amount completely. They prefer the down payment on a monthly or quarterly basis over immediate payment. Accepting down payments can increase your customer number significantly. However, this comes with business risk. There are chances of payment issues in situations when there are set contractor payment terms.

It is for that reason, you should allow only trusted and reputed companies or clients to utilize this payment option. Overall, the net payment terms, like all of the other standard payment terms for general contractors that we've looked at, are designed to ensure that you get paid on time.

You can always select the ones that are most beneficial to you and your clients. The right payment terms will make your transactions move more smoothly and keep you on good terms with your customers. As a general contractor, you should choose your own payment terms and conditions, whether it's net 30, a series of installments, or instant payment.

So far, we have discussed many terms that are used in payment invoices. It is important to be aware of these terms, so you need to ensure that there is no confusion and they understand everything written on the payment terms. In case they have any doubt or confusion, ask them to reach out for clarification.
Improving Your Payment Term Timely
You might think that the payment terms you have created or used are complete and have covered everything. However, it is crucial to timely review your contractor payment term and keep adding necessary adjustments and updates.
Here are a few points which you can consider while updating your contractor payment terms invoice:
Keep everything short and precise
Use words like "Please" and "Thank You." It has been found in research that when invoices include the phrase "Thank You," 89.61 % of them are paid, whereas 88.07 % of invoices with the phrase "Please" are paid.
Understanding that your clients are also business owners can help you create contractor payment schedules that suit your needs and don't put unnecessary pressure on them. Open communication with your clients is the best way to support the agreed-upon terms in your payment terms.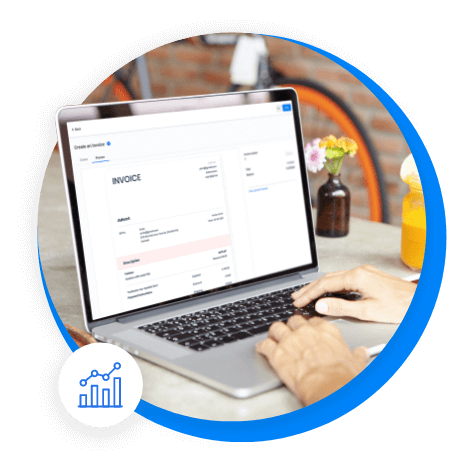 Create Professional Invoices Online Easily and Keep On Top of Your Finances
InvoiceOwl is a feature-rich invoicing app that helps small businesses, freelancers and contractors to create invoices on-the-go and get paid quicker!
Conclusion
The market is flooded with competition, and to move ahead in this competition, you need to keep your payment terms as professional as possible. There are many ways to build an invoice template that meets all of your and your client's demands.
If you're using Word or Excel for invoice templates, you can usually find a spot to fit this information in, but make sure it doesn't alter the general structure of your invoice, or it will leave a bad impact on your clients, affecting your image in the market.
If you're using online estimating and invoicing software like InvoiceOwl, you will get the leverage of designated sections for the contractor payment terms. You can find an easy-to-use template with a lot of features to offer. This allows you to build a professional-looking contractor payment terms estimates and invoices without investing too much time. So, start your free trial today and start creating professional estimates and invoices like never before.