If you are a small business owner running a successful business, you must agree that the invoice is the key factor that is driving the growth of your small business and it is one of the most important processes of your organization.
Many of you face challenges while generating invoices such as –
Using the unorganized invoice template
Awful invoicing system
Drawn-out invoicing process
Labor-intensive invoice processes
Duplicate invoices
Painful invoice monitoring
The invoicing process can be tedious and make you look unprofessional in front of the client. To avoid such pains, let's learn all about the invoice template and some useful tips and tricks to create invoices and get paid on time.
What is an Invoice Template?
A template for invoices is a layout that simply includes the necessary fields that make it easier to fill in details such as your company details, client details, information about the product or service you're selling, prices, and extra charges. If you want to learn what information you should include in invoices, you can go through our previous article on How to Make an Invoice? A Step-by-Step Process. It's not rocket science but giving a professional touch to an invoice requires a lot of attention. To create an invoice template, you must follow certain tips and tricks.
[invoiceowl _invoices_temp id='2893, 2912′]
"Power users can now create customized, branded invoice templates on their own in Microsoft Word without having to engage a technical consultant." – Microsoft News Center
Try our free online invoice generator today!
Whether your business is in construction, landscaping, consulting, photography, auto repair, or the medical field, invoicing takes way too long. That's why we're here. InvoiceOwl makes your invoicing faster and simpler so you can get paid promptly and without the hassle.
Get Started Now
Quick Tips & Tricks to Create Professionally Designed Invoice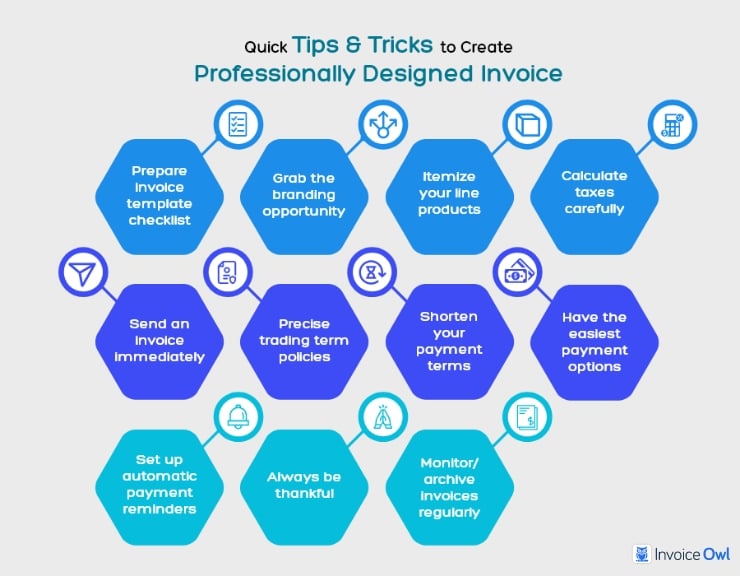 Prepare Invoice Template Checklist
Invoices are one of the most important documents of your small business. Whether you sell groceries or offer consulting services. So, you need to make sure it is written professionally. It should be error-free and have no grammatical mistakes. Your checklist should include all the tiny details that you need to check before you send invoices to the clients. You need to double-check all the elements before your final invoice template formats are ready.
Grab the Branding Opportunity
Invoices you send to the client will be a branding opportunity for your business, make sure you use a good design. And don't forget to include your company logo and all the information like business name and contact information. Spend some quality time in designing an invoice template that justifies your small business in the best possible approach.
Itemize Your Line Products, Do Not Generalize
The first thing your customer will notice in an invoice template format is the "Amount" written on it. They want to know where exactly they are being charged. Your templates for the invoices should convey the nitty-gritty specifications of the work or your line item you have mentioned in the invoices.
If you want to get paid quickly you need to include more than just your company details and the total payment due in the templates. Be sure to itemize:
The services or goods provided
Clear descriptions of the purchased items
The quantity of each service or item purchased
The prices for each product/service
The date of the invoicing
A unique invoice template numbers
The client's purchase order or sales order number
Currency in case you are invoicing a foreign company
Always be specific about your line items throughout the templates rather than making your clients wonder if you are hiding something from them.
Calculate Taxes Carefully Before Concluding the Sale
Whenever you are billing the customer with multiple items. You should include the total tax liability in your invoices which you need to calculate on the final cost and mention it at the bottom of the total price in the templates.
You can also use excel for calculating taxes. Always split up the tax amount concerning various tax groups (i.e. regional tax, sales tax, GST, VAT) the products fall under. According to that, calculate totals and include them in the final invoice.
Send an Invoice as Soon as The Job is Done
Your final payment will be done at the end of the project, so be prepared to send an invoice document as soon as you are about to complete the last task. The customer will take a bit to process the invoice, which means if you take a long time to send an invoice, the later you will receive the payment.
Here, the trick is to start preparing your invoice template as soon as you are about to make a sale of the business or finish the project and send it as soon as you end it because your services will be fresh in your customer's mind and they will also process your payment faster.
Precise Trading Term Policies
In a list of trading terms, you should mention your trading policies including returns, exchanges, refunds, and damage. The key here is to be transparent and clear from the beginning of dealing with the customer. Customers should know all your trading policies starting from the quotation to the end of the invoice template or on Google docs or sometimes using Google Sheets.
Shorten Your Payment Terms
Do not be afraid to shorten the traditional 30-day payment terms to 14-15 days in your invoices. Sometimes a client will wait to pay until the last due date of the invoice. Always be clear about your payment terms for smooth accounting through an invoice template and communicate this in person as well. It helps in maintaining a healthy cash flow too.
Provide the Easiest Options to Make the Payment
It is ideal to provide as easiest options as possible to pay. By doing this, you will drastically increase the possibility of getting paid. If you start accepting digital ways of payment such as Debit/Credit card, PayPal, Account Transfer, etc. you will get paid faster. You might have to pay a nominal % for the assurance of the payment.
Always be Thankful
Thank you note is very important while generating an invoice template or choosing from a default invoice generator. It should make a huge impact through your polite way of thanking the client for trusting you and your brand. This will create an impression that you are taking care of your client and will also help you build a strong and long-term relationship.
Monitor/Archive Invoices Regularly
When you are dealing with multiple clients or consultants, you need to have an easy way of organizing your service invoices and the templates that you have created. You should find the invoice or template easily whenever you need them to monitor or archive.
If you have chosen an invoice software or used any free templates, you will get it stored in a safe place, and the invoice number will help you get back to the templates/invoice you have created when you need it.
Set up Automatic Payment Reminders
If you are generating an invoice template using Google docs, Google Sheets, Excel, or any other manual invoice template it might be difficult to set up automatic payment reminders. It is advisable to use free invoice template generators to set up automatic payment reminders.
You can choose from a wide range of free templates to make your billing easier and include all the information needed on your invoices to make sure your clients get the reminder for payments. It is important to have such a facility especially when you know some of your clients always delay the payment.
These are the proven tactics that help you get paid faster through professional and well-written invoices. Using these tips and tricks you can create and send unique invoices and impress your clients.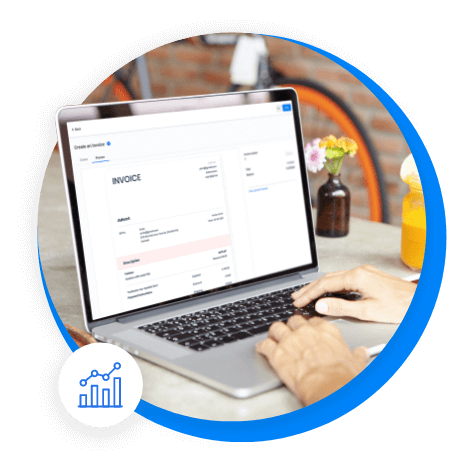 Create Professional Invoices Online Easily and Keep On Top of Your Finances
InvoiceOwl is a feature-rich invoicing app that helps small businesses, freelancers and contractors to create invoices on-the-go and get paid quicker!
Get Started for FREE
Frequently Asked Questions
1. What are the invoice templates?
The invoice templates are the professional layouts that make it easier to illustrate the product or service details, purchase information to the clients. There various types of free invoice templates are available on the internet. You can choose any invoice type according to your preferences. You are sending invoices to get paid on time for the products and services you have provided.
---
2. What Should be There in the Best Free Invoice Template?
The best free invoice template is the one that offers you all the necessary features. The free invoice template offers a variety of features that you can use for generating a free invoice and choosing various designs from the service provider's free invoice templates. These sample invoices help you create and send well-designed invoices maintaining your brand image.
---
3. Are There Good Invoice Templates Available in Word or Excel?
Yes, there are good and creative invoice templates available in Word, Excel, and Google Docs.
"Power users can now create customized, branded invoice templates on their own in Microsoft Word without having to engage a technical consultant." – Microsoft News Center
You can choose any of those invoice templates. For precise calculations, Excel also offers good calculation formulas that you can add to your invoices and/or create your separate template for the invoice. Excel provides those formulas to ease your tasks and avoid human errors.
---
4. How can I Use Excel to Create an Invoice Template?
Creating a basic invoice in Excel is very simple. You just need to create some tables, add the necessary details, set a few rules and you are ready to go. You can also customize your basic template in Excel and add or remove the details. Based on those changes the rules will reflect the amount in the spreadsheet of your invoice, so it is pretty easy to use Excel.