For personal or business purposes, an invoice is a key factor that is solely responsible to manage the finances.
But the big question: how to create an invoice and how to deal with invoicing problems that usually arise in our day-to-day activities?
To overcome such challenges, it's better to use basic platforms like Microsoft Word, Excel, and even Google Docs to create an invoice. But to give a professional layout to your invoice, you can opt for various invoicing templates.
Here, we'll highlight the basic concept of what an invoicing template is and how it will benefit you in creating professional invoices to get paid on time. Let's get started.
What is an Invoicing Template?
An invoicing template is a layout that simply includes the necessary fields to make it easier to fill in details, such as your company name, company address, customer details, contact details, information about the product or service you're selling, prices, and extra charges.
It gives a professional layout to your invoice that requires a lot of attention.
Try our free online invoice generator today!
Whether your business is in construction, landscaping, consulting, photography, auto repair, or the medical field, invoicing takes way too long. That's why we're here. InvoiceOwl makes your invoicing faster and simpler so you can get paid promptly and without the hassle.
What to Include in an Invoice Template?
As we all know, invoice templates help you to create invoices and give a professional look to your invoice. But, what are the essential things that you need to enter into your invoice templates?
Your business name, address, and contact information
Never forget to include the word 'invoice'
Unique invoice number
Client's name and address to whom you're sending an invoice
Invoice issue date and payment due date
The supply date of the services or products
A short and clear product or service description
Amounts charged for each line item
Total amount due, including the due date, taxes, and discounts
Payment terms and payment methods
A thank you note
Benefits of Using Invoicing Templates
It Saves Your Valuable Time

An invoicing template allows you to create customized and professional invoices. You just have to download the invoice that suits the best as per your needs and start entering the essential information in your invoices.

You do not have to design and build your own professional invoice from scratch. Instead, invoice templates make your work easier by allowing you to work smarter rather than working hard.

Get Paid on Time

For any individual or business, the primary goal is to collect payment on time. And invoicing templates help you with that.

The good part of many invoicing templates is that they have a "Pay Now" button that makes it easy for your clients to quickly process your payment. In addition, there are many invoice templates that can even remember the payment methods of your client, which means they save time as well.

Easy to Use

To create a simple invoice using an invoicing template, the only thing you need to consider is entering your work into the invoice. It means that you have to enter your essential project and pricing details.

By filling in all the essential information, you have to just send the created invoice to the client's email.

No Chance of Missing any Essential Information

The details that you include in your legal invoice are very important. So, invoicing templates save all your information and there exists no confusion between you and your clients.

You'll have your information saved in your invoices like client name, project information, and even the total cost or charges incurred. Depending on your invoice template provider, the total amount is even computed for you.
How To Create Your Own Invoice Templates?
There are various ways through which you can easily create your invoice templates.
Using MS Word
Using MS Excel
Using Google Docs
Online invoice generator
Microsoft Word is a platform that allows you to create an invoice template. This platform makes it easy for you to add tables, formatting, style, and even add your basic information very clearly and smoothly.
Creating an invoice template using Word is fairly simple.
Microsoft Excel is another great tool that allows you to create an invoice template as per your basic needs. By using Excel, you can easily create a few tables, set a few rules, add essential information, and your invoice template is ready.
Google Docs is an online platform that provides a convenient way to create your invoice template. All your professional invoices are stored in the cloud and you can access them from anywhere, anytime. Creating an invoice template using Google Docs is almost the same as MS Word, but the difference is that you do not have to worry about saving your file again and again.
By using an online free invoice generator, you can easily create a simple invoice. InvoiceOwl is an invoicing software solution that provides an invoice generator, making it easy for you to create invoices within a few minutes.
Quick Tips & Tricks to Create Professionally Designed Invoice
Make a Checklist to Prepare Your Invoice Template

Invoices are one of the most important documents of your business, so you need to make sure it is written professionally.

It should be error-free and have no grammatical mistakes. Your checklist should include all the tiny details that you need to check before you send professional invoices to clients.

You need to double-check all the elements before your final invoice template formats are ready.

Grab The Branding Opportunity

Invoices you send to the client will be a branding opportunity for your business, make sure you use a good design and don't forget to include your company logo and all the information about your business logo including your business slogan (If you have any).

Spend some quality time designing an invoice template that justifies your business in the best possible approach.

Itemize and Include Charges for Your Products or Service Offerings

The first thing your customer will notice in an invoice template format is the "Amount" written on it. They want to know where exactly they are being charged.

Your templates for the professional invoices should convey the nitty-gritty specifications of the work or the line item you have mentioned in the invoices.

If you want to get paid quickly, you need to include more than just your company details and the total payment due in the templates. Be sure to itemize:

The services or goods provided
Clear descriptions of the purchased items
The quantity of each item purchased
The prices for each product or services
The date of the invoicing
A unique invoice template numbers
The client's purchase order or sales order number
Currency in case you are invoicing a foreign company
Always be specific about your line items throughout the templates rather than making your clients wonder if you are hiding something from them.

Calculate Taxes Carefully Before Concluding the Sale

Whenever you are billing the customer with multiple items. You should include the total tax liability in your invoices which you need to calculate on the final cost and mention it at the bottom of the total price in the templates.

You can also use Excel for calculating taxes. Always split up the tax amount concerning various tax groups (i.e., regional tax, sales tax, GST, VAT) the products fall under. According to that, calculate totals and include them in the final invoice.

Send an Invoice As Soon As the Job is Done

Your final payment will be done at the end of the project, so be prepared to send an invoice document as soon as you are about to complete the last task.

The customer will take a bit to process the invoice, which means if you take a long time in sending invoices, the later you will receive the payment.

Here, the trick is to start preparing your invoice template as soon as you are about to make a sale of the business or finish the project and send it as soon as you end it because your services will be fresh in your customer's mind and they will also process your payment faster.

Include Precise Trading Term Policies

In a list of trading terms, you should mention your trading policies including returns, exchanges, refunds, and damage. The key here is to be transparent and clear from the beginning of dealing with the customer.

Customers should know all your trading policies starting from the quotation to the end of the invoice template, or on Google docs, or sometimes using Google Sheets.

Shorten Your Payment Terms

Do not be afraid to shorten the traditional 30-day terms of payment to 14-15 days in your invoices. Sometimes a client will wait to pay until the last due date of the invoice.

Always be clear about your payment terms for smooth accounting through an invoice template and communicate this in person as well.

Provide the Convenient Options to Pay

It is ideal to provide many options to pay an invoice. By doing this, you will drastically increase the possibility of getting paid. If you start accepting digital ways of payment such as Debit/Credit card, PayPal, or even account Transfer, you will get your payment faster. You might have to pay a nominal % for the assurance of the payment.

Always Be Thankful

Thank you note is very important while generating an invoice template or choosing from a default invoice generator. It should make a huge impact through your polite way of thanking the specific client for trusting you and your brand.

This will create an impression that you are taking care of your client and will also help you build a strong and long-term relationship.

Monitor/Archive Invoices Regularly

When you are dealing with multiple clients or consultants, you need to have an easy way of organizing your invoices and the templates that you have created. You should find the invoice or template easily whenever you need them to monitor or archive.

If you have chosen an invoice software or used any free invoice templates, you will get it stored in a safe place, and the numbering system will help you get back to the invoice or template you have created when you need it.

Set Up Automatic Payment Reminders

If you are generating an invoice template using Google docs, Google Sheets, Excel, or any other manual invoice template, it might be difficult to set up automatic payment reminders.

It is advisable to use an online invoice generator to set up automatic payment reminders. You can choose from a wide range of free invoice templates to make your billing easier and include all the information needed on your invoices to make sure your clients get the reminder for payments.

It is important to have such a facility, especially when you know some of your clients always delay the payment.

These are the proven tactics that help you get paid faster through professional and well-written invoices. Using these tips and tricks, you can create and send unique recurring invoices and impress your clients.
Frequently Asked Questions
What are the benefits of using invoice software instead of a template?
Invoicing software allows you to create and manage multiple invoices. The only thing that you need to take care of is the essential information that is necessary to include in your invoice.
---
How does InvoiceOwl make online invoicing easy?
InvoiceOwl is solely responsible to handle:
Create invoices quickly
Create credit memos
Estimating made easy
Payment processing becomes easy
---
Which is the best invoice generating software?
InvoiceOwl is online invoicing software that offers an invoice generator. It allows you to create invoices within a few minutes. Just enter your essential information and you are good to go with your invoice.
---
How to layout an invoice template?
Download your favorite "Simple Invoice Template" in PDF, Word, or Excel format.
Open the new invoice doc in Word or Excel.
Add your business information and branding, including your business name and logo.
Customize the fields in the template to create your invoice.
Name your invoice.
"Save" your invoice.
---
What is the main purpose of using an invoice template?
An invoicing template allows you to create invoices easily and get paid faster. The only thing that you need to do is add essential information and you are good to go with your invoices.
---
What are the different types of invoices?
The invoices have different types like:
Proforma invoice
Interim invoice
Final invoice
Collective invoice
Credit invoice
Debit invoice
Account statement
Sole Trader invoice
To get detailed information on sole trader invoices, you can read our dedicated blog on a step-by-step guide to create a sole trader invoice.
---
Where to find the best invoice templates?
InvoiceOwl – Free templates available in Word, Excel, and even PDF format
Invoicebus Templates
Digital Invoice Template
FreshBooks: Cloud Accounting
Invoice Ninja
---
How do I prepare an Invoice?
By using an existing template
Using accounting software
By filling out a paper invoice
By using an online invoicing software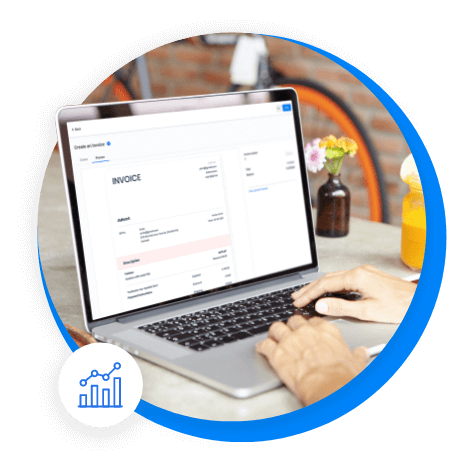 Create Professional Invoices Online Easily and Keep On Top of Your Finances
InvoiceOwl is a feature-rich invoicing app that helps small businesses, freelancers and contractors to create invoices on-the-go and get paid quicker!
Conclusion
Using an invoicing template is one of the most convenient ways to create invoices.
Invoice templates make your work easier by:
Saving your time
Getting paid faster
Create invoices easily
Sending and receiving invoices
We've highlighted some of the tips and tricks to give a professional look to your invoice. To add to it, you can even use an online invoicing software solution like InvoiceOwl that not only creates invoices but also has its own personalized invoice templates that you can try out.
InvoiceOwl is the leading platform that saves your time and helps you get paid faster. Sign Up today with InvoiceOwl and make your invoices faster than ever.