As a business owner, what are your major responsibilities?
To handle multiple clients.
To keep track of payment processing.
To deal with partial payments or overdue payments.
To manage all the accounting purposes.
Right? If we talk about payment processing, invoice numbers simplify the payment tracking process and help you get paid faster. In short, your business needs a well-organized invoice management system.
You might be wondering how? From this guide, you will learn the concept of what invoice number is and the best methods with examples to keep an invoice number in your invoice.
What Exactly is an Invoice Number?
An invoice number is a unique identifier, or we can say sequential code that is assigned to invoices. Invoice number is primarily used to keep track of payments. In simple words, it helps you to track the payment status of your client.
Moreover, an invoice number (also known as Invoice ID or reference number) is assigned to each invoice to track and identify the transactions easily. It is also assigned to your invoice to help you avoid duplicate payments.
Generally, a unique invoice number appears on the top of the invoice, making it easy for both recipient of the invoice and the business providing it.
Try our free online invoice generator today!
Whether your business is in construction, landscaping, consulting, photography, auto repair, or the medical field, invoicing takes way too long. That's why we're here. InvoiceOwl makes your invoicing faster and simpler so you can get paid promptly and without the hassle.
Why is an Invoice Number Important?
An invoice number is a unique number assigned to each invoice created for your clients on behalf of services provided. Such a unique invoice number helps you to: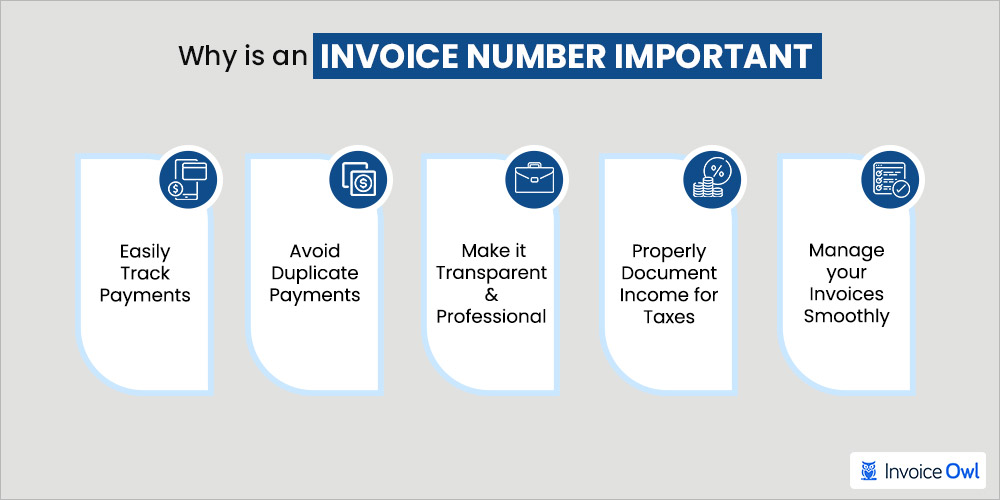 Easily Track Payments

Invoice numbers help you keep track of the paid and unpaid jobs for your new and old customers.

Using a logical invoice numbering system, you can easily deal with the customer's issues related to several months' old invoices.

Once your customer pays the total amount due, you must mention your invoice number as paid. So, it becomes easy for you to keep track of payments.

Apart from the payment terms, you can even track payments with the help of job details or a customer's contact details.

Otherwise, tracking it down can become a real headache and time-consuming for both the buyer and seller.

Avoid Duplicate Payments

An invoice number keeps track of your invoices and helps you avoid duplication.

If you bill your clients twice or let's say incorrectly, there are chances of facing big losses for your business in terms of reputation, time, and money.

Provide Transparency and Professionalism

An invoice with an invoice number shows professionalism, and your clients are more likely to take your business seriously. Not only an invoice number but a business logo, contact details, pricing, and job details make your client ready to take your service.

Properly Document Income For Taxes

Invoice numbers help tax officers to review invoices against the business expenses and sales easily.

One of the major tasks for any business is to track multiple jobs, clients, and income received every financial year.

Invoice numbers follow the sequential number methodology, and it helps you show the total number of invoices you have sent to your customers at a specific time.

This is especially useful for your accountant and when tax time rolls around.

You will know exactly how many jobs you did and how much they were for, making calculating your income and tracking received payments a breeze.

Manage Your Invoices Smoothly

Without invoice numbers, it's hard to find an invoice from multiple invoices when you need them.

For example, when you need to confirm a payment, answer a question from a client, or send them to your accountant.

Invoice numbers are a simple way to search through and find a particular invoice, regardless of the job, customer's name, or cost of the job.

By including a unique bill number to each of your invoices, it's easy to find the information you're looking for in your records.
Best Practices to Generate an Invoice Number
Before we start understanding the steps to generate an invoice number, note that it's not mandatory to just stick to the methods described here. Instead, it entirely depends upon you how you want to keep your invoice number.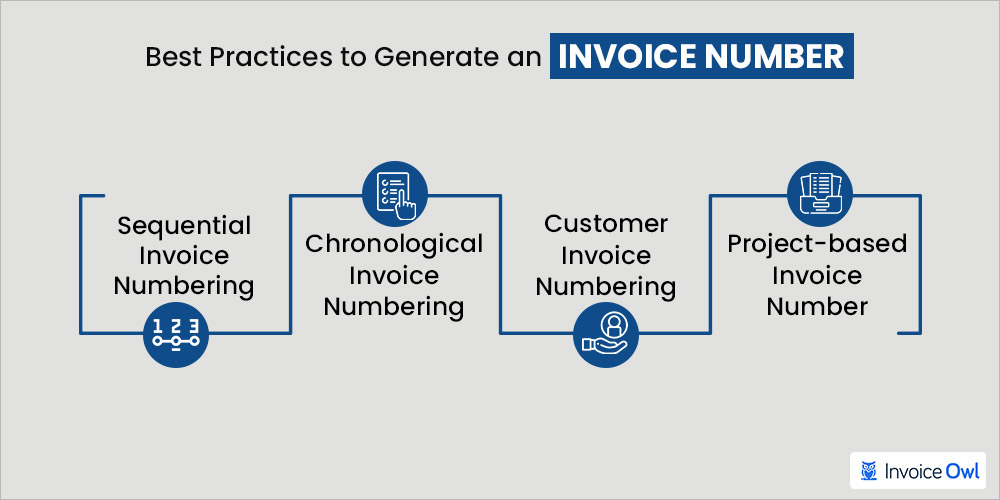 Method 1: Sequential Invoice Numbering
This method allows you to give sequential invoice numbers like 1,2,3, or even 00001, 00002 to every new invoice you create.
The most common sequential invoice numbering approach is 9 zeros, followed by a 1.
It means that you can start with your first invoice number as 0000000001.
If you do this sequential numbering manually, it's going to be a challenging and time-consuming activity. You will have to note down the customer's name and amount owed in a separate sheet. The reason to note down in the sheet is to get rid of any typos or duplication errors if they occur.
Moreover, you can also make a combination of letters and numbers (alphanumeric) like INV/01, INV/02, INV/03, and so on.
In fact, it is the easiest way to identify the invoice. You just need to keep the letters the same, you just need to increase the number with each invoice. It should be sequential and do not contain any gaps.
An alternative and the best option is to use the best invoicing software that automatically assigns the new invoice number on every invoice you create. If you try to enter a duplicate number, you can't assign invoice numbers to another invoice.
Method 2: Chronological Invoice Numbering
One of the best ways to create a longer and more detailed invoice number is by mentioning the invoice date. This method is known as the chronological method.
Let's say your invoice number for the invoice created on January 20th, 2021, would look like this:
Invoice number: 20210120-001
Format: YYYYMMDD-001
There are two main sections:
The first one is the date on which the invoice is created.
Second is the order amount which increases with every new purchase.
Apart from this format, there are other formats that you can use in your invoice number like:
You can even customize the invoice by including the customer name or client number and the invoice number.
For example, if the client number for the previous sale is 407 (CCC), the invoice ID would look like this:
Invoice number: 20201030-407-001
Format: YYYYMMDD-CCC-001
Similarly, the following invoice number on the same date and same client will be 20201030-407-002.
Method 3: Customer Invoice Numbering
For assigning invoicing numbers based on the customer number, you have an option to select whether you want to enter the date or not.
The invoice number begins with the customer name, the invoice date (an optional one), and finally ends with a sequence number.
Note: The sequence number always comes at the end of every invoice numbering system.
Using the customer invoice numbering method, you can easily keep track of numbering and get rid of duplicate payments.
You have an invoice for client number 4567 with an invoice date of August 15th, 2021. The invoice number would like:Invoice no: 4567-001
or
Invoice no: 4567-20200815-001
Method 4: Project-based Invoice Number
The most widely used invoice numbering method is project-based. As the name suggests, you can easily reference your invoices using the project number.
This method is an ideal option for businesses that regularly take on multiple projects. Moreover, many construction companies use the project number to identify their clients, and it is the best option for them to use this method.
There are two main organizational ways for this method:
project number + customer number + sequence number
customer number + project number + sequence number
For project number SOTS104 and client number 5278, the assigned invoice number would be:
Invoice number: SOTS104-5278-01
or
Invoice number: 5278-SOTS104-01
These are some of the standard methods that you can utilize in your business to generate an invoice number for your clients.
Still, have any questions related to invoicing numbers?
Fair enough, we've answered a few frequently asked questions in the next section to resolve your queries.
Frequently Asked Questions
What should I put for the invoice number?
Generally, there is no specific invoice number format that is mandatory to be followed. You can efficiently structure your invoice number as per your need. But, it must be a number or a combination of alphabets and numbers.
---
What invoice numbers should I start with?
Using an identifier.
Making every number sequential.
You can use accounting software.
Generate automatic invoice numbering using online invoicing software.
---
What is the difference between invoice and receipt?
An invoice and receipt are issued by a vendor. But the major difference is:
Invoice: Notifies a client that payment is due.
Receipt: To show that payment has been made.
Remember, an invoice does not require a receipt.
---
What if you want to change your invoice number series?
The best recommendation is never to change invoice numbers mid-transaction. If you are using date or year in the invoice number, it has to be updated regularly. On the other hand, if you plan to change your invoice number series completely, it is better to wait until the next financial period to avoid confusion.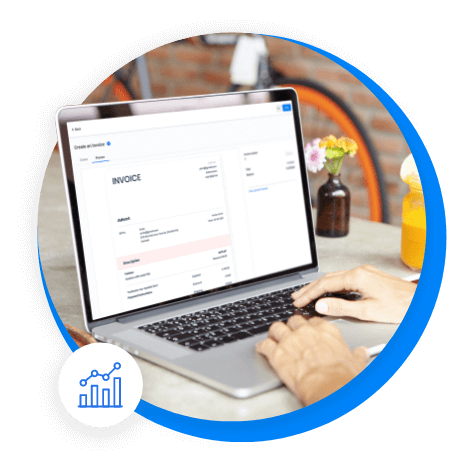 Create Professional Invoices Online Easily and Keep On Top of Your Finances
InvoiceOwl is a feature-rich invoicing app that helps small businesses, freelancers, and contractors to create invoices on the go and get paid quicker!
Conclusion
The primary purpose of invoice numbers is just to help differentiate and keep track of payments.
Generating an invoice number is very simple as you can opt for any of the methods like sequential, chronological, customer number, and project-based.
If you plan to update your invoice numbering system, please do it before the accounting period. Moreover, you also need to overcome many invoice numbering errors as they may lead to payment duplication.
The best option to avoid such complications is by adopting online invoicing software like InvoiceOwl. It allows you to create and send invoices to your clients easily. You just have to mention your client's company details and let our software handle it. The software itself will automatically create an invoice number. Sign Up for InvoiceOwl Now and know how it helps your business in different ways.